Noir - Philip Marlowe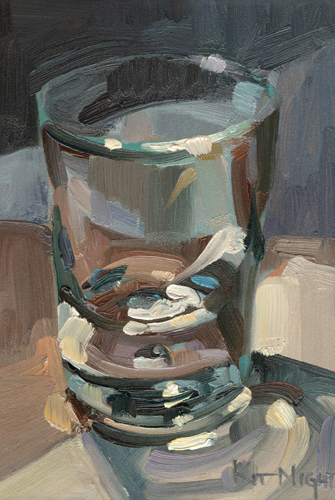 December 30, 2015
The polished mahogany bar was wide and long enough for lift off. The room was filled with easy travelers to far away places. They'd packaged up their sorrows in sequins and bows and were looking for some schlub who'd polished his shoes to be their travel guide.
The guy at the keys had just led into Stardust. Still, the only party I liked was "a party of one." My glass landed with a solid thwack as I turned for the door. That's when she entered in a hush of silk.
The mirrored ball that held up the room went into suspended animation. Its diamonds played across her like the Milky Way. Or were those stars in my eyes.
She had the kind of legs that would take a second story man to get to her mouth, and a face that would make soldiers cross the Nile. She had danced in the rain.
I fell into her river and everything went to black...
P. Marlowe aka Kit Night
5" x 7" oil on panel $190 Art in the Morning special
Sugar Plum Orchid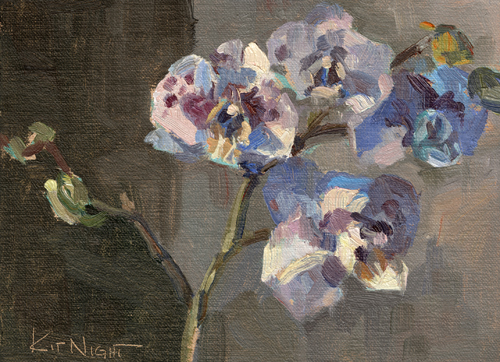 December 23, 2015
Dipping and bobbing, turning their faces up to the sky, they open their kimono wings to the light.
As if riding the air currents of the room, they float upward, then settle into a calligraphy of color and grace.
It is a welcoming dance, these fairies of sugar plums.
6" x 8" oil on panel sold
Winter Persimmon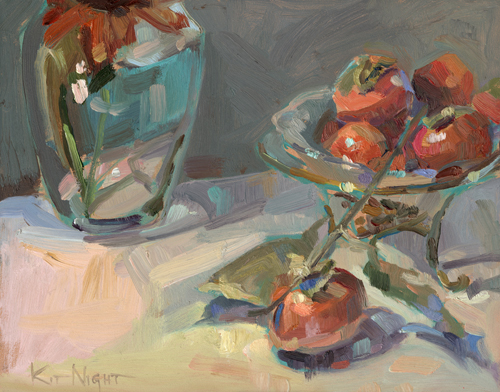 December 16, 2015
Small puddles form on the wood floor below the coat, with its shoulders of melting snow. The newspaper lies folded beside the breakfast plate detritus.
Outside the window to the left, sunlight breaks through the branches and splashes about on the sidewalk, while a little dog walks bright-eyed ahead of his leash. Clippety-clip. Lots to do.
I love the way paintings let us make up our own worlds.
8" x 10" oil on linen panel sold
Good Morning Cup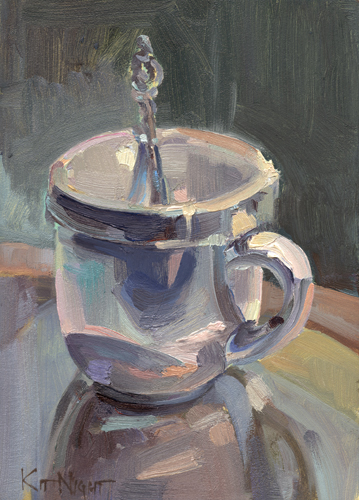 December 9, 2015
Cobalt blue skies. Check.
White snow, freshly fallen. Check.
Golden sunlight pre-warming my cup. Check.
Mahogany brew filling the air with rich aroma. Check.
It's time to greet the day with my better self. Double-Check.
Making my list and checking it twice. You got it, babe.
5" x 7" oil on panel sold
Moonlit Sierra Winter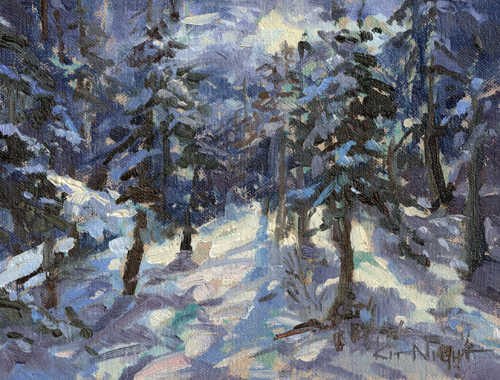 December 2, 2015
T'was Thanksgiving eve, and all through the house, was the smell of roast turkey and the song of a mouse.
When out on the roof, there arose such a light, I went outside to see what was so bright.
Yeah, right. Where's a poet when you need one? But hey, a full moon on fresh Sierra snow? Pretty beautiful.
6" x 8" oil on linen panel sold
Measure Twice, Cook Once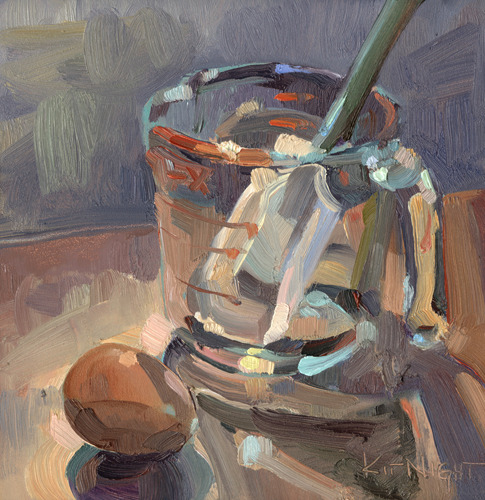 November 25, 2015
Tis the season... to look at the familiar with fresh eyes.
6" x 6" oil on panel sold
Noir - Archie Goodwin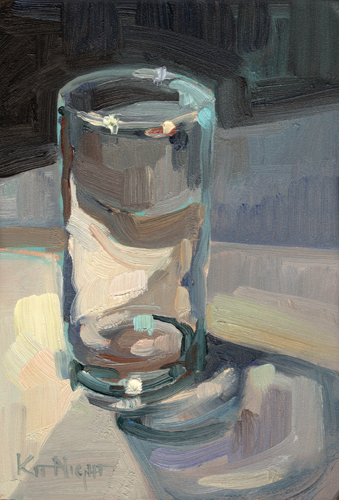 November 18, 2015
The solitary glass, and the beam of light breaking the darkness, has me thinking of the hard-boiled private eyes of classic detective fiction. I love their trademark of the loner, with smarts and wit, a strong moral code, and an unavoidable dose of romaticism. That last part is the tell of their remaining sliver of optimism.
The shape of this glass calls to mind Nero Wolfe's sidekick, Archie Goodwin, a whip-smart, wisecracking, gumshoe in possession of charm and chivalry. It is only his insight and clever tongue that could get Nero out of his chair and hot on a case - allowing Archie to save the damsel he may marry one day.
In Archie's case, just add milk.
5" x 7" oil on panel sold
Apple Season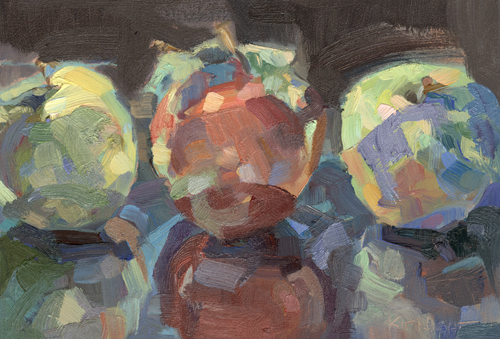 November 11, 2015
Crisp and bright, reflective and full of fall's primary color. A good one comes with a soundtrack when you take a bite.
5" x 7" oil on panel sold
Autumn Aria (grande)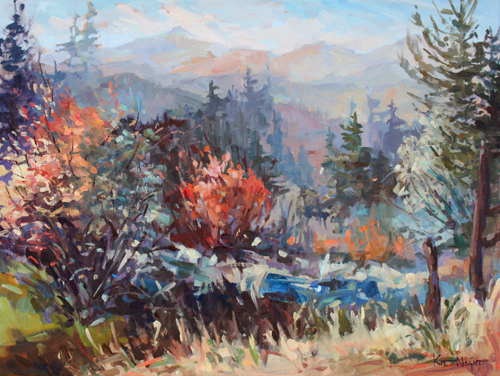 November 4, 2015
Nature sings.
18" x 24" x 1.5" oil on canvas sold
On the Road - Hotel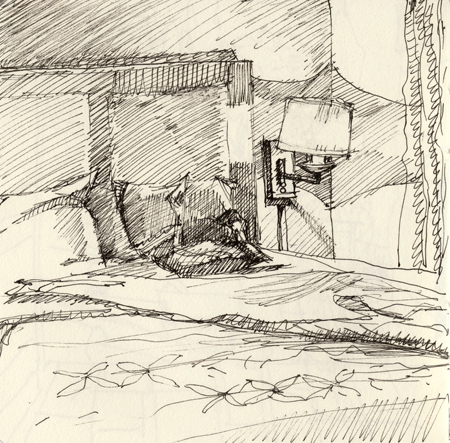 October 28, 2015
All turned down with one place to be.
Let the zzzzzs begin.
5.5 x 5.5 sketchbook nfs
Overcast Reflection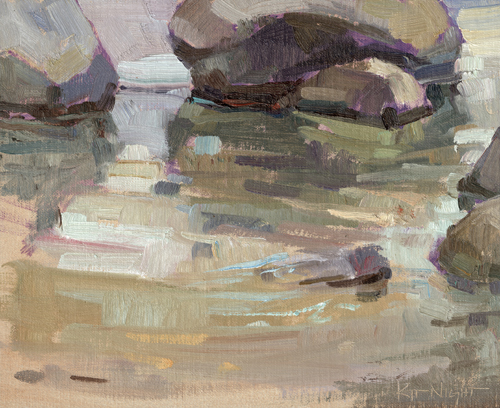 October 21, 2015
The October clouds brought a whisper-quiet morning by the water. It was the perfect hour to contemplate the silvery light and give myself over to observation.
What a gift - to be bathed in silence but for the cool lapping of water, and massaged by the subtlety of reflected color.
8" x 10" oil on linen panel nfs
Autumn Rose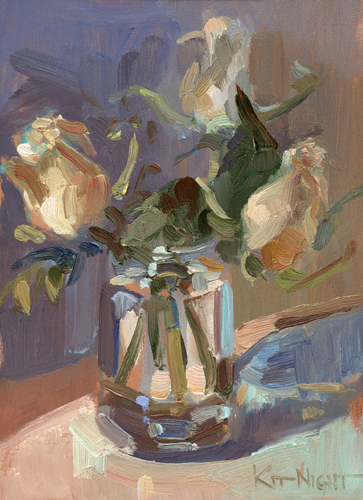 October 14, 2015
Light is the director of this play. It casts its beam from the front of the stage, leading a crisp diagonal to the shadows in the rear. On its way, it stops to do a jazzy two-step and a solo pirouette in the shafts of glass refraction.
Its glow brings the warmth of the rose petals forward in a play of contrasts - light and shadow, soft and hard, organic and angular. The theatre is in the looking.
5" x 7" oil on panel sold
Waterside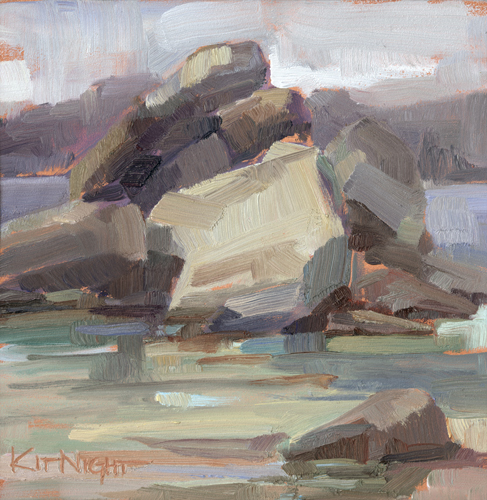 October 7, 2015
Fall was in the air, nipping at my wrists, and the clouds hung low over the plate of no-longer-blue water. I was painting at Sand Harbor with some friends from my Italy workshop. The low-amp light provided a great opportunity for a "Rock Demo" - how to discover, and heighten, the values of light and dark to define the rock forms. Squinting helps.
What began as a demo turned into a painting in the intimate light. As I commented on the somewhat centered composition, Michele pointed out that when she saw the Last Supper in Milan this spring, Jesus was smack in the middle. Okay, then!
6" x 6" oil on panel $95 Art in the Morning special
Delta Green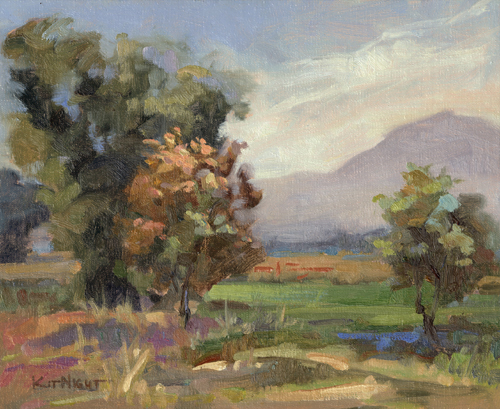 September 30, 2015
In painting workshops, like the one I enjoyed teaching last week, I always talk about how to lead one's eye around the page. We strive to design a composition that pulls you in with its illusion of deep space. Whether in landscape or still life or figure, we seek the diagonals of shadow, pattern, and directional shift to draw the viewer in to the piece and guide you to our focal point.
This landscape is largely made up of verticals and horizontals, elements that typically flatten space and make it more abstract. They also speak of the wide open planes of deltas and farm fields.
In compositions like these, it becomes even more important to make use of warm and cool colors to describe near and far, grass and cloud patterns that can lead you back, and atmosphere that further recedes. It's fun to bend, and break rules, and see if you can still make things behave. But all is done to serve one's painting. Just as in writing, if it doesn't advance the plot, toss it out.
8" x 10" oil on linen panel $230 Art in the Morning special
Les Roses Blanches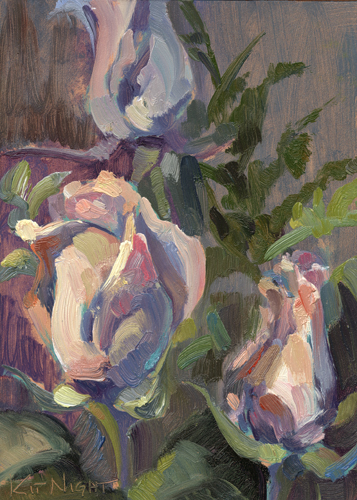 September 23, 2015
I was thinking of a daughter's love for her mother, Simone, in France. And I was thinking of the mother's love of a song, Les Roses Blanches, when I set up my easel in a rose garden in the middle of a city.
What a lovely way to spend a quiet morning, surrounded by the scents and colors and dance of the rose.
5" x 7" oil on linen panel sold
Buddy Holly meets Peggy Sue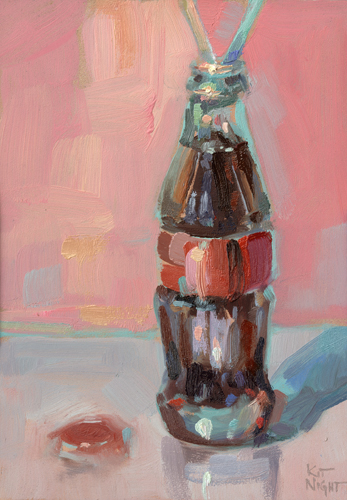 September 16, 2015
Sometimes simple is better.
I like the way the blurred edges create a nostalgic, dreamy quality.
5" x 7" oil on panel sold
Winter River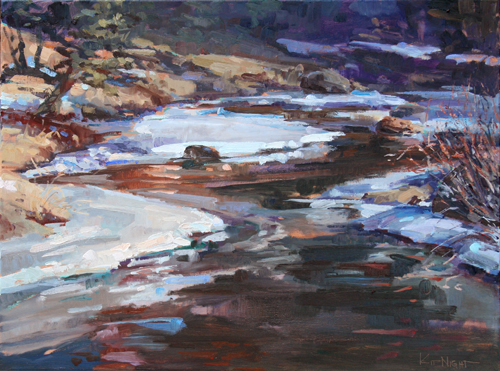 September 9, 2015
Living just below the Sierra crest, the mountain air rushes down the slope, chilling things to a nice stocking cap, down vest-temperature. A great start to my work day, with coffee in hand.
Maybe it's the hint of winter that led me to painting this bigger canvas of one of my favorite paintings. I have always gravitated toward water, and wintry temps. I love that version of silence in nature.
Working from an image of my earlier painting done by the frosty river, I had a chance to relive the heightened experience - the river ice cracking as the sun shown, the wind riding up the alley of river and into my jacket.
I remember the rush of almost-panic with frozen fingers and jumping jacks to bring the blood flow back. Love nature, I do.
18" x 24" x 1.5" oil on canvas $1845 Art in the Morning special
Show Season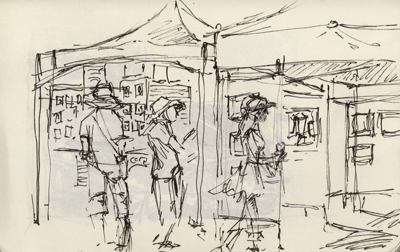 September 2, 2015
Show season is a time of intense doing. But then, when isn't it?
Once I've created my art fort for the weekend (otherwise known as my art booth) I love trying to grab a moment to sketch the faces and the physiognomy that go by in a constant state of motion.
Talk about kinetic energy! A flotilla of people and outfits, of every culture and aesthetic. I love the diversity and the mix. I marvel at the paraphernalia of parasols, ice cream cones, and pulled wagons, elevator shoes, and flipflops.
Trying to sketch it is the opposite of making a movie. I am distilling a river of motion and, from its parts, making a single scene.
Just like show season, it's an intense exercise that keeps me on my toes.
3" x 5" sketchbook nfs
Magic Act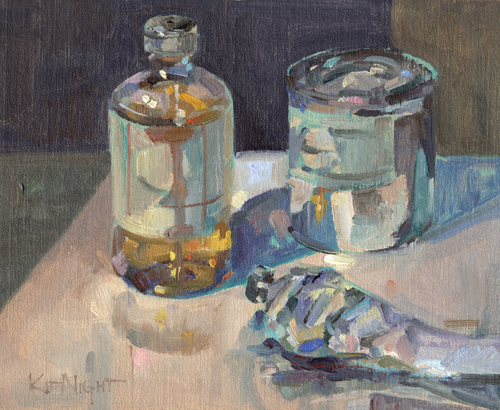 August 26, 2015
I love that such unglamorous beginnings lead to endless hours creating visions and scenes and worlds of light and shadow. They help me create light with color and reflections that bounce. They enable intuitive mark-making and exclamations of frustration.
I love that these tins, and pots, and gooed-over jars are my partners in crime and in beauty. They are my vehicle into a silent world of thought and abstraction, in studio and nature, a place for a part of living that is found nowhere else. Beautiful friends, they are.
8" x 10" oil on linen panel $295 Art in the Morning special
Dream Afloat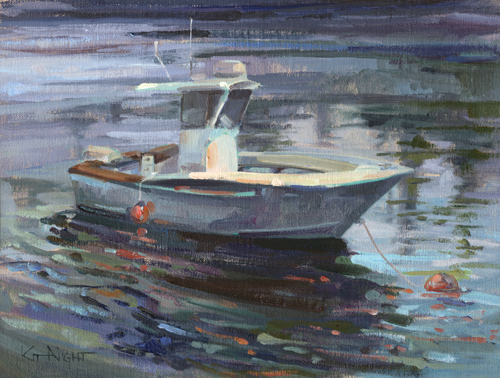 August 19, 2015
Boats tend to be dream generators - evocative catalysts for "what ifs," lifestyle changes, voyages to great beyonds - literally and metaphorically.
This piece was a commission to commemorate just such an event. A grown son with a dream to build a boat, a boat with a mission to fish. A father who joined in the adventure of building. Like most such adventures, more than boat-building was learned.
9" x 12" oil on linen panel sold
Clippy-gizmo Jar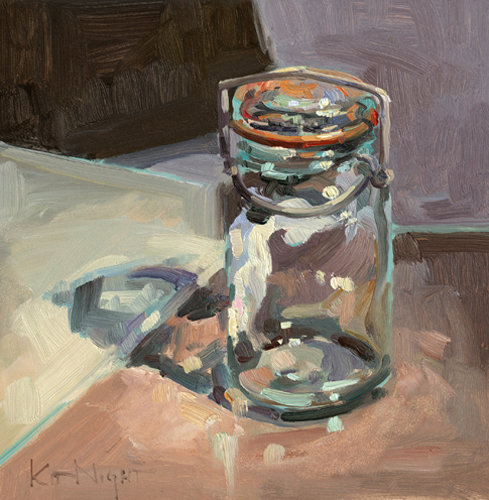 August 12, 2015
I love stuff that indicates the process of the work. Something about the domed glass lid and that metal contraption that locks it all down tight. Modestly complicated-looking, yet simple and efficient.
Plus, how could I resist that splash of orange-red gasket, like an accent belt, making a fashion statement.
8" x 8" oil on panel sold
Reed Section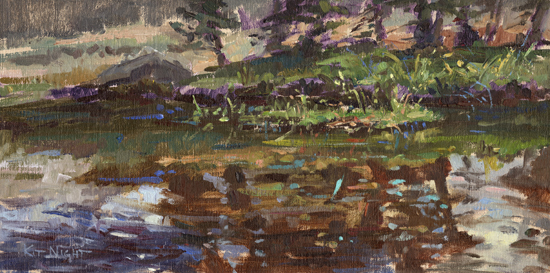 August 5, 2015
Big puffs of clouds moved in, casting the river in shadow. The contrast punched up the lights backstage behind the trees and lit pools of reflected light in the foreground. The spotlight shone on the reeds to highlight their solo performance. Nature's song in light.
8" x 16" oil on linen panel $370 Art in the Morning special
Constant Comment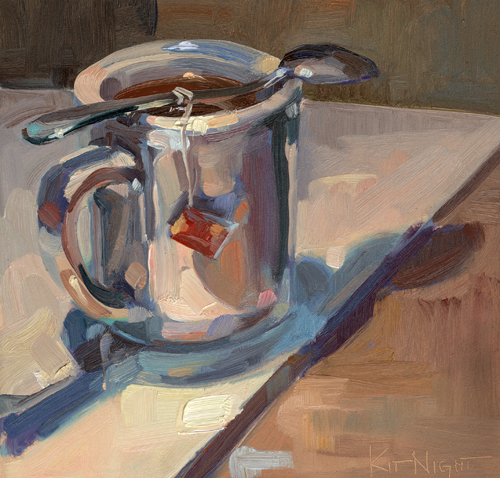 July 29, 2015
Enough said.
8" x 8" oil on panel sold Art in the Morning special
Broad River Bend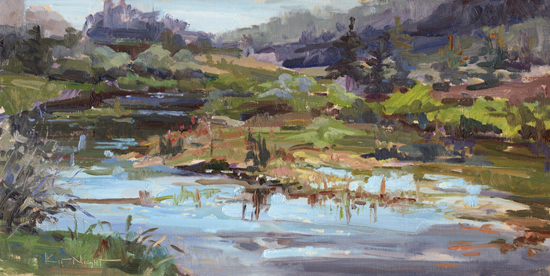 July 22, 2015
In the lap of the land once more. Can you hear me sigh? Breathe deeply. Innn. Pause. Ouuut. Relax. Bend over and let your arms hang loose. Round the back. Rise up slowly, feeling all of the vertebrae unfurl. Ahhh.
I had the good fortune to join a few of the painters from my last Italy workshop for a day of painting. We made a break for Hope Valley in the Sierra. A chance to soak in nature, build on what we learned in Italy, exchange blocks of fresh Pecorino from the cheese maker in Pienza, and share notes on our favorite Brunello wines.
I can't begin to say what a gift it has been to work and live with the people who have joined me in Tuscany these last two years. What a gift of humanity they are. Full of spirited engagement, hard work, and adventure. They bring focused intelligence, humorous stories, supportive insights, and ready laughter. The conversations over rockin' Tuscan dinners are something I think all of us would like to take home in a bottle.
Instead, I keep the memories close in my pocket.
8" x 16" oil on panel sold
The Light, She Bounces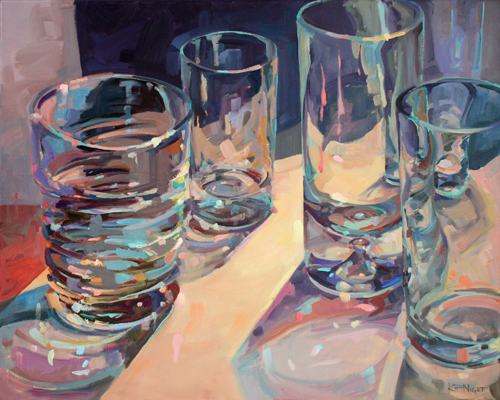 July 15, 2015
Bingada, bangada, boom. There is life in light. And light in seeing. And challenge in seeing differently. And reward in the challenge.
Life and light and paint is pretty dang exciting.
24" x 30" 1.5" oil on canvas sold Art in the Morning special
Midnight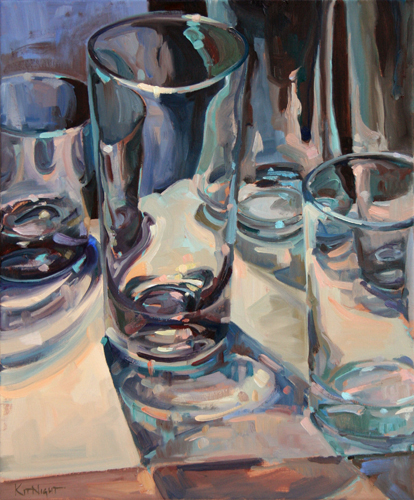 July 8, 2015
Glass offers a landscape of its own to wander and explore, a quiet place for contemplation
20" x 24" x 1.5" oil on canvas sold
Cool Breeze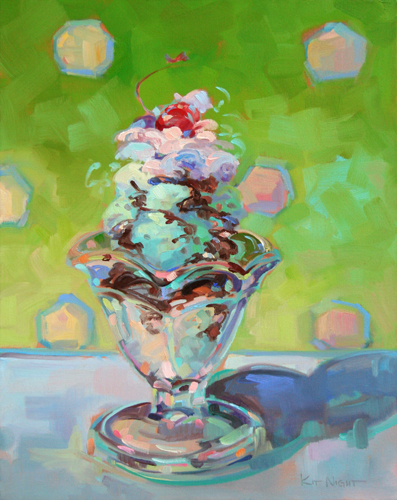 July 1, 2015
As summer heats up, what better way to cool down than a nice dose of calorie-free ice cream - from my palette to yours. With a cherry on top.
20" x 24" x 1.5" oil on canvas $435 Art in the Morning special
Tre Bellas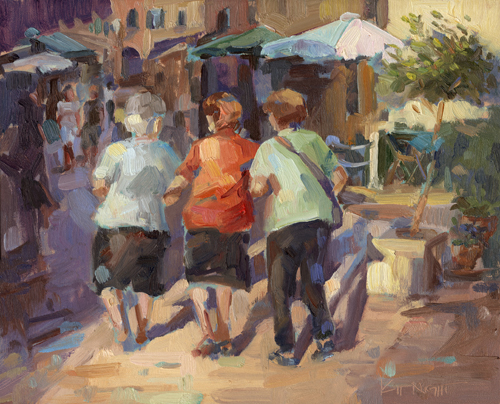 June 24, 2015
Italian Classic.
8" x 10" oil on panel sold
Winding Upward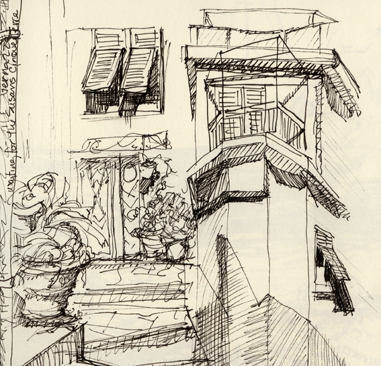 June 17, 2015
Passing a moment waiting for friends, I grab a seat on the winding stone steps up above the village and capture a bit of the funky local architecture. The aesthetic and the building code seem to be less of the form-follows-function variety and more from the what-space-can-accommodate school.
They always make room for the pots of hot-red geraniums and some curlicues in wrought iron.
5.5 x 5.5 sketchbook nfs
Streetwise in Vernazza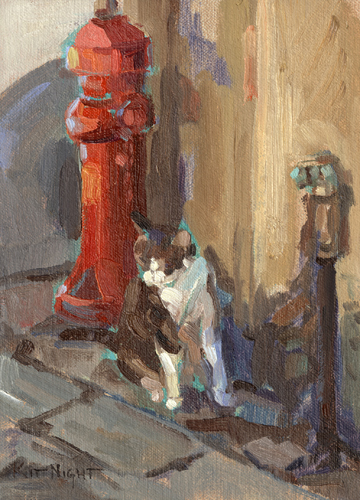 June 10, 2015
Gatto / Felino - Pussy cats in this village pose against plaster patinas formed over centuries. They lounge artistically in wedges of light and shadow, and pause on cascading stone steps that have become curved from wear. They watch fish carts pass the way a lizard eyes a fly.
When gazing through half-closed eyes, they seem to belong to everyone and no one. If they could write their observations, it would be in novel form, somewhere between Hemingway and Henry Miller.
6" x 8" oil on linen panel sold
Fishing Expedition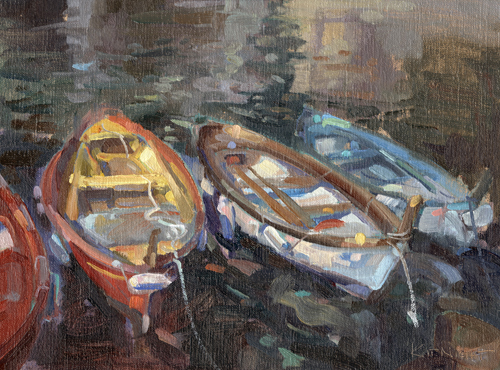 June 3, 2015
The sparkling harbor of this seaside village in Cinque Terre bustled with late-day activity. Small fishing boats bring the day's catch to be rushed, direct from the sea, to restaurant tables. Barefoot men tie up boats and move quickly with their loads, their muscles tan from hard labor on the water - not a gym or tanning parlor to be found.
They have retained their quiet, physical life, living with what is fresh and local and handmade. Everyone seems an independent artisan, with energy and focus, shaping their lives from scratch.
9" x 12" oil on linen panel sold
Residenza, Siena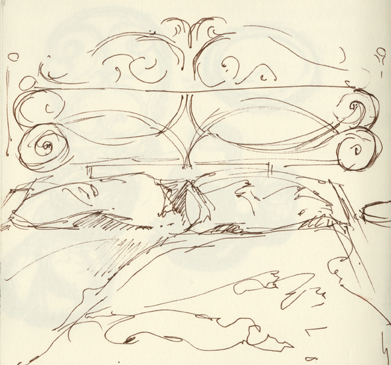 May 27, 2015
With atmospheric light spilling through the arched, shuddered, and thinly-veiled windows, murals on the ceiling, and thick, patterned fabrics, I felt like I was in a Matisse painting.
I kept expecting to see his violin perched on the ornate chair by the window.
5.5 x 5.5 sketchbook nfs
Birds of Play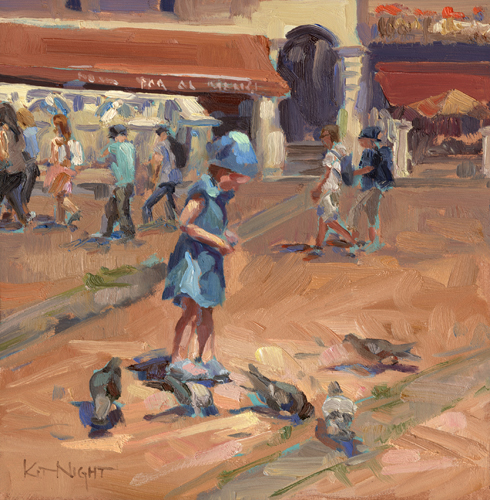 May 20, 2015
A universal image - this one features a little Dutch girl feeding her winged friends in the Piazza del Campo in Siena.
Which calls to mind a study that I am fond of conducted many years ago. After some educational training of both Freshman college students and a group of pigeons, researchers tested the accuracy and speed of both groups' ability to identify an Impressionist painting versus an Abstract Expressionist painting. The pigeons won hands down.
It gives a new perspective to all those pigeons hanging around outside of museums. I have never seen them quite the same way since.
8" x 8" oil on panel sold
Clear Blue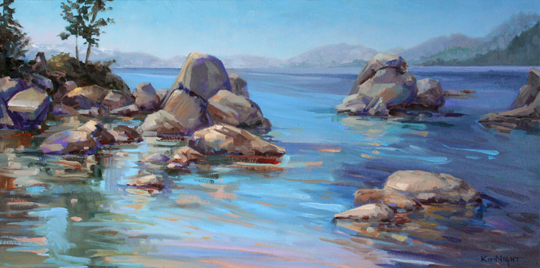 May 13, 2015
Water is like an audio-visual color massage. Soak it in and let it all go.
15" x 30" x 1.5" oil on canvas $970
Nature's Chainsaw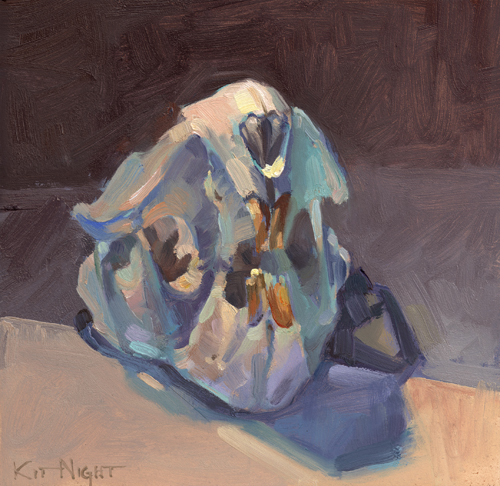 May 6, 2015
In my studio I have a natural history shelf. It holds my special finds from hikes in the mountains, woods, lake beds and trails - treasures of skulls and bones, oddly shaped wood, rocks, and bird nests. The curves and arcs within the skulls, with their details of little fissures and broad planes of soft white, are nature's original sculpture.
Their forms offer delicate beauty, and a chance to see the way things work. This beaver skull has the added surprise of intensely orange-brown choppers.
8" x 8" oil on panel $265 Art in the Morning special
Hotel Room, San Francisco
April 29, 2015
There is no way to better "see," or to plant a memory in one's brain, than to pull out your sketchbook and sketch. Or pull out your pad and write. You don't have to be an artist or a writer.
While we share a glass at the end of a lovely day in the city, sketching this charming, eccentric, historic hotel room helps me know it much better than I otherwise would.
My little sketch, in all its unpolished ways, will always bring to mind the bursts of rain and sunlight as we walked the city by day. The memory of the amazing and forceful dance troupe we saw will jump off the page. And the dim light casting shadows on the nighttime ceiling will bring to mind one of our favorite little restaurants that simply and quietly gets things just right.
5.5 x 5.5 sketchbook nfs
Blue Meander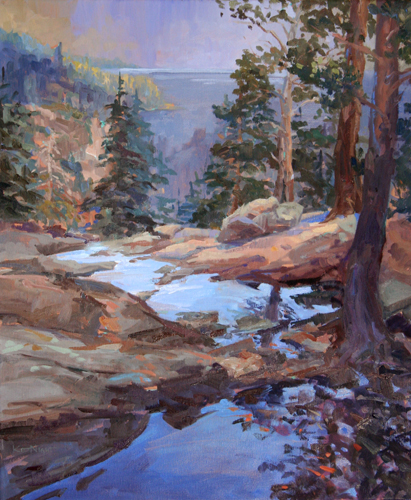 April 22, 2015
High, low, up, down, cool, warm, nature's sounds, an approaching storm, and space to contemplate the universe.
A bird's-eye view can lead to a new perspective on many things.
18" x 24" x 1.5" oil on canvas sold gilclee on canvas available
Peaceful Spring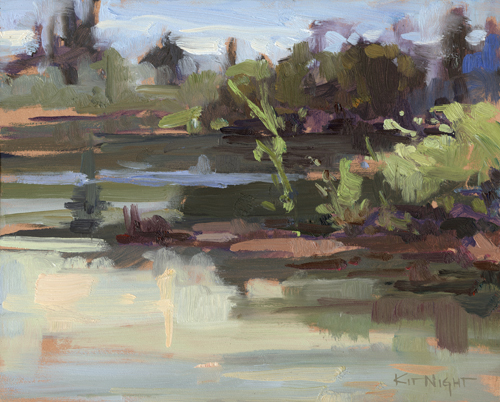 April 15, 2015
A picture, in this case, eliminates a thousand words (if you can call goose squawks words.) Those guys have an opinion about everything and a squad leader mentality to match.
These were voluble Mediterranean-style geese, not stoical Norwegian-types, with a little bit of Australian Shepherd thrown in.
I couldn't help but laugh. All this cacophony along the shore while the rest of the water was placid. Buds popped bright green in the sunlight, against the cool dark shadows.
An egret walked by like Nefertiti, backlit against the Nile.
8" x 10" oil on panel sold
A Room of One's Own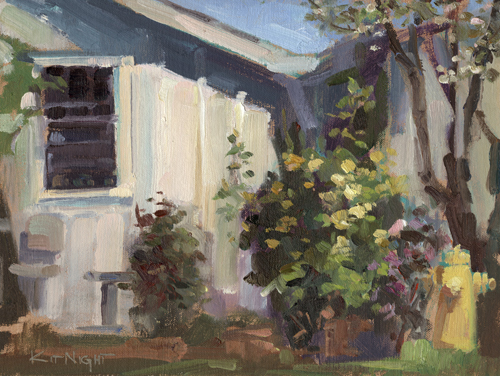 April 8, 2015
It's the byways that lead one to the backside of small towns - places with their own culture and theater of life, their personal histories and mysteries - quiet places where the individual acts of living go on. A community garden, the family with the Chinese restaurant, a woodworker creating amazingly well-crafted mosaics of beauty, the photographer with his chummy cat and dog on the front porch, all are welcoming to a person with an easel, allowing one to paint their world through different eyes.
You have the gregarious resident artist who stops by to show me his new canvas, and the reclusive pianist who lights-up the air with his own descending staircase of color and sound. There is a field of old tractors in waiting, like models at the end of a runway.
The buildings, just like us, settle with age and display the quirks and props that allow them to remain upright. Behind each window is a story to be told, and a room of one's own.
9" x 12" oil on linen panel $340 Art in the Morning special
Quiet Waters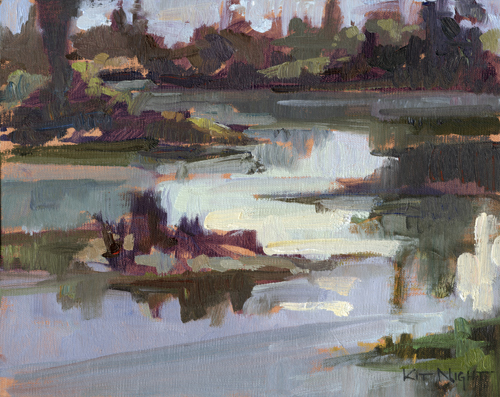 April 1, 2015
Editing, the painter's continuous pursuit. A way to say more with less. I went to a region of different flora and fauna to shake things up and see things fresh. New textures, new light, new colors - whether in music or painting or heck, life - we always want new eyes, a different empathy, a walk in unfamiliar shoes.
Painting is a kind of conversation - an improvisation with yourself and the view, yourself and an idea, or yourself and a feeling. With every painting I try to learn something new.
This painting wasn't what I expected. I thought I would be taking it further - more color, more developed nuance.
But what I had grabbed me. I walked away from it and listened to the birds. I turned it upside down to see what was really there, instead of what I thought was there. I realized it said everything I wanted to say. Part of the trick is knowing when to stop.
8" x 10" oil on panel $315 Art in the Morning special
Sun Kissed 2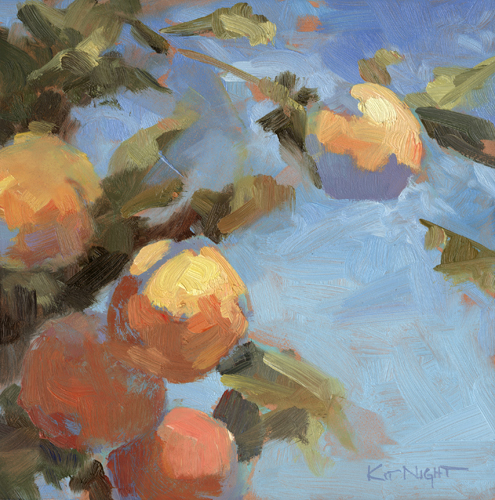 March 25, 2015
I couldn't resist taking the opportunity to paint more glowing globes hanging from the tree. Brilliant, sunny, saturated oranges and yellows, tinged in pink, red, and lavendar in the shadows, they are a visual celebration.
Living in the Sierra - the land of low-water-use plants - where all is a shade of gray-green or gray- brown, these babies just called out to be painted.
Bravo Bellas! Thanks for a dip into the wild side of my palette.
8" x 8" oil on panel sold
Bathe in the Shade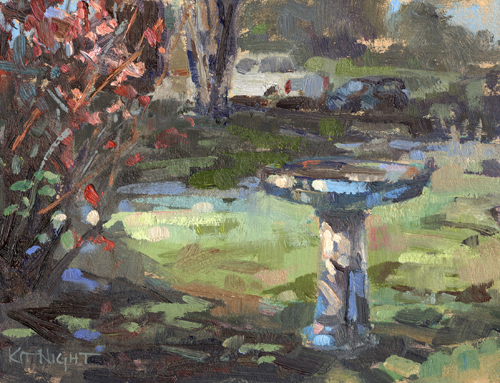 March 18, 2015
A quotidian scene - you can smell the fresh spring grass and the quince bobbing on the breeze. This brings forth a bit of nostalgia for a time that was quieter, sometimes more sane, and certainly more contemplative. A time when one would sit in the yard after a day's work, to read the evening paper, and look over the top of it to watch a little bird splash about as you savor the written word.
I was visitng my 99-year-old aunt and brought out my paints to capture the birdbath my grandfather made during the Great Depression. Quiet contemplation was something people needed then.
We still do.
6" x 8" oil on linen panel sold
Garden Party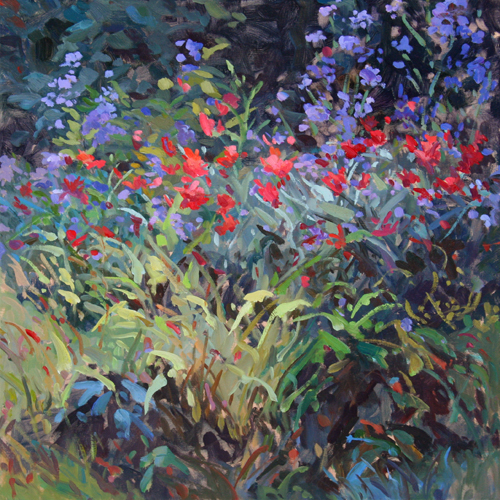 March 11, 2015
Be it garden or field or forest, I love the way that some pieces of land absorb every bit of sun or rain or snarl of wind that went into their making, and give it back to you full force. Through body language and color, in texture and sinew, they choreograph a retelling of their story.
We only have to pause long enough to listen.
20" x 20" x 1.5" oil on linen sold
Sun Kissed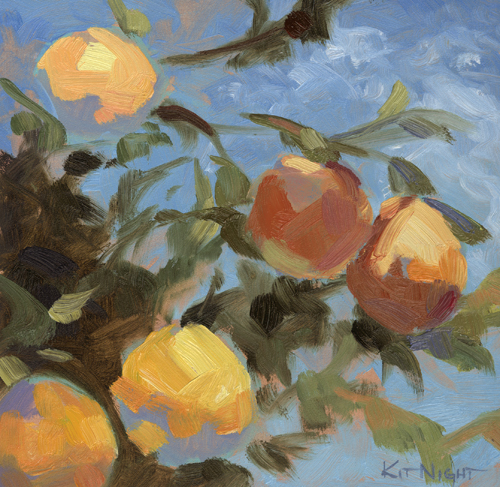 March 4, 2015
Coming from the "Tundra," I am still astonished to see real live citrus growing from actual trees in someone's yard or orchard. And it's edible!
It seems like impossible, wonderful magic.
8" x 8" oil on panel sold
Morning Market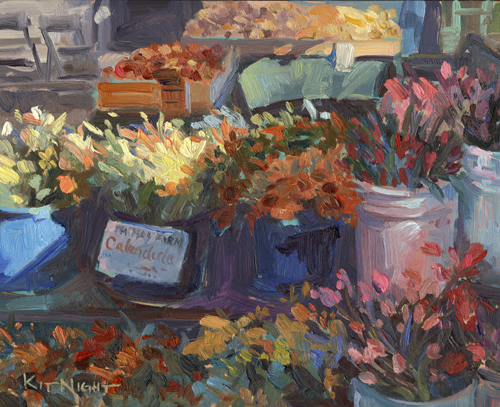 February 25, 2015
A splash of morning sun cuts into the scene, bringing the bundles of fresh-cut flowers and freshly-stacked produce to a blaze of brilliant color. The air is filled with fragance and the buzz of cottage industry. Down the way, the bay beckons with the call of ships and ferries. San Francisco comes to life.
What better way to greet the day.
8" x 10" oil on panel sold
Clear and Still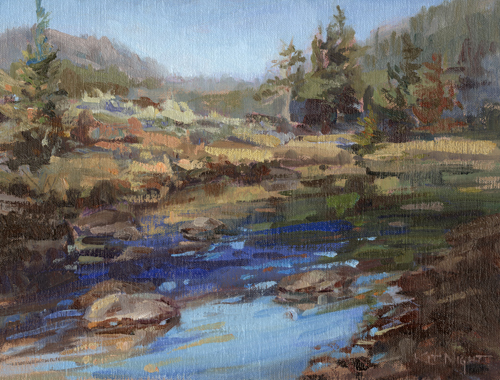 February 18, 2015
I take advantage of a low snow pack. With high-altitude heat on my back, it's clear and still on a sun-filled winter day.
9" x 12" oil on linen panel sold
Wave Patterns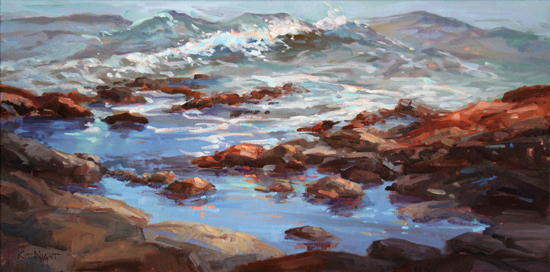 February 11, 2015
If you've ever hung off the top edge of a Hobie Cat while it's screaming across the water, not sure if you're about to get ejected into space or catch an edge and go nose first into the drink, laughing at the surprise of it all, then you have some idea of how I felt while painting this.
Talk about being outside my comfort zone. Gone were the subtle murmurs and twists of the river, no peaks or distant rocky masses to capture. I was really flying by the seat of my pants.
It was thrilling to ride the crests and surges, looking for the transparencies, the darks and lights, the shifting colors. It was like being caught within a symphony. And I learned some stuff.
Just like that Hobie ride, I can't wait to do it again.
15" x 30" x 1.5" oil on canvas $970
The Ponte Vecchio at Dusk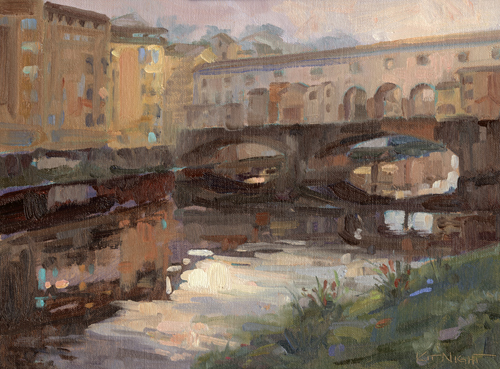 February 4, 2015
As Yogi Berra said, You can observe a lot just by watching. Such was the case when dusk fell upon the Ponte Vecchio. The Italians have a wonderful tradition called "La Passeggiata" - or the promenade.
When dusk arrives, Americans gravitate toward the couch, the television, and the potato chip bag, Italians take to their cobbled streets to do laps. They stroll, often quite fashionably, each night before a late dinner.
As they thread through the lanes, people visit and take in the scenery. The "healthy Mediterranean diet?" Sure. But I think it's all that moving about and sense of community that is their real secret to health.
9" x 12" oil on panel sold
Roma Therapy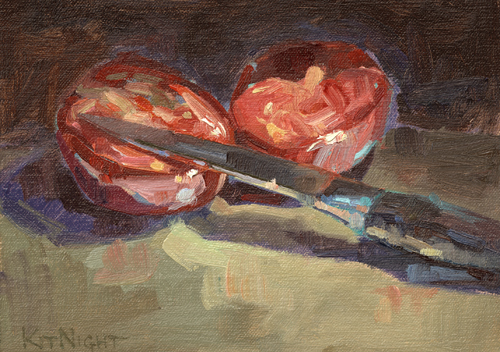 January 28, 2015
With visions of Bernini sculptures dancing in my head, what better way to ward off winter's chill than to make plans for next spring's workshop in Tuscany.
Last year's Tuscan workshop was one of the most rewarding things I've done. It was a thrill to be a part of so much growth, and to see people surpass their expectations.
I think I made a wonderful discovery. When people traverse the map and skip over an ocean to embrace a new culture, they are far from the familiar yet filled with anticipation and excitement. They find new solutions in their box of paints. Magnifico.
6" x 8" oil on linen panel $215 Art in the Morning special
Lamp Glow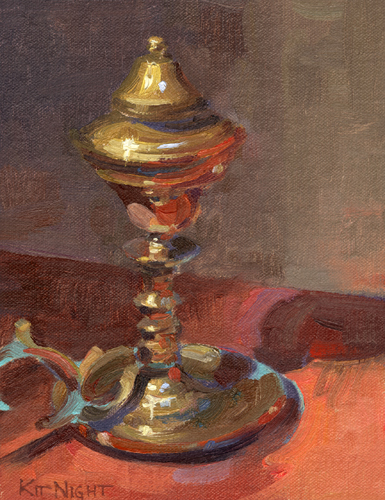 January 21, 2015
A stairway climbing into the darkness, thick velvet drapes cloaking tall windows against the chill, whispers heard from the trees outside - I can't help but see these pictures when I reach for this brass lamp. Its heft and tooling evoke a different time.
One wonders if mysteries were more mysterious, and hounds howled louder, while the quill scratched across the heavy paper. What night was assembling just beyond the spill of the lamp's glow?
6" x 8" oil on linen panel sold
The Author Writes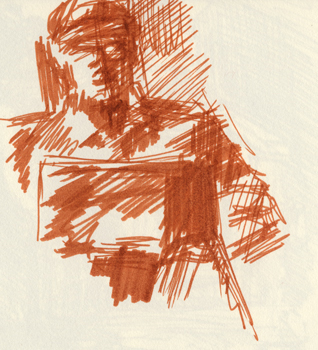 January 14, 2015
Like many people who push words or paint around on the page, we have a common phrase in our house - Writers Write. Painters Paint.
We are often told that creativity requires inspiration. Or talent. I think it just requires hard work and focus, living outside your comfort zone, and getting used to falling. The cool thing about it is that you never have all of the answers.
People in my workshops often hear me say that I think talent is over-rated. So is inspiration. You can be out on the street corner waiting for that particular bus to arrive for an awfully long time. Only to find out that the route has changed.
If one wants to write or paint or dance or compose, the main thing is to show up and do the work. Just begin. It is often by working that you have something to respond to and the light bulb turns on. At the very least, you find out what doesn't work and you can build on that discovery.
Jump in. What have you got to lose?
Overcast and Rushing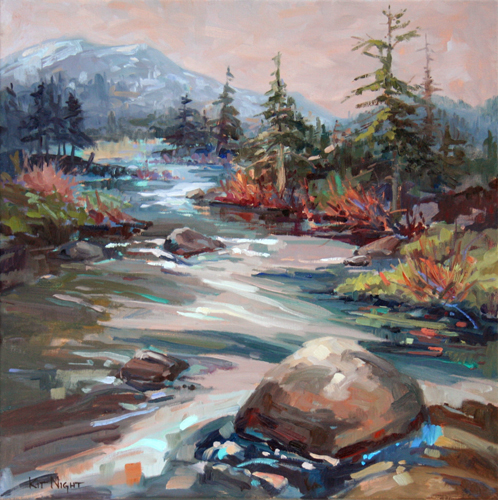 January 7, 2015
I love the way direction of strokes and the pattern of darks and lights can evoke the power of a rushing river and lead your eye back into the landscape.
Perhaps it was those patterns that called to explorers heading west - always drawing them around the bend and over the next pass.
20" x 20" x 1.5" oil on linen sold gilclee on canvas available
Previous - Art in the Morning 2014 Next - Art in the Morning 2016