Harlequin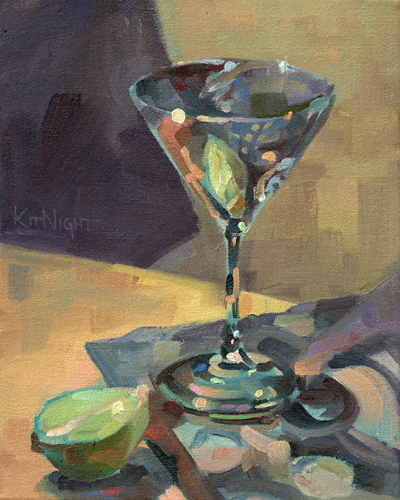 December 28, 2016
A painting often heads off with a mind of its own. While I was seeking merriment, it invites along mystery and drama, the serendipity of melody and the pitter-patter of pattern.
Soon, there is a knock on the door and in comes a juggler with eight balls in the air and a guy on a unicycle. Say, what?!
By the end of the night the lady with lungs arrives and belts out an aria that brings us to our toes. But somehow, she makes it swing.
Now we're talkin'.
8" x 10" x 1.5" oil on canvas sold
Night Light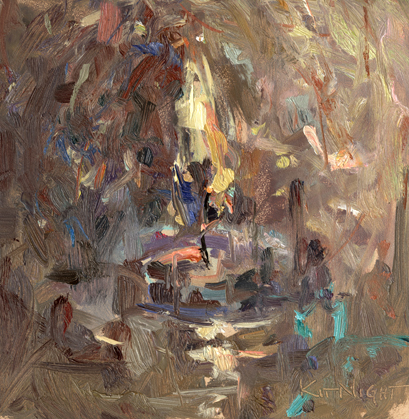 December 21, 2016
Like that famous guy is known to have said, we'll leave the light on for ya.
6" x 6" oil on panel sold
Firelight in a Glass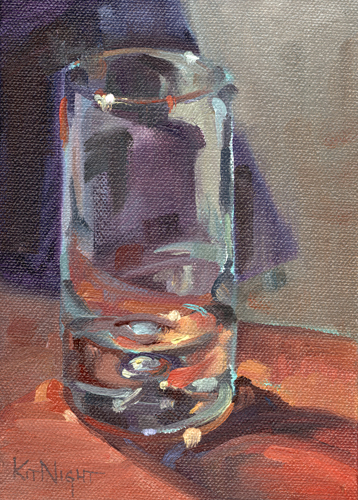 December 14, 2016
Here's to building a fire against the vortex outside, and inviting someone in to be warmed by it.
After breaking bread and sharing a glass in the golden glow, the night has lost its chill.
Here's to good will.
5" x 7" oil on canvas sold
Fruit Jar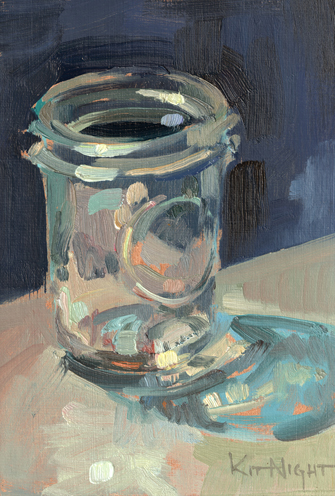 December 7, 2016
One day it's on a shelf in her pantry. Another day it's holding gem-like preserves. Monday, it's the perfect good morning juice glass. That day it was something to remember her by. This day it was fun to paint.
Beauty is most anywhere we look for it.
5" x 7" oil on museum board sold
Plum Ready Warmth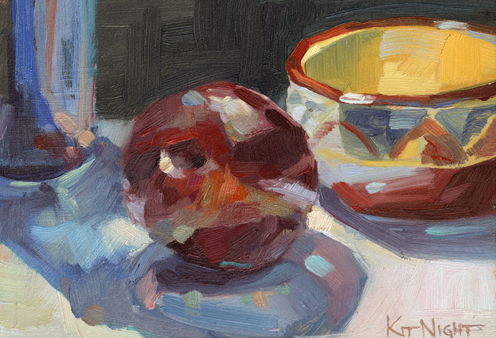 November 30 , 2016
Like most mountain ranges, the Sierra is filled with micro-climates. Ours just left us with a great blast of snow - twenty inches of fresh stuff on our deck has the little red wood stove warming up the corners.
Maybe that's why the red on my palette called out to splash about. Produce and pottery and coming indoors to paint today speak of winter's arrival. I'm ready for a good book by the fire.
Nice that the author is cooking while he cooks up a new plot.
5" x 7" oil on panel $140 Art in the Morning Holiday special
Warmth from Within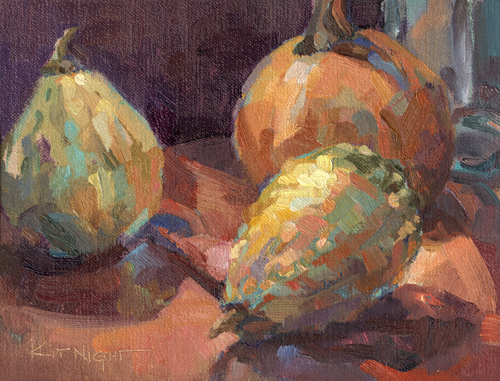 November 23 , 2016
As a painter, I've learned that the colors on my palette breathe life into me. When the world is dark, my colors make it glow. Dipping from this pool and that, I play cool against warm, dark within the light, dull against brilliant. It takes both, and all, to make a painting sing.
The same is true for me in life. I find all the colors in the human rainbow make life sing. They surprise me and take me places I never intended to go. I find confusion and understanding. Just like the process of painting, life is a continual spectrum of learning. Thank goodness.
This Thanksgiving, I am giving thanks to the rainbow that has helped me find who I am. The friends and neighbors near and far, the people who have taught me of life, and the ones I have yet to meet.
6" x 8" oil on linen panel sold
Forest Understory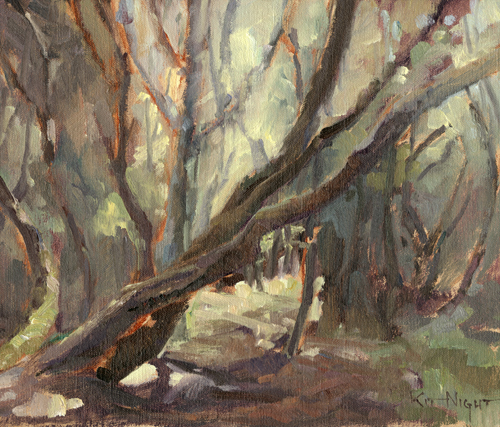 November 16, 2016
Beneath the majestic Redwood canopy lies the understory. It smells earthy, and green with humidity. These smaller trees lean, tossed about like a storm just blew through.
Amid arches and ribs and reaching arms, the stillness and shadows are complete.
Until a songbird unleashes his heart, brightening the filtered light. His magic turns the darkness to mystery. The light, to possibility.
9" x 12" oil linen on panel $340 Art in the Morning special
The Second Coming
November 9, 2016
"Turning and turning in the widening gyre
The falcon cannot hear the falconer;
Things fall apart; the centre cannot hold; ..."
- William Butler Yeats
6" x 6" oil on panel sold
Moonlit Glass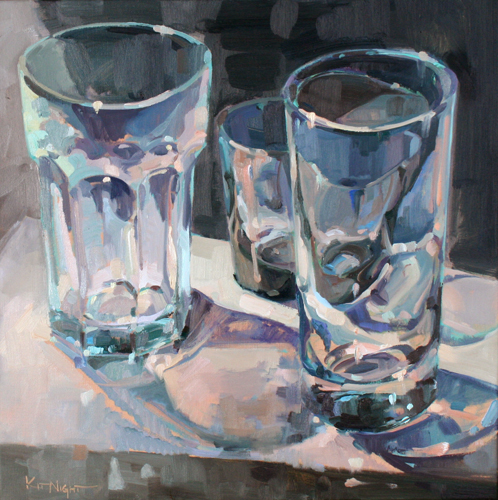 November 2, 2016
Glass is exciting to paint.
Often the subject of a painting isn't about the thing, it's about the light or the abstraction, the mood or the atmosphere. Glass lets me do all of the above. I get to push space forward and back. I get to lead your eye in and through and back and around. Like firelight, glass lets your eye roam and your mind relax.
The light skates in on a moonbeam. Then, as the jazz singers say, I get to hit you with a hot note and watch it bounce.
20" x 20" x 1.5" oil on canvas sold
Before Dawn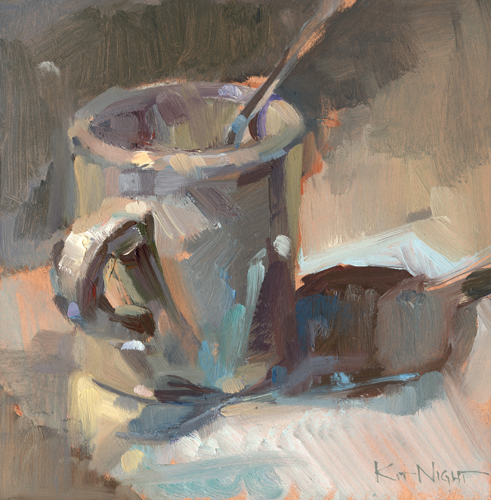 October 26, 2016
I raise my cup of joe to the artists and makers of things, who rise before dawn at 1:30, silently moving through their hotel room in respect of sleeping guests, sipping their cup of extra-strong brew while they wait for their brains to catch up.
Off into the night we go, trying not to bump the van horn or slam a car door. We slide down unfamiliar streets we rehearsed from maps the night before.
On site, we don our head lamps and look for our booth location chalked in the street. At such a ridiculous hour, 99% of these people are kind and helpful. We try to be good neighbors. Some are gregarious storytellers while others prefer silence in the shadows. Some have Ph.D.s in physics or English, others are citizens who sculpt the air with exotic accents of elongated vowels or diphthongs. Many have both. Frankly, it's a highly-educated bunch.
With stealth and muscle memory, all of us move with purpose. We construct stores and studios on the spot. We look at how best to display what is our passion and our meaning.
Speaking for myself, I chose this more rugged route after enjoying showing and selling in galleries. I prefer to meet the people who collect my work. I love hearing their stories and meeting their families. It's a gift to get the chance to say "Thank you," and give them a hug.
What I really love is the opportunity to bring some kindness into the world. Through art and color and human connection, I have this chance to make life a little nicer or more beautiful for someone else. I feel pretty lucky.
8" x 8" oil on panel $260 Art in the Morning special
Granada
October 19, 2016
I love the way travel shrinks the world and increases our understanding of other cultures. On the way to teaching my Italy workshop this spring, we sought out the Spanish architecture and landscapes which have fueled painters for centuries.
Granada was such a place. Within its white walls, the narrow, winding cobbled streets lead to the adventurous overlooks one discovers while being lost - full of radiant sunsets and the frequent sense of emerging from cool dark into blazing light.
Each turn brought visions of Moorish-influenced courtyards in handsomely-carved dark wood. Alhambra's stunning beauty of Muslim-influenced fountains and pools, domed ceilings and acres gardens, provide peace and aesthetic vision.
I felt the good fortune of getting outside myself.
5.5 x 5.5 sketchbook nfs
River Bend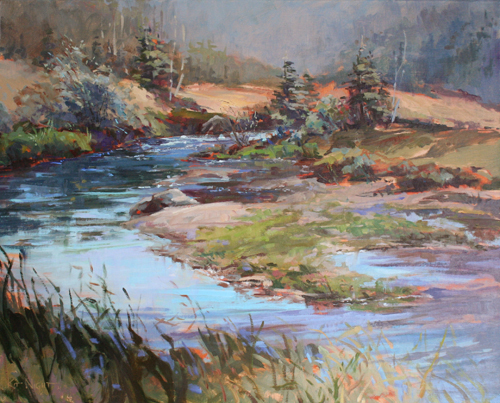 October 12, 2016
Wind whips over the meadow grass as moisture-laden clouds roll in. A raptor drops from the sky to score a fish, his omega-3 supplement for dinner.
But below the water's surface, all is a cool blue-green glide of calm.
24" x 30" x 1.5" oil on canvas sold Art in the Morning special
Apples Re-imagined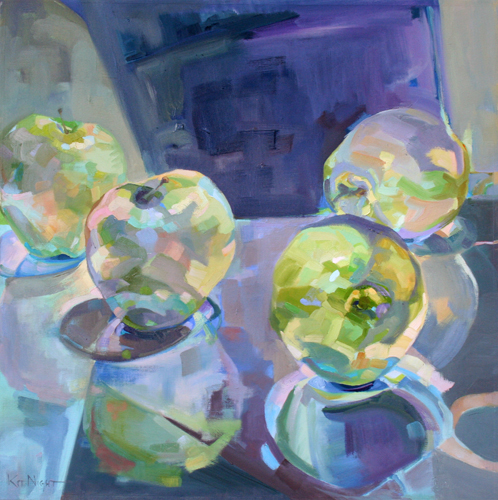 October 5, 2016
Hip and snappy, tart and sassy - who says the apple doesn't fall far from the tree.
24" x 24" oil on stretched canvas sold
Reflecting Pools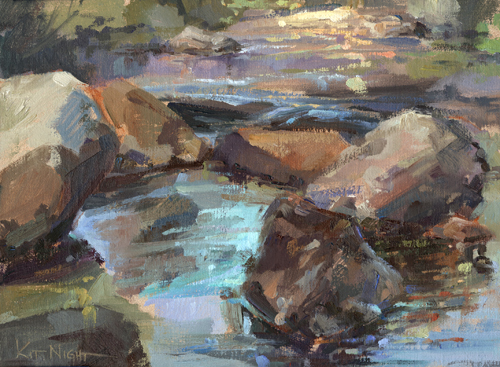 September 28, 2016
Tucked under the shade of a fir, at river's edge, I hear the waters talk. It's a conversation worth listening to.
Shadows cool. Breeze whiffles. Fish rise silently and burp the surface, leaving ripples in their wake.
It is a world worth finding time for.
9" x 12" oil on panel $230 Art in the Morning special
Watching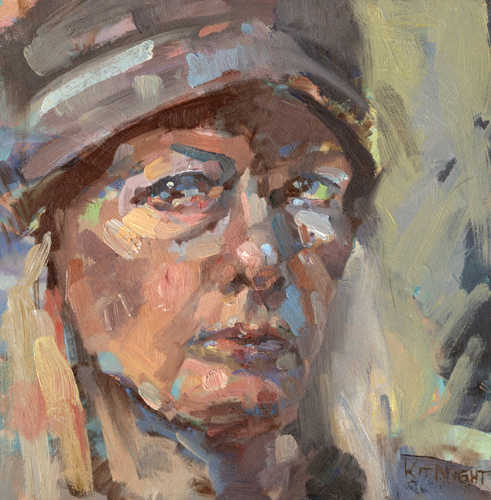 September 21, 2016
Looking
Observing
Considering
Measuring
Empathizing
Watching
8" x 8" oil on panel nfs
Summer Gold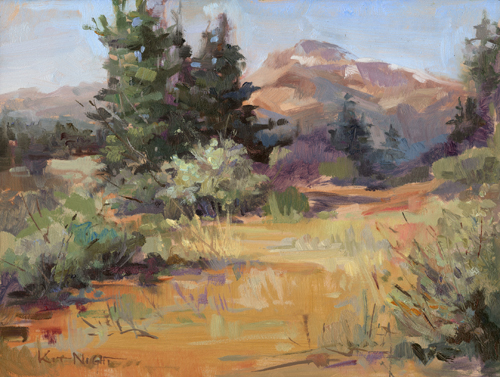 September 14, 2016
Like the rest of us, sometimes nature doesn't want to let go of summer. Love those glorious golden days
9" x 12" oil on panel sold
September Glass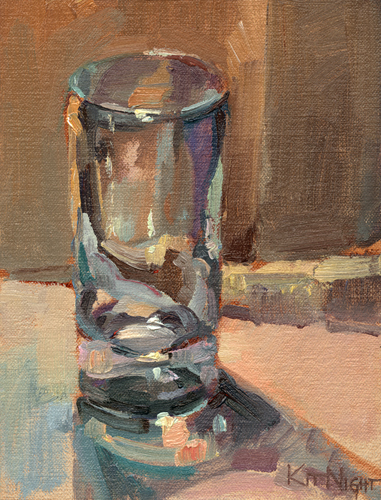 September 7, 2016
Seasons turn in all things. We find beauty in the everyday.
6" x 8" oil on linen panel sold
Pickett's Green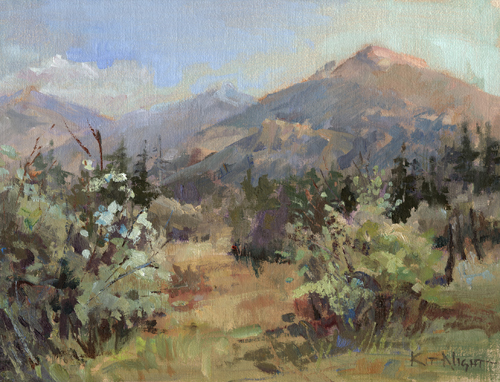 August 31, 2016
As the sun drops from its zenith, shadows find pockets in which to plant themselves and grow. Contrast and color begin to reassert themselves.
Nature and paint. What could be better.
9" x 12" oil on linen panel sold
Good Morning Lucille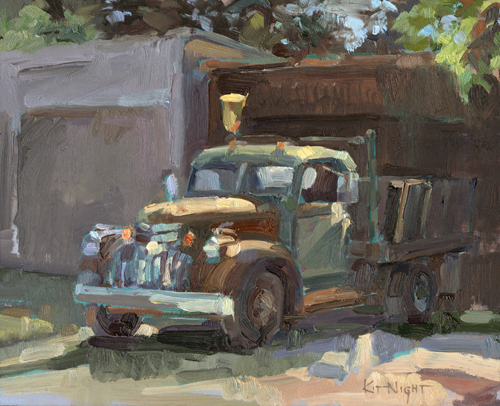 August 24, 2016
My muse, Lucille, calls. Painting her brings scenes of another time, another vehicle, visions from the American landscape... the sounds of whirring grasshoppers and melodic meadowlarks stream in through the open windows. I rumble over gravel roads like a crop-duster, leaving plumes in my wake.
The scents of hay and cut grass fill the air. Plots of brilliant green grass and crisp white buildings dazzle in the sunlight. Red barns pop against cornflower-blue skies.
No doubt a coke machine with rounded edges and a long-legged girl in short-shorts, immortalized on some poster, wait just up the road, around that bend.
8" x 10" oil on linen panel sold
On the Road - La Toilette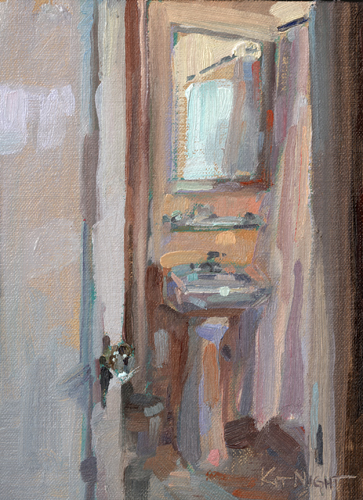 August 17, 2016
Have easel, will paint. I took my cue from Pierre Bonnard... alas, his muse, mademoiselle, is away.
An aside - I think the French must have special skills. How else could they keep their expansive universe of vowels straight?!
6" x 8" oil on panel $270 Art in the Morning special
Big Mountain Splendor
August 10, 2016
I am transported when I look at this piece. I hear the brrrr of the red-winged black bird, and the whisper of the breeze as it riffles through the grass. The rhythmic lap of water is again at my feet. So too, the occasional rrbbitt of a frog. It makes me calm.
I would love to declare Global Nature Month. Or at least, Global Nature Week. Nature is the ultimate reset button. For the same reason, I created Art in the Morning.
We find our better selves through art, and nature.
24" x 30" x 1.5" oil on canvas $1640 Art in the Morning special
Glass Harmonies: Agua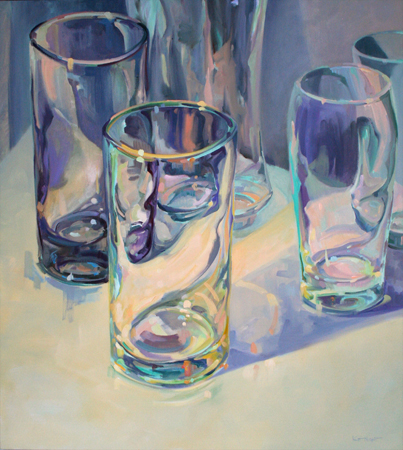 August 3, 2016
Looks like sunlight and water and cool fresh air. Here's to summer.
36" x 40" x 1.5" oil on canvas $3700 Art in the Morning special
Lighthouse Shore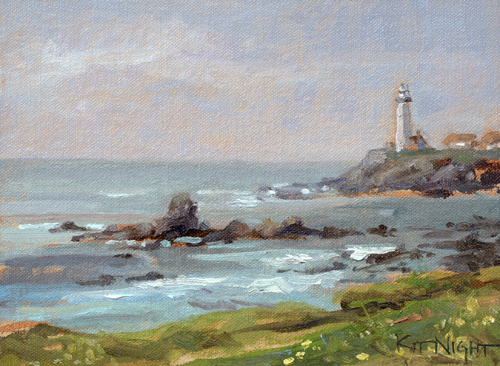 July 27, 2016
A piece of time preserved - nostalgic, historic, a way of life. It's a landmark beauty.
6" x 8" oil on panel sold
Olive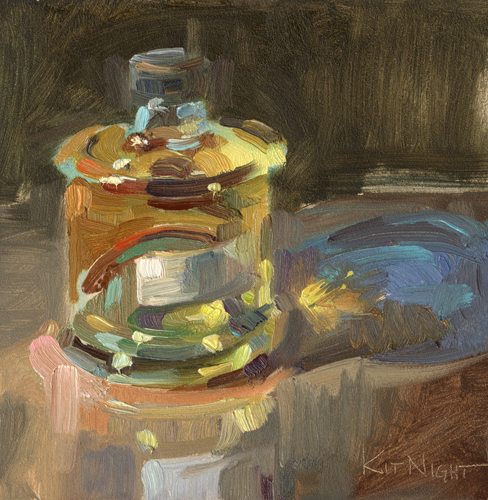 July 20, 2016
Near as I can tell, it's so good for you!... Not only is it great on pasta e insalata, you can use it on your popcorn, as a dessert topping, and as a skin moisturizer... who knows? Maybe it will even clean your floor.
6" x 6" oil on panel sold
Conviction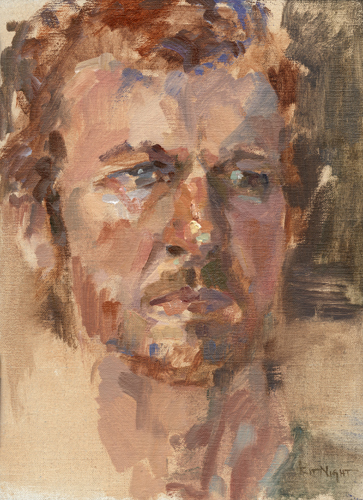 July 13, 2016
The eyes tell the story. A study in contrasts - simultaneously looking outward and inward. Caught in a wedge of light and shadow, he seems to be weighing the odds and possibilites of an idea, asking, how well do I know myself?
Finding courage while remaining smart, the glint in the eyes tells me he's going to go for it.
9" x 12" oil on linen panel nfs
Morning Calm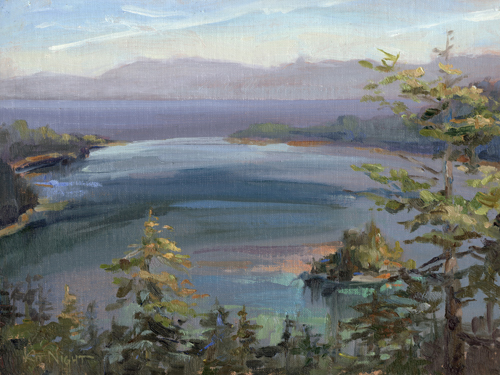 July 6, 2016
A peaceful morning in the corner office.
9" x 12" oil on linen panel $290 Art in the Morning special
Yes, Chef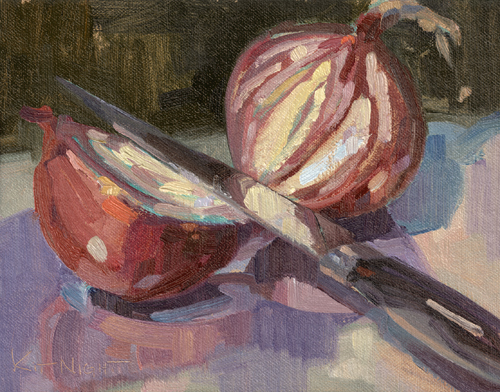 June 29, 2016
My lunchtime reading has been, Yes, Chef, an inspiring memoir about the power of persistence and grit, by Marcus Samuelsson.
The only recipe you will find is one for living a life of passion and purpose, channeling one's ambitions and creativity through discipline, and a vision to make a difference.
From Kenya to Sweden, to Harlem, NY, and beyond, Marcus embraces the richness to be found in the diverse cultures of our melting-pot world.
Through his artform he has found a way to mark humanity with goodness.
6" x 8" oil on linen panel sold Art in the Morning special
Pienza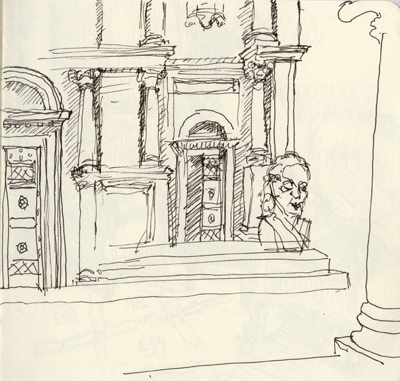 June 22, 2016
While my workshop painters get a private tour of a gelato maker's special craft, I grab a moment in the lavender shade under a portico to sketch a cathedral.
They arrive in a rainbow of happiness.
5.5 x 5.5 sketchbook nfs
Local Color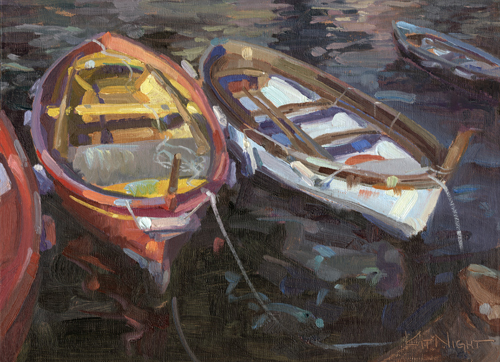 June 15, 2016
Bobbing boats and buoys, the visual crackle of reflected highlights and water-sparkle, the snap and snugging of boat lines as they tighten and ebb in rhythm to the waves.
Just another midday quiet in a seaside Italian village.
9" x 12" oil on panel sold
A Table with a View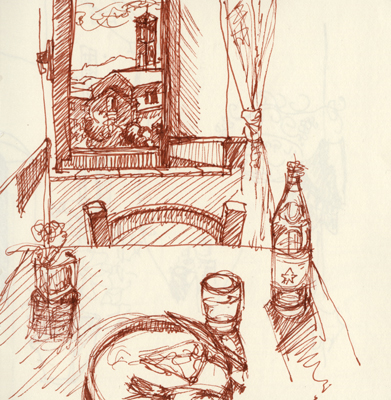 June 8, 2016
Bells ring on the breeze through the open-window table-side view to the climbing Tuscan town. My paints are stored for a moment to savor it all.
Brubeck and Desmond play Take Five to the quiet Italian conversation that surrounds.
It's all music, the universal language.
5.5 x 5.5 sketchbook nfs
Tuscan Village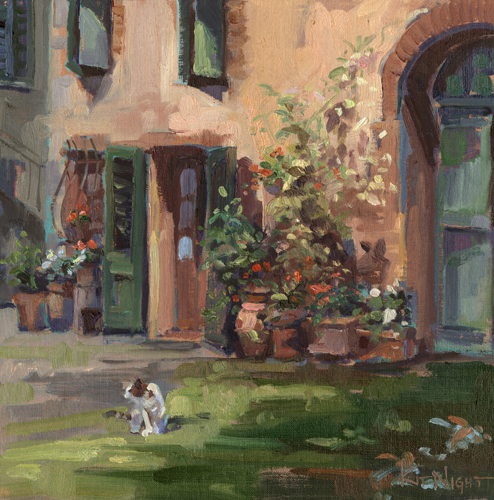 June 1, 2016
Who said it's a dog's life?
10" x 10" oil on linen panel sold
Boats Afloat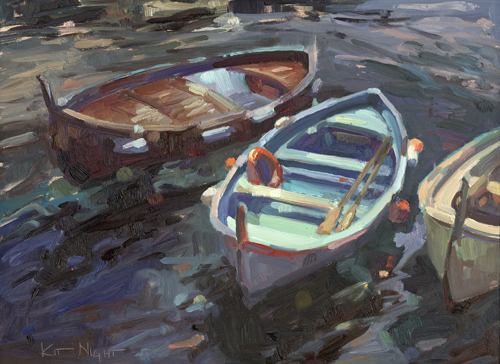 May 25, 2016
I have an undying attraction to boats.The simpler, the better. I love their vessel shape, and the independence and industry they inspire.
I love their ability to transport one silently to places beyond - both physically and metaphorically.
9" x 12" oil on panel sold
Up and Away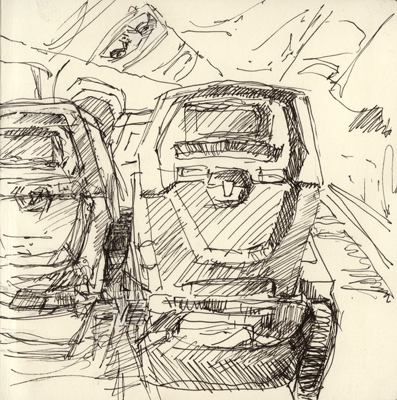 May 18, 2016
It pays to put down our phones and look at what's around us.
Have sketchbook, will sketch.
5.5 x 5.5 sketchbook nfs
Blue-sky Clouds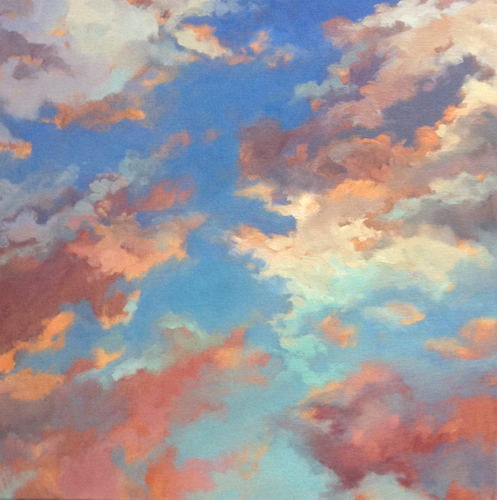 May 11, 2016
If you need a cure for what ails, look up. To the sky or the universe, they're bigger than us.
And if you can, add some further mood-altering effects with Louis Armstrong on trumpet and Trummy Young on trombone, playing, "I'm Crazy 'Bout My Baby" - on, Satch Plays Fats.
Theirs is the perfect call and response. Full of swing and ebulliance, their music embraces life and lifts all who listen.
24" x 24" x 1.5" oil on canvas sold
Wallflower No More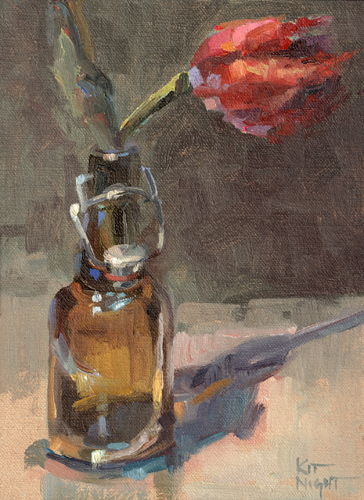 May 4, 2016
Big and bold, and leaning into everything!
Something tells me her boots are made for walkin' and she just won't be taken for granted.
6" x 8" oil on linen panel sold
In Memory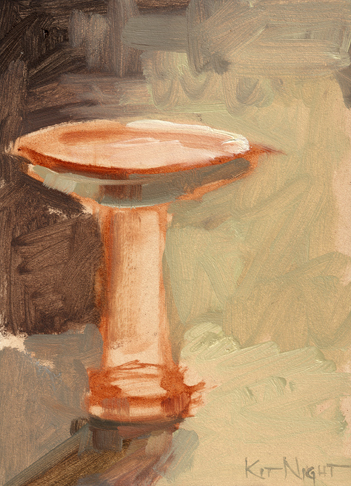 April 27, 2016
Those we love live on in how they continue to shape us.
And in how they continue to make us laugh.
5" x 7" oil on panel nfs
Portrait Sketch - In Thought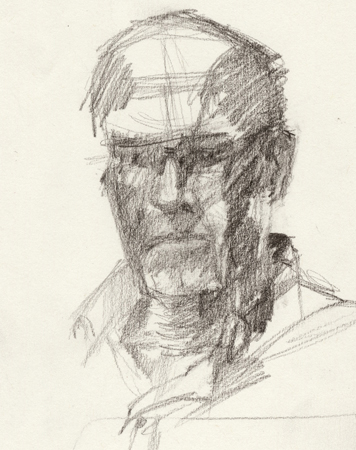 April 20, 2016
Pensive? No, just thinking.
(It's a family phrase.)
4 x 6 graphite in sketchbook nfs
Spring Melt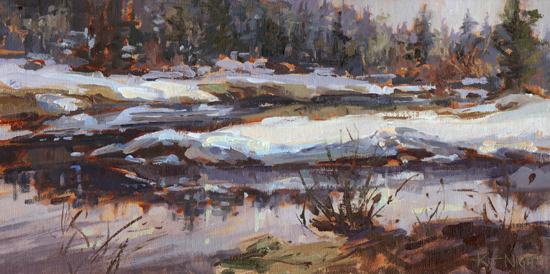 April 13, 2016
The moods of quiet color, and the notes of freshly-melted snow tumbling into riverflow and waterfall, create a springtime melody all their own.
8" x 16" oil on linen panel $370 Art in the Morning special
Landscape Beginnings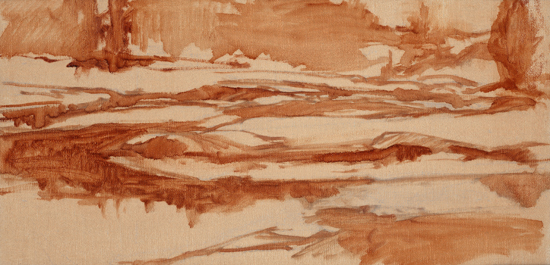 April 6, 2016
Laying-in the composition is one of my favorite phases of a painting. It's full of jazz and bounce, pacing, and the design of the negative space between the notes.
This is when I get to make use of what I've learned from Miles and Coltrane, composing the density and openess, the speed through some areas, then slowing down the eye, avoiding the stasis of repetition.
With the addition of color comes the influence of Armstrong and Ellington.
8" x 16" oil on panel sketch for the painting above
Ruby Onion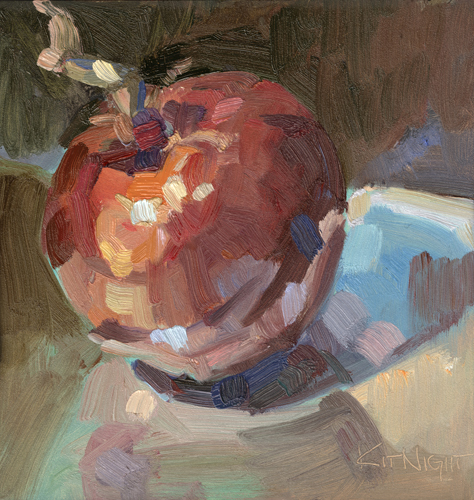 March 30, 2016
Food gurus often praise the health benefits of onions.
What they neglect to mention is the wonderful wash of endorphins one gets when you pull out your paintbox and splash all of that juicy color about.
6" x 6" oil on panel sold
Dutch Treat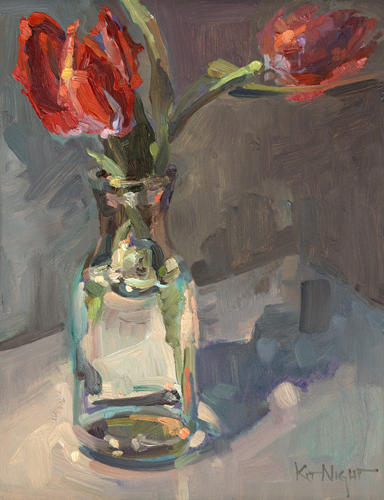 March 23, 2016
There is a reason most kids name tulips as their favorite flower. In their box-of-8 color-crayon hues, nothing says "Happy Springtime" better.
While we remain thrilled to be getting snow in the Sierra, there is springtime in the fresh, humid air. And maybe in a flower bed near you.
Sow some wildflowers and wish the honeybees well this year. They need your support.
8" x 10" oil on panel sold
Sketchbook in Hand - Desktop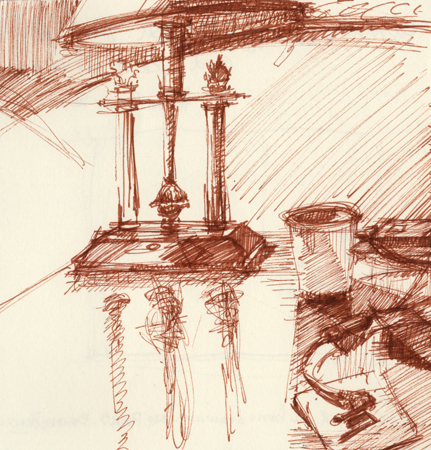 March 16, 2016
Here's to a clean desktop after your tax prep is done.
Looking good.
5.5 x 5.5 sketchbook nfs
River Delta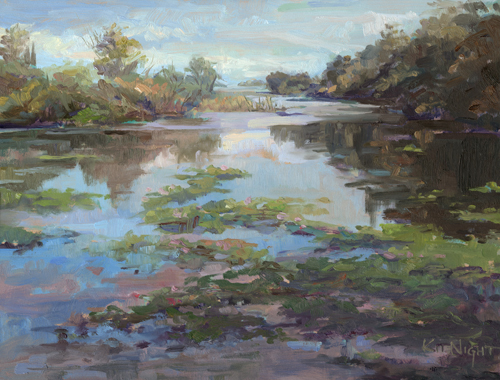 March 9, 2016
The landscape is like music. It can draw you into deep spaces you never even knew existed.
9" x 12" oil on linen panel sold
On the Road - Work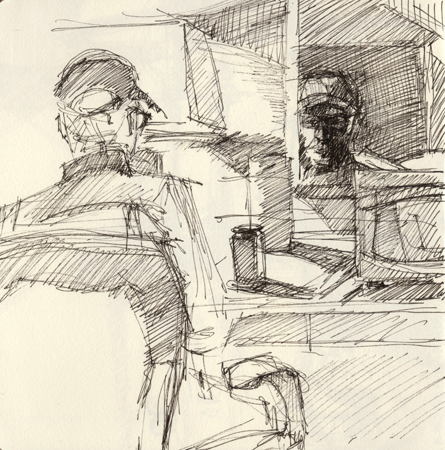 March 2, 2016
Whistle while you work.
Cook while you write.
Have microwave, will travel.
Road life is made nicer by home-cooked meals and the quiet to continue working in your room at night. The other big treat is what waits on the other side.
This time I'm a guest speaker, leading an animated critique session with Placer Arts in Auburn CA. Always a blast!
Joining a bunch of painters and drawers, photographers and collage artists is exciting stuff. Creating is solitary work. So it's great to see everyone being so supportive and thoughtful, striving to improve their work and helping others to do likewise.
Meanwhile, back at the hotel, I grab a moment to sketch a writer's solitary work - even as he cooks dinner on the side.
And he says he can't multi-task.
5.5 x 5.5 sketchbook nfs
Sunlit Lucille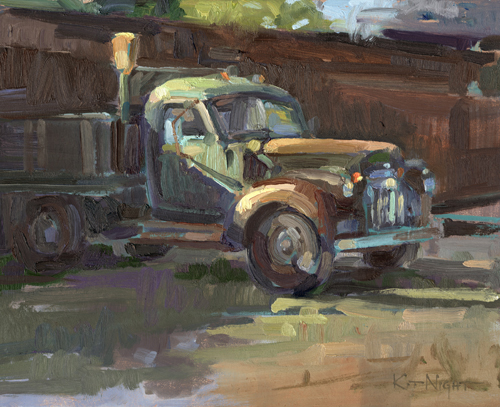 February 24, 2016
Some subjects are meant to be revisited. Michelangelo had his Pietas. Cezanne had his apples. Bacon had his angst-ridden dark figures boxed in cages. Hockney had his pools. Van Gogh had his sunflowers.
I have Lucille. I just love her classic lines, her chubby front, her can-do, go-to attitude.
I love the nostalgia she conjures, which comes with the whisper of civility.
8" x 10" oil on linen panel sold
Seven Words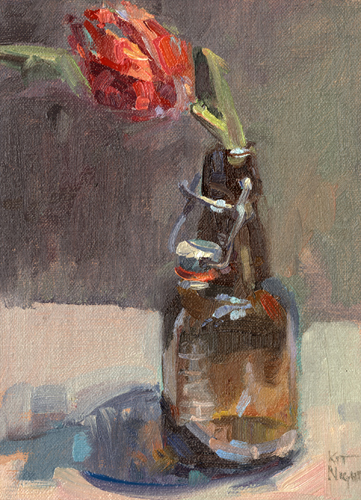 February 17, 2016
Seven words to describe a delightful seven-year old whom we could all learn from: Engaged, Playful, Curious, Creative, Ironic, Generous, Cursive.
That middle-ish one refers to her word-study du jour of the difference between ironic and sarcastic.The next one lands a tulip in a bottle on your studio doorstep.
That last one includes handwritten Thank You notes with Bravissima Rainbows. Pretty dang swell.
6" x 8" oil on linen panel sold
Radiant Winter River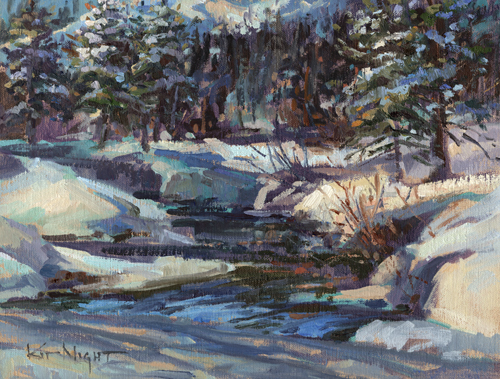 February 10, 2016
What fortune to be painting in the Sierra, where the precipitation is currently 115% of normal, (yeah!) The high-altitude sun beams warmth to keep me toasty, and brilliant light to keep the colors radiant.
Snow becomes a flowing river before my eyes.
Wherever you are, it pays to get outside. The ultimate refreshment.
9" x 12" oil on linen panel sold
Noir - Travis McGee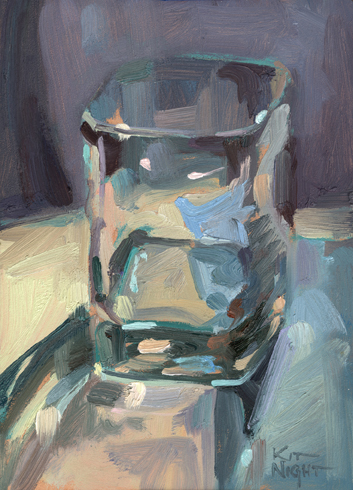 February 3, 2016
Travis McGee is a lanky-limbed knight and slayer of modern-day dragons in the post-Korean War era. Tanned and stoic, rough-cut yet suave, he cruises the waters of Fort Lauderdale for adventure and the airing of existential demons. Aboard his boat, The Busted Flush, his compass charts a course where "integrity is not a conditional word."
Restoring saved maidens on deck, a day that began with a dreadful lemon sky, comes to a close under an expansive rose-colored sunset - accompanied by Plymouth gin on the rocks and Peggy Lee's Fever on the turntable.
(This is part of an ongoing series of glasses I am painting in recognition of the terrific American Noir detective stories. Travis McGee's author was John D. MacDonald, one of the original environmentalists and ranter of rants on the same.)
5" x 7" oil on panel sold
Winter's Magical Mystery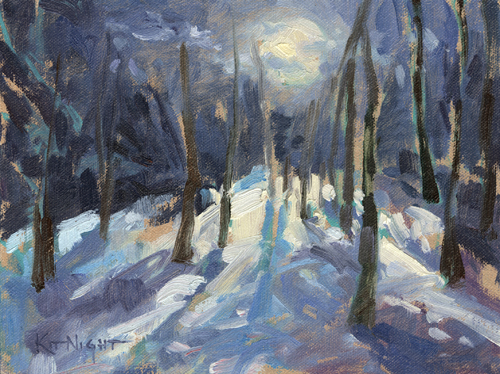 January 27, 2016
Like a woman's back, or a man's hands, nature's features have a story to tell. In its tendons and roots, its lush foliage in times of abundance, or its feral bones when there is no skin on the land, we come to know its history. And its beauty.
Such a gift to move within its light.
6" x 8" oil on panel sold
Sunlit Persimmon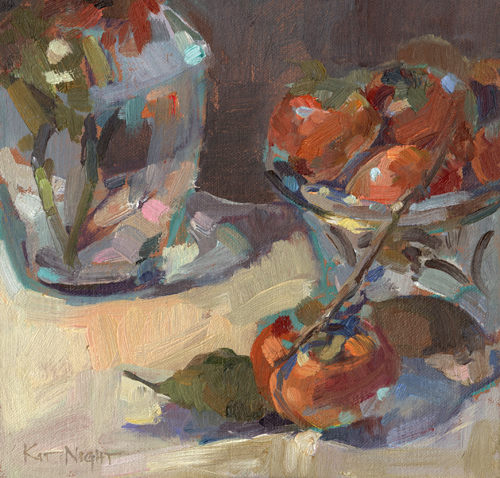 January 20, 2016
Like sunrise on a winter day.
8" x 8" oil on linen panel sold
Due Cappuccino, per favore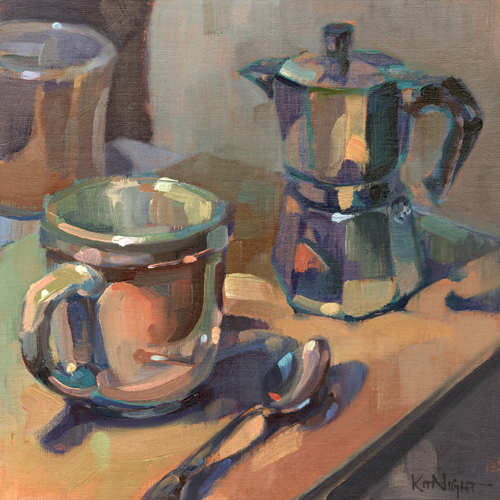 January 13, 2016
Travel is an adventure that takes us outside our comfort zone. It shrinks the world and increases understanding and empathy. We discover new things about ourselves while we explore unimagined beauty.
We also discover things we don't want to live without!
10" x 10" oil on linen panel sold
A Well-used Chair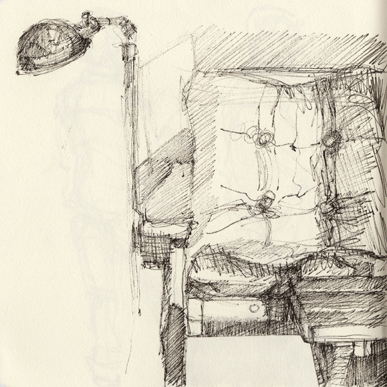 January 6, 2016
Chairs mirror the lives they've led. Whether it be elegantly polished and embroidered, or utilitarian and functional, a chair's posture reflects its engagement with others.
Like us, it has a history of rooms. It shares in adventures imagined, books read and maybe written, and offers a companionable place by the wood stove.
Drawing a chair is kind of like drawing a self-portrait. A lived life comes with wrinkles and pouches and a weak joint or two. It develops a capable style all its own.
5.5 x 5.5 sketchbook nfs
Previous - Art in the Morning 2015 Next Art in the Morning 2017