Bio
This page could be filled with all the usual dry stuff about Kit Night's development as an artist, but we won't bore you with that. Suffice to say that Kit did the art school thing, got her BFA, is in collections across the country, and has won awards from Maryland to California including (of course!), the National Orange Show.
Nightís work has received praise from art critic, essayist and Pulitzer Prize winner John Updike, jazz composer, pianist and creator of NPRís "Piano Jazz", Marian McPartland and best-selling author of "Art & Physics", Leonard Shlain.
"My work is influenced by Jazz. Miles, Coltrane, Dizzy, Evans, Brubeck and, as Count Basie used to refer to him, "Oscar Pete." I love listening to the old guys tell their stories and talk about their struggles. Listening to Jazz Profiles on NPR, it's like hanging out with them late at night. The music is alive, always changing. They push space. They push themselves to take risks. This is what I try to do with my paintings.
"What else inspires me as an artist? Color, of course. I get endorphins from it. I love creating radiant light with color. And, space. I like to push the envelope by shoving flattened abstracted space up against "realistic," deep space. It's like riding the edge on a sailboard or skiing downhill fast. The thrill is enjoying the ride and not knowing if you're going to crash.
Some of the artists I admire and continue to learn from are the innovative Japanese Ukiyo-e printmakers like Hokusai, Hiroshige, Utagawa, and painters of Persian miniatures. Also, painters such as Diebenkorn, Hockney, Bonnard, Giacometti, Jacob Lawrence, and Matisse, and Sargent.
"I'm interested in the cross-pollination of the arts. There are great parallels between what makes a good story and a good painting, between what makes spatially dynamic dance, music or art: strong characters, tension, advancing the plot, surprise, tempo, the pieces distilled to their essence.
"And, of course, one can't do better than to spend time in nature. My motto: when in doubt, go out."
Kit is married to mystery-thriller writer Todd Borg, author of the Owen McKenna Tahoe Detective series. Read the reviews at Amazon.com.
Please visit his website: ToddBorg.com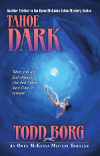 Education:

2002, 1996-1998 Graduate Study, U.C. Davis

1998 Santa Fe Art Institute Master Class with Gregory Amenoff

1990 BFA Degree, summa cum laude, University of Minnesota


Awards:

2005 "14th Annual Havre de Grace International Show", Award of Merit: Cash Prize, Juror: Stephen Bennett Phillips, Curator of the Phillips Collection, Washington, D.C.

"National Orange Show", Honorable Mention. Juror: Daniel Foster, Executive Director, Riverside Art Museum

1999 Fellowship, Vermont Studio Center

1992 Art of California Magazine "Discovery Awards", Bronze Award. Juror: Henry Hopkins, Chairman, UCLA Art Department

1990 Honors Grant, University of Minnesota

1989 Art Center of MN., Second-Place, Juried Members Show, Orono, MN

1980 Art Center of MN, Honorable Mention, Juried Members Show, Orono, MN

Juror:

2007 Nevada Artistís Association, Nevada Day Show, Carson City, NV

Solo Exhibitions:

2011 Evans Gourmet Restaurant, South Lake Tahoe, CA

Bona Fide Books, Meyers, CA

Artist-in-Residence, Valhalla Historical Site, South Lake Tahoe, CA

2010 Evans Gourmet Restaurant, South Lake Tahoe, CA

2009 Interior Motives Design Showroom, S. Lake Tahoe, CA

Evans Gourmet Restaurant, South Lake Tahoe, CA

Artist-in-Residence, Valhalla Historical Site, South Lake Tahoe, CA

2008 "Glass Harmonies", The Drunk Brush, Quincy, CA

"Citrus Jazz", The Studio Gallery, Quincy, CA

1999 "Dislocated Landings", Alpine County Arts Commission, Alpine County, CA

1998 "Internal Medicine", Lake Tahoe Community College, S Lake Tahoe, CA

1997 "Transition to Turbulence", Nevada State Library & Archives, Carson City, NV

"Dislocated Landings", Western Nevada Community College, Carson City, NV

"Dislocated Landings", Alpine County Arts Commission, Markleeville, CA

1996 "Dislocated Landings", Nevada State Library & Archives, Carson City, NV

1995 "Dislocated Landings", Lake Tahoe Community College, S Lake Tahoe, CA

"Dislocated Landings", Valhalla Historic Site, S Lake Tahoe, CA

1993 "Falcon Hood Series", Lake Tahoe Community College, S Lake Tahoe, CA

1992 "Falcon Hood Series", Valhalla Historic Site, S Lake Tahoe, CA

1990 BFA Thesis Show: "Nightsweats & Corridors", Studio Arts Gallery, University of MN

1981 New Work, Art Center of MN, Orono, MN

Selected Group Shows:

2011 Intel headquarters, Folsom

Markleeville Plein Air Paint-out, Markleeville, CA

2010 Visual Arts Center: National Art Exhibition 2010, Punta Gorda, FL. Juror: Peter Trippi, editor, Fine Art Connoisseur Magazine and previous Director of Dahesh Museum of Art, NY.

Richeson 75: International Small Works Competition, Racine, WI Catalog available.

The 33rd Harper College National Juried Art Exhibition: Small Works, Palatine, IL.
Catalog available.

2009 Chasen Galleries, Richmond, VA & Charlotte, NC

James-Harold Galleries, Tahoe City, CA

Showcase Gallery, South Lake Tahoe, CA

The Drunk Brush, Quincy, CA

2008 James-Harold Galleries, Tahoe City, CA

Chasen Galleries, Richmond, VA & Charlotte, NC

The Studio Gallery, Quincy, CA

2005 "National Orange Show", San Bernardino, CA

"Havre de Grace Juried International Show", Riverview Gallery, Havre de Grace, MD

Morro Bay Central Coast National Fine Art Competition

2003 Two-Person show, Zimmerman Gallery, Reno, NV

2002 Faculty Show, Lake Tahoe Community College, S Lake Tahoe, CA

2001 Faculty Show, Lake Tahoe Community College, S Lake Tahoe, CA

2000 Faculty Show, Lake Tahoe Community College, S Lake Tahoe, CA

1996 "Human Nature", Valhalla Historic Site, South Lake Tahoe, CA

Selected Commissions:

2005 Balvin Lodge, S Lake Tahoe, CA

2004 Barton Memorial Hospital, S Lake Tahoe, CA

Darrow Residence, Zephyr Cove, NV

2002 Singer Residence, S Lake Tahoe, CA

2000 Timber Cove Lodge, S Lake Tahoe, CA

1998 Lakefront Wedding Chapel, South Lake Tahoe, CA

1996 Joyce-Monahan Residence, S Lake Tahoe, CA