Looking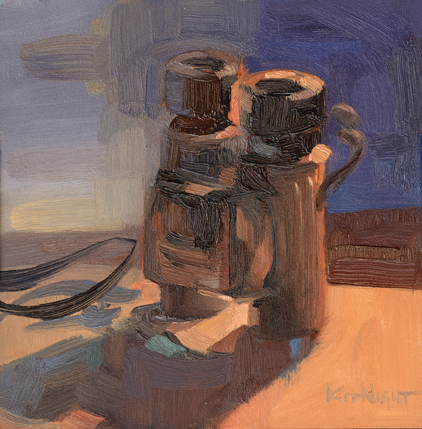 June 3, 2020
I love doing shows and their invitation to others to enjoy looking. With art, there is always a ticket to step outside oneself and be transported - through painting or music, theater or dance or writing.
We get so few opportunies in life to be transported. Any story or painting or music means different things to different people. That's what makes it special.
Isn't it wonderful to just look. Don't worry about the title or where it was painted. Just go along for the ride.
6" x 6" oil on panel $230 Art in the Morning special
Departure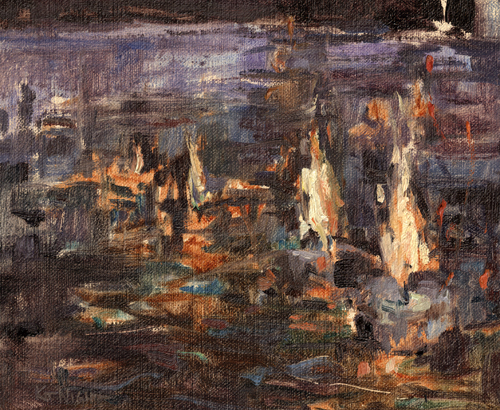 May 27, 2020
There is a little story behind this painting. But that's my story. I'd like you to have your story - whatever this painting might evoke for you.
Perhaps what it conjurs will change with the day or your frame of mind.
6" x 8" oil on linen panel $240 Art in the Morning special
Riding High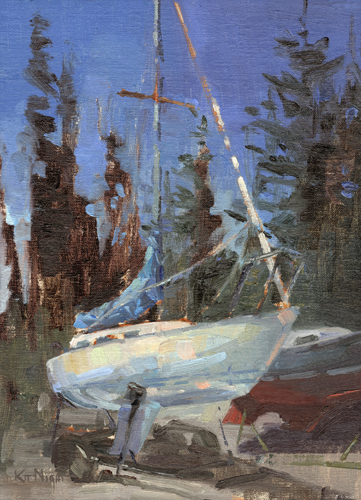 May 20, 2020
Jump on the toe-tappin,finger-snappin' cruise with Ella & Duke at the Cote D'Azur. Oscar Peterson said it would be his choice for a piece of music to put in a time capsule. I was listening to it while I painted this.
If at first it's just too happy for you, hang in there. Soon you'll be boppin' your head and setting down your tools to move.
Jazz is a frame of mind as well as a music. Let's dance.
9" x 12" oil on linen panel $465 Art in the Morning special
Juicy, Juicy, and a Bowl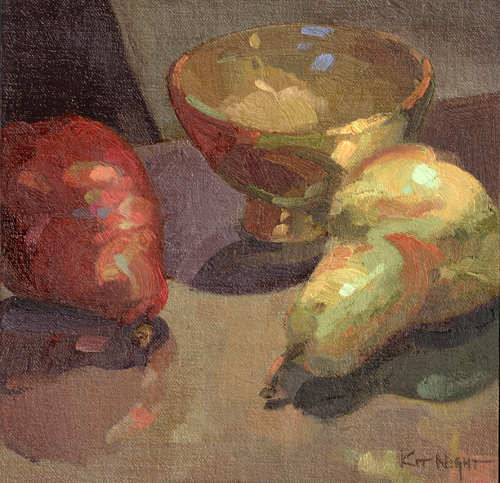 May 13, 2020
Classic, robust, and colorful...
Three major building blocks.
8" x 8" oil on panel $320 Art in the Morning special
Sunlight Splash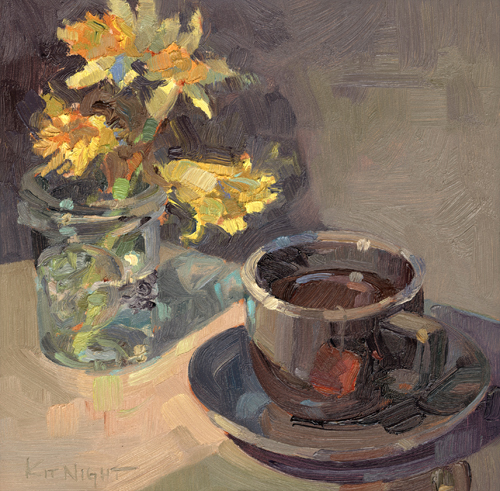 May 6, 2020
Do the flowers bring the sun?
Or, does the sun bring the flowers.
Either way, here's wishing you a sunny day.
8" x 8" oil on panel $320 Art in the Morning special
Sunshine on my Shoulder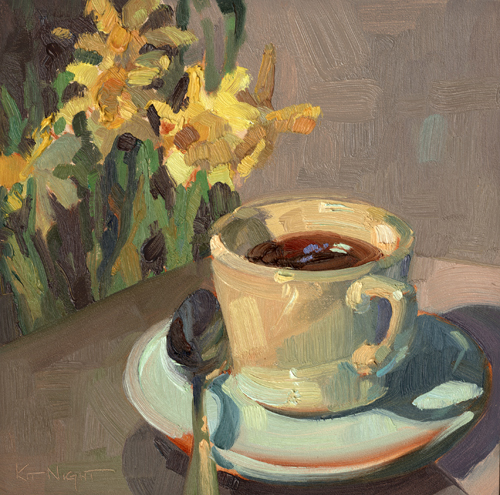 April 29, 2020
I hope it makes you happy, too.
8" x 8" oil on panel sold $320
Back Bay Repose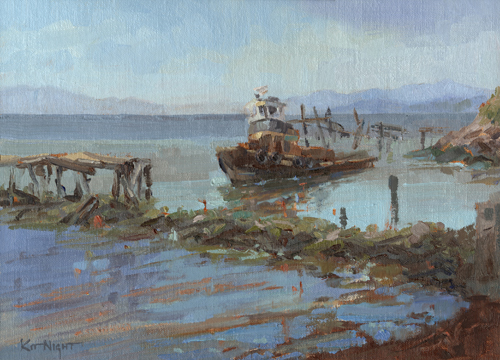 April 22, 2020
Solitude.
Stillness.
Calm waters.
9" x 12" oil on linen panel $420 Art in the Morning special
Bodacious Tomatoes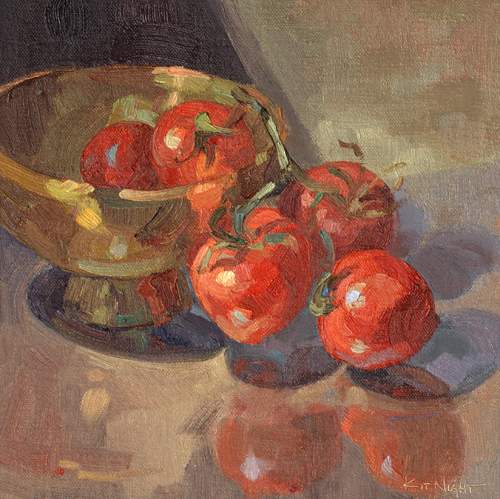 April 15, 2020
Most things excel under the focused eye of expectation and appreciation.
Sitting up straight and glowing with promise, these tomatoes commanded the spotlight, tumbling forward to steal the scene.
So glad to be part of the audience!
8" x 8" oil on panel $320 sold
Bowl & Pear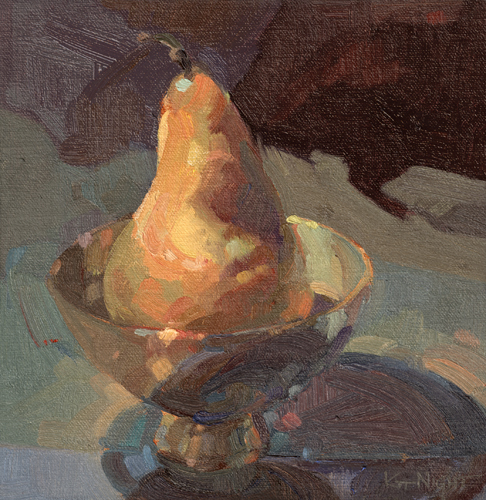 April 8, 2020
'Twas a dark and stormy night...
Really!
This week brought lots more winter to the Sierra. It arrived as big fat flakes filling the sky with polka dots of snowy cheer.
It continued to land thick on pine and fir, cloaking the world in quiet.
As dusk drew near, the pearl sky moved close to the trees that stood like dames and sentries in draping cloaks of white.
Inside, the cabin was lit by this golden pear, glowing like a candle, warming the approaching night.
8" x 8" oil on panel $320 Art in the Morning special
Flow Like a River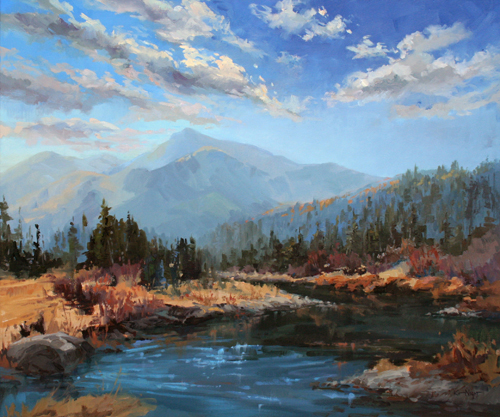 April 1, 2020
There is perhaps no better time than now for a big open window into nature, its beauty, its majesty.
Nature has a singular ability to calm and heal us. To lead us where we need to go.
And let us stay as long as we like.
30" x 36" x 1.5" oil on canvas $3960 Art in the Morning special
Virtually Social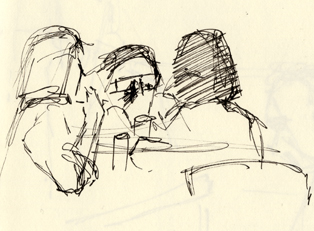 March 25, 2020
It's a great time to spend in the good company of our own thoughts,
To visit with our old friends in those classic books on our shelf,
To get to know the neighborhood of birds in our back yard,
And to do the sketching, painting, writing, or brain surgery we've said we wanted to do if only we had the time.
5.5 x 5.5 sketchbook nfs
Springtime Comes to the Valley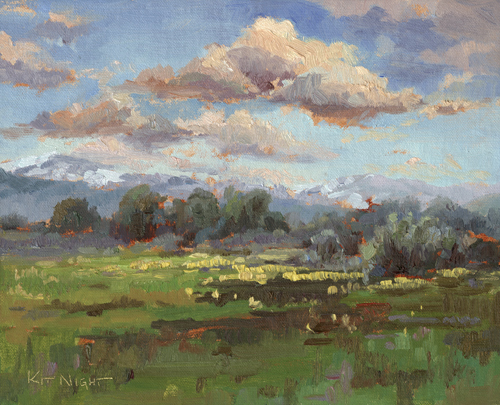 March 18, 2020
Signs of spring in some parts of the land...
Barn swallows doing Blue Angel aerobatics as they dip and dive for bits of nest-building mud,
Melodies issue forth from treetop and bush, doing their best to imitate Ethel Merman's enthusiasm,
Deer scamper and skitter in silly play, then blast off for a graceful run at top speed,
One can hear the glittering notes of spontaneous spring melt,
And sunny yellow faces of cheer turn their gaze skyward as they dot the land in celebration.
8" x 10" oil on linen panel $370 sold
Citizen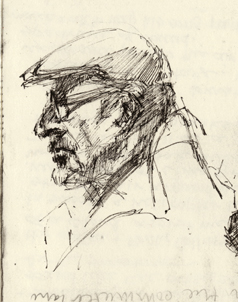 March 11, 2020
How to stand out in a crowd?
Be the only one not looking at your phone.
Sketching people in public places used to be a great way to sharpen one's eye and skills. People used to engage in conversation, read the newspaper, crack open a book, or write a letter.
Now, it's pretty hard to find interesting subjects.
Makes me wonder about future images to be found in art history books. Yikes.
5.5 x 5.5 sketchbook nfs
Day Light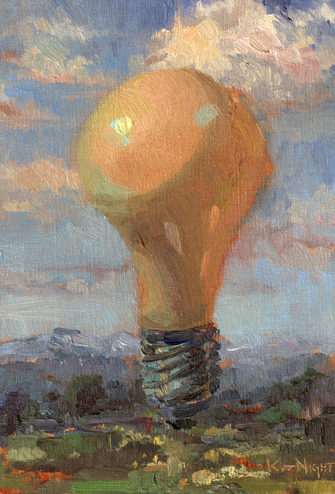 March 4, 2020
For the seasonally affected...
Whether you're in the land of Harry Potter,
Or the land of eternal midnight,
Or it's just a frame of mind...
What's the line?
We'll leave the light on for you.
5" x 7" oil on linen panel $260 Art in the Morning special
Sparkling Winter River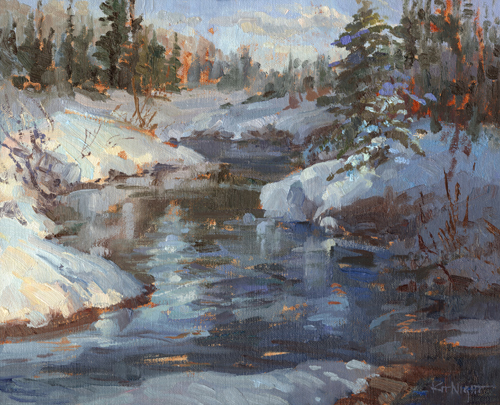 February 26, 2020
Winter, my favorite season.
Rivers, my favorite stream of consciousness.
Sunlight, my favorite mood elevator.
Quiet, my favorite backdrop to the birds.
10" x 12" oil on linen panel $465 sold
Firelight Glow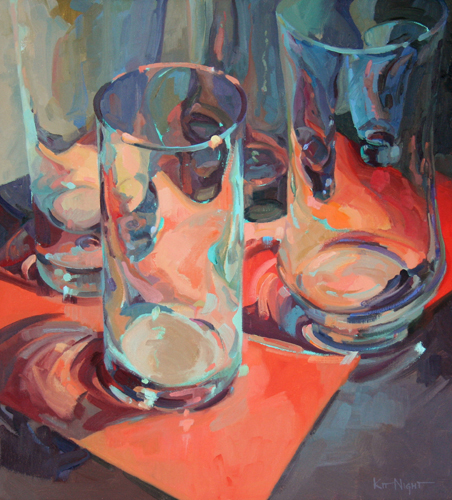 February 19, 2020
I love the tilt-a-world nature of glass, the way I can amp it up or tone it down. Pushing things to recede or come forward in a razzle-dazzle game of space and light is one of my favorite sports.
I love the surprise and the risk as I attempt to hold on as we come fast around the curve.
20" x 22" x 1.5" oil on canvas $1260 Art in the Morning special
Cumulo-luminous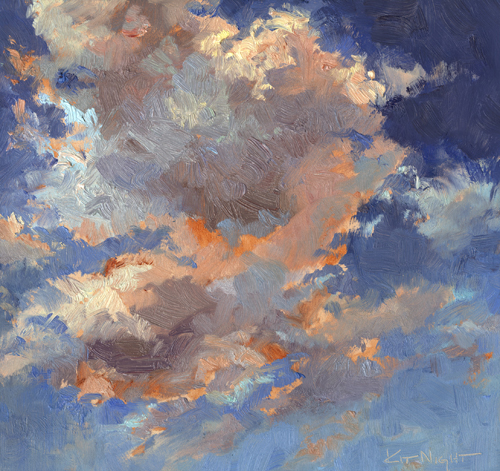 February 12, 2020
Lost in the clouds is a great place to be.... Full of ever-changing beauty and light, expansion and disappearance and re-assemblage on the magic carpet of air currents.
Water made visible in gas and ice and pressure, who knew it would be such a rich and fanciful medium for transport of one's thoughts and dreams and romances.
Like lightening, you can't put it in a jar. But you can enjoy the ride.
8" x 8" oil on panel $330 Art in the Morning special
Oak Tree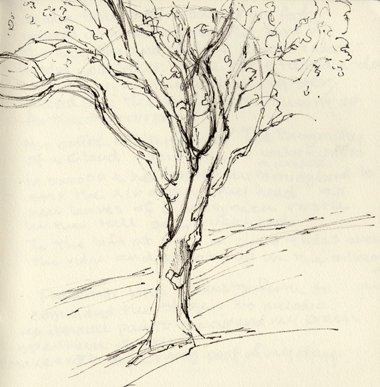 February 5, 2020
The world would benefit from more time spent contemplating trees.
5.5 x 5.5 sketchbook nfs
Sunrise Studio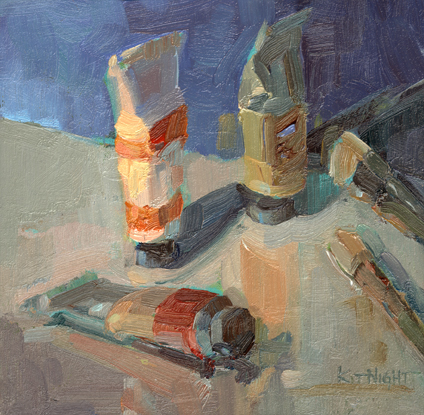 January 29, 2020
Painting brings all kinds of "weather."
The process of finding new ways to see and tell the familiar, the joy and challenge of messing with space, the serendipitous detours of invention and experimentation can lead to high winds and white outs and the occasional crossing on a moonless night.
The trick is to stay with the adventure until it resolves to a peach-colored sunrise.
6" x 6" oil on panel $230 Art in the Morning special
Quiet Now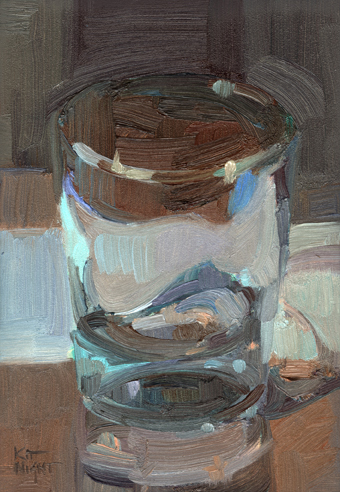 January 22, 2020
Queue Tommy Flanagan for rich mahogany tones.
Or Oscar Peterson if you want a bit of brightwork with your oceanic rumblings.
Let the music carry you to the quiet.
5" x 7" oil on panel $230 Art in the Morning special
Sunlight, Snowlight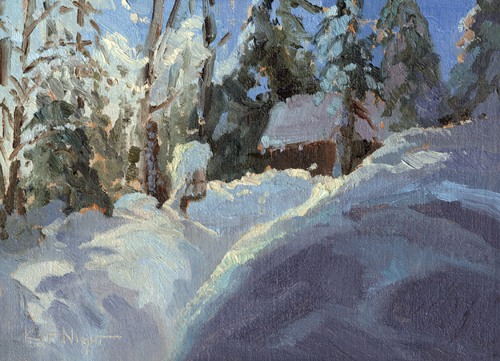 January 15, 2020
Radiant light, quiet world.
Water in the bank.
A medium for play.
An embossed record of footprints and hatchmarks to tell us what the critters are up to.
A reflecting blanket for the full moon to bounce its light against.
6" x 8" oil on linen panel nfs
Lamp Carnation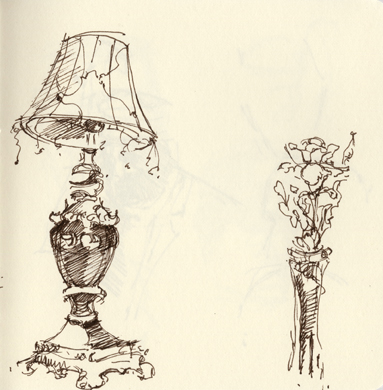 January 8, 2020
Life on the road means I often don't know just where I am when I awake.
It also means I get to draw stuff I don't normally see!
When I look back in my sketch, I know exactly where I was.
5.5 x 5.5 sketchbook nfs
Old Fashion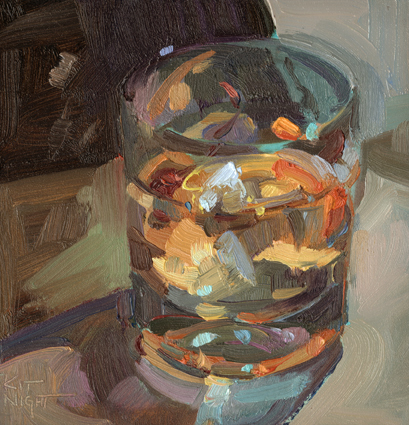 January 1, 2020
Wishing you an old fashioned new year...
A year of community and conversations over the fence, cats floating to pies on the window sill like in cartoons of old, finding wonder watching fish swim in a deep emerald pond, looking up to see a hawk soar against a backlit cloud overhead, reading aloud to a friend your favorite passage in a book.
Here's to quiet moments of creating, and savoring the good.
6" x 6" oil on panel sold
Baroque Ensemble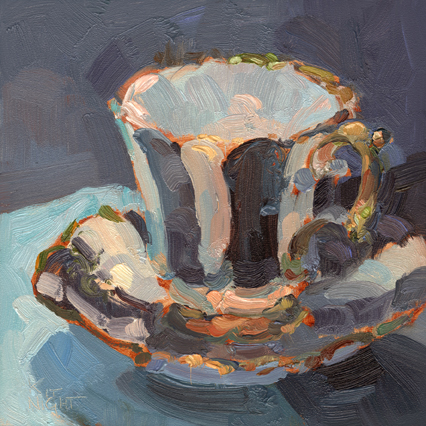 December 25, 2019
Gilt edges and whirly whirls, doo-dads and daubs and glitters of light, the snap of stripes going 'round the curve and music in the air...
I enjoyed my own bit of conducting with my brush.
Wishing you peace and cheer and music every day.
6" x 6" oil on panel sold
Morning Glow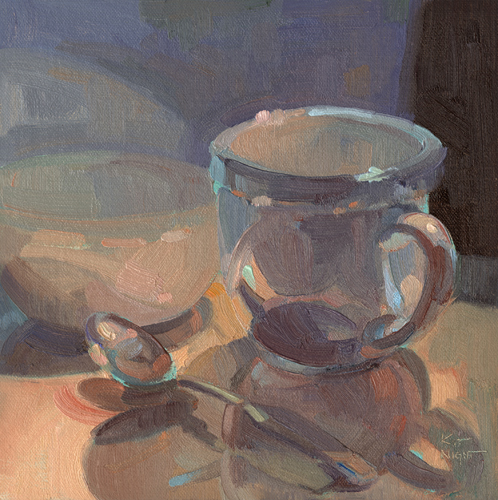 December 18, 2019
Setting a place for Santa, full of magic and mystery.
8" x 8" oil on linen panel $340 Art in the Morning special
Classic '56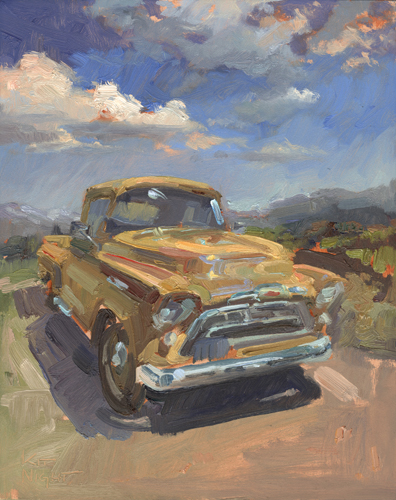 December 11, 2019
Like a sunny day, some things just make you smile.
8" x 10" oil on panel sold
Studio Break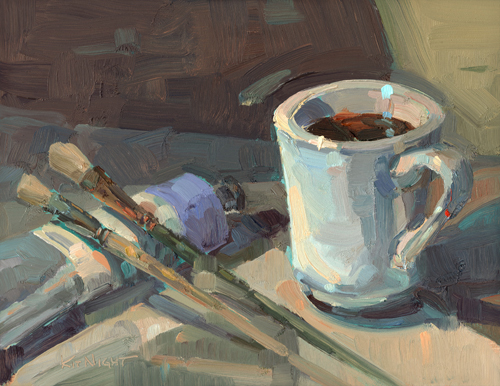 December 4, 2019
Break time in the studio means I turn my painting upside down and take a walk about.
When I return, I see the abstract shapes of color and value, contrast and light. It lets me see what's really there, instead of what I think is there.
Whether literal or metaphorical, turning things on their head for a fresh perspective seems a pretty good practice.
8" x 10" oil on panel $340 sold
Evening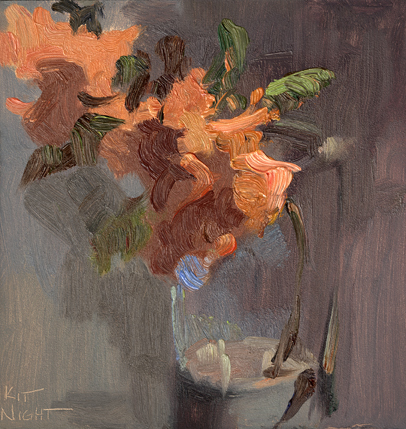 November 27, 2019
Evening... the perfect envelope of quiet.
A chance to pause and appreciate the kindness, the persistence, the courage of others.
Their example helps me find my better self.
6" x 6" oil on panel $230 Art in the Morning special
Marlowe Takes up Painting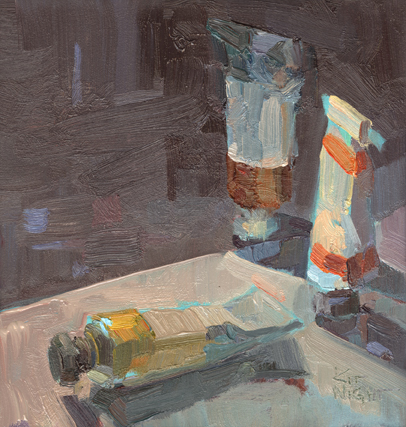 November 20, 2019
The low light and spare composition feels a bit noirish to me. I thought, Hey! Maybe that shamus Philip Marlowe took up painting.
Dark streets and alley ways in atmospheric light can be found in one's painting and on one's palette.
The beautiful dame strung tight like a bow is up to your imagination.
See? The viewer does complete it.
6" x 6" oil on panel $230 Art in the Morning special
Clippy Gizmos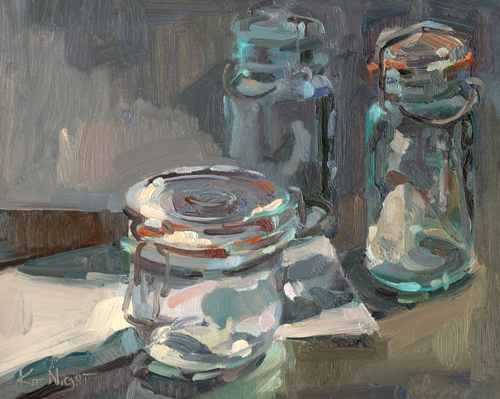 November 13, 2019
'Tis the season for those with the skill, to preserve. (I'm more familiar with the skill of perseverance.)
I love the mix of glass and hardware, the hint of science and the homemade.
And that splash of orange gasket is just the ticket.
8" x 10" oil on panel $340 Art in the Morning special
Autumn River Glow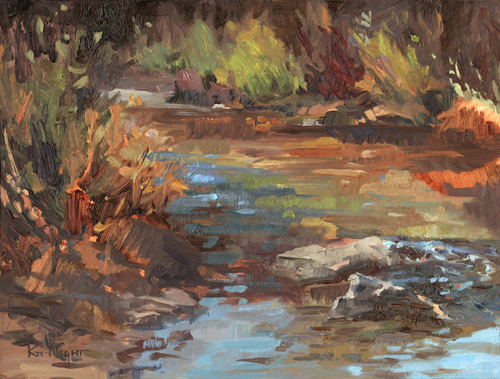 November 6, 2019
Every day in nature is a gift. Big time.
Like having a piece of gold in your pocket.
Only better.
9" x 12" oil on panel $370 Art in the Morning special
Organic Diva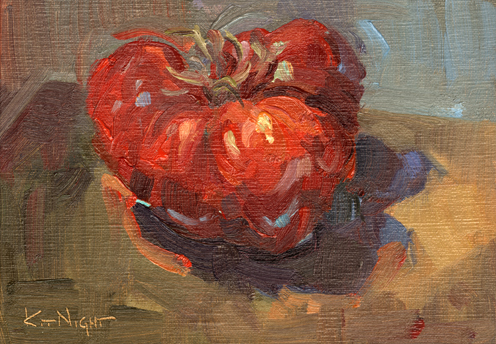 October 30, 2019
This ebullient tomato is so full of herself she is fit to burst. Drama and high color, costume and frillery, she shivers with presence. I couldn't help but think of opera divas.
I'm sure she is about to hit a high C.
Better hold on to your glass.
5" x 7" oil on linen panel $230 Art in the Morning special
Suspension of Disbelief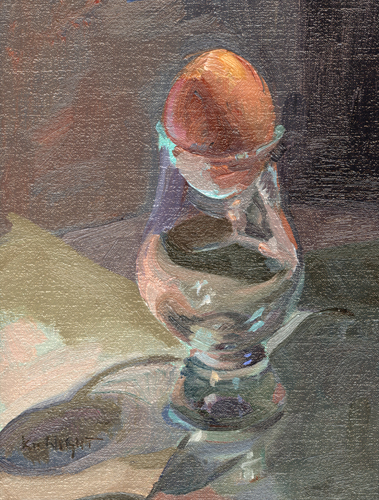 October 23, 2019
I love that pigment on a brush allows for creating a bit of magic. It's an adventure.
We get to take the everyday and see it fresh.
Presto chango.
6" x 8" oil on linen panel $265 Art in the Morning special
Garden Fountain - Alhambra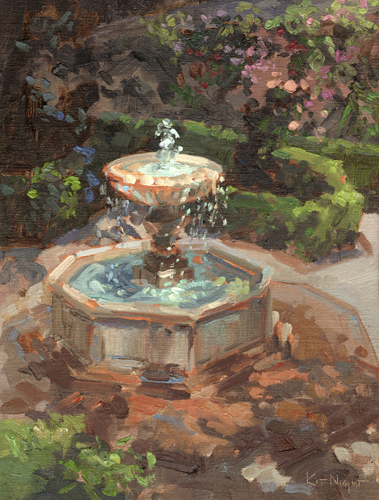 October 16, 2019
I have been hot on the trail of the Spanish painter, Sorolla. One of the places he found beauty and solitude was painting at Alhambra in Granada, Spain. It is an amazing place. Sorolla modeled his home and gardens upon it.
Like him, I find a fountain is just the invitation one needs to stop and linger, to contemplate and breathe, to hear the quiet, and then the hummingbird.
9" x 12" oil on linen panel $415 Art in the Morning special
Clippy Gizmo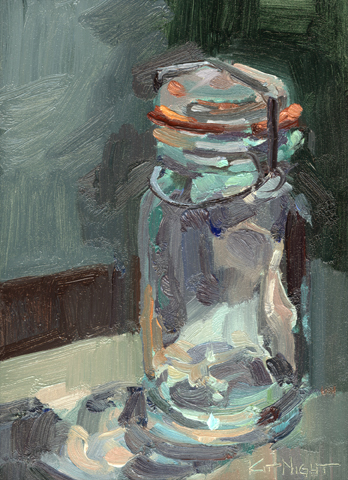 October 9, 2019
When I paint an object it is rarely about the thing. It's about what it lets me do.
Here, I am painting glass, but this time I am after its watery light. I like that I can make the glass foggy or clear, like the sky. The almost horizontal horizon against the vertical jar, flattens space. Accentuating the "watery" of the glass.
This jar speaks of another time. Another process. One of planting a tree, growing the fruit. Preserving colorful pieces of flavor to share with family and friends. An everyday act kindness.
5" x 7" oil on panel sold
Delta Waters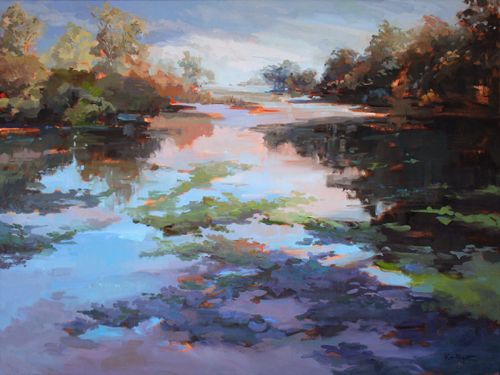 October 2, 2019
Quiet. Light. Water. Sky.
Space your mind can expand in.
Silence that will fill you.
Take a radiant light color massage.
Flow like water, baby,
36" x 48" x 1.5" oil on canvas $5260 Art in the Morning special
Lawn & Garden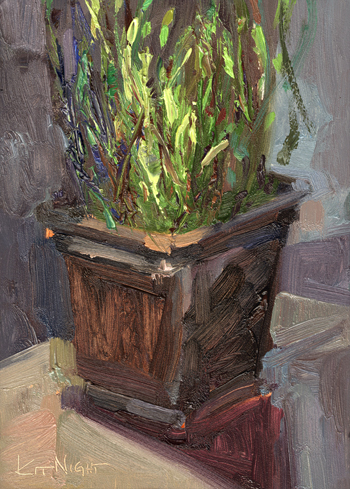 September 25, 2019
Hold the mower.
5" x 7" oil on panel $230 Art in the Morning special
A Hectare of Nectarines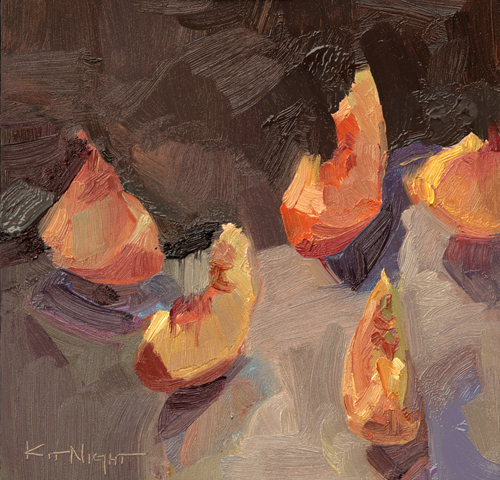 September 18, 2019
Juicy, juicy fruit.
Juicy, juicy color.
Eat it. Drink it.
6" x 6" oil on panel $230 sold Art in the Morning special
Speaking Spanish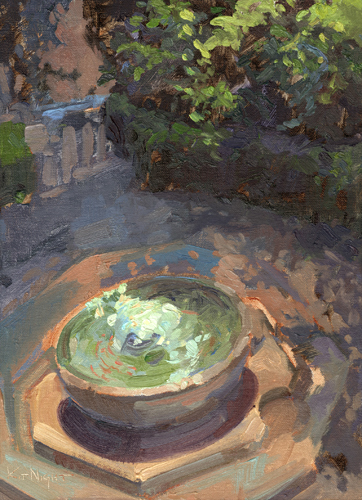 September 11, 2019
Water makes music.
It babbles, and sings.
This water whispers in Spanish as it calms and cools all who pause for a visit.
9" x 12" oil on linen panel $390 Art in the Morning special
Good Morning Bouquet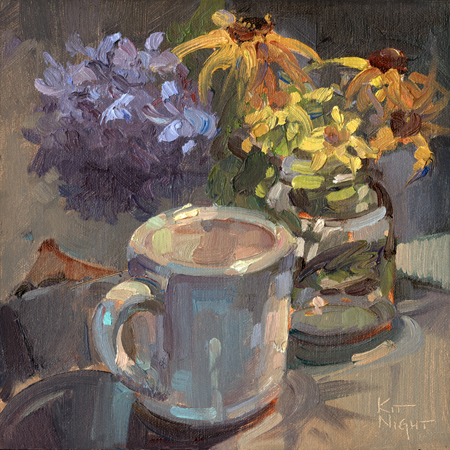 September 4, 2019
Gardens in the heart
Summer on the mind
Blue sky at the window
Coffee almost ready.
8" x 8" oil on linen panel $330 sold
Gem Stones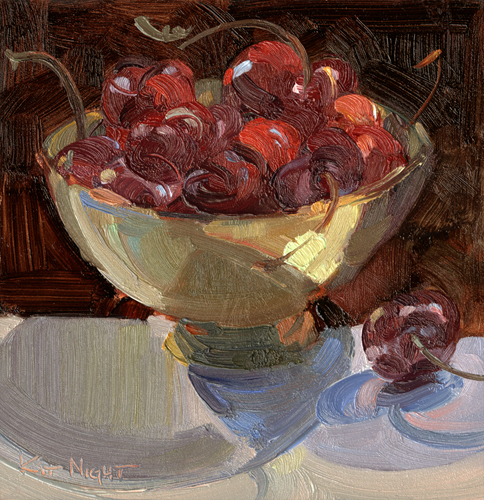 August 28, 2019
I love the interplay of dark and light, flat abstraction and rounded deep.
Plus, I'll take a bowl full of cherries any day.
6" x 6" oil on panel $230 sold
Primary Color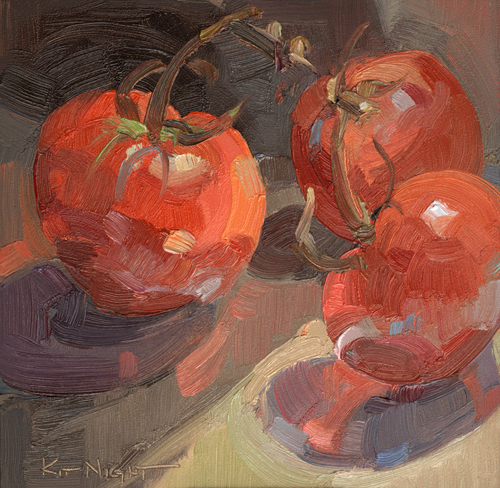 August 21, 2019
Primary colors are the building blocks of painting. The hot sizzle and dark drama of red, yellow, and blue enable glowing colors that create their own light. Their value contrast provides dark shadowy drama to develop the story and enhance the glow in its resolution.
So too, when it comes to the garden's bounty. Primary colors give us beauty units on our plate and a full spectrum of vitality - all the better to wrestle our next creation into good form.
6" x 6" oil on panel $230 sold
Newton's Law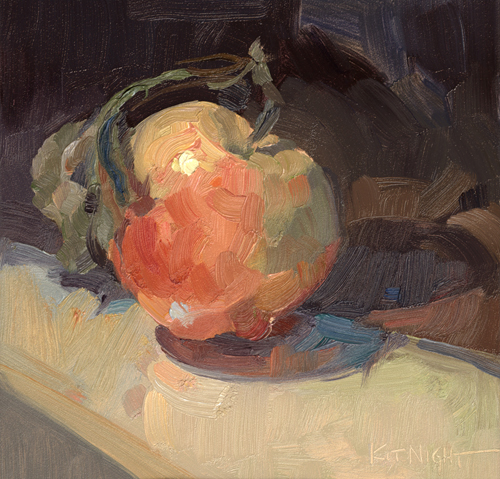 August 14, 2019
What goes up, must come down.
It's how we land that defines our character.
6" x 6" oil on panel $230 sold Art in the Morning special
Good Morning Summer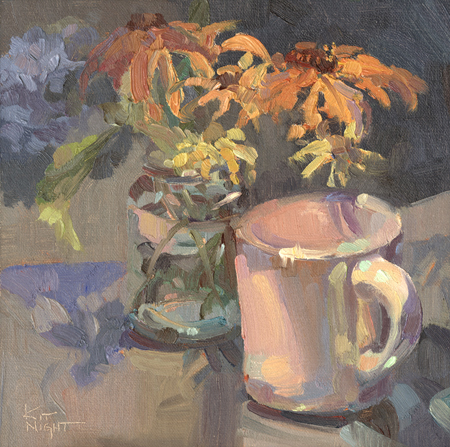 August 7, 2019
Isn't it great when you walk into the kitchen with your morning brain trailing behind you and sunlight is already pre-warming your cup?
While the room fills with the rich aroma of brewing coffee, your eyes can wander the splash-of-color flowers from the garden.
If you're extra lucky, some spritely little bird belts out his version of The Hills are Alive...,
Or maybe he's a bit edgier, with his cool on, and a little bird goatee, and sings us birdland's take on Blue in Green.
8" x 8" oil on linen panel sold
Morning Comes Over the Mountain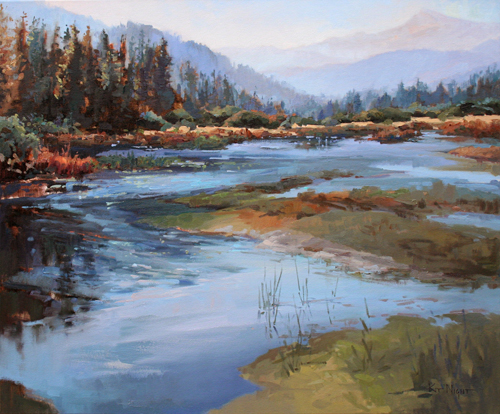 July 31, 2019
I love sparkling wetlands. And all of their sparkling birdsong.
30" x 36" x 1.5" oil on canvas
The Big Wide Open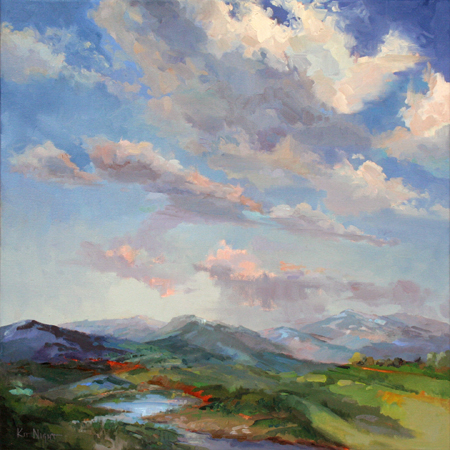 July 24, 2019
Compass.
Check.
Walking stick.
Check.
Paint box & coffee pot.
Check.
Big wide open heart.
Check. Double checked.
24" x 24" x 1.5" oil on canvas $1840 Art in the Morning special
The Angle of Compose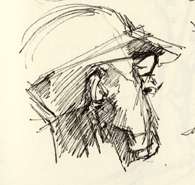 July 17, 2019
I was drawn to the slight angle of the head. The downward gaze. He looks peaceful, lost in thought.
Then you walk by and feel the heat radiating off him, his metabolism in high gear, as he conjures the next action-packed mystery with Owen McKenna, that guy with a moral compass and a very big polka dot dog.
5.5 x 5.5 sketchbook nfs
River Glass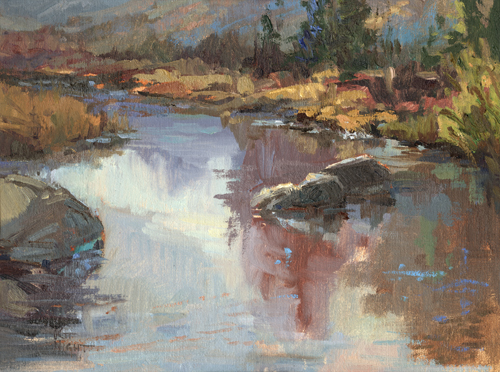 July 10, 2019
To skate or to swim, or to sit beside you. Or to cast a line and watch it dance before it lands upon you.
Or to glide above like a water bird, getting lift off your surface, peering into your watery pools of cool. And view the clouds in your refective plane.
9" x 12" oil on linen panel sold
Golden Hills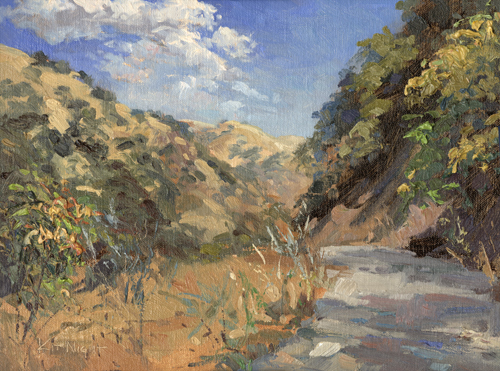 July 3, 2019
A splash of sunlight to beckon.
A winding road to follow.
Golden hills to climb.
And we're off!
9" x 12" oil on linen panel $390 Art in the Morning special
Daybreak in the Quarter I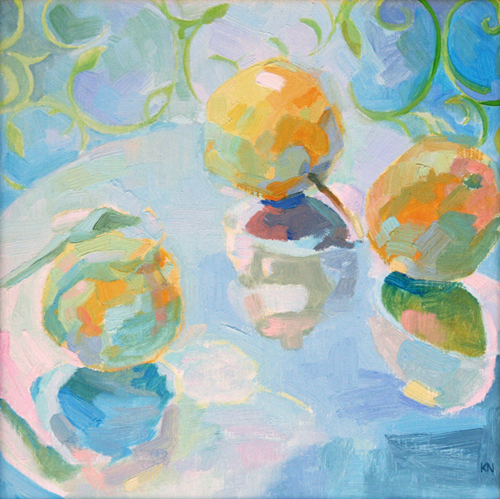 June 26, 2019
I was visualizing the French Quarter with its thick wet atmosphere, its watery light, its dripping foliage, and the way the morning sun might bounce reflections across a surface, losing the edges of things, dissolving their volume into bits of color. I think Bonnard was seated to my left.
I added the winding green as melody and to evoke the iron curly-cues on the Quarter's many balconies.
9" x 9" oil on wood panel sold
Chinese Lantern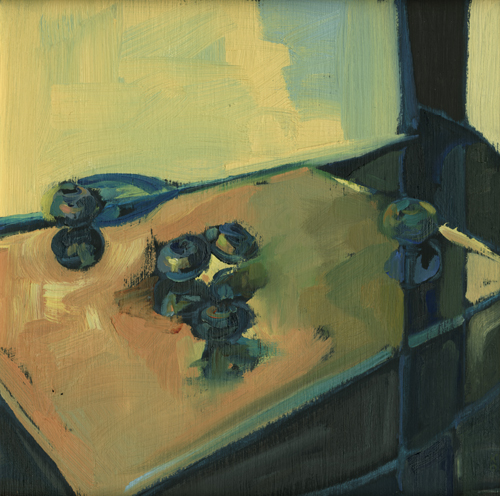 June 19, 2019
I love the way a painting can evoke something we never even considered.
This conjured an exotic nocturnal place, abstract reflections on a wet street, all lit a Chinese lantern near by.
9" x 9" oil on wood panel $315 Art in the Morning special
Dame Agatha Came to Tea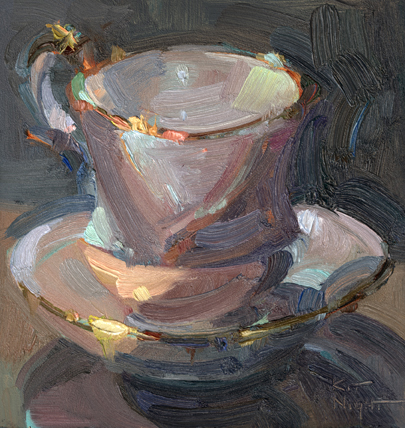 June 12, 2019
Drama, stage left...
A fallen candle in the night or an off-balance flashlight?
In the heavily-draped parlor of the old Victorian? In the humid, unlit garden gazebo on the knoll under the flowering Dogwood?
Dame Agatha calls on you to find the clues and reveal the mystery at hand.
6" x 6" oil on panel sold
Gee's Bend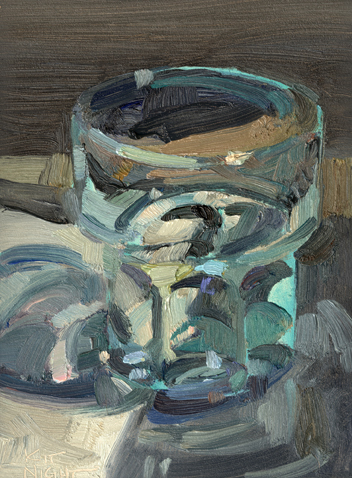 June 5, 2019
This painting brought free associations in the morning...
Tangerine by the green bowl,
Egg on a spoon,
Gee's Bend in a glass.
5" x 7" oil on panel sold Art in the Morning special
Forest Reflections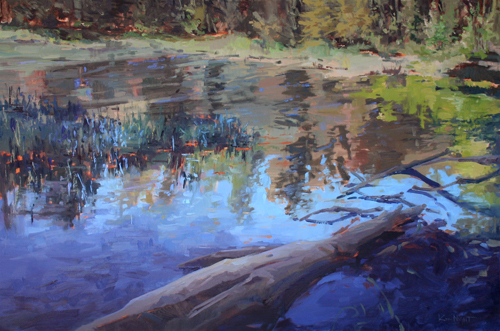 May 29, 2019
With end-of-day sunlight on the far shore, calm waters mirror the woods and reeds and sky.
The perfect conclusion to a quiet and spectacular day. And a log to sit upon as you reflect on nature's magic.
24" x 36" x 1.5" oil on canvas $2490 Art in the Morning special
April Showers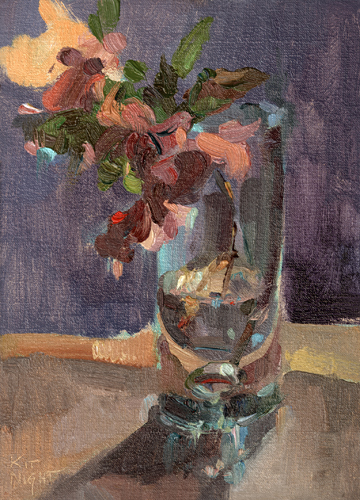 May 22, 2019
April showers bring April flowers. Good thing too, because yesterday we had two inches of fresh snow on the deck and the sky looked like a winter shake-up toy.
The mama Steller's Jay, hunkered down in the planter on her nest of eggs, was wearing a shawl of white snow.
Maybe I should cut off the thumb of my glove and bring her a little hat and some warm seeds.
6" x 8" oil on linen panel sold
Harmony Pears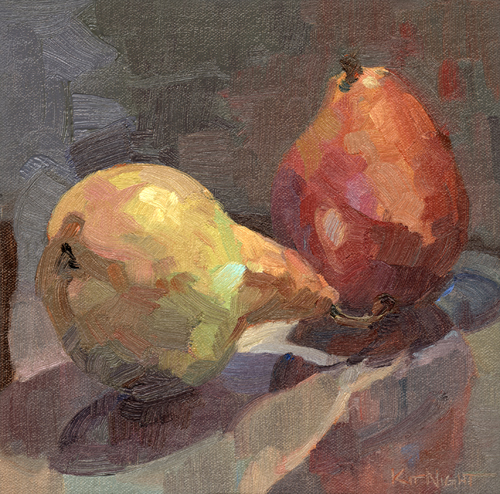 May 15, 2019
I like to work in series because nothing is just one thing. There is storm and sun, introspection and expansiveness, solemnity and song.
I couldn't call this anything but Harmony. The colors invite us in with their warmth. The "grayed green" complement in the background lets the golds and reds expand their chests in preparation for the song.
It's okay to hum along.
8" x 8" oil on linen panel $330 sold
Bach `n the Garden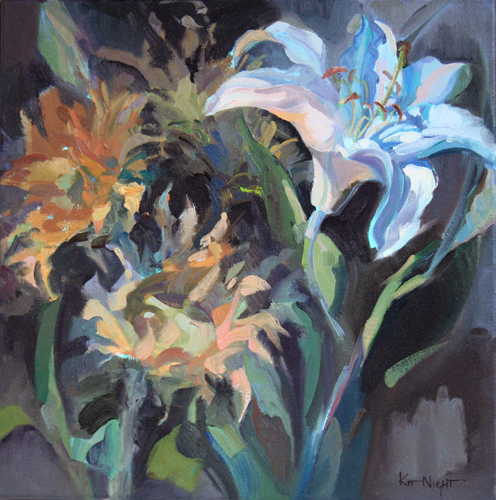 May 8, 2019
Looks to me like Bach wandered into the community garden to celebrate Spring!
16" x 16" x 1.5" oil on canvas $860 Art in the Morning special
Starlight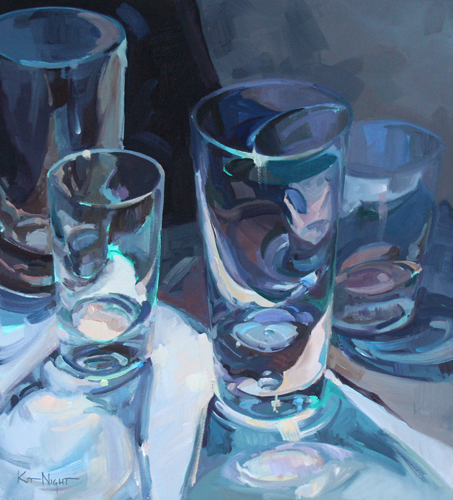 May 1, 2019
Starlight, moonlight, there's magic in the night.
20" x 22" x 1.5" oil on canvas sold
Creekside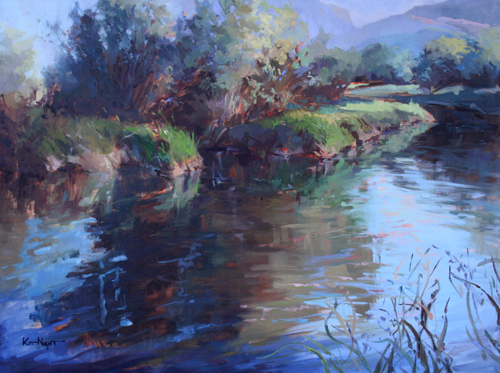 April 24, 2019
Water is my favorite language. It transports without words.
Cool in the dark shadows, glowing in the glints of light. I love to let my mind swim in its watery depths.
I always emerge rinsed free and refreshed.
36" x 48" x 1.5" oil on canvas $5330 Art in the Morning special
Firewater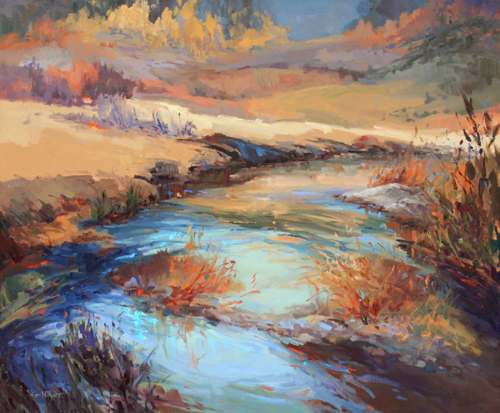 April 17, 2019
Hot color made the land sizzle. Wild wind kept everything in motion. With no chance for control or for the timid, it was a hilarious and memorable day.
Wahoo!
30" x 36" x 1.5" oil on canvas $3360 Art in the Morning special
Pears of Winter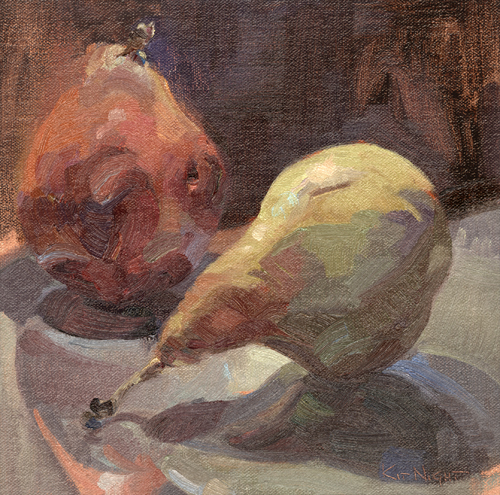 April 10, 2019
I love how light, color, and quality of brushstroke create a mood. All of it weaves together to tell a story.
Winter, you may ask? While much of the country is celebrating daffodils, we still have five feet of snow on our deck, and it's much deeper in the yard.
That's okay, snow moisture in the bank.
8" x 8" oil on linen panel $330 sold
Clear: Twilight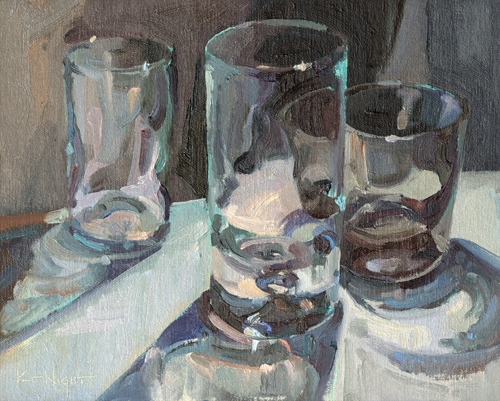 April 3, 2019
We elevate the every-day by rendering it in paint. Every stroke is a personal decision. We choose what to see and what to leave out. We choose how far we want to take the illusion of deep space. Or, how we might want to refute that and push abstraction.
To look is to see. To paint is a chance to experiment. A group of glasses become a chandelier.
8" x 10" oil on linen panel sold
NYC Lamplight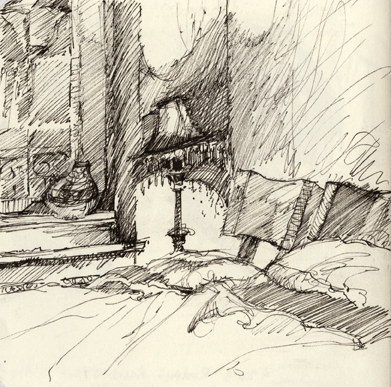 March 27, 2019
I love the atmosphere to be found in sketching rooms. Hotels, airbnbs, a chair by the wood stove - the pool and spill of light, the shadows hugged up against the corners. The unseen clutter of life is evocative.
I get to create my own bit of theater before the play.
5.5 x 5.5 sketchbook nfs
Poirot Came to Tea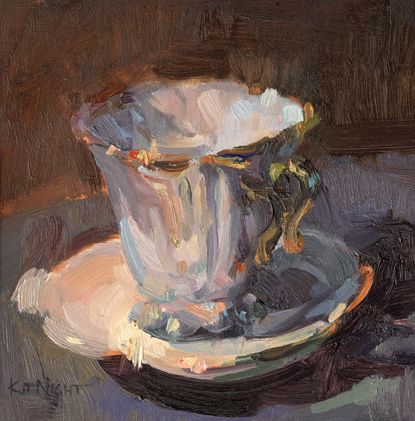 March 20, 2019
I love that light can suggest a story, tell a story, be the story.
This piece conjured mystery in the night, a train, and the guy with a really big moustache!
6" x 6" oil on panel sold
Golden Blue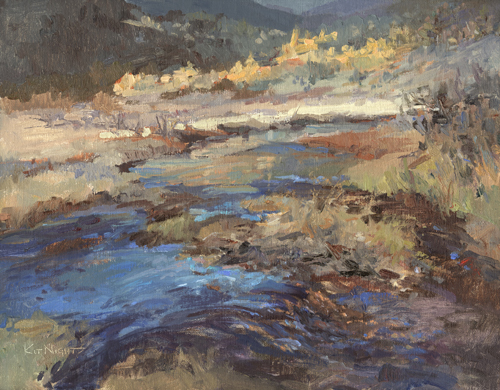 March 13, 2019
Oh for silence.
Time to sequester ourselves in the padded cell of nature. The stars in the night of blue. The tracks of critters in fresh snow. The pink of the sky at dawn.
In the quiet we can hear the crack of the branch in the cold, the thawing of ice into water, the nuthatch trumpeting a new day.
I like to think that morning alpenglow will guide us back into the world calmer and kinder, recognizing similarities and embracing difference.
11" x 14" oil on linen panel $520 sold
Harbor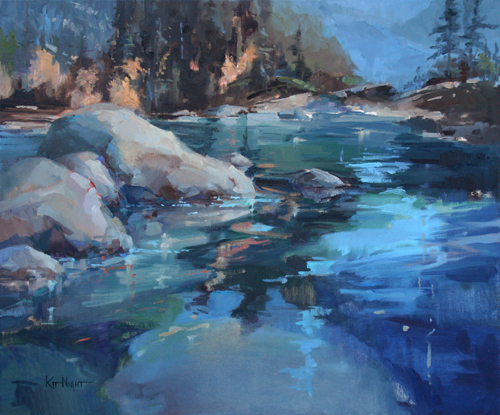 March 6, 2019
Safe Harbor.
A specific place.
A way of being.
A state of mind.
30" x 36" x 1.5" oil on canvas $3860 sold
Have Sketchbook...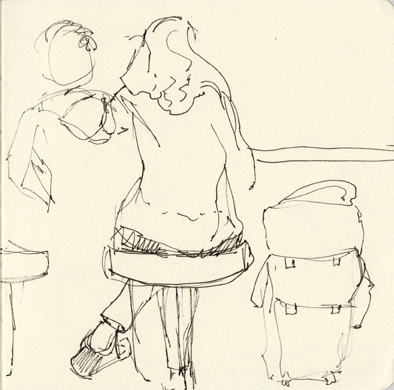 February 27, 2019
Finding that curve of the spine and the angle of her shoulders animates the drawing and gives dance to the pen.
5.5 x 5.5 sketchbook nfs
Moonlight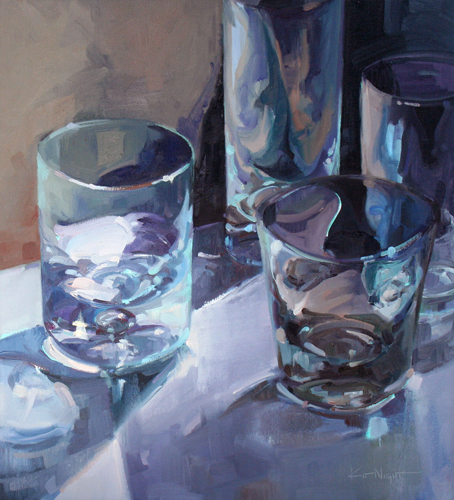 February 20, 2019
Lunar shades of silvery light ride the rims and pour into wet pools of luminous color.
Painting and scraping, pushing and pulling, enjoying the call and response between "realistic" deep space and flat abstraction.
Here's hoping you catch a shooting star.
20" x 22" x 1.5" oil on canvas $1260 Art in the Morning special
Sunshine Morning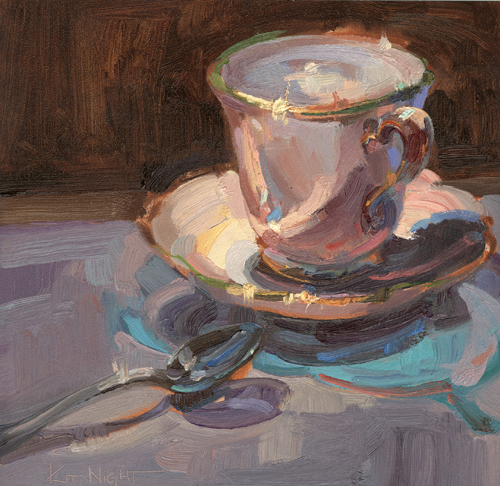 February 13, 2019
A cup of sunshine for you and your Valentine.
8" x 8" oil on panel sold
Gaze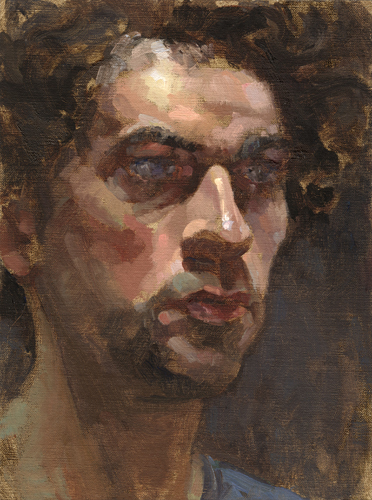 February 6, 2019
We hear that 90% of success is just showing up. The flip side is that not showing up guarantees zero result.
Doing the work gives us the chance to have meaningful purpose and the opportunity to find that remaining 10% that lights our hearts and minds on beautiful fire.
9" x 12" oil on linen panel
Gold Shoulder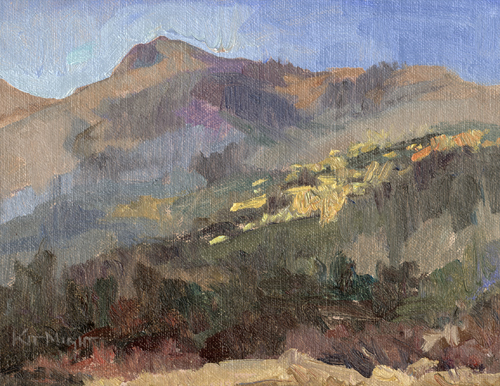 January 30, 2019
Chasing light, brush flash
Autumn gold climbs peak to sky
Trees cloak hidden stream
6" x 8" oil on linen panel $260 Art in the Morning special
Travel Sketch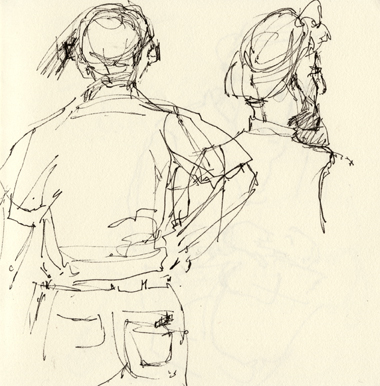 January 23, 2019
Travel sketching sharpens the mind, the eye-hand coordination, and our experience. What better way to speed the hours of waiting in airports than to try to capture textures of posture and place, custom and costume, in a constantly moving peoplescape.
Sketching requires such focus that we really see! It doesn't have to be a finished piece. It's for you, a book of memories.
Sketchbook or facebook... no contest.
5.5 x 5.5 sketchbook nfs
Cuban Moon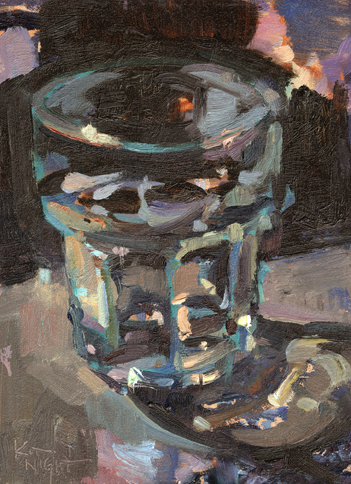 January 16, 2019
I've never been to Cuba, but I found it in this glass.
Wet and full of moon, I can hear the Buena Vista guys on their guitars. With cigars sending blue ribbons upward, the men croon in mahogany tones, bringing us the song of life through a glint of light.
5" x 7" oil on panel $195 Art in the Morning special
Mountain Muse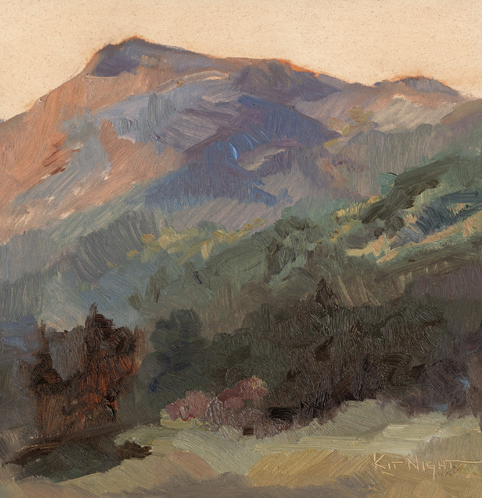 January 9, 2019
Across the river from the base of this mountain, I was caught up in its sculpted shape rising above me. Its "aboutness" was an uncluttered message: mass and serenity.
The feeling intensified. I began to think how I could paint this mountain every day for a year and always see more and "different."
Maybe that was how it started for Cezanne and his beloved Monte Sainte-Victoire.
8" x 8" oil on panel $315 Art in the Morning special
Opposites Attract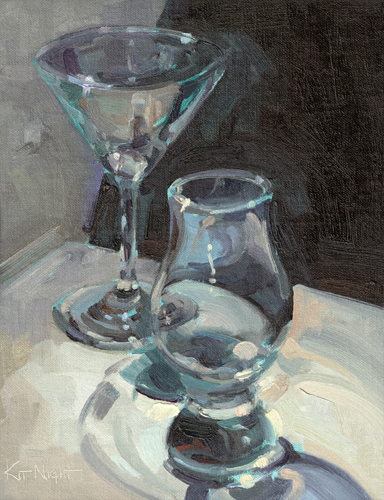 January 2, 2019
You say either, I say either. You say neither, ...
Different origins, different body types, definitely a different sense of style. In the end though, both are doing their best in pursuit of pretty similar goals.
Wishing you a year of peaceful inclusiveness. Vive la différence!
8" x 10" oil on linen panel sold