Sunlight Comes to the River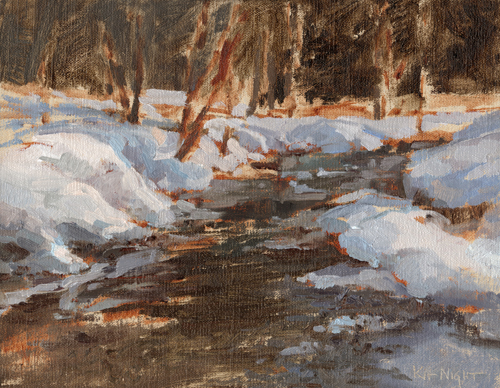 March 22, 2023
Just like in travel, or in writing a novel, on your way to a really good idea, sometimes it's good to follow the surprise.
My good idea was to paint the silvery tones of the quiet winter before me.
The surprise was the unexpected warmth that came from my underpainting sketch.
Shazam! Suddenly I had scintillating sunlight skipping into the day.
Oh, yeah.
8" x 10" oil on linen panel nfs
Prelude to a Painting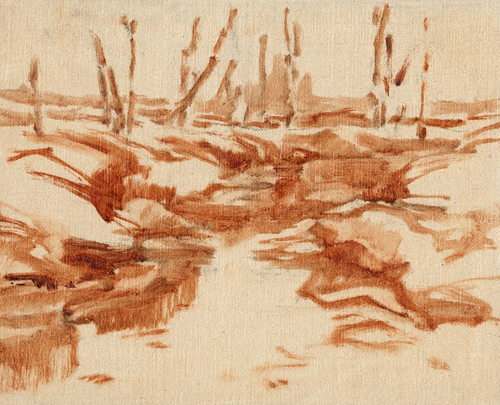 March 15, 2023
I sketch my paintings with a thin stain of color.
In this case, I did something I never do... a quick undersketch first in charcoal.
I wanted to see how the charcoal would inform the color-temperature of the scene before me.
As sometimes happens, I love the image as it is, watery and transparent - visceral and underdescribed.
8" x 10" oil on linen panel nfs
A Breeze of Tulips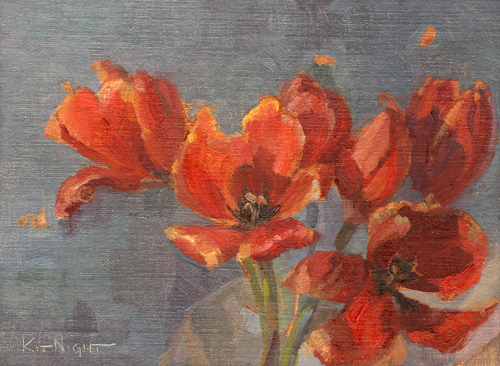 March 8, 2023
In painting we often make use of complementary colors.
In snow storms one can make use of complementary experiences.
The call & response of rich warm reds found in the language of "tulip" provides both.
6" x 8" oil on linen panel $340 Art in the Morning Special
Older But Wiser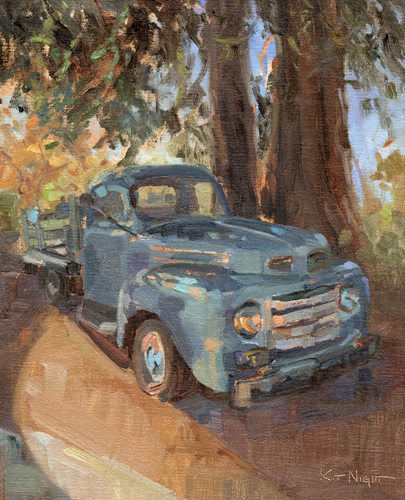 March 1, 2023
It takes time to develop class.
With grit, comes wisdom.
8" x 10" oil on linen panel $450 sold
Pop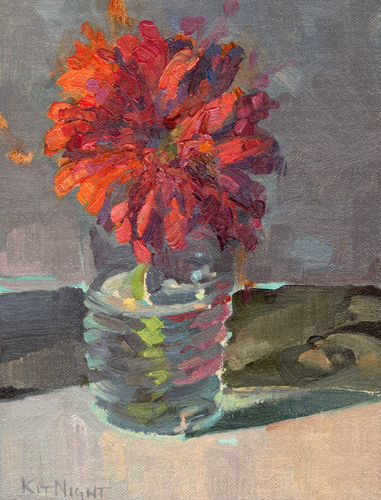 February 22, 2023
Charisma.
It's hard to quantify.
But I know it when I see it.
6" x 8" oil on linen panel $320 sold
Kissed by aTulip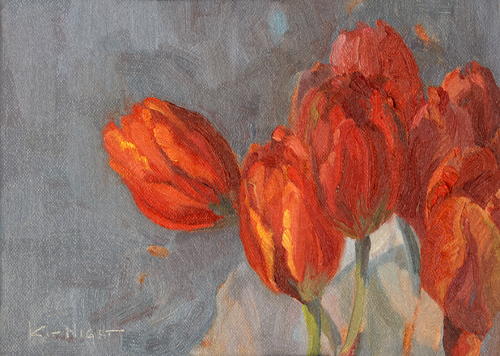 February 15, 2023
Now you are, too.
6" x 8" oil on linen panel sold
Calm is the Morning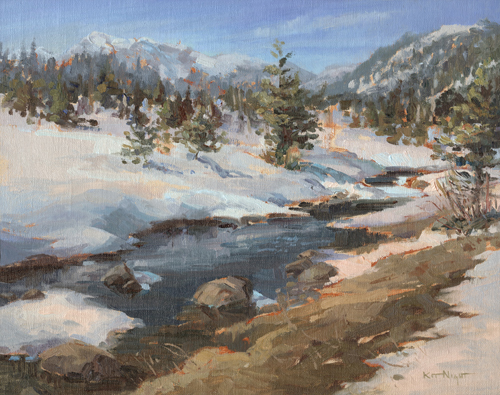 February 8, 2023
The howling winds of nightfall took down trees and freed the smokestack from its mooring.
Next came swipes of lightening across the night sky, followed by the crash and rumble of thunder. Seriously?
A hurricane, it wasn't. Winter doing its version of, "Stella!," it was.
After climbing over trees to get out, I followed the morning sun to the river.
Silence and sunlight lay upon the land.
11" x 14" oil on linen panel $680 sold
Italian Truck - "Tomato"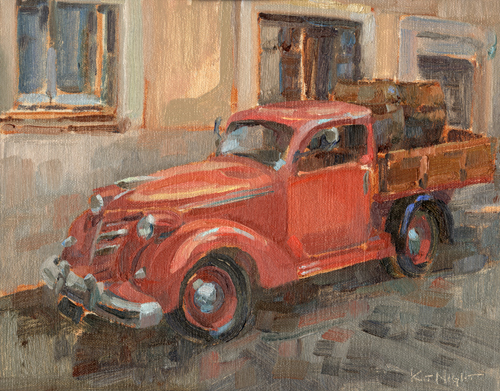 February 1, 2023
There's something about Italian design.
Even their trucks have style.
... now I want some pasta al pomodoro.
Si.
8" x 10" oil on linen panel sold
Gee's Bend, Too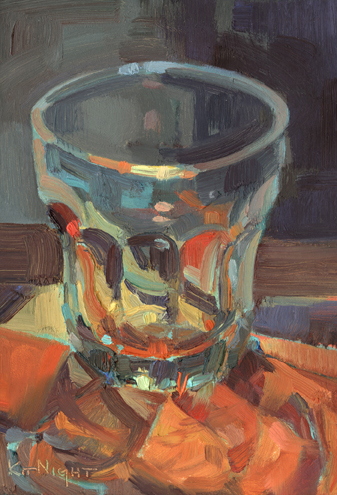 January 25, 2023
With complete admiration and respect for the artistic genius of the master quilters of Gee's Bend, I title this painting after them.
While not claiming any of their brilliance, the pieces of color, and abstraction of fractured light, remind me of their work.
It gladly gives me another chance to mention the Gee's Bend Quilters so that you might take a moment to look them up.
Working in isolation in the bend of a river in Alabama, this small African-American community began creating a stunning new artform before the 19th century.
Inventive and filled with music, to my eye, they bathe the brain and the spirit.
I hope they receive a MacArthur Genius award.
5" x 7" oil on panel $265 sold
French Curve: Sketch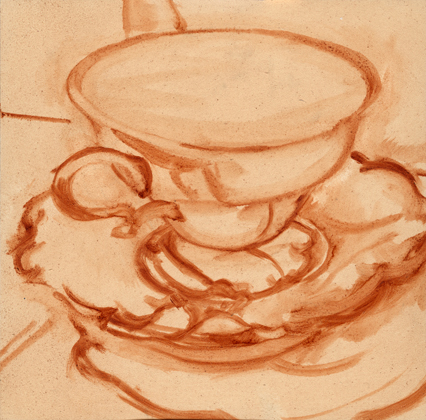 January 18, 2023
The dance of the sketch is something to savor.
So is a cup of tea. Ahhh...
Waiting for the power to return, the heat, the internet, the telephone...
Beauty is everywhere!
6" x 6" oil on panel this became a full painting on August 24
Glowing Firelight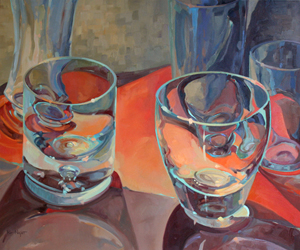 January 11, 2023
A color massage. An excitement of space and abstraction. The familiar made fresh and new.
I love painting glass.
30" x 36" x 1.5" oil on canvas sold
Mystery Tour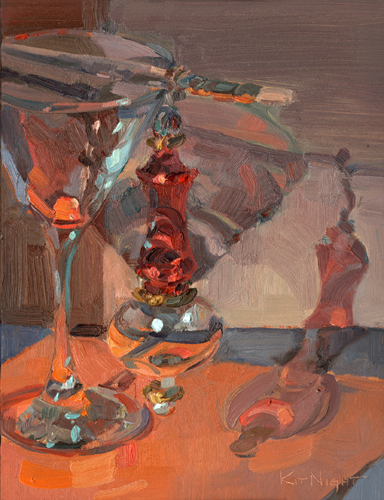 January 4, 2023
Wishing all a new year of surprise, adventure, and magical beauty.
6" x 8" oil on linen panel $320 Art in the Morning Special
Golden Hour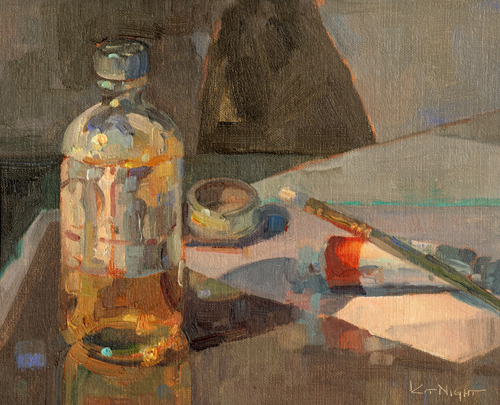 December 28, 2022
It's nice to spend time in the luminosity of shadows.
8" x 10" oil on linen panel $450 Art in the Morning Special
Fireside Cup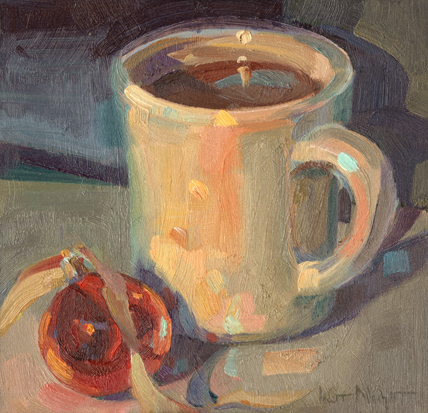 December 21, 2022
Snow on the roof under a sparkling starlit sky.
Firelight in the stove paints the corners of the room gold.
Morning or evening, winter warmth is a welcome companion.
6" x 6" oil on panel $265 Art in the Morning Special
Joy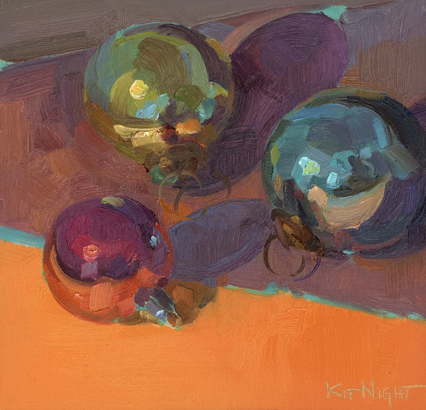 December 14, 2022
Joy of color.
Joy of paint.
Joy of fresh snow dressing the woods in winter.
Joy of the beauty and peace that is the music of Estonian composer, Arvo Part. Easy travel to other planets.
6" x 6" oil on panel $280 sold
Light & Magic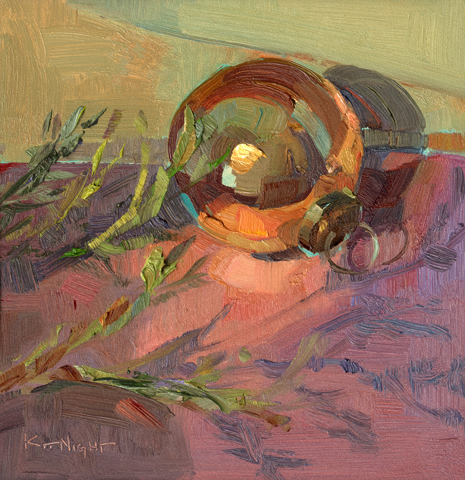 December 7, 2022
It's just so fun to dive into the refraction of glass balls and find the same magic I found as a kid.
6" x 6" oil on panel $265 sold
Untold Story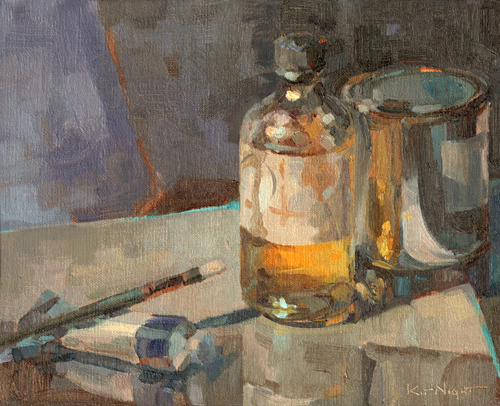 November 30, 2022
The composer and lyricist Stephen Sondheim refers to it as, "Putting It Together."
So true.
I shift the lights, I move things a fraction, change the angle of shadow. Do I want a space, an alley of light. Do I want an overlap. Should the edge disappear.
I shift my body. It's all a dance. In and out.
Who's the protagonist. Do I want her to leap from the shadows or glow with a low hum. How important is this side character. If I lower the contrast they draw less attention. How about my spacing. How do they fill the stage.
Sondheim goes on to say, "Art isn't easy." So true.
But man, do I love it.
8" x 10" oil on linen panel $450 sold
Golden Sierra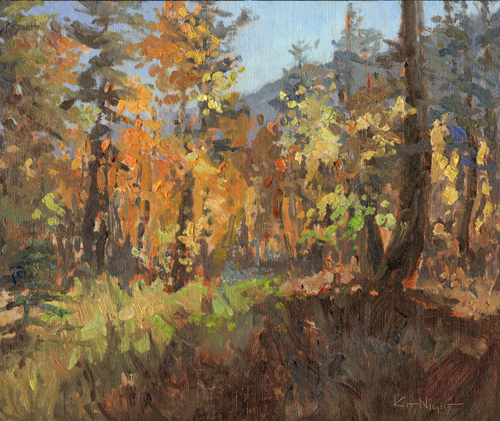 November 23, 2022
Fall in the Sierra brings gifts of gold.
Nestled among the pines.
Running beyond the willow from river and stream.
Chased by the wind up the slope.
Creating a dome of gold to linger in and suspend thought.
10" x 12" oil on linen panel $540 sold
Studio Tool Box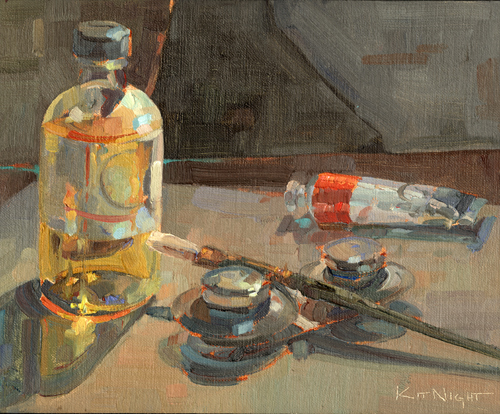 November 16, 2022
I have the same attraction to tools of my trade as I do for all tools. They are unique and quirky, and often, finely tooled.
Like character actors, they bring a specifity to their role.
I like that they represent potential and let me make stuff.
8" x 10" oil on linen panel sold
Autumn Blaze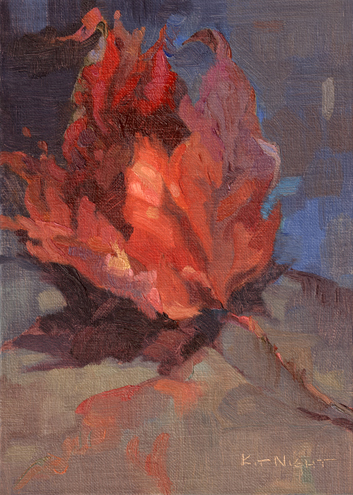 November 9, 2022
Full moon, Jupiter,
Turning leaf and changing sky
so too, the season.
5" x 7" oil on linen panel $230 sold
Emerald Day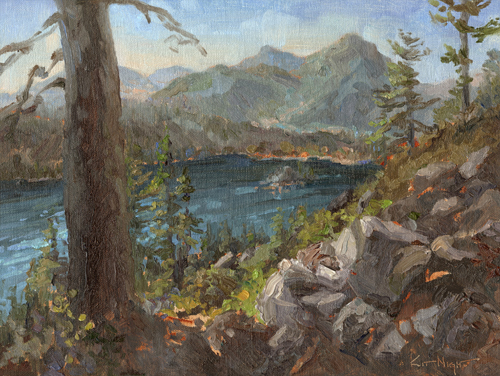 November 2, 2022
A blue-sky morning.
As the golden globe rises toward noon, it awakens the sweet scent of pine needles.
High altitude sun warms your back.
Umbrellas of shade under the tall ponderosa canopy keep you cool.
A brown-bag lunch from the red pack, on a log by the bay of emerald...
Nature. It feeds us.
9" x 12" oil on linen panel $520 sold
Crisp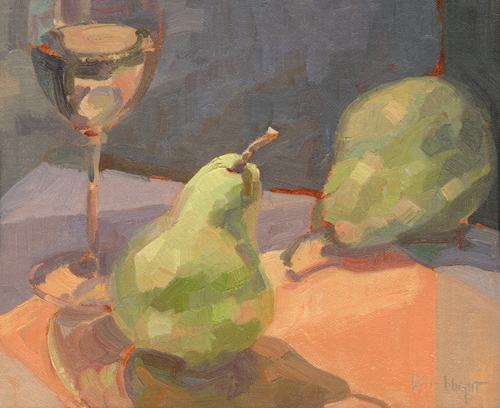 October 26, 2022
Crisp.
It's the feel of the air,
the fruit on your tongue,
the leaves under foot.
Being outside is glorious.
It's a great day for a walk.
Let's go.
8" x 10" oil on panel $380 sold
Noir - Sam Spade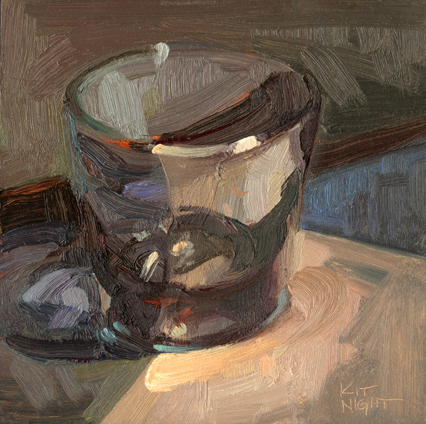 October 19, 2022
Capable, self-reliant, direct.
Neat.
6" x 6" oil on panel $265 sold
Full-bodied Red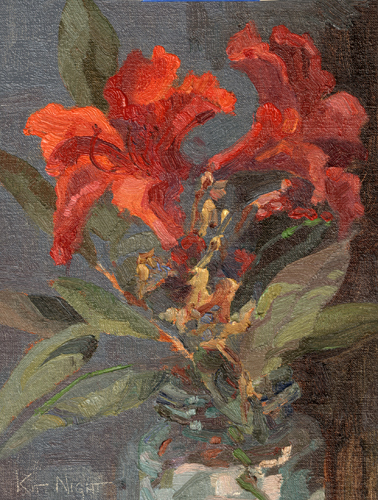 October 12, 2022
Rarely, but sometimes, a thing deserves to be full of itself.
6" x 8" oil on linen panel $310 Art in the Morning Special
Magic Act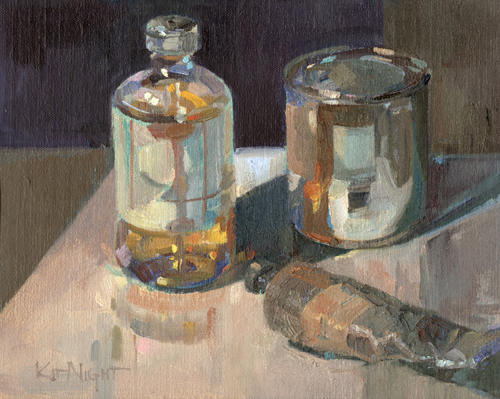 October 5, 2022
Interest, time, and materials.
Practice and persistence.
It's always like magic when the elements and problem solving change into something else.
8" x 10" oil on panel private collection
Steve's World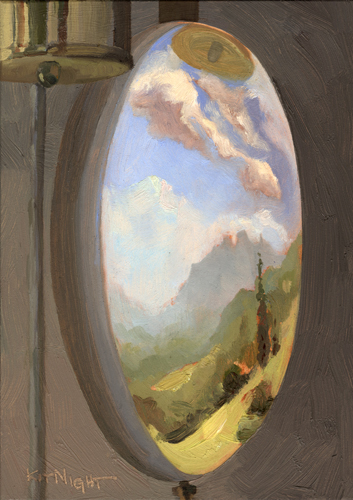 September 28, 2022
l learn from my customers.
When collectors, now friends, asked me to paint their very personal home landscape, it was a surprise to find it reflected in the working pendulum of a very cool mechanical clock.
Time brought the soft glow of sunrise, the detailed brilliance of midday, the iconic burn of sunset's colors.
The curve of the pendulum shaped the landscape into something almost surreal. It became newly magical.
It is the wise person who takes the time to look.
Teaching me once again, that when life gives you lemons, find the beauty.
5" x 7" oil on panel sold
Glow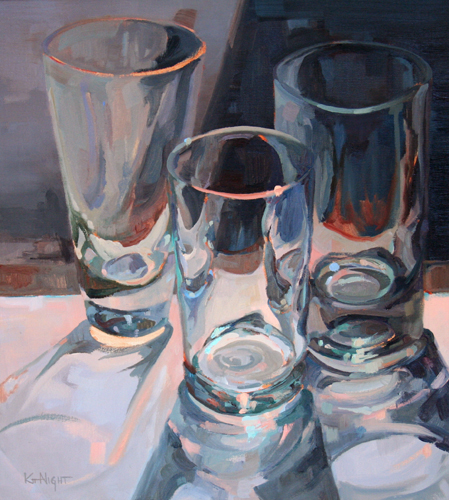 September 21, 2022
I love the process of discovery that painting is.
I love the drama of bold passages that arrive like thunder. And the subtle shifts in color temperature that land like a kiss.
I love the surprise of having the glow come from below.
Tangentially, while painting this piece, I discovered again one of the really good reasons we should have the best windows our budget can afford - not only for climate change.
Good windows make for good neighbors when you want to listen to Beethoven's Symphony #9, 'Choral,' at proper volume.
22" x 20" x 1.5" oil on linen $1340 sold
Size Matters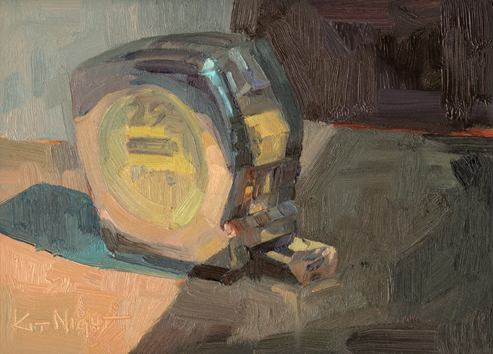 September 14, 2022
I love painting the unexpected.
It helps us see it fresh.
5" x 7" oil on panel $265 sold
Hopper Hour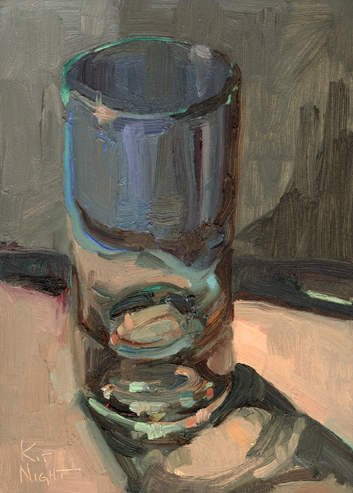 September 7, 2022
This glass calls to mind one of those Edward Hopper office paintings - the lone figure, the long shadow, something just outside of the picture frame.
A story to unfold.
5" x 7" oil on panel $265 sold
A Glass of Springtime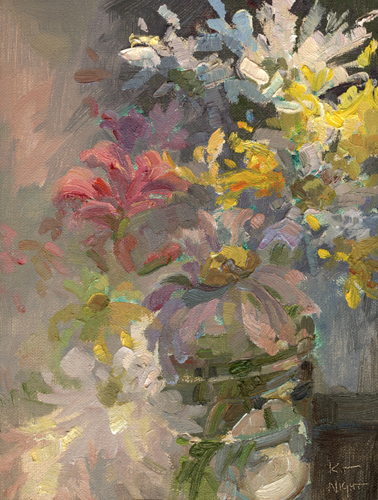 August 31, 2022
A kiss of morning dew before the sun of day.
6" x 8" oil on linen panel $320 Art in the Morning Special
French Curve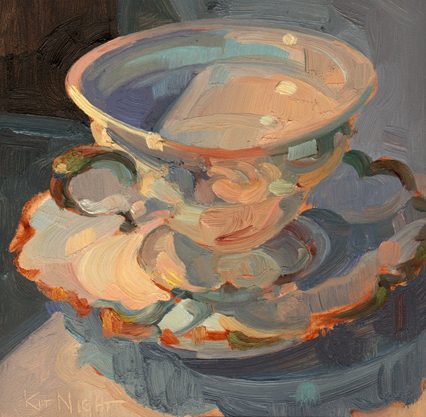 August 24, 2022
Sometimes morning calls for a bit of ooh la-la in your cup.
6" x 6" oil on panel $265 sold
Summer Breeze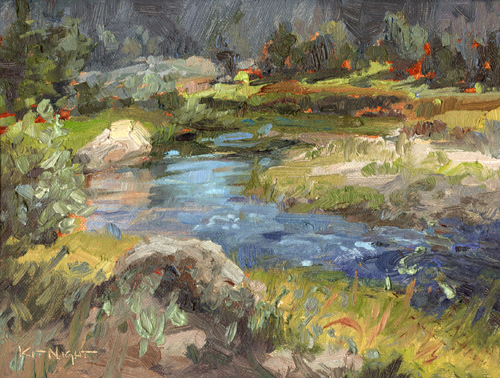 August 17, 2022
Nature, user-friendly therapy. The quickest path to mindfulness.
The river, the most beautiful melody, reflecting pool, and sounding board.
The forest, home of solo and chorus.
The sky, light-filled medium for osprey, eagle, broad-winged hawk.
Lungs, breathing easier? Me, too.
6" x 8" oil on linen panel $330 sold
Morocco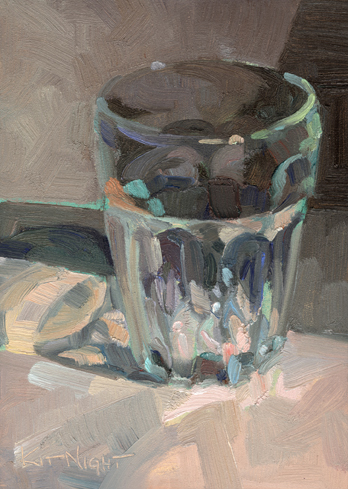 August 10, 2022
I've always wanted to go to Morocco.
I love the architecture. The arches and domes and wrought-iron patterns are so serene and evocative.
The odd little portal windows, and pools of reflection, are magical .
The angles of light and shadow that cut across narrow passages and climb plastered walls offer intrigue.
Morocco - sometimes you just have to go there in a glass of fractured light.
5" x 7" oil on panel $265 sold
Rose-colored Rose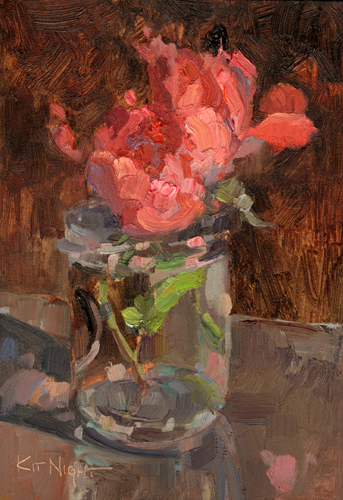 August 3, 2022
This flower captures something about tenderness.
5" x 7" oil on panel $265 sold
Cypress Lily Pond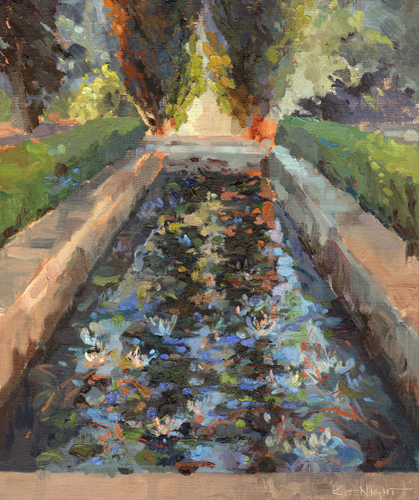 July 27, 2022
I just had to revisit this lovely place of symmetry and calm when the water lilies are in bloom.
10" x 12" oil on linen panel $470 sold
Green Land, River Blue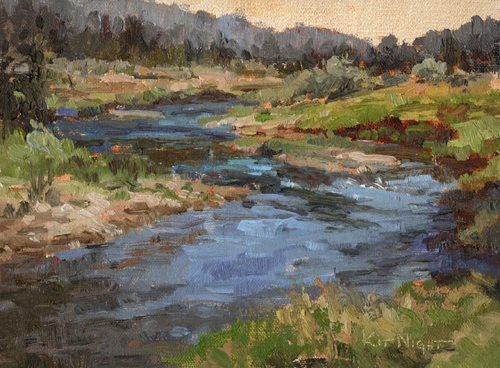 July 20, 2022
A moment of balance.
Enough water to green the grasses.
Enough snowmelt to rush the river.
A cool breeze for painting in the Valley of Hope.
6" x 8" oil on linen panel $320 sold
Awl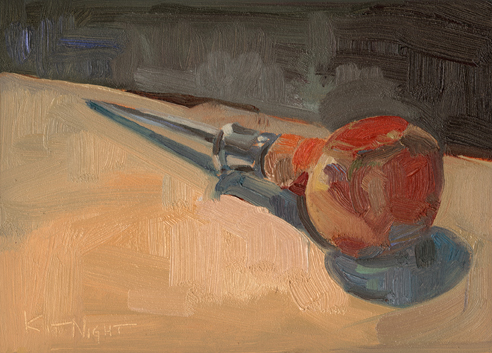 July 13, 2022
A tool.
A sculpture.
A model for a painting.
There's beauty in the everyday.
size & price correction:
5" x 7" oil on panel $265 sold
Scotch Wild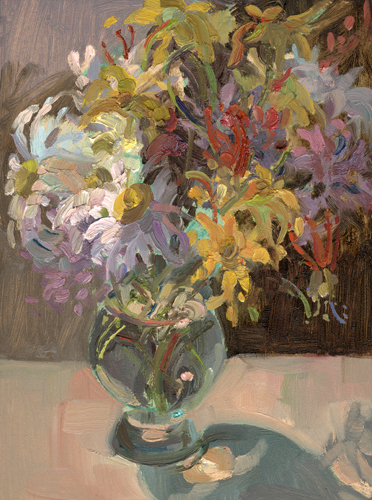 July 6, 2022
One man's single malt glass is another man's wild flower vase.
I came by this Glencairn glass by way of a commission.
It seemed just the ticket for a certain fictional Tahoe detective named Owen McKenna, of Scottish descent, to convey wild flowers to his lovely.
His Largeness helped pick the petals, of course.
6" x 8" oil on panel $310 sold
Cherry Sunrise
June 29, 2022
This painting makes me smile. Big time.
It knows exactly what it's about.
6" x 6" oil on panel $265 sold
La Mer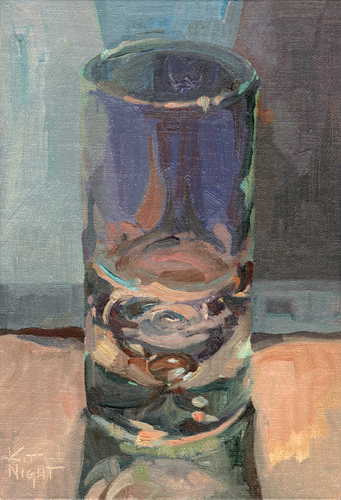 June 22, 2022
I'm just in love with the magic of paint. Its liquid stroke. The surprise of one color next to another. How they can make your brain hum.
I love how colors can create their own light.
In the 90s I fell in love with creating deep space, then denying it with flat space. It holds me still.
I modeled the colors in this piece after the colors of the sea.
5" x 7" oil on panel $265 sold
Springtime Jester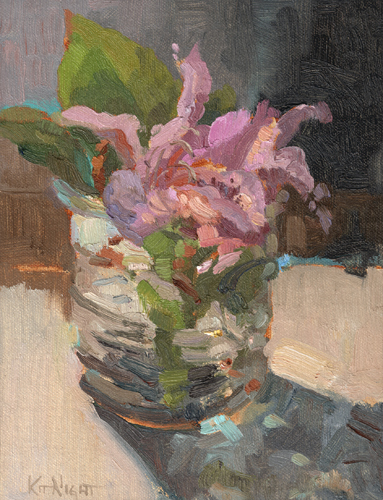 June 15, 2022
I love how plucking a flower from the garden, or a tool from the shelf, and giving it its own stage, front and center, changes how we see it.
As I design with light and shadow and negative space, I change its position and the angle of light to direct the eye and set off the edge of a leaf, the tip of a petal, the hollow of shadow, the glint of glass.
Capturing the light reveals more detail and develops presence.
I think Heisenberg's Uncertainty Principle hangs out in my studio! The act of observing something changes the thing observed. So cool.
6" x 8" oil on linen panel $310 sold
Toccato Tutti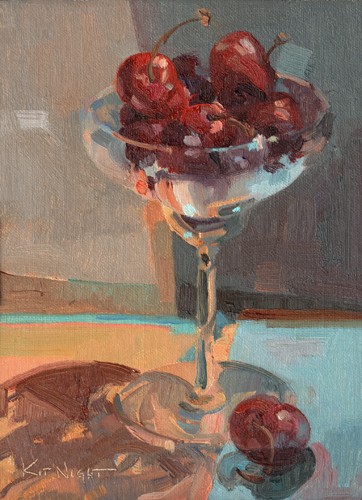 June 8, 2022
At my workshops in Tuscany we learned a wonderful toast, "Toccato Uno, Toccato Tutti." Toast one, toast all.
It captured the atmosphere of joy and adventure that all of us shared as we worked and lived a world of landscape, paint, and discovery.
Toccato Uno, Toccato Tutti. Every day.
6" x 8" oil on linen panel $310 sold
Ruby Light
June 1, 2022
Turn on the lamp.
Pull up a chair.
Add the juice of one ruby.
Appreciate.
6" x 6" oil on panel $265 Art in the Morning Special
Rubies in a Bowl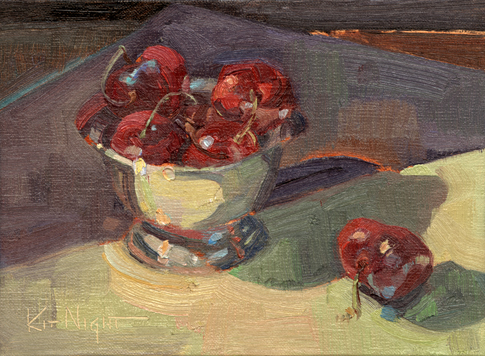 May 25, 2022
Is this what they mean by finding treasure?!
5" x 7" oil on panel $240 Art in the Morning Special
Zest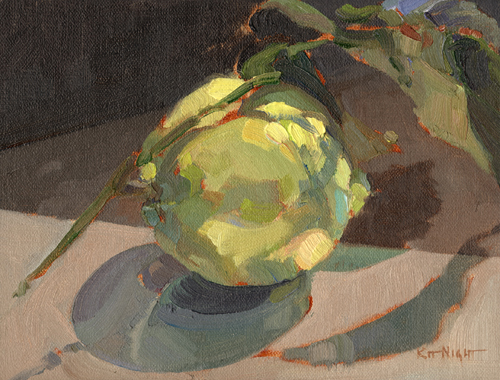 May 18, 2022
Sparkling with light, and a bit of surprise, the zest of this lemon leaves sunlight in its wake.
That nicely describes the zest I felt from seeing customers and friends, both new and familiar, at my first post-covid show.
Thank you to everyone who brought their smiling selves to Saratoga. What a thrill to see you, to hear your stories of life, and dogs, and gardens, and bird baths, and fly fishing... and your thoughts on painting.
Special thanks to everyone who took home a lovely painting. You make it so that I can do what I love.
6" x 8" oil on linen panel private collection
Ballerina Lemon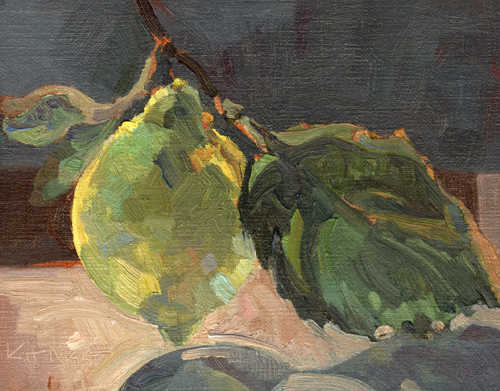 May 11, 2022
Seeing the familiar can be a wonderful surprise.
My backlit Ballerina Lemon on pointe is just that.
I felt like I was out there trying to balance on pointe when I painted it.
What a kick.
6" x 8" oil on linen panel $310 Art in the Morning special
Clippy Gizmo II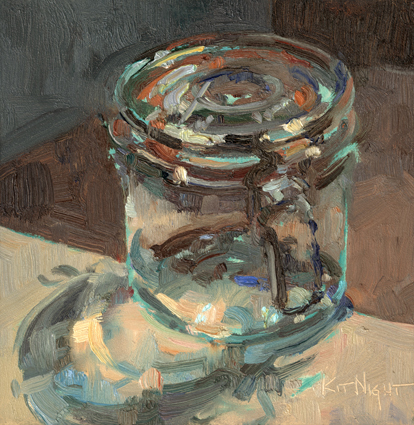 May 4, 2022
I am drawn to these jars, strange contraptions of specificity.
Squat. As wide as they are tall.
That satisfying snap as one levers the heavy-guage metal tab down.
By being all about function, they create their own aesthetic.
6" x 6" oil on panel $265 Art in the Morning special
Glow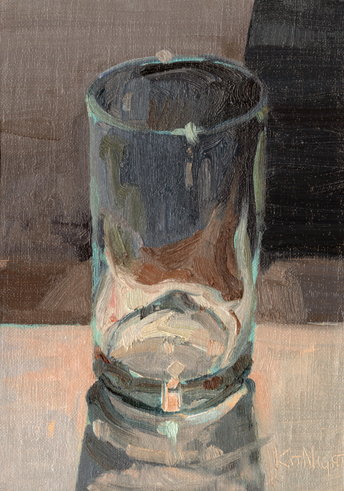 April 27, 2022
Sometimes painting is discovering something better on my way to where I thought I wanted to go.
My new cd was also a process of discovery, pianist Jeremy Denk, "c.1300 - c.2000." Almost all of the composers were new to me, or the pieces were played in fresh ways.
At times introspective, romantic, demonstrative, fun, modern... I loved the music, his playing, and the way it freed my brain.
I explored without thinking too much. Which is sometimes a hard place for me to get to. Pretty wonderful.
5" x 7" oil on panel NFS
Tango in Tangerine
April 20, 2022
They share the spotlight and their ellipses of shadow.
Like capes, or winged sleeves, or the scarf of Cyd Charisse, the angled leaves of light and dark add formal presence and movement.
An intimate dance.
6" x 8" oil on panel Private Collection
Color My World (Turp Pot)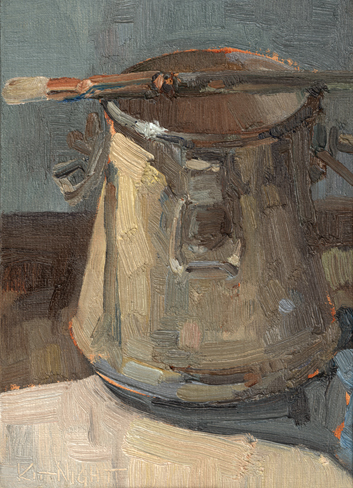 April 13, 2022
Oil paint by nature is slow to dry. That's what painters love about it, its buttery handling, its luminous color, its open working time.
Arriving in brightly-colored dabs of distinguished hue, in no time at all it piles color upon color to everything it touches, soon to turn objects a non-descript, neutral gray.
From doorjamb to telephone, shirtsleeve to fridge handle, screw driver to turp pot - like critter tracks in snow, it leaves a history of marks in its wake.
I guess this is what they mean by 'tone on tone?'
5" x 7" oil on panel Private Collection
A Spot of Sunlight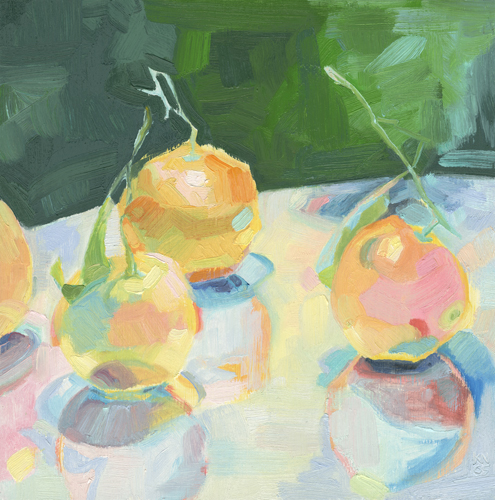 April 6, 2022
I took my cues from the beautiful weather, the reflective skins of fruit, and Bonnard's love of sitting out in his garden.
With his little dog on his lap, he would watch the play of light upon forms as the sun moved through its day.
Objects drop back into shadow, emerge, and finally seem to dissolve in the brilliance of light.
9" x 9" oil on wood $530 Art in the Morning special
Spanish Blood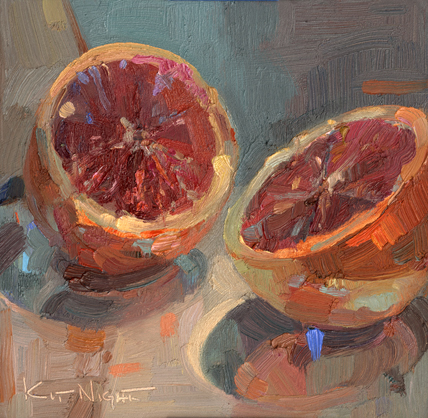 March 30, 2022
What rhymes with orange?
Sangre Naranja.
You just have to do yoga to get there.
6" x 6" oil on panel $230 sold
Pearfetta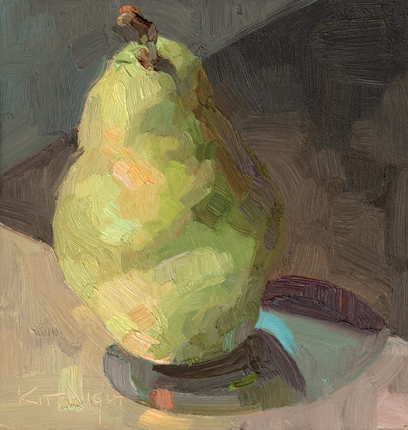 March 23, 2022
A glint of sun,
on springtime green...
I like her quiet style.
5" x 7" oil on panel $230 sold
Stella by Starlight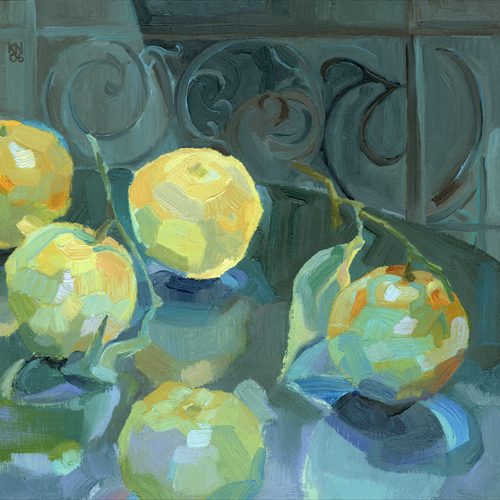 March 16, 2022
Wrapped in the moody atmosphere of Miles playing Stella by Starlight, I too was messing with space, abstraction, focal point.
... Love that watery light.
9" x 9" oil on wood $560 Art in the Morning special
Winter Peace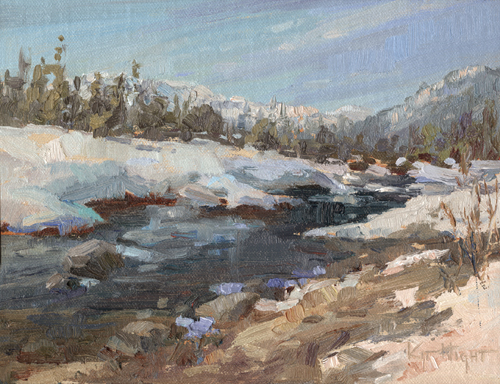 March 9, 2022
How many days, or weeks, have I spent along this river - painting, walking, cross-country skiing.
The river and the light, the birds and the wind, the sound of the snow - it says so much, in its seeming silence.
6" x 8" oil on linen panel $330 sold
Clementine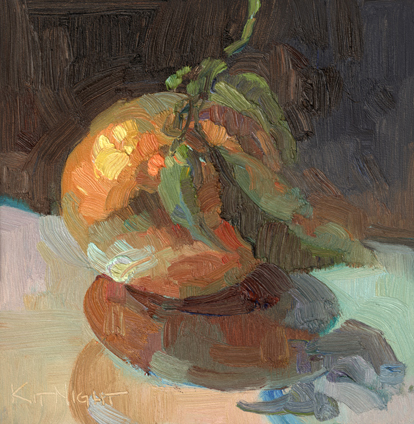 March 2, 2022
Painted in support and gratitude for the brave people of democratic Ukraine.
And to those providing them a bit of warmth and food.
6" x 6" oil on panel sold $230
Bulldog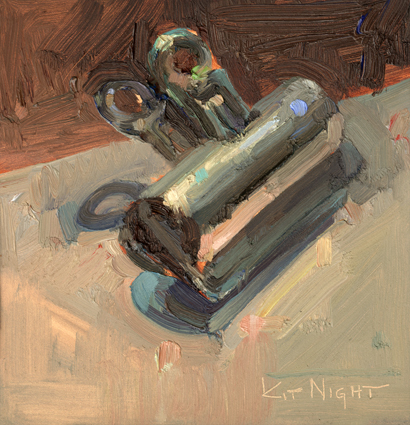 February 23, 2022
Sometimes it's good to keep it simple.
Get a grip.
And be tenacious.
6" x 6" oil on panel $195 Art in the Morning special
Golden Symphony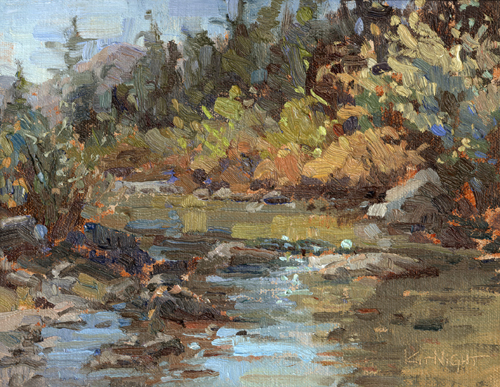 February 16, 2022
Nature is the conductor.
Its baton glides and descends, floats upward, and briskly punctuates, creating a symphony.
The colors of notes from my palette, the texture of marks, all are in answer to its beckoning.
I love to be part of its ensemble.
6" x 8" oil on linen panel $320 sold
Behind the Scenes - sketchbook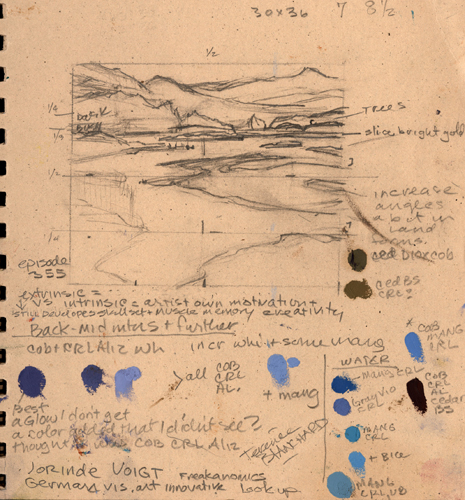 February 9, 2022
When out in the field with my easel, it's about soaking up nature through all of my senses. Seeing and breathing and listening. It's being very alive.
Back in the studio, when I've chosen a particular piece that I love and want to paint larger, the sun isn't rocketing through the sky overhead. I have more time to develop what I want to say. I get to edit, distill, and heighten.
Like any explorer, I get to know the landscape differently, chart a path to my desired point on the compass, and head off on a new adventure.
8" x 8" graphite in sketchbook nfs
Light Play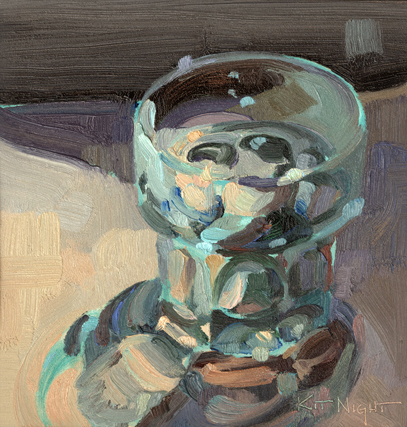 February 2, 2022
Don't you just love paint?!
Mix it with light, and soon you're dancing.
Let's dance.
6" x 6" oil on panel sold
Spanish Sunlight - portrait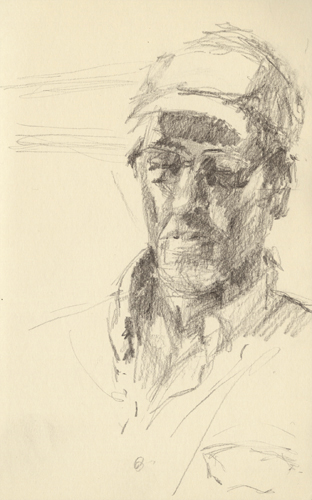 January 26, 2022
Bathed in Spanish sunlight. Quiet for the mind.
Surrounded by Spanish speakers, words become music.
5" x 7" graphite in sketchbook nfs
BeBop II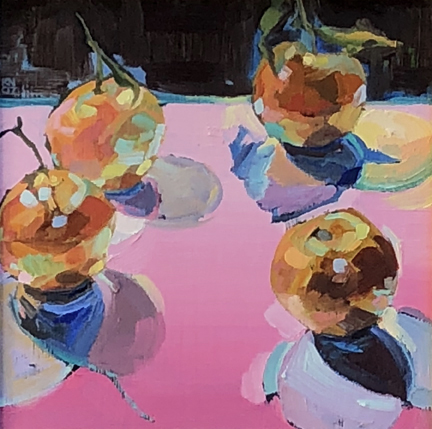 January 19, 2022
When I tired of the dark irony of the artworld, I ran counter to my childhood color preferences and embraced pink.
In this sizzling number I tried to capture some of the radiant light and harmonic surprise of Dizzy, Bird, and Miles.
Come to think of it, I was listening to all three of them!
9" x 9" oil on wood $570 sold
Alcazar de Seville - sketch
January 12, 2022
Travel is an invitation to open a door, see differently, find the magic. It encourages me to slow down and get out my sketchbook.
So glad I did!
Now, when I look at my sketches, I'm transported. Clear memories, like the Spanish sunlight, dazzle.
5" x 6" graphite on paper nfs
The Gift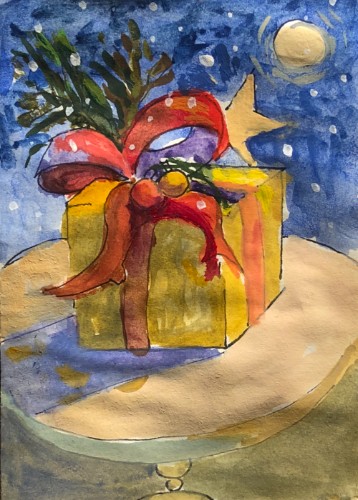 January 5, 2022
You are the gift that allows me to do what I love.
about 2" x 3" gouache & ink on paper nfs
The French Quarter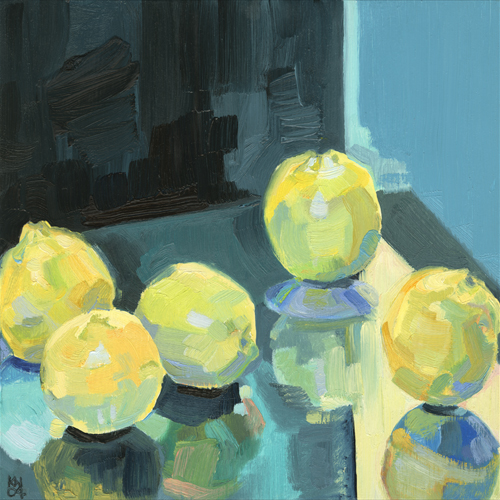 December 29, 2021
A blast of pizzazz,
sunlight and jazz,
I'll be spinning Ellington's "Blues In Orbit" to launch me into the New Year in finger-snapping style.
Yazz, yazz, yazz...
9" x 9" oil on wood $560 Art in the Morning special
Flamenco Sketches IV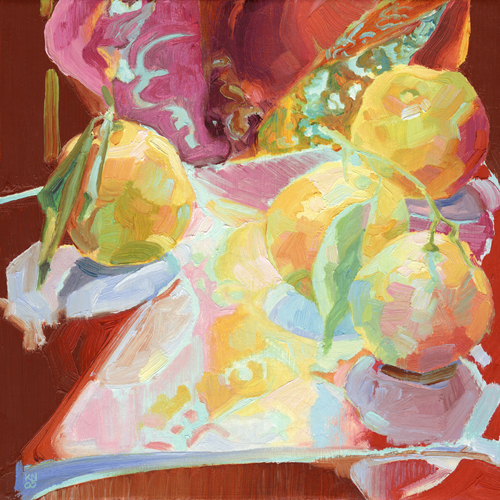 December 22, 2021
Coltrane's playing on Flamenco Sketches inspired me to paint what I heard.
I set up these citrus on a piece of white, with a background of white, and let his melody determine my colors and strokes.
The pattern and abstraction are a reflection of his music - full of love and beauty.
It seems appropriate for this season, and always.
9" x 9" oil on wood $560 sold Art in the Morning special
Plum Sugar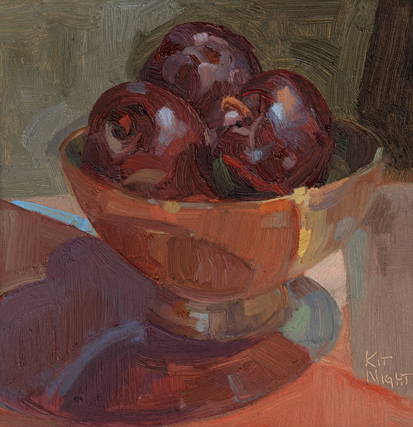 December 15, 2021
Sugar plum visions,
Winter night of starry moon,
Ornaments shine bright.
6" x 6" oil on panel $230 sold
Glow Power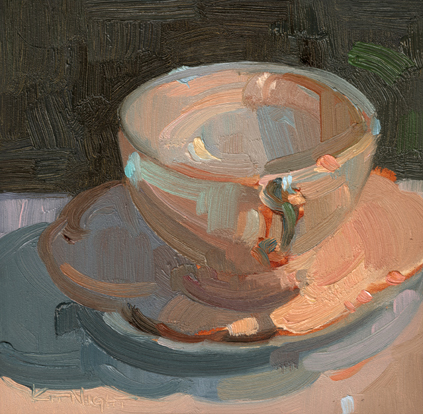 December 8, 2021
Thick paint,
A warm cup,
The coffee's on,
It's a new day.
6" x 6" oil on panel $265 sold
Geranium Nocturne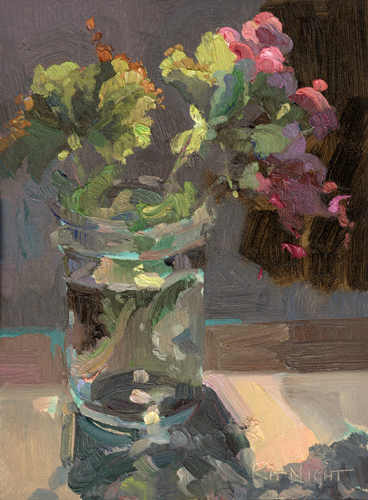 December 1, 2021
Conjuring moonlight, a baby grand, and Chopin.
Of course, my favorite would be the sonata by Beethoven.
6" x 8" oil on linen panel $310 sold
Quiet II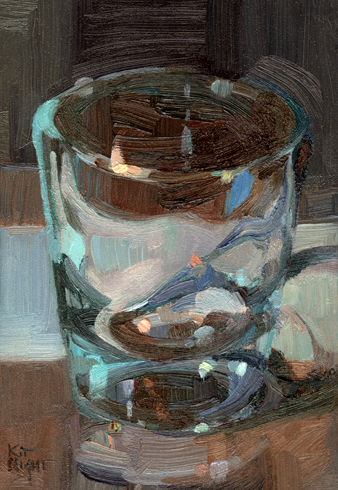 November 24, 2021
Quiet in the wind,
In the rustling leaves of gold,
In the pool of moon.
5" x 7" oil on panel $265 sold
Autumn Quintet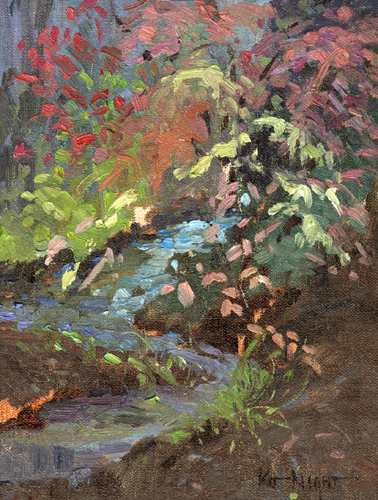 November 17, 2021
The music of color.
The color of music.
The melody of water.
It ain't just the birds who are singin'.
6" x 8" oil on linen panel $310
Geranium Autumn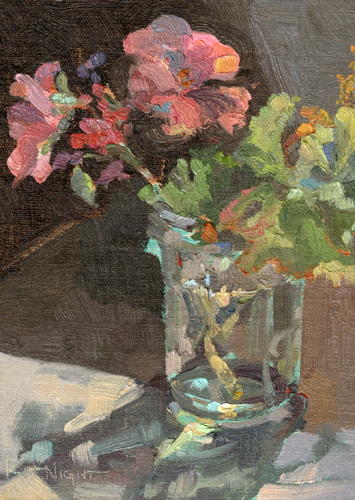 November 10, 2021
Almost nothing holds back the change of seasons more than gernaiums.
With their mix of gnarly / prickly, and almost day-glo cheer, they drive summer well into fall.
Savored sightings in winter windows always bring out the sunlight.
6" x 8" oil on linen panel $310 sold
Stardust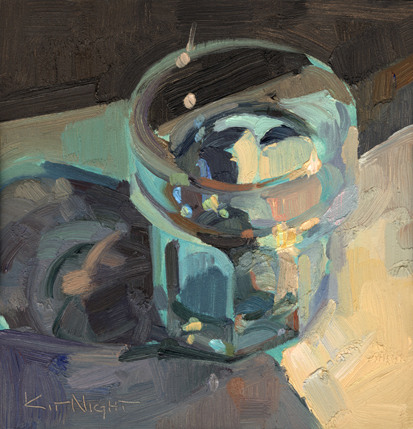 November 3,2021
The abstract spaces and arches of deep blue put me on narrow streets at night in a magical foreign land.
Golden light washes ancient walls, and starlight bounces off small-paned windows from the dazzling sky above.
I hear footsteps on the cobbles. A strange and wonderful instrument calls like a quiet bird.
Let's follow its melody.
6" x 6" oil on panel $265 sold
Golden Garden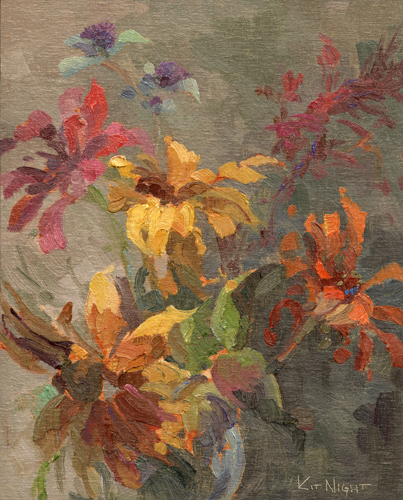 October 27, 2021
As the "atmospheric river" rolls into the Sierra, every petal and leaf glows its final dazzling splash of warmth.
Garden and forest light up under the rain in radiant abstract patterns that take one's breath away.
Nature is the ultimate painter.
8" x 10" oil on linen panel $380 sold
Silver Light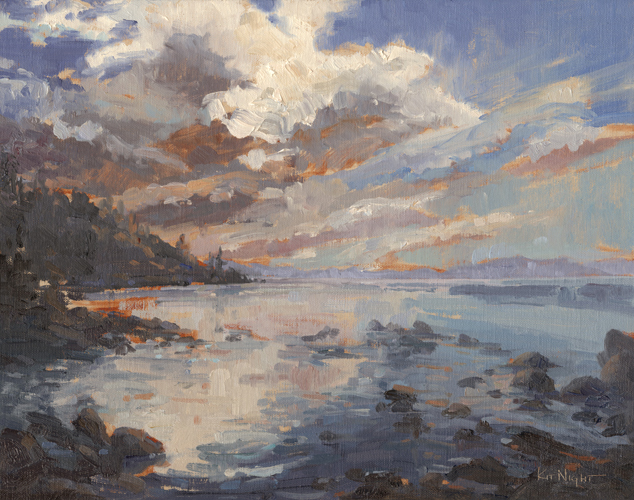 October 20, 2021
Light shapes a story.
Cool or warm in temperature, clear and bright or atmopheric and diffused, hard-edged or soft, it helps decribe the landscape - both real and metaphorical.
11" x 14" oil on linen panel $540sold
Sunshine Morning Cup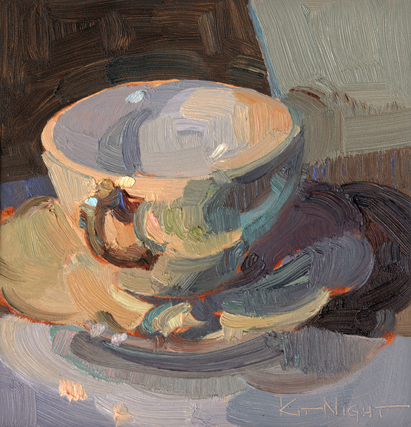 October 13, 2021
Morning sunshine shimmers around the room like an excited butterfly -
brushing against the cup,
landing in the chair,
dancing up the wall.
Its enthusiasm lights up the day.
6" x 6" oil on panel $230 sold
Autumn Joy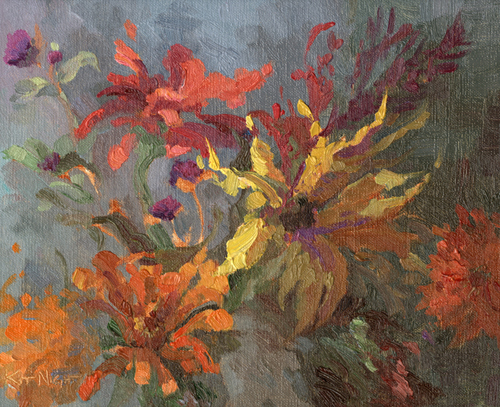 October 6, 2021
Every season has its spectrum of color.
When translated to paint, this one really surprised me. It just sucks me in.
Every time I look at it, it makes me happy.
8" x 10" oil on panel $380 Art in the Morning special
Lemon Glow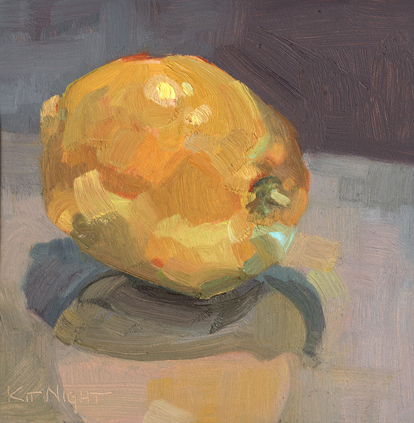 September 29, 2021
Sometimes quiet things light up a room.
6" x 6" oil on panel $230 sold
Apple Glow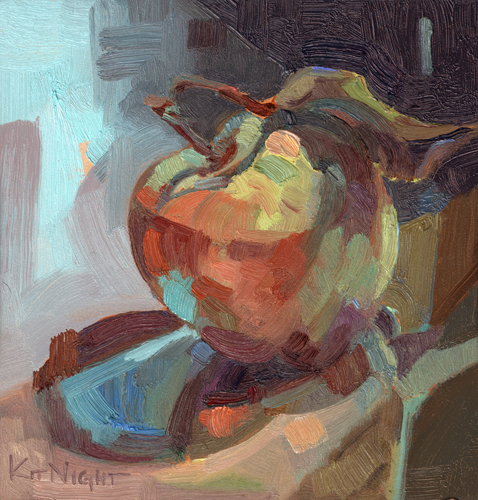 September 22, 2021
Oh, to be an orchard atop the spring-green hill. To provide the blanket of earth for trees to dig their toes into. To watch as their silhouettes rise in all their eccentric expressions of knees and elbows and gnarled fingers.
To be the place that the beekeeper visits and feel the tickle of his winged creatures as they nuzzle bud and flower, carrying their magic dust with them. We ride the seasons together.
Gold comes the fall, and the branches lean lower as the globes reflect the light. Sunlight warms the fruit to a blush.
It snaps with crispness and juice, providing a simple, wonderful pleasure.
6" x 6" oil on panel $230 sold
Stained Glass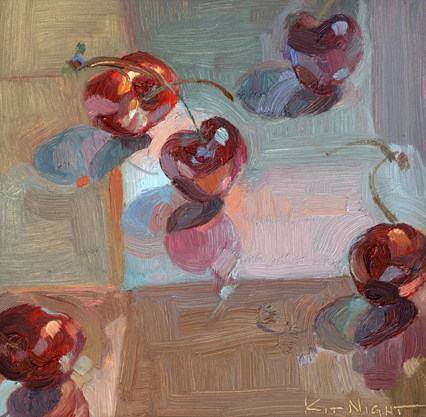 September 15, 2021
Pools of paint.
The wave of the brush.
And... Alakazam!
Where are we, Toto?
6" x 6" oil on panel $230 sold
Plump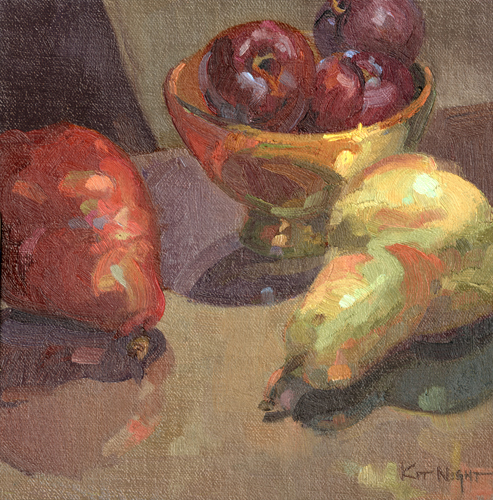 September 8, 2021
The power of color.
Gold warms. Auburn invites. Plum celebrates.
8" x 8" oil on linen panel $320 Art in the Morning special
Summer River Rise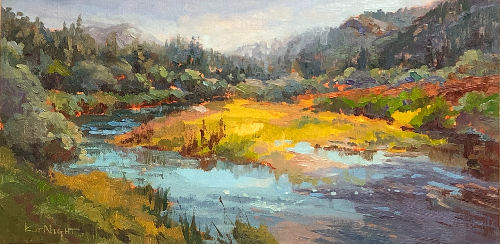 September 1, 2021
It's hard to overestimate the power of music to elevate and transform. The connection is preconscious. It crosses communities and cultures and goes straight to the heart.
In this case it was Mozart's Great Mass in C minor.
Its swelling beauty carried me like a wave, upward out of the almost opaque smoke and raining ash outside my studio, allowing me to paint this piece - reliving that late-summer day on the river.
I never underestimate the power of art to help me find my better self.
8" x 16" oil on linen panel $515 sold
Three-Cherries Syndrome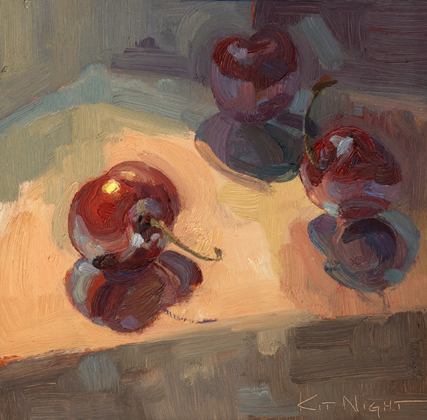 August 25, 2021
Painted specially for a big-hearted person practicing random acts of kindness...
Wishing everyone a three-cherry day.
6" x 6" oil on panel nfs
Heads - sketch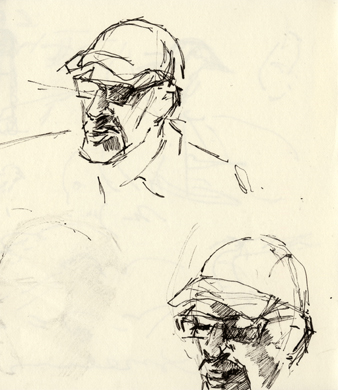 August 18, 2021
Like sketching the blades of a windmill in a breeze.
Or the wings of a bird in flght.
Light, shadow. Light, shadow.
Flick. Flick. Flick.
Gone.
.5 x 5.5 sketchbook nfs
Daisy, Lily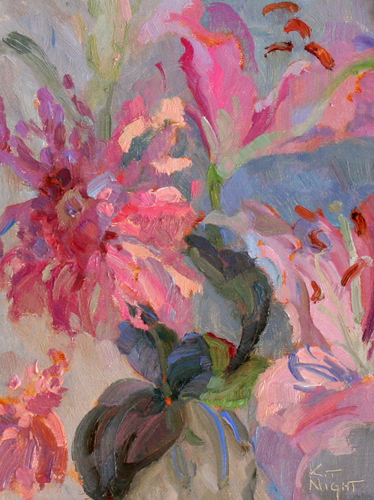 August 11, 2021
Crescent moon waxing
Sunrise kisses the flower
Gentle comes a Bee
6" x 8" oil on linen panel $290 sold
Situational Extrovert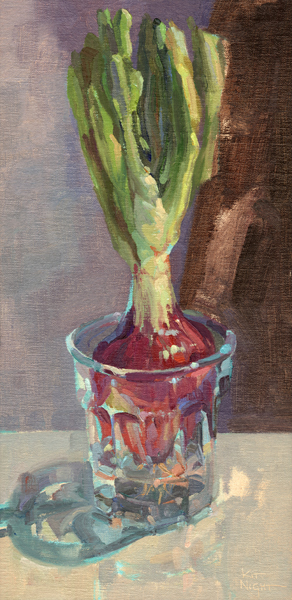 August 4, 2021
Like many an introvert, the onion doesn't mind being overlooked as it plays an essential role in helping others shine.
But some days it just can't help itself.
Its ruby glow and sense of style jump to center stage and say, "Hey!"
8" x 16" oil on linen panel $490 Art in the Morning special
Audition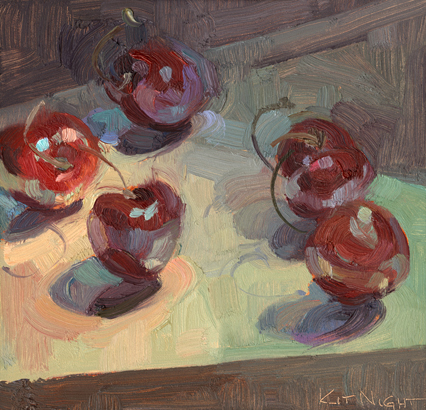 July 28, 2021
In an ever-evolving process of discovery, I love the way paint can be marshaled into light and shadow.
A plain white surface becomes an abstract stage. Cool beauty and elegance is found in shadowed color.
When the spotlight shines, the stars come out to play. It takes the entire cast to create the transformation.
Who says a cherry is just a cherry.
6" x 6" oil on panel $265 Art in the Morning special
Petal Power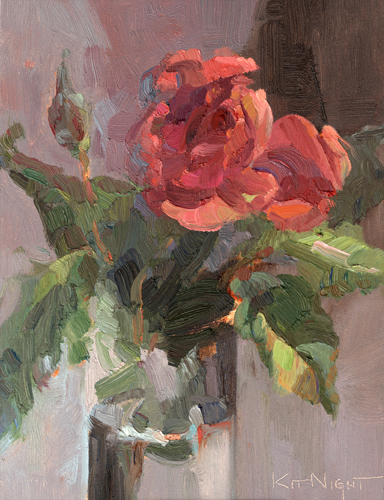 July 21, 2021
This rose caught the sunlight. Then my eye.
Holding the colors of the sunset, it sweetens the air while a new mystery unfolds.
6" x 8" oil on panel $290 sold
Fava La Bamba
July 14, 2021
Paint it. Eat it.
Sometimes life is a rainbow.
6" x 8" oil on linen panel $310 sold
Quiet Winter Turning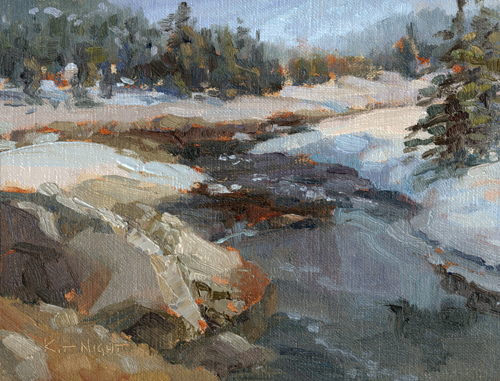 July 7, 2021
After life under the "heat dome," I figured we could all use a cold plunge.
This is from a great day spent painting just as winter was turning its face toward spring. Cold alpine air and warm high-altitude sun, the air was fresh and moist with the melt.
The few plates of ice on the river were about an hour away from becoming water.
I felt giddy as a kid jumping on ice bridges on my way home from school.
6" x 8" oil on linen panel Private Collection
Dogwood, Daffodil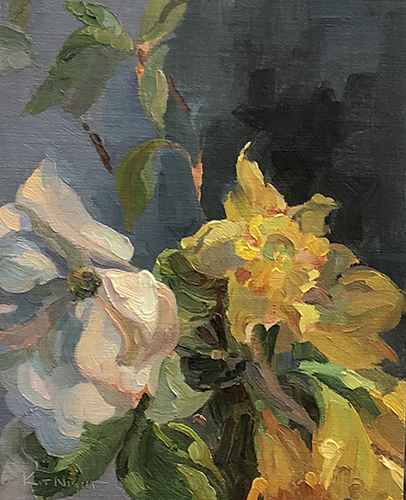 June 30, 2021
A walk in the woods, moving from pools of cool shadow into spills of brilliant light, can reveal a delicate elegance blooming among the trees.
A walk along the garden's edge offers upturned faces of sunshine.
Put them together and I fall into the beauty of paint.
8" x 10" oil on linen panel $360 sold
Cherries on Broadway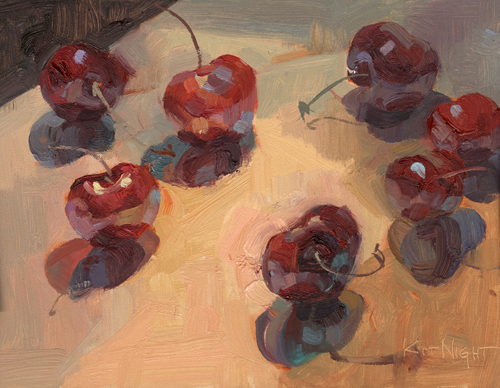 June 23, 2021
I love how theater helps us see things fresh.
And fresh things, dramatically.
6" x 8" oil on linen panel $290 sold
She's So Fine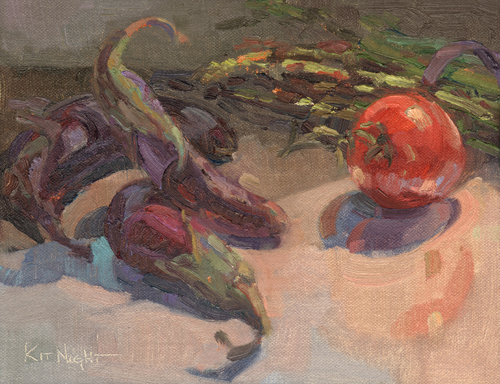 June 16, 2021
From plow to palette to palate.
I love our local farm stand.
The author in the house says he has a crush on the tomato.
I like my rubber band.
6" x 8" oil on linen panel $310 Art in the Morning special
Existential Strawberries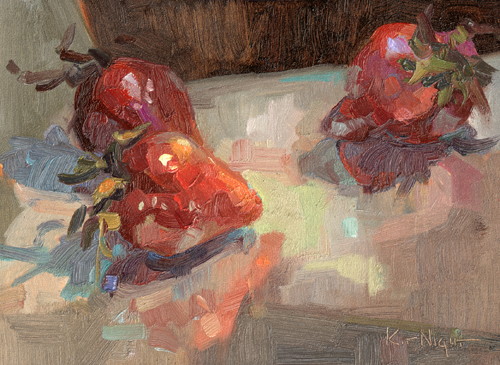 June 9, 2021
I'll say!
6" x 8" oil on linen panel $310 sold
Lily Daisy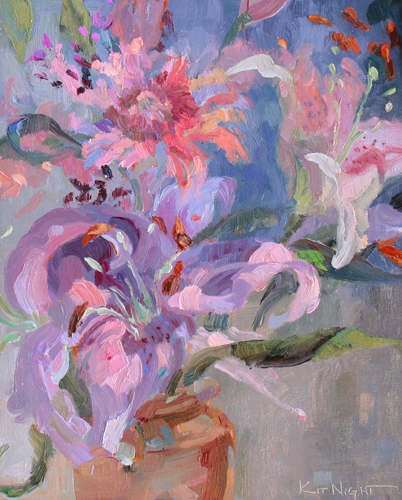 June 2, 2021
More inclined to paint tools than flowers, I can only assume that the explosion of nature's exuberance speaks loudly to me at this time.
The birds, too, are in full volume as they light up the air waves.
A welcome chorus, it is.
8" x 10" oil on linen panel $360 sold
Lemon Bella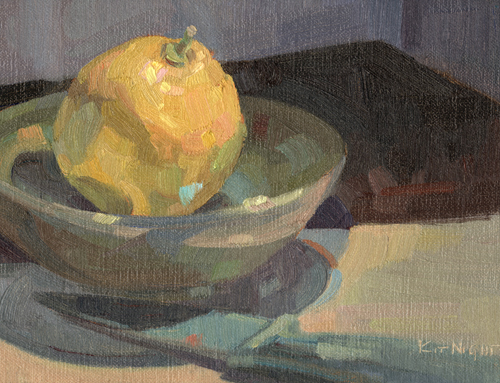 May 26, 2021
If a lemon could be a Broadway star this could be her.
As I painting this, I just kept hearing Ethel Merman singing, "There's no business like show business...!"
She held the footlights and the spotlight. How does she do that?!
6" x 8" oil on linen panel $310 Art in the Morning special
Daffodil Spring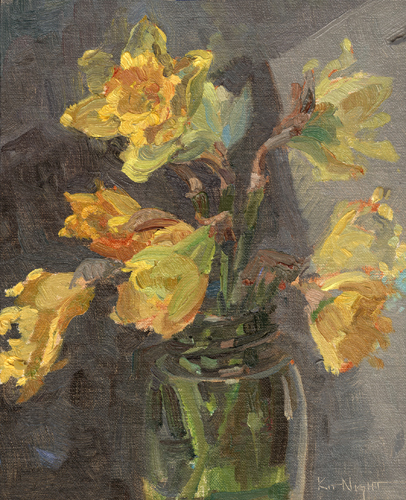 May 19, 2021
These daffoldils make me think of the brass section when Louis is onboard.
They play with brilliance and joy.
8" x 10" oil on linen panel $360 sold
Morning Quiet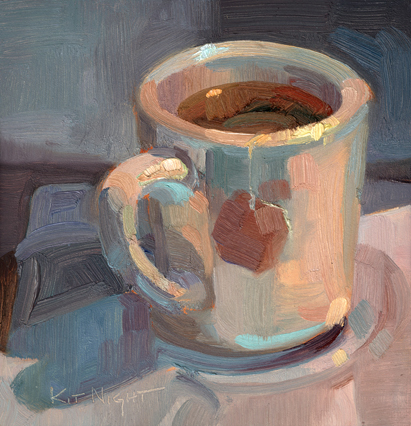 May 12, 2021
In colors of the sunrise
and in the stillness of morning time
I can hear the birds singing.
Hear them?
What a beginning to the day.
6" x 6" oil on panel $230 sold
Nightfall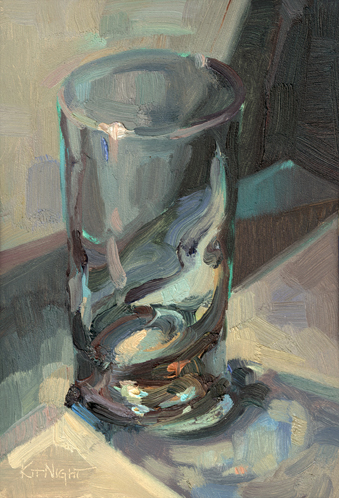 May 5, 2021
Before the full moon left our night sky
I captured its light in this glass.
5" x 7" oil on panel $265 sold
Blooming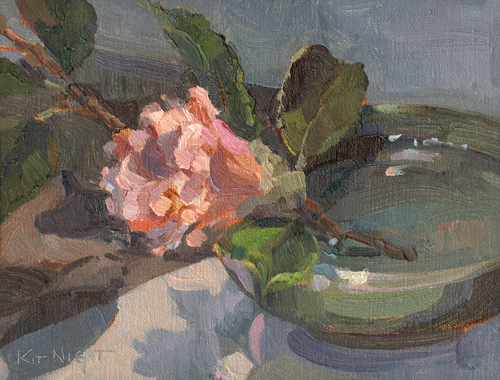 April 28, 2021
From twig to flower
Winter's white turns to spring bloom.
A blossom awakes.
6" x 8" oil on linen panel $310 sold
Sunlit Daffodils
April 21, 2021
Like shooting stars that plant themselves
Or rays of sunlight that take up residence
Everything is coming up yellow
8" x 10" oil on linen panel $360 sold
Lemon on a Wedge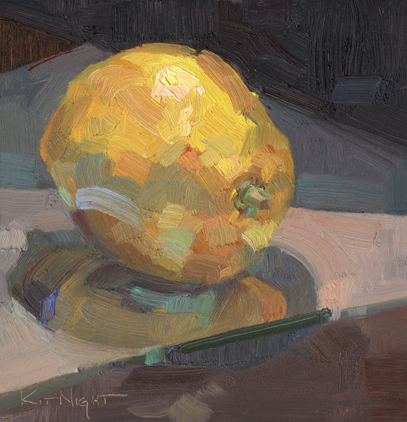 April 14, 2021
When people pursue their artform with focus and persistence, discipline and curiosity, it doesn't really matter if their medium is painting or pointe, jazz or journalism, or... food!
To get really good at it, to make something fresh and even surprising, involves pretty much the same process. Critical thinking, the willingness to fail, endless hours for many years, and a love of the process.
Each of those mediums: painting, dance, music, or writing, involve studying the material, the history and cultures it comes from.
Whether it's "Yes, Chef!" by Marcus Samuelsson or "To a Young Jazz Musician," by Wynton Marsalis, I found almost every thought and practice to be interchangeable with the pursuit of a life in painting.
Here's to everyone's art form!
6" x 6" oil on panel sold
Alcazar, Seville - sketch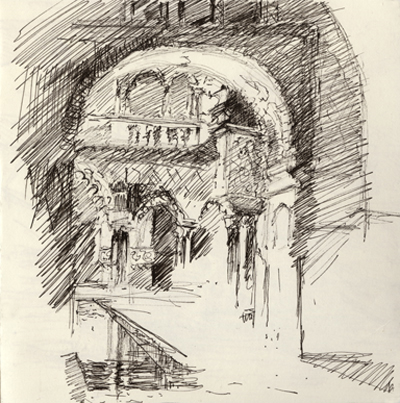 April 7, 2021
This time a few years ago I was approaching blast-off to teach my plein air workshop on Italy's largest lake.
En route we explored the inspiring beauty of Alcazar in Seville, Spain. A study in drama and grace.
Cool dark domes of intricate carving and archways to bold light.
Ebullient gardens create a mosaic of color. Fountains splash in the sunlight.
Water reflections below to bring you closer to the sky above.
Quiet, save for the burblings of water and birdsong. I wonder if they are looking for a novice grounds keeper.
5.5 x 5.5 sketchbook nfs
Squeeze Me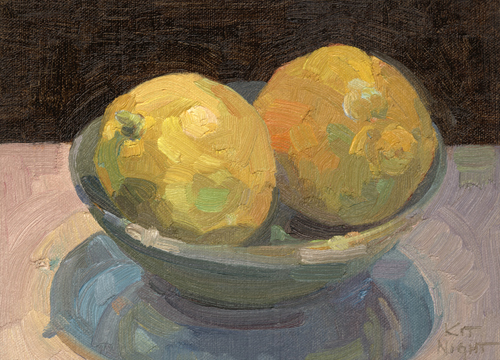 March 31, 2021
A bowl full of sunlight to greet the day.
6" x 8" oil on linen panel $290 sold
Artifacts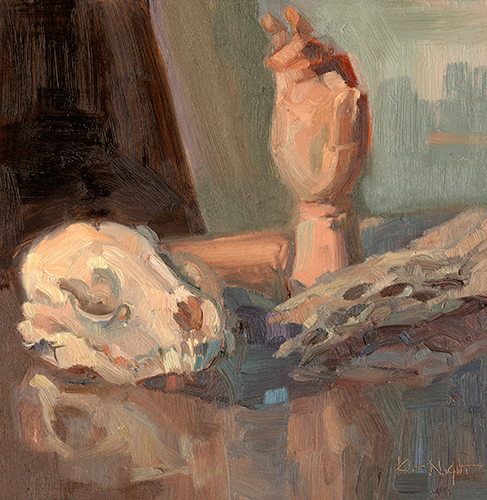 March 24, 2021
Winter is a good time for adventures in a library. Exploring trails of information.
Like picking up bits of information in a library, I pick up bits of stuff along the trail when hiking. Curiosities of beauty and form, that lead to questions.
Rocks that show a fault line. Weird and wonderful pieces of wood shaped by wind and water. Bones that give us nature's essential sculpture.
8" x 8" oil on panel $270 Art in the Morning special
Lemon in Winter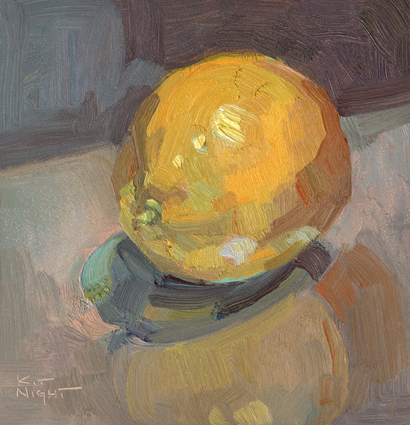 March 17, 2021
Lemon brightens everything it touches.
6" x 6" oil on panel $215 sold
Winter's Tea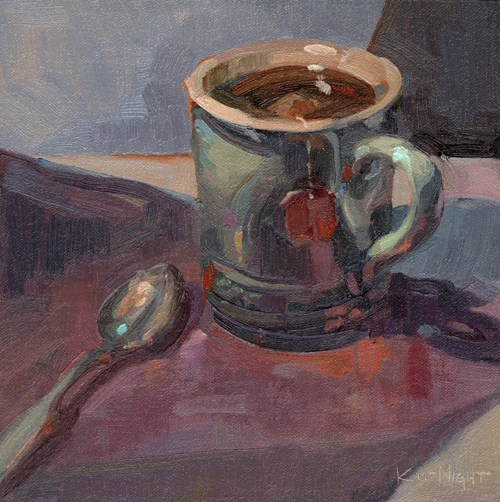 March 10, 2021
I love that when you come in from the cold, the scent of winter comes in too.
It mingles with the aroma of a hot drink and the wood smoke going up the stove pipe.
Reminding you it's time to pull up a chair and enjoy a good book.
8" x 8" oil on linen panel not available
Sparkling Winter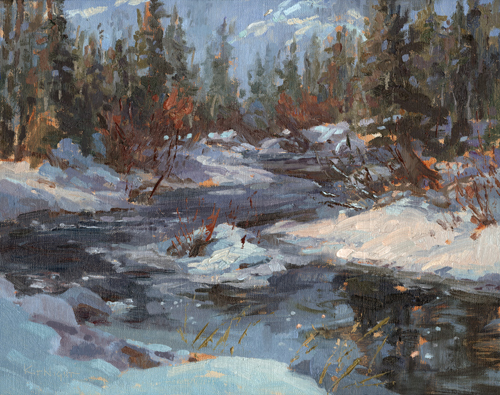 March 3,.. 2021
Don't you just love winter?! My favorite season.
Blanketed in snowy silence, it is full of mystery.
The night's full moon reflects off the snow, allowing you to read a book out there, while you cross-country ski over the meadow and along the river.
Come morning, snow holds your morning news of all the night-time critters who've been busy as you slept.
The golden hour turns warm and peach where the sun lights upon the white and deepens shadows to blues and lavenders. We take in the splendid glow and go home warmer for it.
11" x 14" oil on linen panel $560 sold
Roman Blonde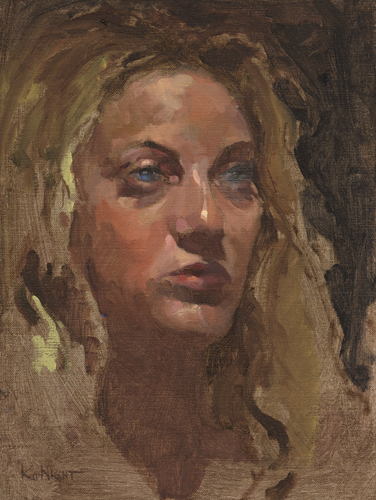 February 24, 2021
Boy, do I miss working from the model!
This painting was 99% complete when we could still travel and gather in a room together, in silent concentration, and bathe our senses in the bouncing reflected light and subtle movements of the human form.
It was really wonderful to revisit some of that feeling when I completed the few finishing touches in my studio this week.
Working from life is a gift.
9" x 12" oil on linen panel $490 Art in the Morning special
Eccentric Pink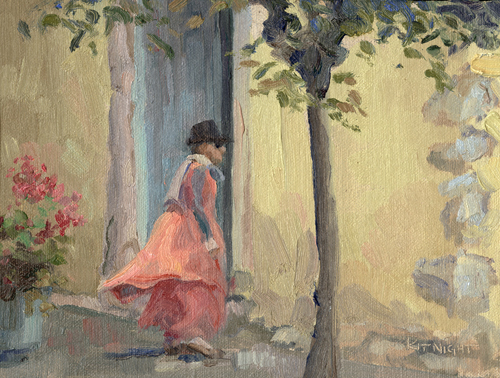 February 17, 2021
She was on her way to somewhere!
In flowing drapery of peachy pink, she sailed over the Italian cobbled streets of the lakeside village like an apparition. About four and a half feet tall and glowing, she was a commanding presence.
But her fleet feet had me and my workshop of painters wondering if we had imagined her.
And... if we could follow!
6" x 8" oil on linen panel private collection
Venice Sunset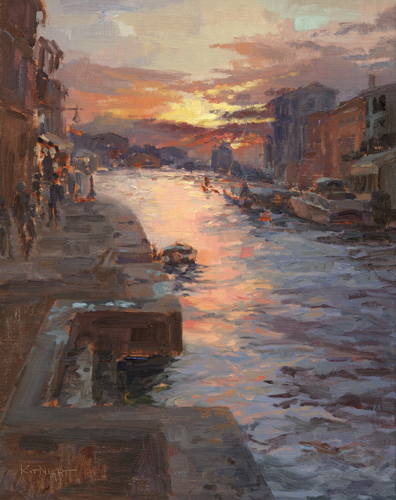 February 10, 2021
Pick a canal, any canal.
Name your time of day, sunrise or sunset.
Load your backpack with fresh cheese, juicy produce, and that incredible crusty bread.
An affordable feast full of colored light, local sounds, and memories.
Don't forget the corkscrew.
11" x 14" oil on linen panel sold
Prepare for Pizza!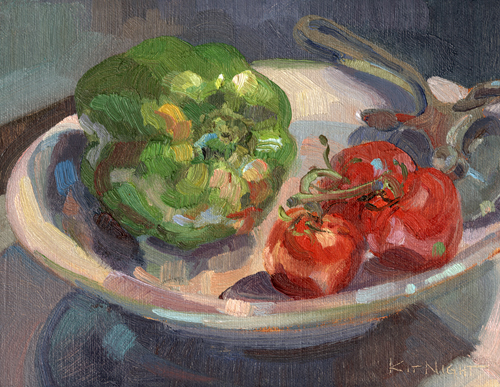 February 3, 2021
Our go-to therapy this covid season is catching a sunny day and escaping to Tuscany. Being pretty Type-A in the work department, this is a real lunchtime treat for us.
Ingredients for easy travel are simple: outdoor seating in the sun (dress weather-appropriate), one Margherita pizza, one bell pepper (optional), olive oil, one pre-heated grill, beverage of choice.
Pre-warm your plates, and grab the key ingredient: your imagination.
Before you know it, images and memories will assemble before you, and you too will be enjoying great taste and gazing at rolling green hills dotted with happy sheep.
Just off to the right, vineyard rows climb the contours of the land.
In the distance the sun-splashed sienna-gold walls of the hilltop village glow in invitation. We sigh at the flavor and at the sight of the iconic church bell tower - an exclamation mark to the power of imagination and good will. Feel better? Me too.
Toccato uno, toccato tutti.
6" x 8" oil on linen panel $270 Art in the Morning special
Venice Reflections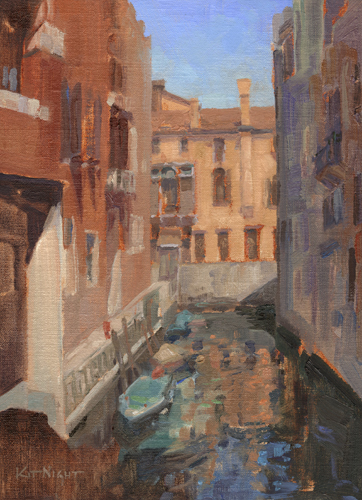 January 27, 2021
Venice is a floating city of wonder, water, and light. Its tilted vertical planes, deep shadowed doorways, and watery reflections call you into adventure and a state of exploring.
Its Byzantine canals and streets with a name at one end, and a different name at the other end - often just one block away - pretty much guarantee getting lost. Which is the whole point!
What better way to explore the hidden neighborhoods of quiet, the dark alleys of water and reflection, and gem-like parks down a path, behind a wall.
The contrasts of light and dark, grand splendor and rain-stained decay, history and mystery, fill all of our senses.
9" x 12" oil on linen panel $460 sold
Regatta
January 20, 2021
With hopes for a clear day,
a smooth coming about,
and the wind at our backs.
6" x 8" oil on linen panel $310 sold
Lamplight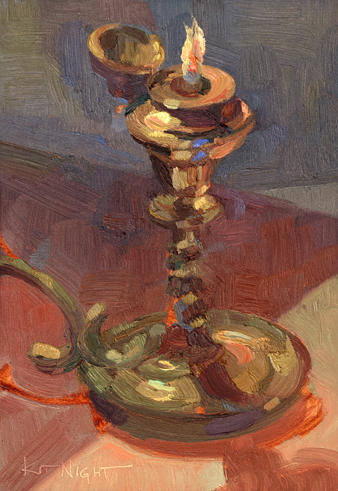 January 13, 2021
Warmth against the elements.
Light in dark corners.
Flickering gold for a moonless night.
5" x 7" oil on panel $270 sold
Sailing to Tahiti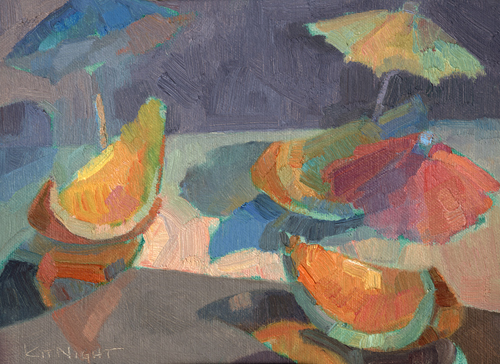 January 6, 2021
In the pursuit of happiness...
I carved my boat, and grabbed my umbrella, mixed up a palette of endorphin-inducing colors, and struck out to realize a lifelong dream.
I'm sailing to Tahiti.
Virtually, of course.
6" x 8" oil on linen panel $310 sold