Baroque Ensemble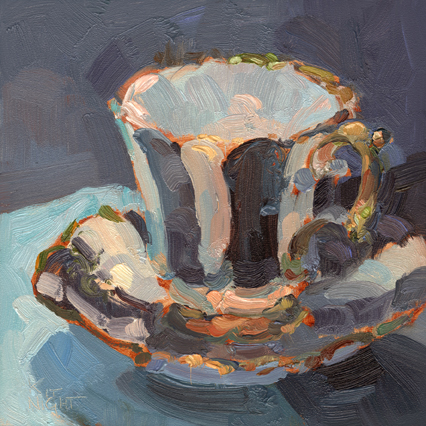 December 25, 2019
Come close and listen...
There's music in those brush strokes.
6" x 6" oil on panel $230 Art in the Morning special
Morning Glow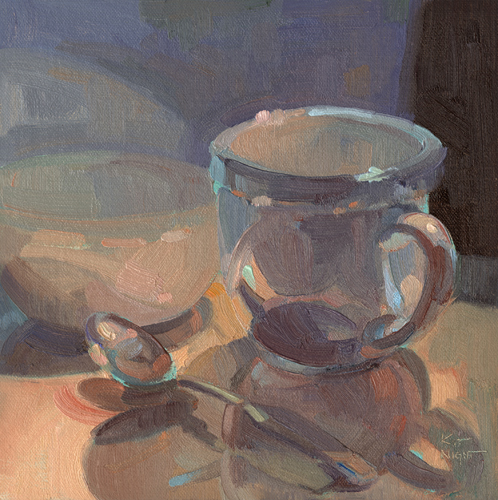 December 18, 2019
Setting a place for Santa, full of magic and mystery.
8" x 8" oil on linen panel $360 Art in the Morning special
Classic '56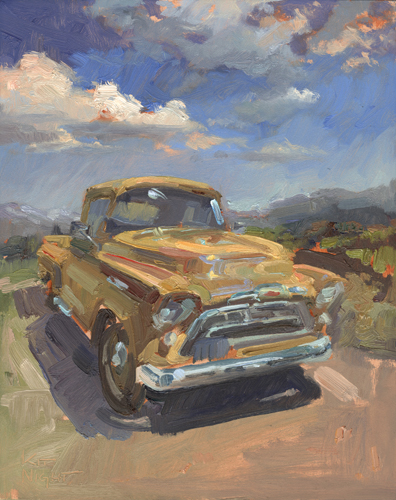 December 11, 2019
Like a sunny day, some things just make you smile.
8" x 10" oil on panel $380 Art in the Morning special
Studio Break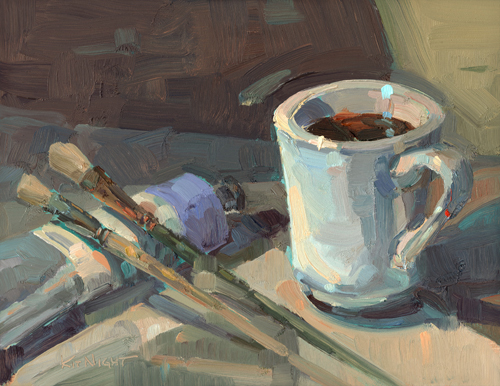 December 4, 2019
Break time in the studio means I turn my painting upside down and take a walk about.
When I return, I see the abstract shapes of color and value, contrast and light. It lets me see what's really there, instead of what I think is there.
Whether literal or metaphorical, turning things on their head for a fresh perspective seems a pretty good practice.
8" x 10" oil on panel $340 Art in the Morning special
Evening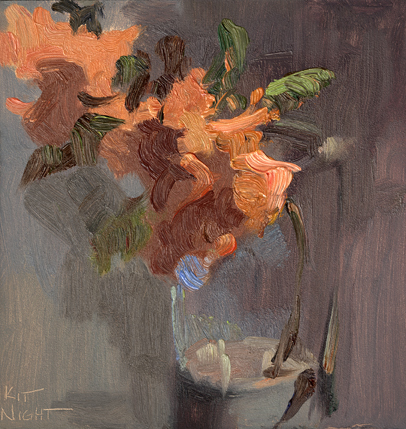 November 27, 2019
Evening... the perfect envelope of quiet.
A chance to pause and appreciate the kindness, the persistence, the courage of others.
Their example helps me find my better self.
6" x 6" oil on panel $230 Art in the Morning special
Marlowe Takes up Painting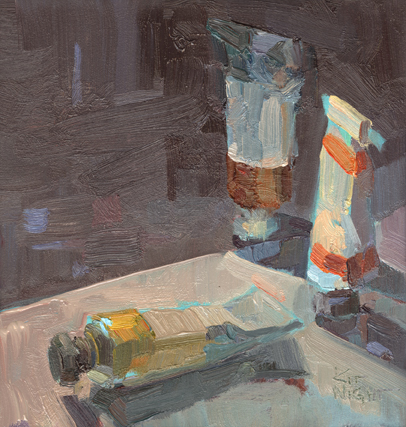 November 20, 2019
The low light and spare composition feels a bit noirish to me. I thought, Hey! Maybe that shamus Philip Marlowe took up painting.
Dark streets and alley ways in atmospheric light can be found in one's painting and on one's palette.
The beautiful dame strung tight like a bow is up to your imagination.
See? The viewer does complete it.
6" x 6" oil on panel $230 Art in the Morning special
Clippy Gizmos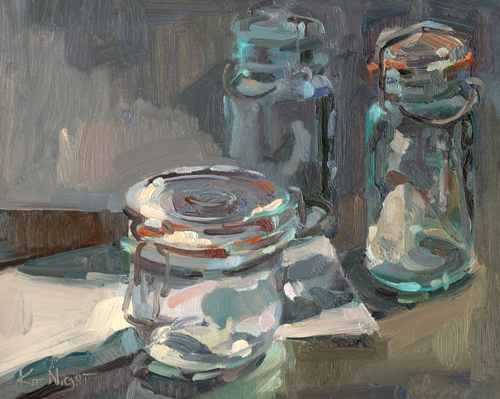 November 13, 2019
'Tis the season for those with the skill, to preserve. (I'm more familiar with the skill of perseverance.)
I love the mix of glass and hardware, the hint of science and the homemade.
And that splash of orange gasket is just the ticket.
8" x 10" oil on panel $340 Art in the Morning special
Autumn River Glow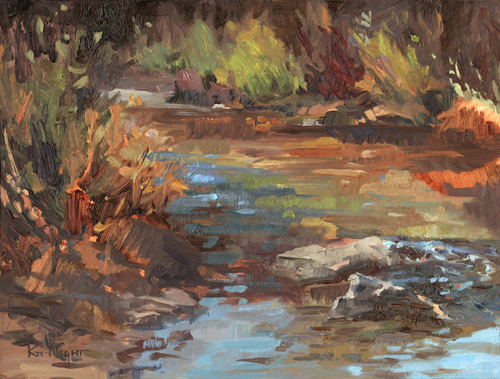 November 6, 2019
Every day in nature is a gift. Big time.
Like having a piece of gold in your pocket.
Only better.
9" x 12" oil on panel $370 Art in the Morning special
Organic Diva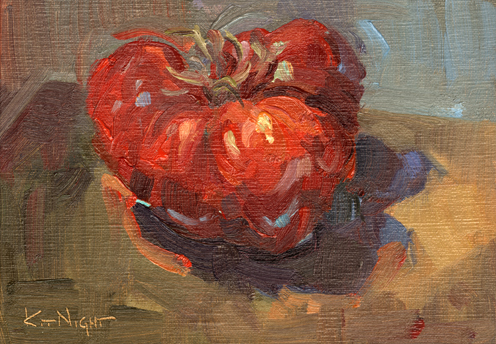 October 30, 2019
This ebullient tomato is so full of herself she is fit to burst. Drama and high color, costume and frillery, she shivers with presence. I couldn't help but think of opera divas.
I'm sure she is about to hit a high C.
Better hold on to your glass.
5" x 7" oil on linen panel $230 Art in the Morning special
Suspension of Disbelief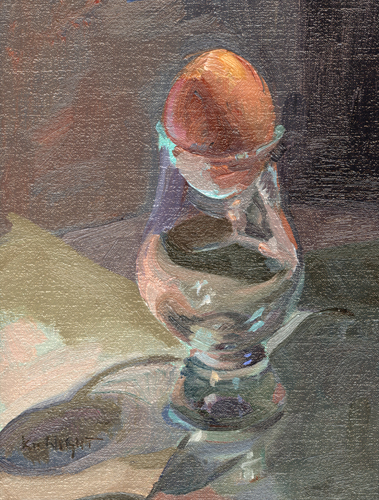 October 23, 2019
I love that pigment on a brush allows for creating a bit of magic. It's an adventure.
We get to take the everyday and see it fresh.
Presto chango.
6" x 8" oil on linen panel $265 Art in the Morning special
Garden Fountain - Alhambra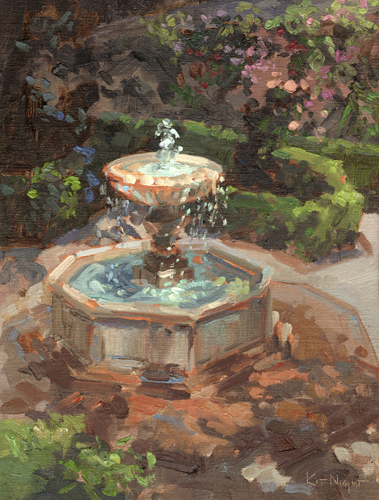 October 16, 2019
I have been hot on the trail of the Spanish painter, Sorolla. One of the places he found beauty and solitude was painting at Alhambra in Granada, Spain. It is an amazing place. Sorolla modeled his home and gardens upon it.
Like him, I find a fountain is just the invitation one needs to stop and linger, to contemplate and breathe, to hear the quiet, and then the hummingbird.
9" x 12" oil on linen panel $415 Art in the Morning special
Clippy Gizmo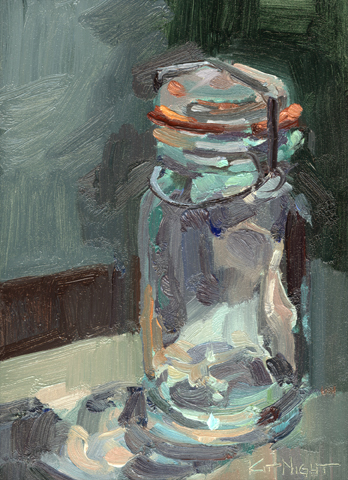 October 9, 2019
When I paint an object it is rarely about the thing. It's about what it lets me do.
Here, I am painting glass, but this time I am after its watery light. I like that I can make the glass foggy or clear, like the sky. The almost horizontal horizon against the vertical jar, flattens space. Accentuating the "watery" of the glass.
This jar speaks of another time. Another process. One of planting a tree, growing the fruit. Preserving colorful pieces of flavor to share with family and friends. An everyday act kindness.
5" x 7" oil on panel sold
Delta Waters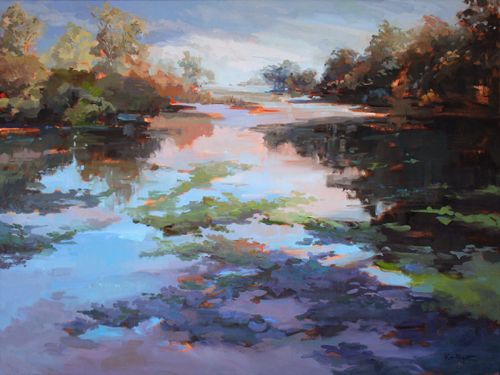 October 2, 2019
Quiet. Light. Water. Sky.
Space your mind can expand in.
Silence that will fill you.
Take a radiant light color massage.
Flow like water, baby,
36" x 48" x 1.5" oil on canvas $5390 Art in the Morning special
Lawn & Garden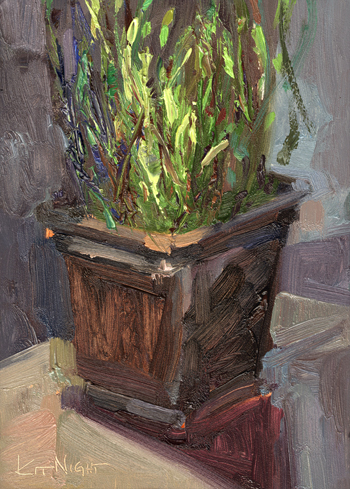 September 25, 2019
Hold the mower.
5" x 7" oil on panel $230 Art in the Morning special
A Hectare of Nectarines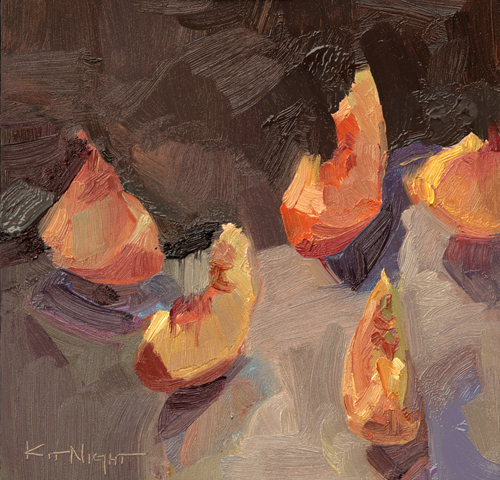 September 18, 2019
Juicy, juicy fruit.
Juicy, juicy color.
Eat it. Drink it.
6" x 6" oil on panel $230 sold Art in the Morning special
Speaking Spanish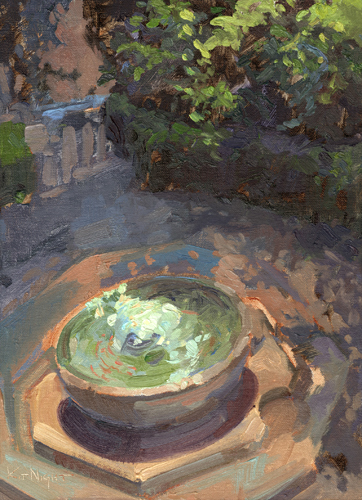 September 11, 2019
Water makes music.
It babbles, and sings.
This water whispers in Spanish as it calms and cools all who pause for a visit.
9" x 12" oil on linen panel $390 Art in the Morning special
Good Morning Bouquet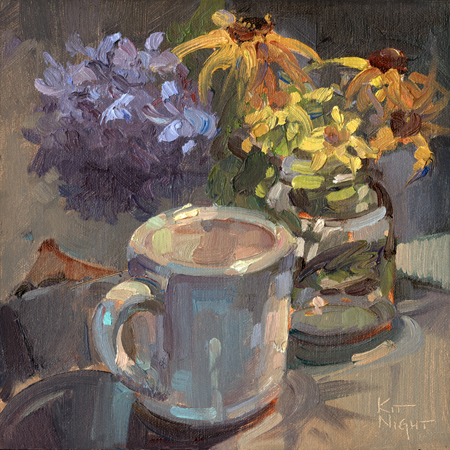 September 4, 2019
Gardens in the heart
Summer on the mind
Blue sky at the window
Coffee almost ready.
8" x 8" oil on linen panel $330 sold
Gem Stones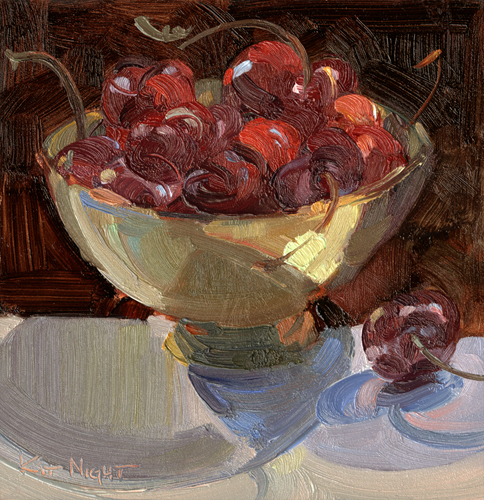 August 28, 2019
I love the interplay of dark and light, flat abstraction and rounded deep.
Plus, I'll take a bowl full of cherries any day.
6" x 6" oil on panel $230 sold
Primary Color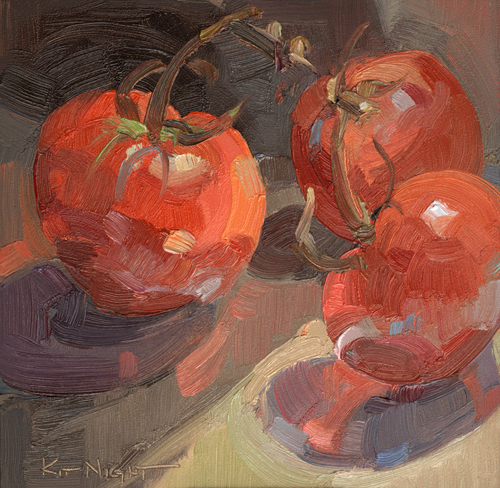 August 21, 2019
Primary colors are the building blocks of painting. The hot sizzle and dark drama of red, yellow, and blue enable glowing colors that create their own light. Their value contrast provides dark shadowy drama to develop the story and enhance the glow in its resolution.
So too, when it comes to the garden's bounty. Primary colors give us beauty units on our plate and a full spectrum of vitality - all the better to wrestle our next creation into good form.
6" x 6" oil on panel $230 sold
Newton's Law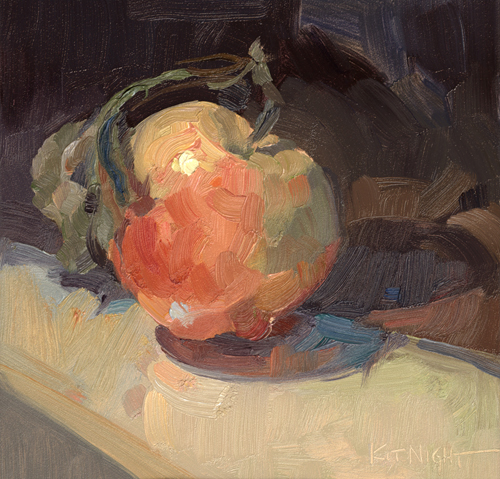 August 14, 2019
What goes up, must come down.
It's how we land that defines our character.
6" x 6" oil on panel $230 sold Art in the Morning special
Good Morning Summer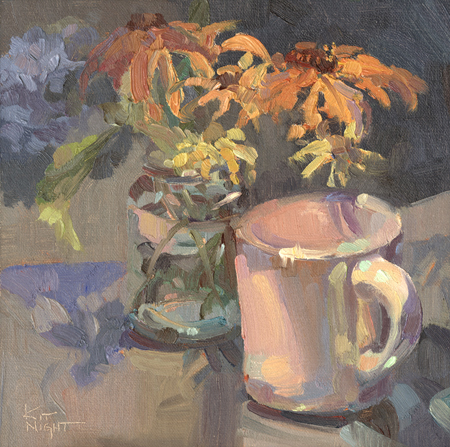 August 7, 2019
Isn't it great when you walk into the kitchen with your morning brain trailing behind you and sunlight is already pre-warming your cup?
While the room fills with the rich aroma of brewing coffee, your eyes can wander the splash-of-color flowers from the garden.
If you're extra lucky, some spritely little bird belts out his version of The Hills are Alive...,
Or maybe he's a bit edgier, with his cool on, and a little bird goatee, and sings us birdland's take on Blue in Green.
8" x 8" oil on linen panel sold
Morning Comes Over the Mountain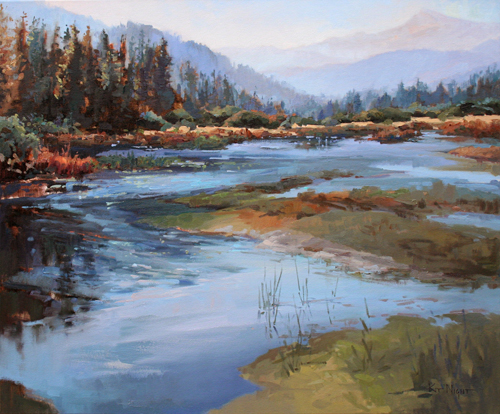 July 31, 2019
I love sparkling wetlands. And all of their sparkling birdsong.
30" x 36" x 1.5" oil on canvas
The Big Wide Open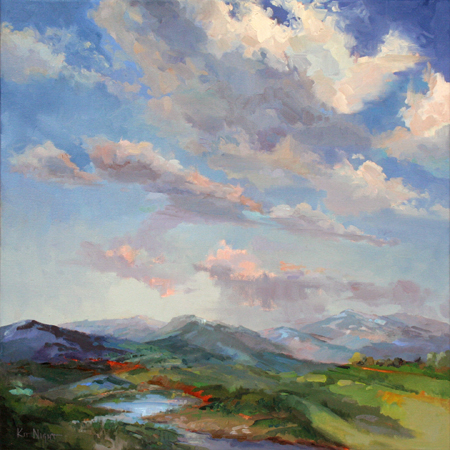 July 24, 2019
Compass.
Check.
Walking stick.
Check.
Paint box & coffee pot.
Check.
Big wide open heart.
Check. Double checked.
24" x 24" x 1.5" oil on canvas $1840 Art in the Morning special
The Angle of Compose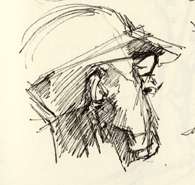 July 17, 2019
I was drawn to the slight angle of the head. The downward gaze. He looks peaceful, lost in thought.
Then you walk by and feel the heat radiating off him, his metabolism in high gear, as he conjures the next action-packed mystery with Owen McKenna, that guy with a moral compass and a very big polka dot dog.
5.5 x 5.5 sketchbook nfs
River Glass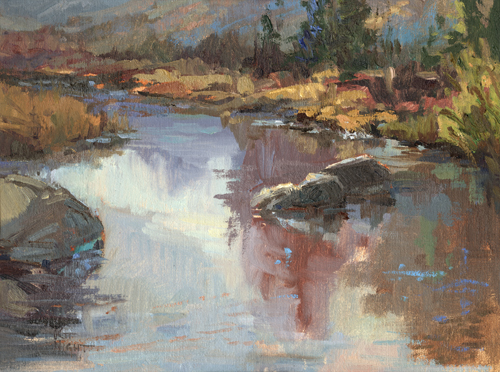 July 10, 2019
To skate or to swim, or to sit beside you. Or to cast a line and watch it dance before it lands upon you.
Or to glide above like a water bird, getting lift off your surface, peering into your watery pools of cool. And view the clouds in your refective plane.
9" x 12" oil on linen panel sold
Golden Hills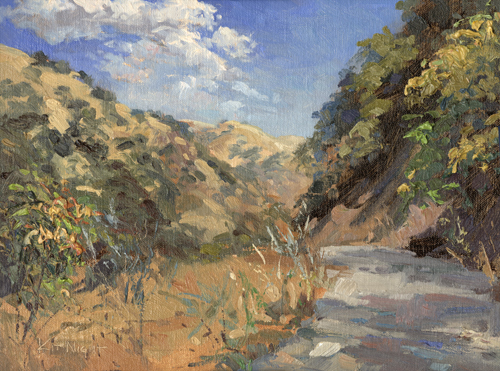 July 3, 2019
A splash of sunlight to beckon.
A winding road to follow.
Golden hills to climb.
And we're off!
9" x 12" oil on linen panel $390 Art in the Morning special
Daybreak in the Quarter I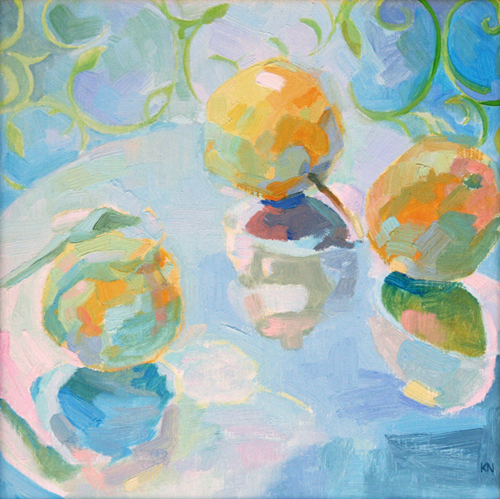 June 26, 2019
I was visualizing the French Quarter with its thick wet atmosphere, its watery light, its dripping foliage, and the way the morning sun might bounce reflections across a surface, losing the edges of things, dissolving their volume into bits of color. I think Bonnard was seated to my left.
I added the winding green as melody and to evoke the iron curly-cues on the Quarter's many balconies.
9" x 9" oil on wood panel sold
Chinese Lantern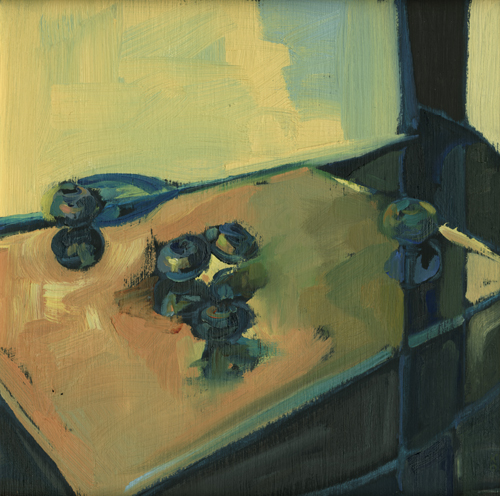 June 19, 2019
I love the way a painting can evoke something we never even considered.
This conjured an exotic nocturnal place, abstract reflections on a wet street, all lit a Chinese lantern near by.
9" x 9" oil on wood panel $315 Art in the Morning special
Dame Agatha Came to Tea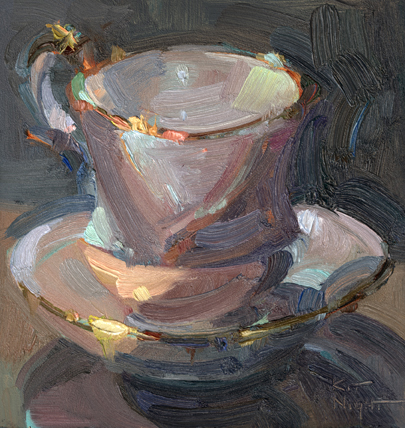 June 12, 2019
Drama, stage left...
A fallen candle in the night or an off-balance flashlight?
In the heavily-draped parlor of the old Victorian? In the humid, unlit garden gazebo on the knoll under the flowering Dogwood?
Dame Agatha calls on you to find the clues and reveal the mystery at hand.
6" x 6" oil on panel sold
Gee's Bend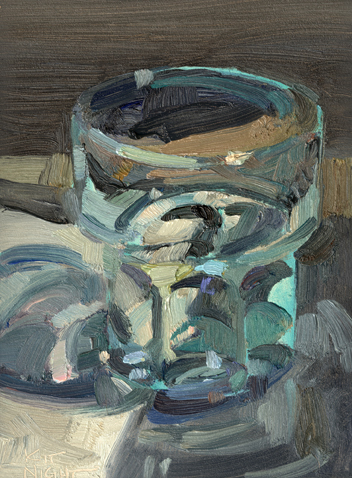 June 5, 2019
This painting brought free associations in the morning...
Tangerine by the green bowl,
Egg on a spoon,
Gee's Bend in a glass.
5" x 7" oil on panel sold Art in the Morning special
Forest Reflections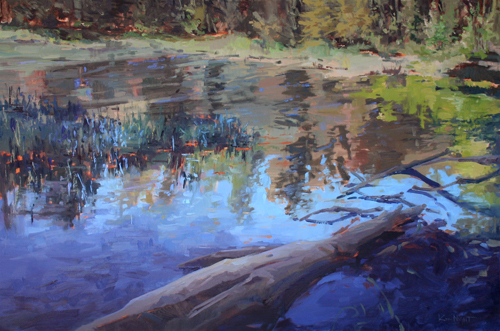 May 29, 2019
With end-of-day sunlight on the far shore, calm waters mirror the woods and reeds and sky.
The perfect conclusion to a quiet and spectacular day. And a log to sit upon as you reflect on nature's magic.
24" x 36" x 1.5" oil on canvas $2490 Art in the Morning special
April Showers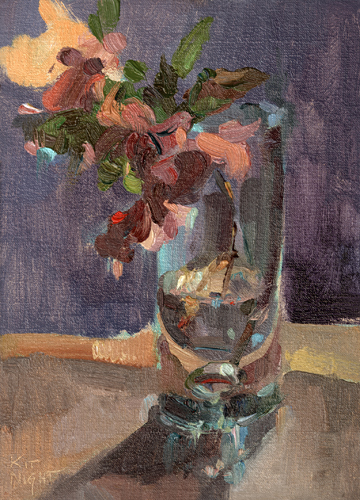 May 22, 2019
April showers bring April flowers. Good thing too, because yesterday we had two inches of fresh snow on the deck and the sky looked like a winter shake-up toy.
The mama Steller's Jay, hunkered down in the planter on her nest of eggs, was wearing a shawl of white snow.
Maybe I should cut off the thumb of my glove and bring her a little hat and some warm seeds.
6" x 8" oil on linen panel sold
Harmony Pears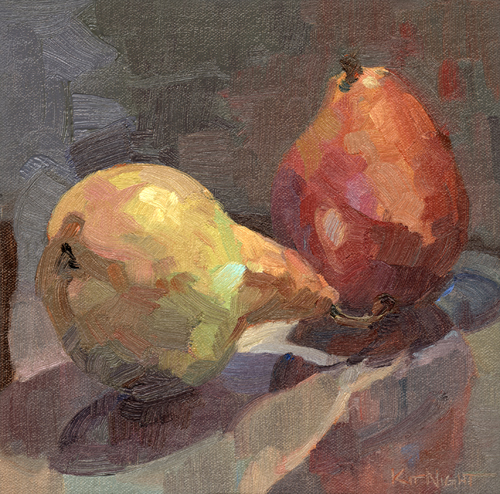 May 15, 2019
I like to work in series because nothing is just one thing. There is storm and sun, introspection and expansiveness, solemnity and song.
I couldn't call this anything but Harmony. The colors invite us in with their warmth. The "grayed green" complement in the background lets the golds and reds expand their chests in preparation for the song.
It's okay to hum along.
8" x 8" oil on linen panel $330 sold
Bach `n the Garden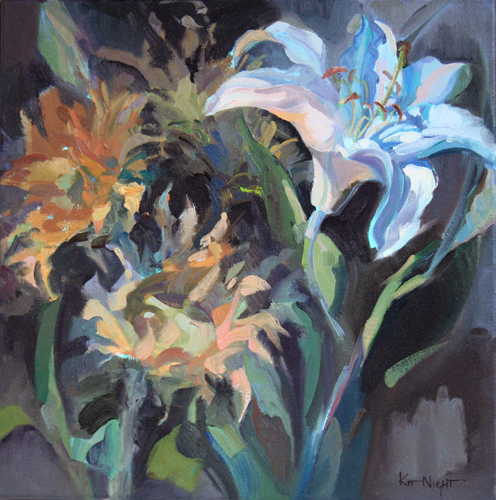 May 8, 2019
Looks to me like Bach wandered into the community garden to celebrate Spring!
16" x 16" x 1.5" oil on canvas $860 Art in the Morning special
Starlight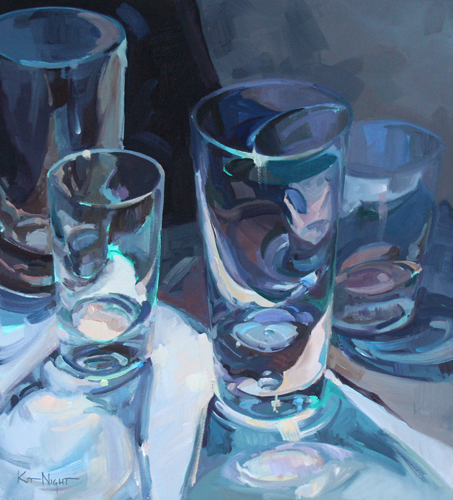 May 1, 2019
Starlight, moonlight, there's magic in the night.
20" x 22" x 1.5" oil on canvas sold
Creekside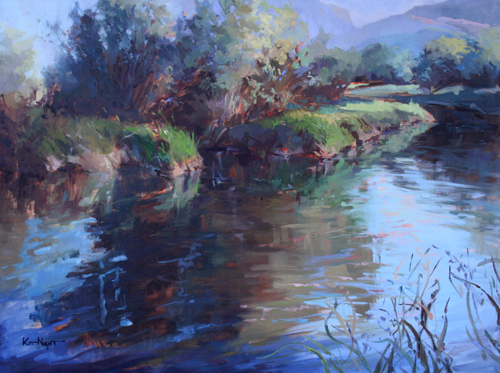 April 24, 2019
Water is my favorite language. It transports without words.
Cool in the dark shadows, glowing in the glints of light. I love to let my mind swim in its watery depths.
I always emerge rinsed free and refreshed.
36" x 48" x 1.5" oil on canvas $5330 Art in the Morning special
Firewater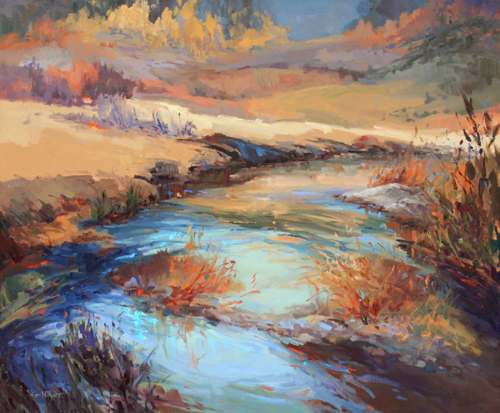 April 17, 2019
Hot color made the land sizzle. Wild wind kept everything in motion. With no chance for control or for the timid, it was a hilarious and memorable day.
Wahoo!
30" x 36" x 1.5" oil on canvas $3360 Art in the Morning special
Pears of Winter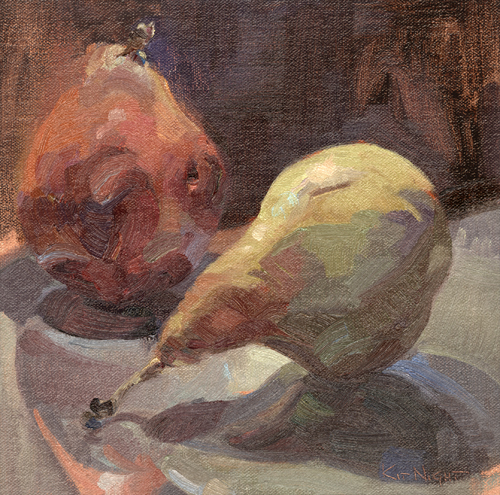 April 10, 2019
I love how light, color, and quality of brushstroke create a mood. All of it weaves together to tell a story.
Winter, you may ask? While much of the country is celebrating daffodils, we still have five feet of snow on our deck, and it's much deeper in the yard.
That's okay, snow moisture in the bank.
8" x 8" oil on linen panel $330 sold
Clear: Twilight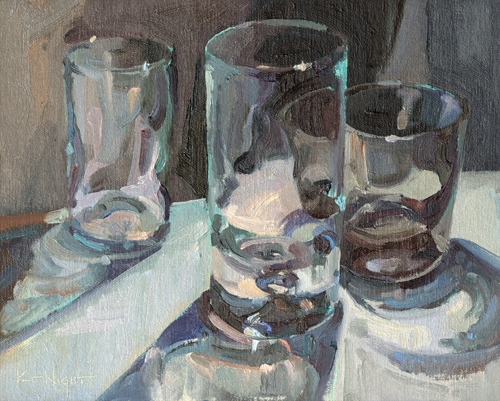 April 3, 2019
We elevate the every-day by rendering it in paint. Every stroke is a personal decision. We choose what to see and what to leave out. We choose how far we want to take the illusion of deep space. Or, how we might want to refute that and push abstraction.
To look is to see. To paint is a chance to experiment. A group of glasses become a chandelier.
8" x 10" oil on linen panel sold
NYC Lamplight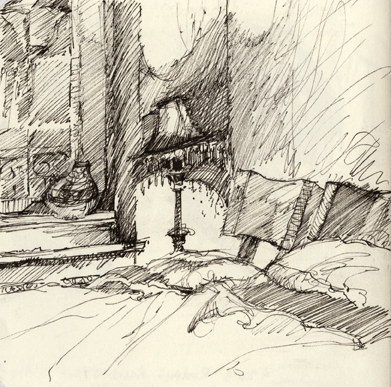 March 27, 2019
I love the atmosphere to be found in sketching rooms. Hotels, airbnbs, a chair by the wood stove - the pool and spill of light, the shadows hugged up against the corners. The unseen clutter of life is evocative.
I get to create my own bit of theater before the play.
5.5 x 5.5 sketchbook nfs
Poirot Came to Tea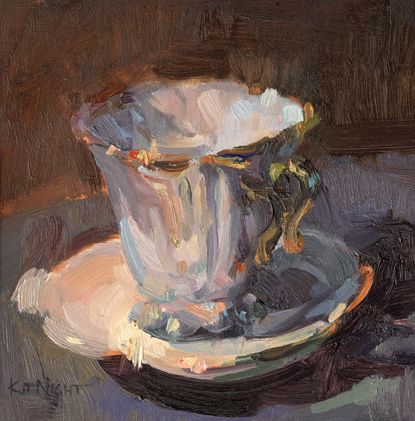 March 20, 2019
I love that light can suggest a story, tell a story, be the story.
This piece conjured mystery in the night, a train, and the guy with a really big moustache!
6" x 6" oil on panel sold
Golden Blue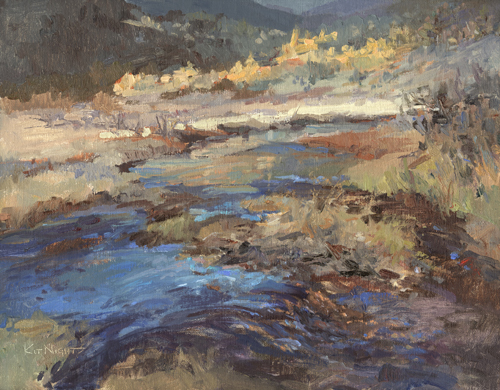 March 13, 2019
Oh for silence.
Time to sequester ourselves in the padded cell of nature. The stars in the night of blue. The tracks of critters in fresh snow. The pink of the sky at dawn.
In the quiet we can hear the crack of the branch in the cold, the thawing of ice into water, the nuthatch trumpeting a new day.
I like to think that morning alpenglow will guide us back into the world calmer and kinder, recognizing similarities and embracing difference.
11" x 14" oil on linen panel $520 sold
Harbor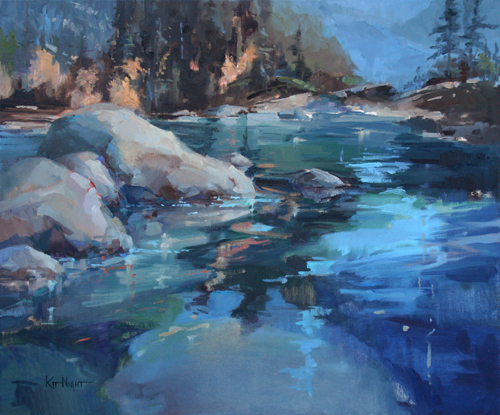 March 6, 2019
Safe Harbor.
A specific place.
A way of being.
A state of mind.
30" x 36" x 1.5" oil on canvas $3860 sold
Have Sketchbook...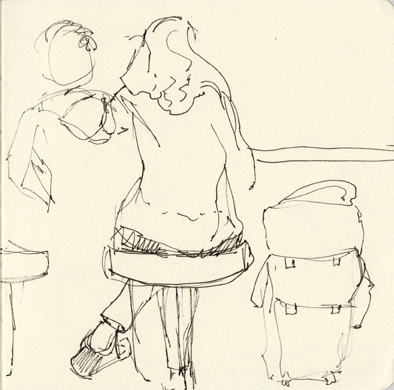 February 27, 2019
Finding that curve of the spine and the angle of her shoulders animates the drawing and gives dance to the pen.
5.5 x 5.5 sketchbook nfs
Moonlight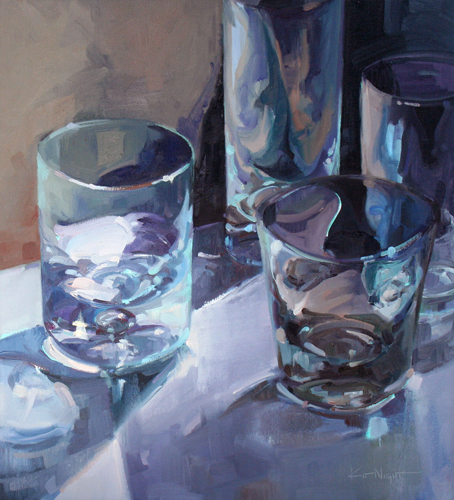 February 20, 2019
Lunar shades of silvery light ride the rims and pour into wet pools of luminous color.
Painting and scraping, pushing and pulling, enjoying the call and response between "realistic" deep space and flat abstraction.
Here's hoping you catch a shooting star.
20" x 22" x 1.5" oil on canvas $1340 Art in the Morning special
Sunshine Morning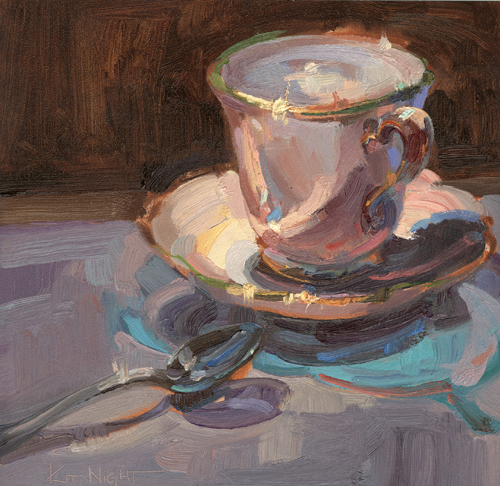 February 13, 2019
A cup of sunshine for you and your Valentine.
8" x 8" oil on panel sold
Gaze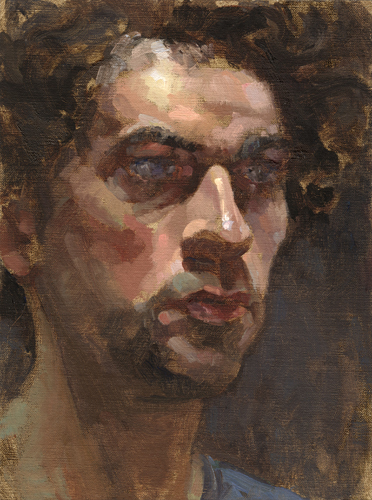 February 6, 2019
We hear that 90% of success is just showing up. The flip side is that not showing up guarantees zero result.
Doing the work gives us the chance to have meaningful purpose and the opportunity to find that remaining 10% that lights our hearts and minds on beautiful fire.
9" x 12" oil on linen panel
Gold Shoulder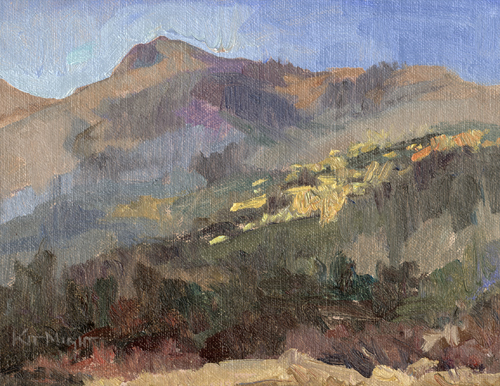 January 30, 2019
Chasing light, brush flash
Autumn gold climbs peak to sky
Trees cloak hidden stream
6" x 8" oil on linen panel $260 Art in the Morning special
Travel Sketch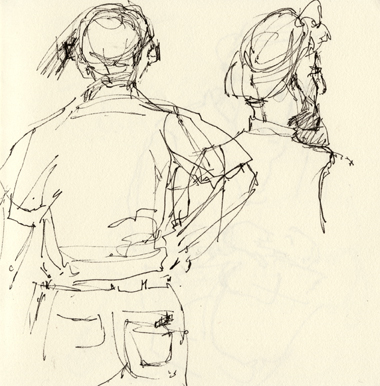 January 23, 2019
Travel sketching sharpens the mind, the eye-hand coordination, and our experience. What better way to speed the hours of waiting in airports than to try to capture textures of posture and place, custom and costume, in a constantly moving peoplescape.
Sketching requires such focus that we really see! It doesn't have to be a finished piece. It's for you, a book of memories.
Sketchbook or facebook... no contest.
5.5 x 5.5 sketchbook nfs
Cuban Moon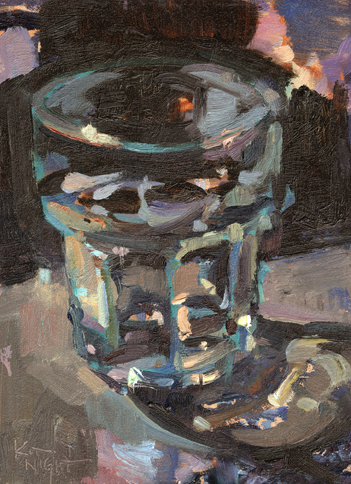 January 16, 2019
I've never been to Cuba, but I found it in this glass.
Wet and full of moon, I can hear the Buena Vista guys on their guitars. With cigars sending blue ribbons upward, the men croon in mahogany tones, bringing us the song of life through a glint of light.
5" x 7" oil on panel $195 Art in the Morning special
Mountain Muse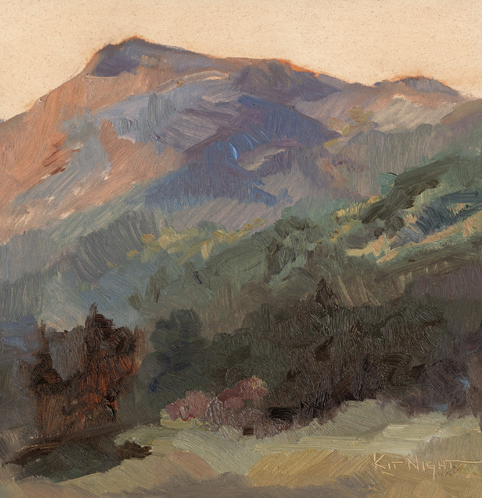 January 9, 2019
Across the river from the base of this mountain, I was caught up in its sculpted shape rising above me. Its "aboutness" was an uncluttered message: mass and serenity.
The feeling intensified. I began to think how I could paint this mountain every day for a year and always see more and "different."
Maybe that was how it started for Cezanne and his beloved Monte Sainte-Victoire.
8" x 8" oil on panel $315 Art in the Morning special
Opposites Attract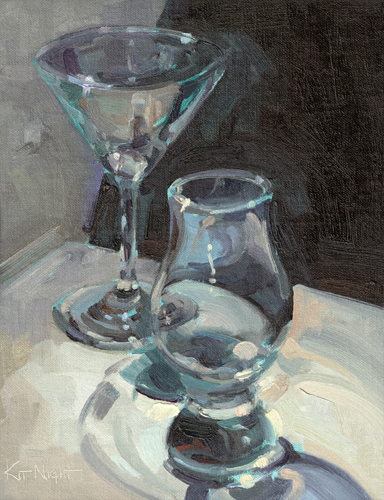 January 2, 2019
You say either, I say either. You say neither, ...
Different origins, different body types, definitely a different sense of style. In the end though, both are doing their best in pursuit of pretty similar goals.
Wishing you a year of peaceful inclusiveness. Vive la différence!
8" x 10" oil on linen panel sold
Zen Winter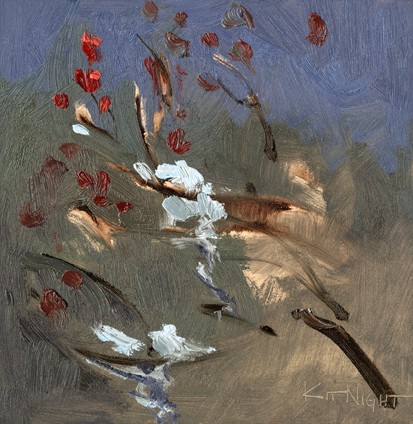 December 26, 2018
Snowfall winter moon
Rabbit, mouse, coyote, owl
Morning tells their tale
6" x 6" oil on panel sold
Winter Comes to Tea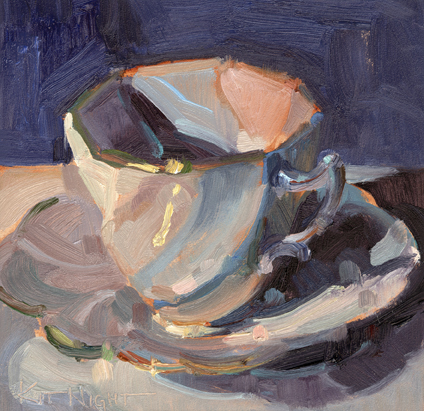 December 19, 2018
Winter stole in one frosty night and has settled down for a cozy spell. I love a woolly scarf around my neck and the fresh scent of snow in the air.
Whether sharing your cup with your favorite elf, or eight tiny reindeer, be sure to spill in some blue moonlight for mystery, and a dollop of sunshine to warm the toes.
6" x 6" oil on panel sold
Bach 'n the Hood 2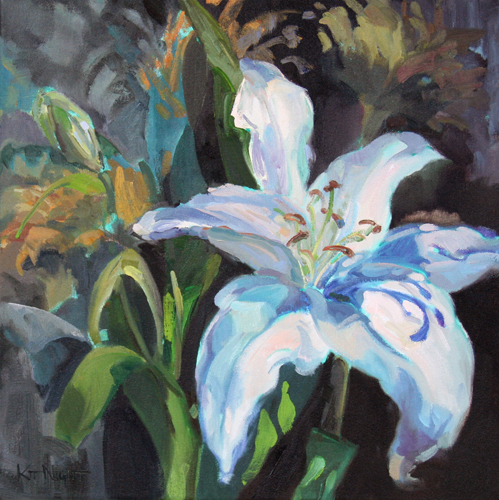 December 12, 2018
Bach is known for his brilliance, of course. And for creating calm. I'm not sure what that's about, but it sure works on me.
After spending several weeks in the studio disappearing into Hilary Hahn playing Bach's partitas and sonatas, I've been spending consecutive weeks painting to Yo Yo Ma's Bach's suites for solo cello. Ma has made three solo recordings of these works over some decades. Bach speaks to us with beauty and humanity at every stage of life.
I love how Yo Yo tells of beginning his learning of this music, and its feeling, at the age of four. Learning one measure each day. Rather like learning to paint. Rather like learning to live.
16" x 16" x 1.5" oil on canvas $860 Art in the Morning special
Quiet Autumn River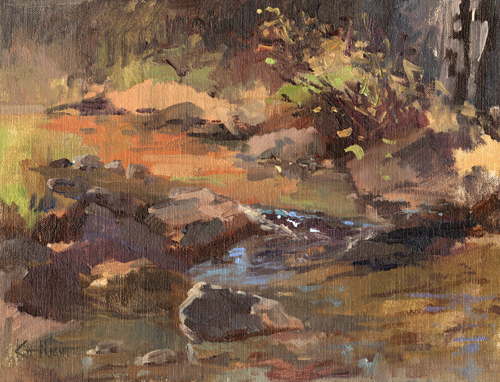 December 5, 2018
Change of season brings a change of temperature and a change of color temperature, too.
Sometimes it's a comfort to walk into the warm room of the last season. Like lighting a candle, it brings a glow. In the golden light, let the quiet settle over you for a bit.
9" x 12" oil on linen panel sold
Bach 'n the Hood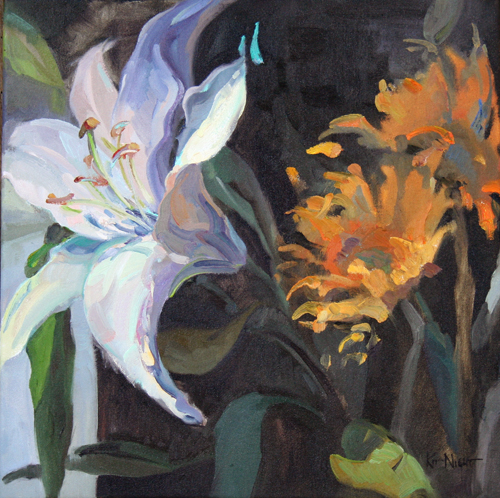 November 28, 2018
After a recent production of Robin Hood, I couldn't help but appreciate the power of community theater.
A stage full of kids had spent a week throwing themselves into auditions, learning their lines and choreography, striving to inhabit the role of a character who, just the week before, was a stranger to them. They needed to feel and animate that character so that we, the audience, would believe and invest in the outcome. Talk about a fast track to empathy!
Theater forces one to imagine another life, in ill-fitting shoes, walking a different path.
Back at the studio... I painted to the rich, dark tones of Yo-Yo Ma playing Bach. The room was filled with another kind of empathy. Beautiful.
16" x 16" x 1.5" oil on canvas $860 Art in the Morning special
Autumn Reflection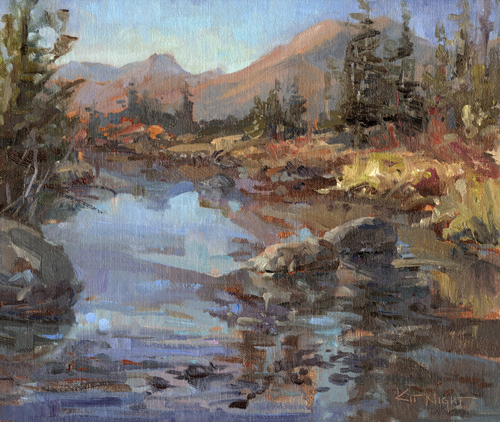 November 21, 2018
Nature's mirror. A good place for reflecting.
10" x 12" oil on panel $460 Art in the Morning special
Deep Turn
November 14, 2018
The ridiculous number of layers I wore were worth it to be in a world of no noise. Only sound. As in the sound of ice melting, birds dipping, grass in the wind, my brush on the canvas, a hawk calling as it circled overhead.
As the day warmed the trout rose and jumped. The dippers swam. A coyote went by like a blade of grass.
At the end of the day I had a pile of clothes next to my easel, some work in my paint box, and the calm of having spent time without voice in a place of wonder.
6" x 8" oil on linen panel sold
Backlit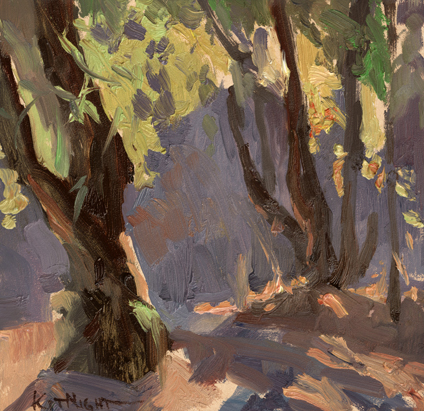 November 7, 2018
With my paint gear on my back I'm deep in a canyon by the river scouting for a scene to paint. I turn my head and, presto! There is the subject. Light. In all it's hot-edged brilliance.
Its glow highlights the season and transforms the familiar into something that stops me in my tracks.
6" x 6" oil on panel sold
The Cloisters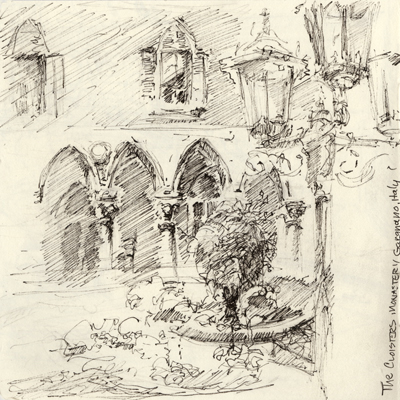 Octoberber 31, 2018
A quiet moment of sketching in the cloisters at my Lake Garda workshop.
Creating is a process of learning to be comfortable with being uncomfortable, with not knowingthe answer but embracing discovery. It is not always easy.
Being outside our comfort zone can lead to new discoveries. And the occasional cloister to contemplate them in.
5.5 x 5.5 sketchbook nfs
Shadow River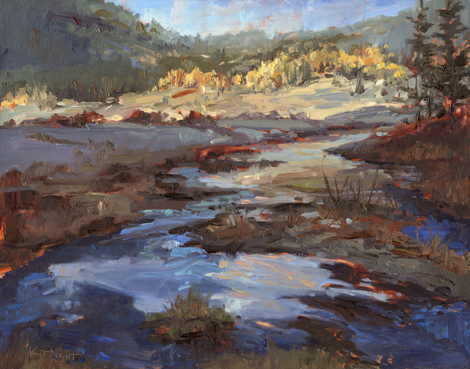 October 24, 2018
What a dramatic way to discover the power of lighting! Big swaths of swashbuckling orange and gold race over the land and through the woods.
Along comes a dark cloud and you suddenly have drama on the high seas! (Something the theater lighting crew knew all along.)
I am rapt. Can't wait to see what happens in the next act!
11" x 14" oil on panel $660 Art in the Morning special
Clear and Present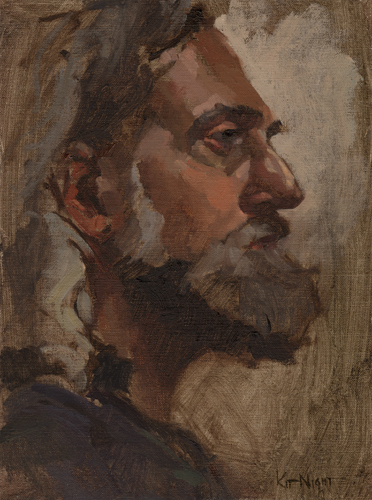 October 17, 2018
There is so much to see in a face, one of the great landscapes that largely goes unseen in the real sense. Dark and light, curve and crevice, tone, sheen, shadow.
I crave the process of discovery and correction with the paint. The bony underlayer, the warm and cool, the sometimes reveal of culture. I love that it takes all of my brain.
9" x 12" oil on linen panel
Clear: Sideways Light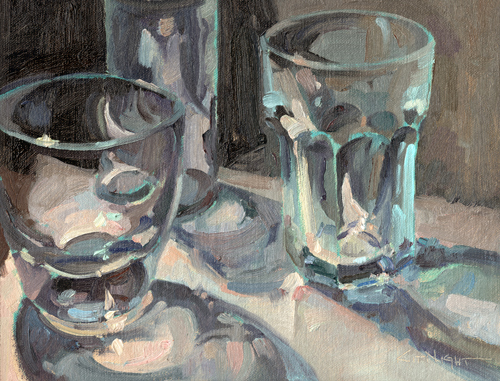 October 10, 2018
Glass is my vehicle for space and light. I love the way that splash of sideways light draws you in and back. Like a flashlight beam, it lights the way as it glints and plays, leading us around the next curve and through the spill of shadow.
8" x 10" oil on linen panel sold
Flamenco Sketches V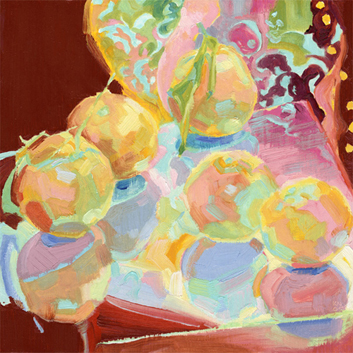 October 3, 2018
I've learned a lot about color and light, density and open space, and the melody of pattern, from jazz.
I did a suite of paintings based on Coltrane's solo in Flamenco Sketches with Miles Davis. It is full of tenderness and ebullience, caress and celebration, "singing" and contemplation.
Every time I hear it, it sounds like pure love to me.
9" x 9" oil on wood panel $370 Art in the Morning special
Sunlit Portal - Alcazar
September 26, 2018
Architectural arches are like fountains for me. Portals to another place. Softening the edges and rounding the corners, they feel like a doorway and an invitation.
10" x 12" oil on linen panel sold
A Kiss of Sunlight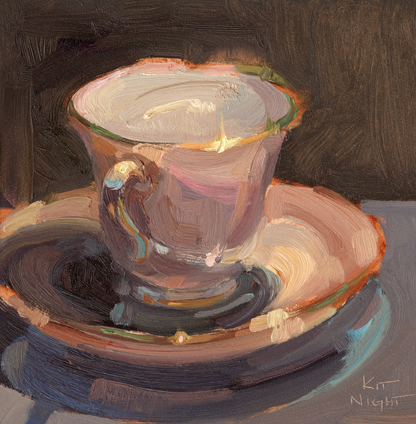 September 19, 2018
We all shine brighter when kissed by sunlight.
The literal and the metaphorical kind.
6" x 6" oil on panel sold
Sid's Ahead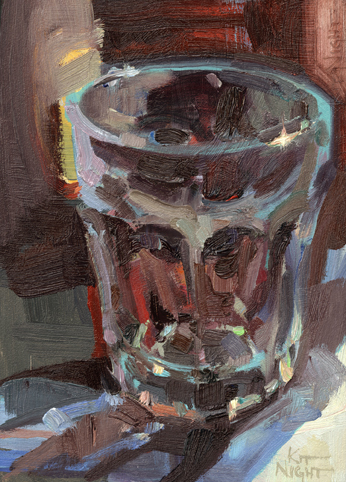 September 12, 2018
The title may not refer what you think. I named this after the Miles Davis tune I was listening to while painting it. (One of my many favorite Davis recordings.)
Sid's Ahead, on Milestones, features Miles on trumpet and piano! Swingin' and surprising. Good features in any art form.
And yeah, it's cool, baby.
5" x 7" oil on panel $195 Art in the Morning special
Lamplight - Lake Garda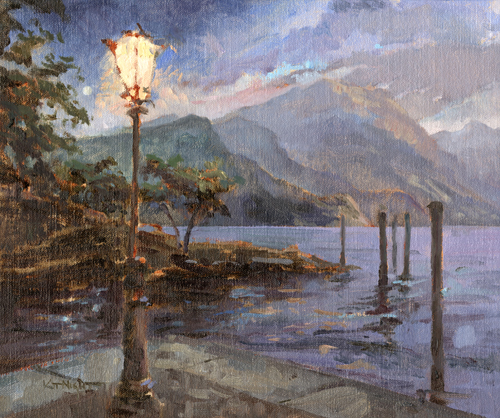 September 5, 2018
The setting of the sun, and the rising of the moon, made everything glow in the magical misty alpine atmosphere. Massive vertical rock walls rose straight up out of the water on the northern tip of the lake, "foothills" to the Alps.
I felt small in nature's grandeur. That's good.
More nature. Less man.
10" x 12" oil on linen panel sold
Reaching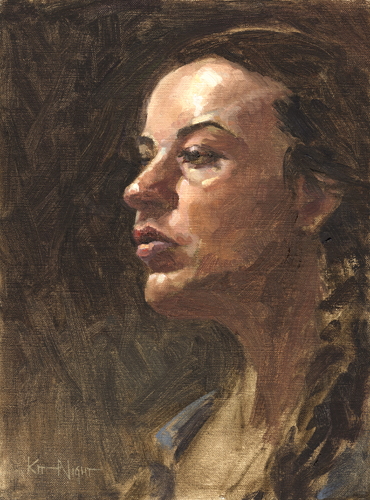 August 29, 2018
Her countenance indicates to me a thoughtful reaching, a leaning toward something in her mind and attitude. She seems self-contained even as she seems inclusive.
Each time she resumed her pose she would pause, close her eyes, and exhale, letting everything go.
We could all use more of that - to pause, and lean toward something.
9" x 12" oil on linen panel $290 Art in the Morning special
Cool Big Fountain Peace - Alhambra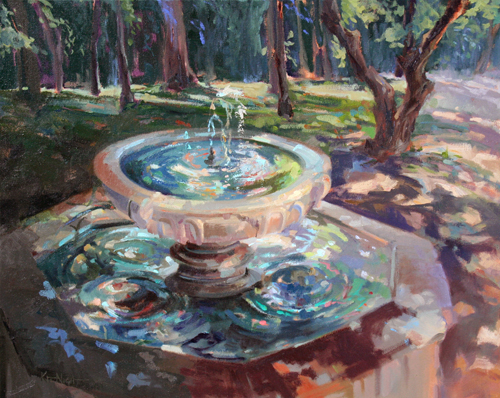 August 22, 2018
Walk in to cool dappled shade and light. The surround of music from water aloft for a moment, then landing in a bubbling, burbling pool. Sparkles dash about on the water in shadowy sunlight. A welcome respite in a silent space. That's what I wanted this piece to say.
I revisited this fountain painting to increase its "aboutness." It was beautiful in a place of green. But I wanted it to say something more specific - about the fountain, the water, the light, the quiet.
By making the piece darker, it glows more. By simplifying, it is more focused. By adding more moving water, we hear the silence.
Come, let's sit in the quiet.
24" x 30" x 1.5" oil on canvas $1370 Art in the Morning special
Kimono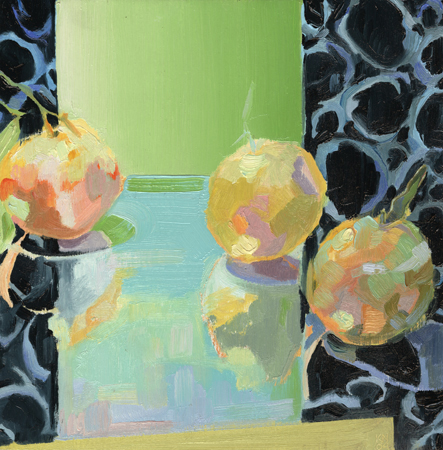 August 15, 2018
I love this jazzy bit of abstraction and floating deep space. I love what I have learned from the art of Japanese woodblock prints. Their innovative use of space. Their glowing graduated color.
The sense of stillness even as it shimmers invites us to linger.
9" x 9" oil on wood panel $370 Art in the Morning special
Green Thumb Salad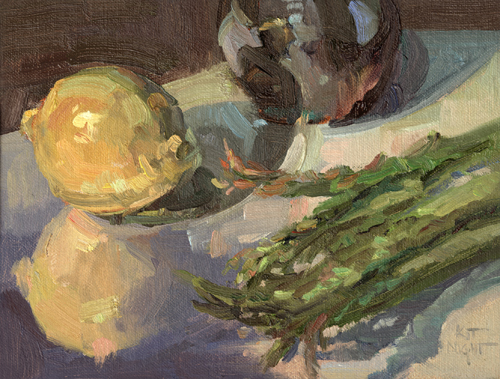 August 8, 2018
Zesty and refreshing, full of scintillating color - how could we resist the benefits of vitamin C hydration, folate, and lots of the super-food nutrients when they come dressed in colors of spring and sunlight.
Fun fact, I learned asparagus is also called sparrow grass. I like the sound of that.
Who knew painting was a good source for your major food groups?! We feast the eye. Then, we feast.
6" x 8" oil on linen panel sold
Big Sky, River Valley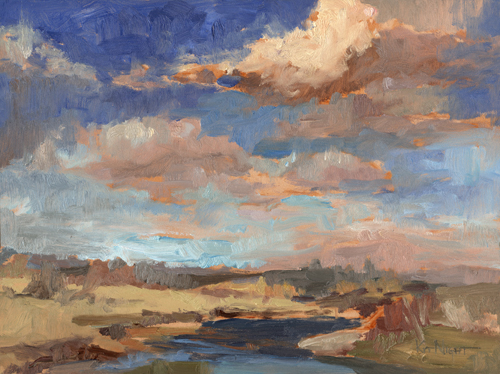 August 1, 2018
Today I will be that river and roam over the land, expanding across the valley, watering the grasses and the birds that stop for a drink. I will harbor the croaking frog and the dragon flies that dance upon my surface.
Now and again I will turn my face upward, to brush the cheek of downy clouds that shade me.
Come nightfall I will rest under lunar light and thank the stars for their sparkling invitation to a larger world.
9" x 12" oil on panel sold
Churchill Came to Tea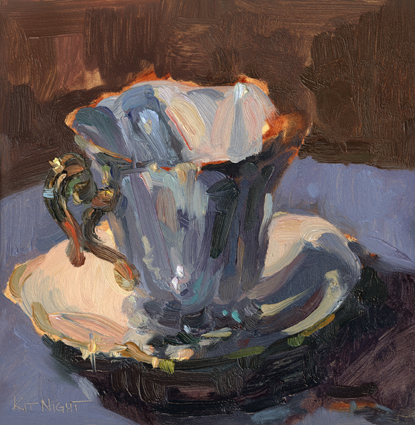 July 25, 2018
We talked painting and brushstroke, watercolor and oil, light and contrast... the value of friends and allies, the strength of pragmatism and diplomacy, how the yoke of editing can be a clarifying pressure.
And, how a tea cup can be a fine snifter in a pinch.
6" x 6" oil on panel sold
Dream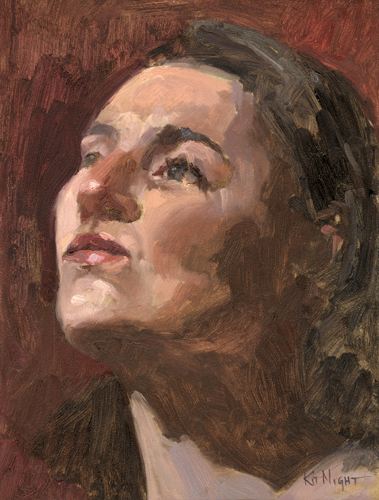 July 18, 2018
Built on dreams...Whether it's community theater or a play on Broadway, driving past a family farm on a country road or walking into a small business, ordering from Amazon or picking up an i-Phone, I am struck by the fact that we are a country started by, and made up of, dreams - and the hard work it takes to make them a reality.
Dream on baby, and dream a little dream for me.
9" x 12" oil on panel $290 Art in the Morning special
Take Five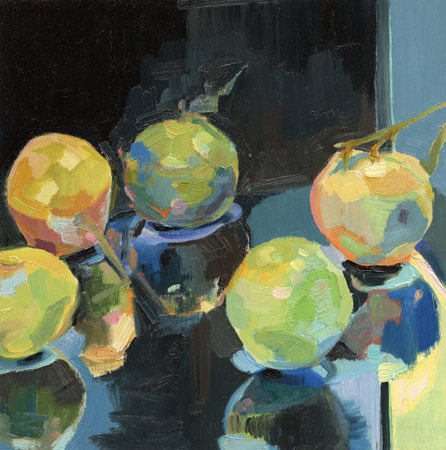 July 11, 2018
Seeing the familiar in unexpected ways. I love that. That's what the arts do.
Often part of the process is the question, how best to reflect things back at us in a new light - literally or metaphorically.
How best to make things pop and sizzle with surprise rather than fulfilling expectation. Often we can be pushed a bit off center so we pause and say, "Hey wait a minute. What?!"
The unfamiliar can be a good thing.
Plus, it's pretty dang fun to embrace the unexpected.
9" x 9" oil on wood panel sold
Alpine Spring Stream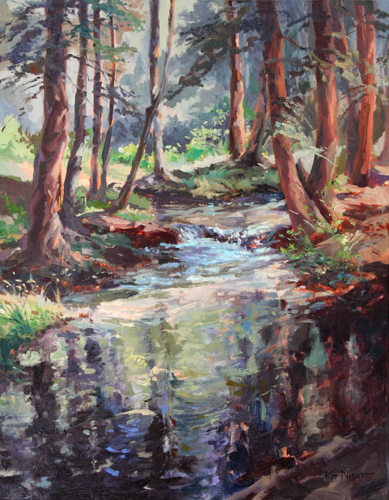 July 4, 2018
The best way I know to celebrate being independent and alive... be kind, be present, be in nature, be the music.
22" x 28" x 1.5" oil on canvas sold
A Night in Tunisia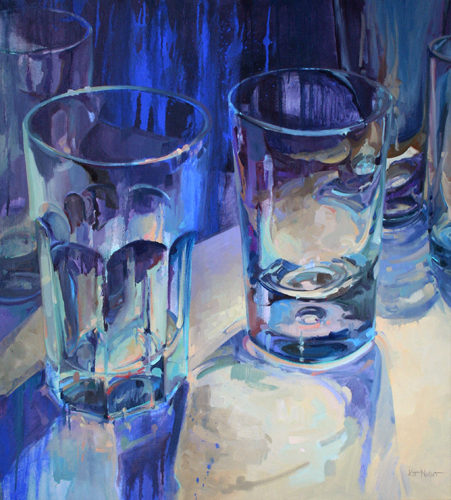 June 27 , 2018
We spent a fantastic evening at the San Francisco Jazz Center listening and learning about the music and life of pianist and composer Mary Lou Williams. She was way out front for her time. Inspiring! Full of intelligence, feeling, and swing.
Tammy Hall on piano, and her group of highly-charged musicians (all women!) brought Williams' music to life with power and subtle nuance - scintillating.
I've always enjoyed the tension of pushing flat abstraction up against "realistic" deep space.
Like the musicians, I wanted to introduce "accident" that I could improvise off of. Soon I was pouring paint with a bit of intent. New challenges, new discoveries.
~ I named it after a Dizzie Gillespie composition. He was a good friend of Williams.
36" x 40" x 1.5" oil on canvas $3695 Art in the Morning special
Boats at Harbor, Lake Garda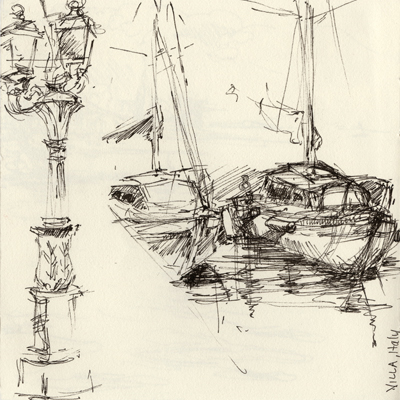 June 20 , 2018
Adventure awaits!
Buon Viaggio.
5.5 x 5.5 sketchbook nfs
Under Observation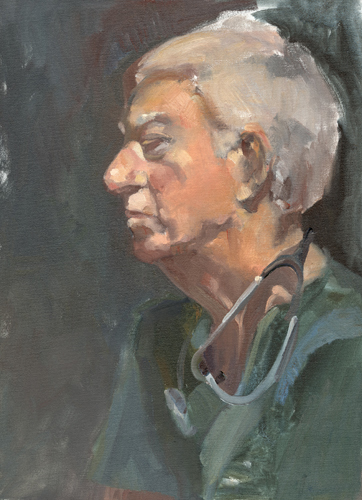 June 13 , 2018
Marcus Welby?
Father Knows Best?.
The Age of Wisdom?
11" x 14" oil on linen panel $290 Art in the Morning special
Radiant Storm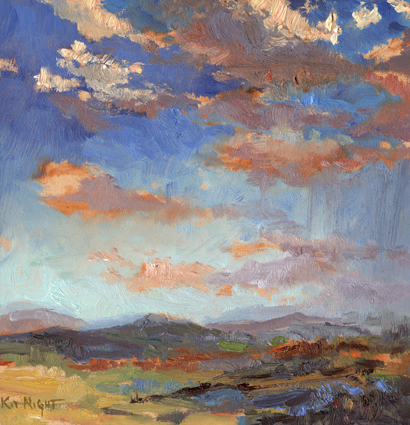 June 6 , 2018
Spring rain to wash the sky, water the wild flowers, and clean my brain.
Splish splash said the little bird.
6" x 6" oil on panel sold
Fruit Jar 4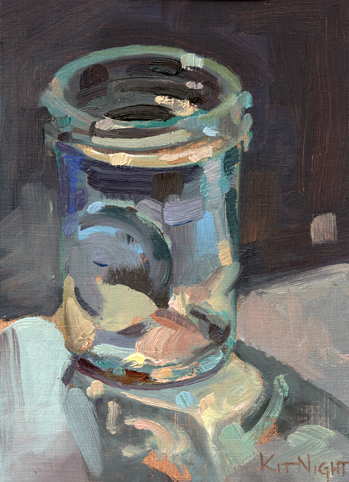 May 30 , 2018
Orchards of blossoming trees dash their billowy blooms of color about like so many Impressionist painters swinging a paintbrush. I see Monet, Manet, and Bonnard out there.
Today it is a glass to raise, filled with orange or cabernet. Tomorrow it is a jewelry box filled with gems from the field.
A toast to those who bring in the bounty.
5" x 7" oil on panel sold
Varenna Train Station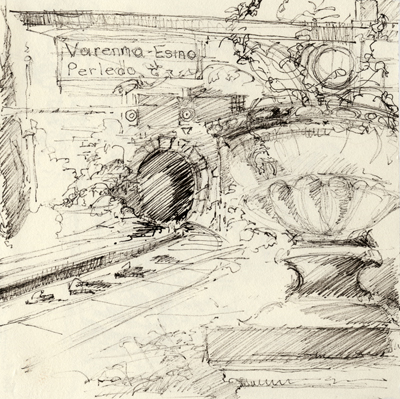 May 23 , 2018
What better way to wait for a train than to sketch its tunnel and the surroundings.
I am always surprised by how much more I experience about a place in the process of seeing to sketch. It's like observant research. Time slows way down.
Imagine how different we and the world might be if we all sketched what we saw, to send to others - instead of taking a picture of ourselves facing away from it.
Instead of facebook, it could be called Sketchbook. Hey! I like it!
5.5 x 5.5 sketchbook nfs
Blackbird / Young Man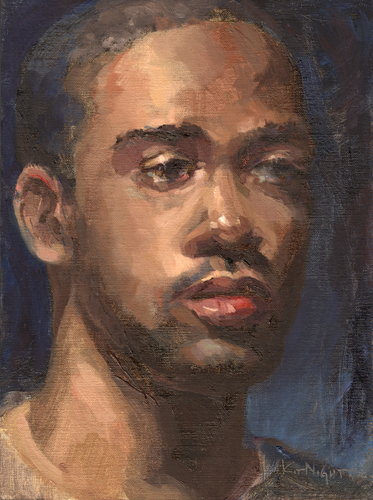 May 16 , 2018
As he designs his future, I hope it includes a benevolent empire.
A swingin' jazz soundtrack.
And random acts of poetry.
9" x 12" oil on linen panel $290 Art in the Morning special
Bobbing Bellas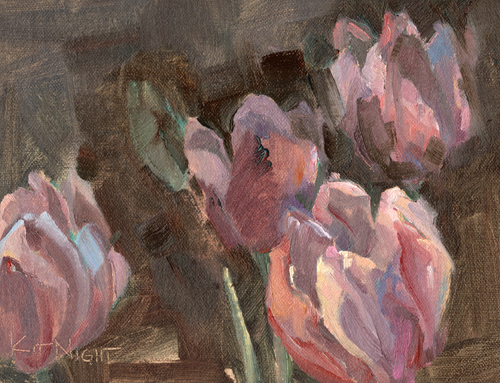 May 9 , 2018
The breeze that blows away winter's darkness sets their heads bobbing.
Like a kiss good morning, they turn toward us with the promise of pink lemonade, the bright melody of robin song, and the warm-honey smell of sunlight on skin.
With intermittent suprise snow storms, spring can be a state of mind.
Peace.
6" x 8" oil on linen panel sold
River Gold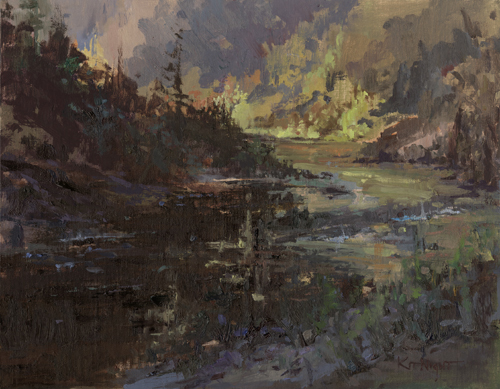 May 2, 2018
As the golden hour comes around the bend, the contrast of light and shadow heightens the fiery radiance of early fall. Cool darkness in the foreground brings a close intimacy between me and the land. The distant glow pulls us deep into the painting.
At times like these the light seems to move extra fast, telling of the speed the earth is turning. It reminds me to do my best to seize each day.
11" x 14"" oil on linen panel sold
Agua Nuevo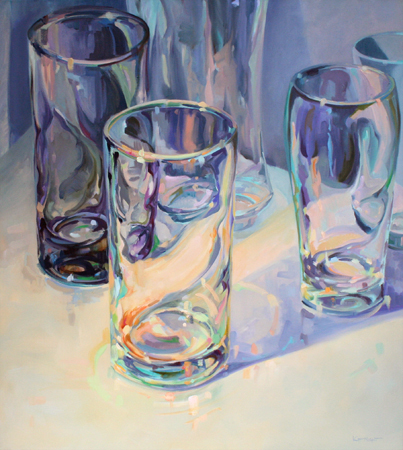 April 25 , 2018
Sunlight and water,
Movement and calm,
Contrast and brillance,
Alleys, and valleys, and scenic overlooks.
I love the way a painting can take you on a trip to a different space - in the quiet of your mind.
Happy travels.
36" x 40" x 1.5" oil on canvas sold
Autumn Slow Turn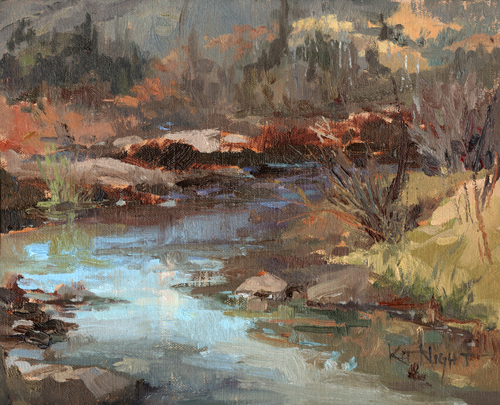 April 18 , 2018
The white of snowcapped mountains is yeilding to the blue of fast-moving streams. Until the green of spring appears in the Sierra, here is a chance to visit late autumn's glory of color.
I've never had a bad day painting in nature, just different weather. Rain or shine, song and silence, it all refreshes.
8" x 10" oil on panel sold
For Whom the Pen Barks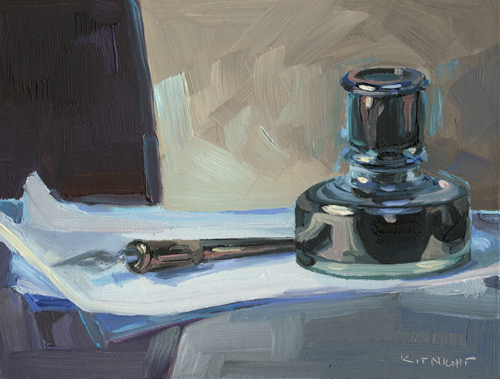 April 11 , 2018
Writers write.
Painters paint.
Here's a painting about writing. Like writers, painters try to tell a story, directing your eye through the piece with line and plane, light and shadow.
We strive to keep our side characters interesting, but in service to the story and in support of the main character. Strokes should always advance the plot.
Just as in writing, when in doubt, leave it out.
4.5" x 7" oil on panel sold
Anti-gravity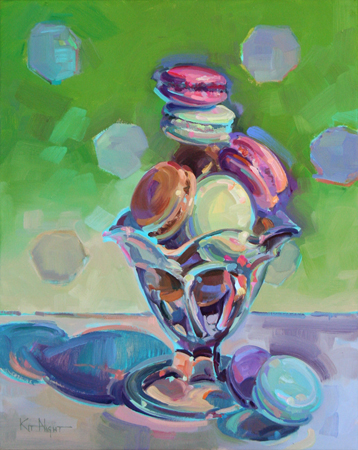 April 4 , 2018
Anti-gravity, in all its forms.
It's hard to take life too seriously when faced with such a colorful delight. Especially when it comes with a French accent.
16" x 20" x 1.5" oil on linen sold
Work Ethic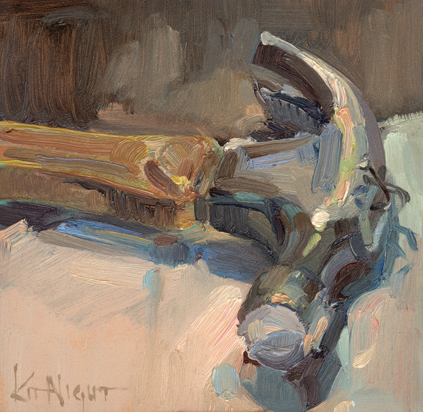 March 28, 2018
There is something about tools that give us peace of mind. They suggest clarity, integrity, hard work.
Tools conjure a different time - when most people still made stuff, when one's word was their bond, a handshake was a contract, and people looked you in the eye when they talked to you.
People do still make stuff. Like the home we live in.
I think I will shake hands with a tool, build something, and reflect.
6" x 6" oil on panel sold
It's a Beautiful Morning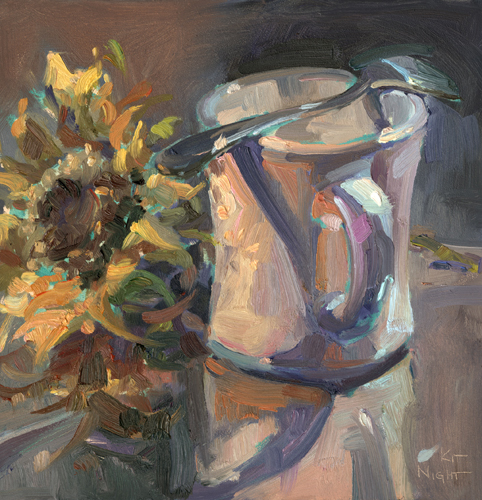 March 21, 2018
Here's wishing you a sunny day.
... Made even better by queuing up the soundtrack by the Rascals.
8" x 8" oil on panel sold
Theater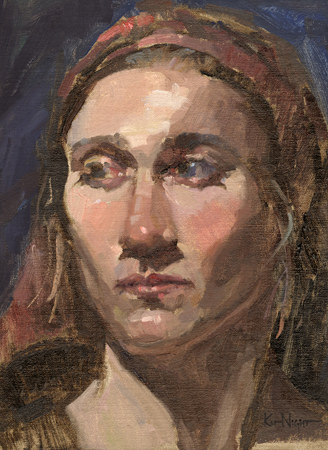 March 14, 2018
Painting portraits is kind of like making theater. Every angle of stroke, every change in light and shadow alters the emotion, the expression of the face, and hence, the content of the story.
Of course, one always hopes the play ends well.
9" x 12" oil on linen panel $290 Art in the Morning special
Aquarium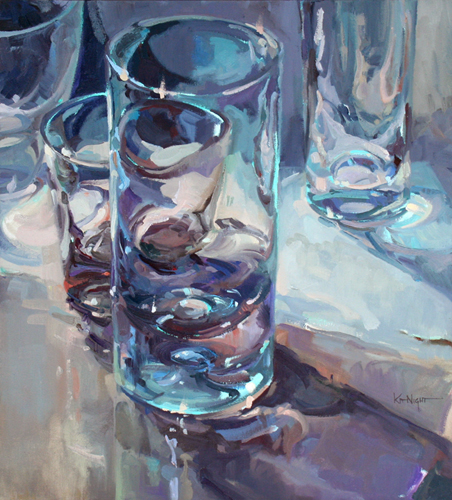 March 7, 2018
Oil paint is a lovely, juicy, buttery sensation. The oily color is something you can see into. I love the surprises.
The right color combinations create radiance - the glow. Others create surprising depth.
Take that glass bubble, for instance. I was painting along, and bam! Suddenly I was scuba diving around this underwater fantasma-magical thing that appeared out of the watery depths. So cool to explore it in my face mask and flippers as the air bubbles rose around me.
I can't wait for my next adventure.
20" x 22" x 1.5" oil on canvas $1340 Art in the Morning special
Unfinished Business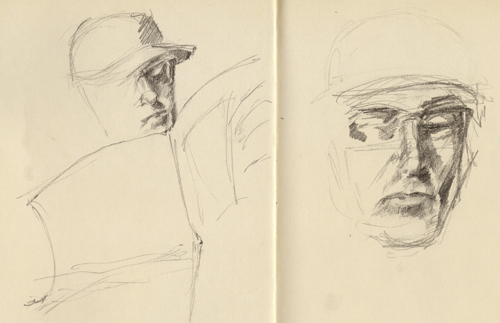 February 28, 2018
Like anything, the only way to improve is practice, practice, practice.
If you look at early works by Cezanne one can see why history books often speculate that more accomplished guys like Manet may have befriended him out of empathy, and some sympathy.
But Cezanne had chosen a pursuit that he didn't want to be free of. He sketched and painted anywhere and everywhere. Not out of ease or talent, but because he was driven - to learn, to improve, to find his voice in what he wanted to say.
If you find yourself with the dubious honor of being family or friend to someone with sketchbook in hand, here's the deal...
Consider that now is not the time to make like a dutch windmill and go all kinetic energy. Perhaps now is the time to channel your inner haystack and be still so they can finish. Who knows?! Maybe you can get a tax write-off for supporting the arts?!
5.5 x 5.5 sketchbook nfs
Tropic Heart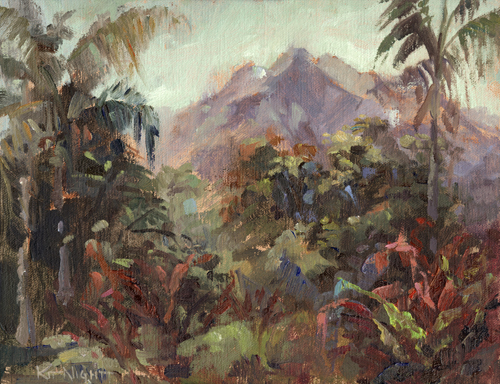 February 21, 2018
Art takes us somewhere else.
I feel like I'm in an old movie, thick with atmosphere being pushed around by the slow-moving fan overhead. Over by the piano, a dewy-eyed dame is ripping some guy's heart out, as he stoically leans in to let her mess up his shoulder.
The scene inspires us to find our own such gallantry. Maybe not today. Maybe not tomorrow, but soon, and for the rest of our lives.
8" x 10" oil on linen panel sold
Palm Song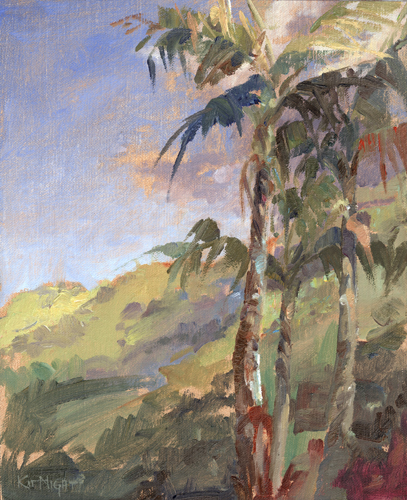 February 14, 2018
Every tree has its own song. It moves in rhythm to the melody that rides in on the wind.
The palm sways its grassy skirts in the breeze, accompanied by the dry whispering of a little soft-shoe on sand.
Gusts bring percussive cracks and the clacking of broad fronds brushing against each other in a fan dance of green and gold.
8" x 10" oil on panel $290 Art in the Morning special
Late Summer Silver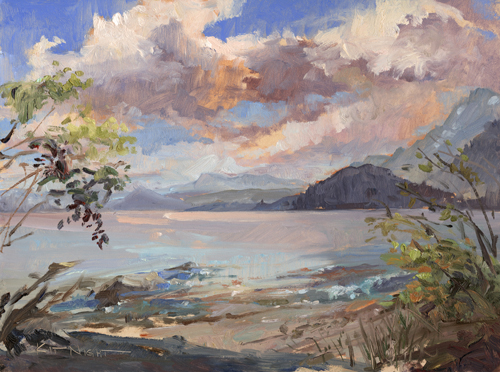 February 7, 2018
I love the way you can see the seasons change even on the water. The late September sun slid sideways, skimming across the surface rather than penetrating from high above.
Tucked under the trees, I painted with cobalt blue skies overhead.
Just when I needed them. in rolled the timpani, bringing clouds and drama to pop the silvery light.
9" x 12" oil on panel sold
Morning Breaks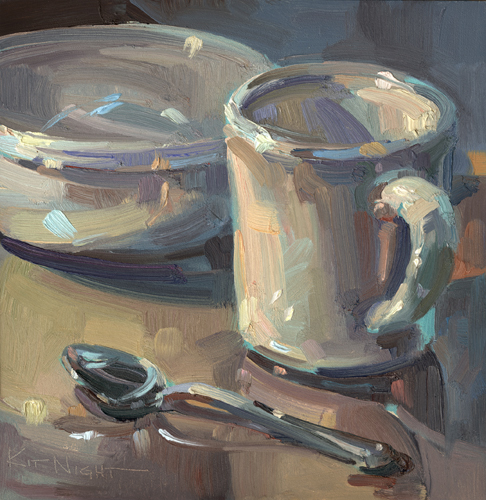 January 31, 2018
Morning ritual meets a still life meets a sculpture meets a stage set.
To paraphrase Yogi Berrra, we can observe a lot just by looking.
8' x 8" oil on panel $320 Art in the Morning special
Curve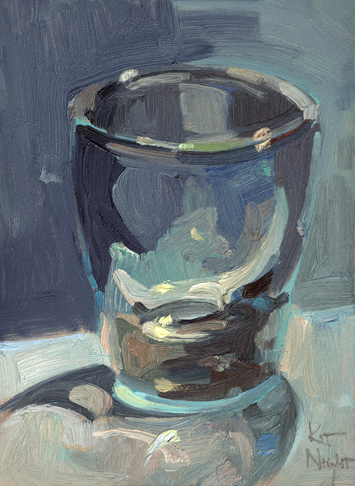 January 24, 2018
The colors make me feel like I'm in Greece.
Okay then! Let's go get some fish and feta by the sea.
6" x 6" oil on panel sold
The Philosopher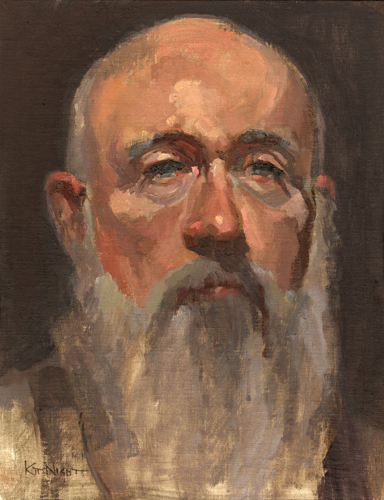 January 17, 2018
Something tells me he takes the long view. Sees the big picture. And reads a fair bit of poetry by the fire.
11" x 14"" oil on linen panel $320 Art in the Morning special
To all of us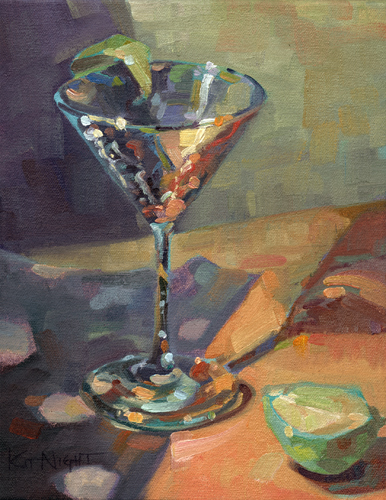 January 10, 2018
A sparkling bit of bubbling light to wish you a year of Peace and possibility, Optimism and opportunity, Comfort outside your comfort zone, a Kaleidoscope of Kindness.
May we celebrate Sense and sensibility, Nature's nuance, and of course,
Music in all things.
8" x 10" x 1.5" oil on canvas sold
Quiet River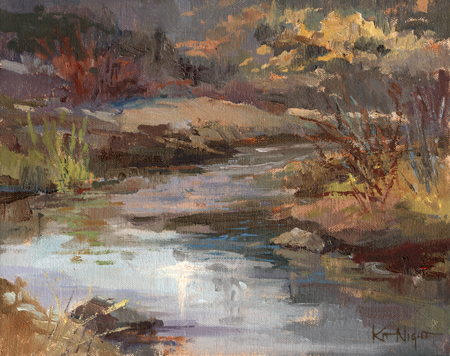 January 4, 2018
The quiet river has a lot to say.
8" x 10" oil on linen panel sold
Star Crystal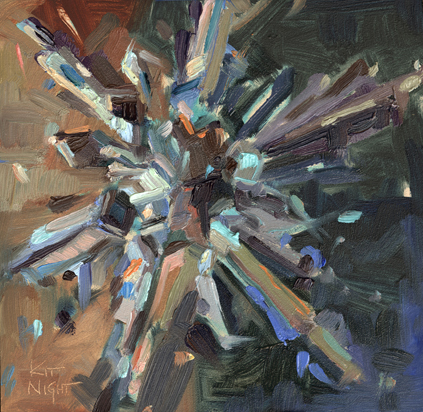 December 27, 2017
Stars fill the universe. Luminous, their brilliant points of light inspire us. We stare up into the sparkling deep and feel small in its presence.
That's a good thing.
Humility helps us see each other and ourselves more clearly.
6" x 6" oil on panel sold
Curve Ball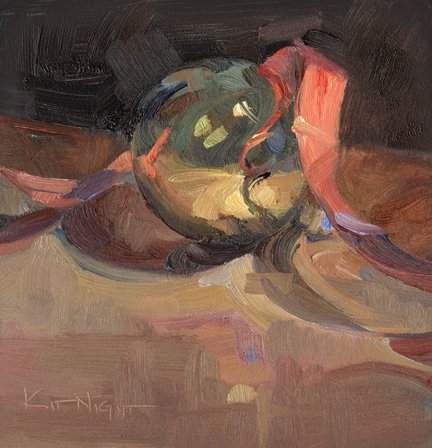 December 20, 2017
Take a break.
Leave off the ly.
See the world different.
6" x 6" oil on panel $210 Art in the Morning special
Rodeo Sky 3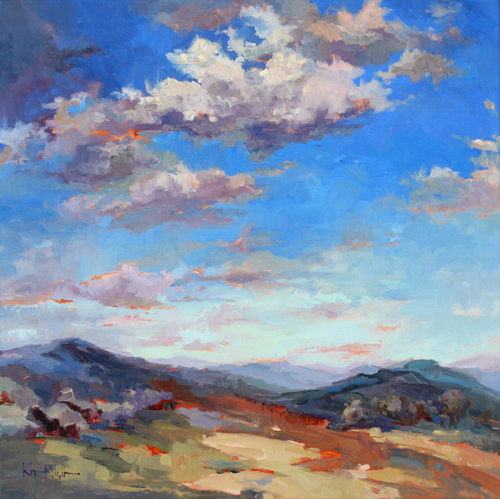 December 13, 2017
Your very own picture window.
Aaron Copland invites us to soar.
Just say yes.
20" x 20" x 1.5" oil on canvas sold
Crystal Color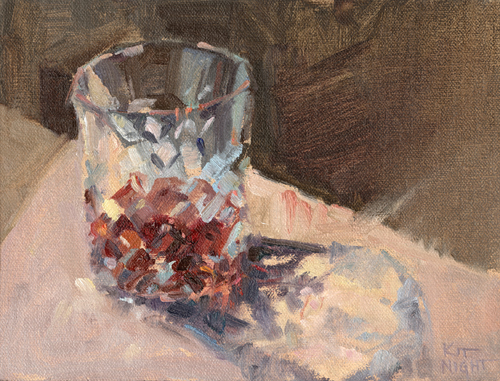 December 6, 2017
'Tis the season...
When you and Santa, or your fellow turkey, sit down for a breather with a gem-colored something, I recommend kicking back with Ray Brown and Christian McBride. Let their basses take you for a walk.
Soon you'll be tappin' and swingin', and doing some call and response of your own. Their invitation is as big and warm as the bass. With a smile.
That's love.
6" x 8" oil on linen panel $215 Art in the Morning special
Big River, Gold Land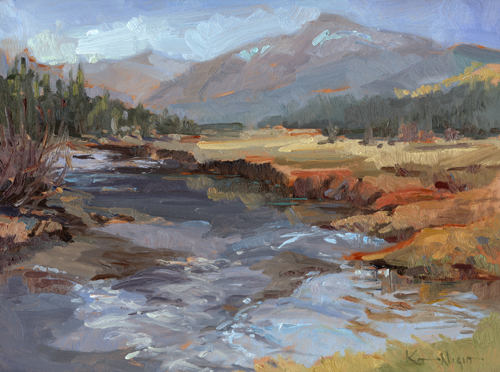 November 29, 2017
Oh to be a fish that swims within the blue, careening around the river's curves and skimming through its shimmering - to push against the current and feel the bubbles pop against my side.
Or, to be the leaf that turns gold in autumn and quakes in the sunlight to celebrate my glow.
I would like the anonymity of the grasses, whispering in the breeze. Rippling like a squall, now gold, now rust, now turning my hints of green. Without me the river wouldn't look so deep. Without the river, I wouldn't look so gold.
Or to be the river, and flow like water, baby.
9" x 12" oil on panel sold
Quiet Muse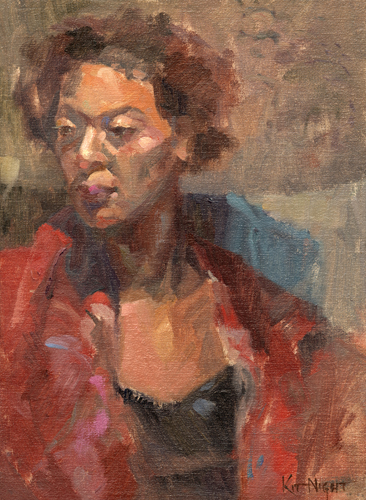 November 22, 2017
I like the way the blurred edges and low value contrast create an atmosphere of veiled light, and a sense of intimacy.
I wish I could paint her every week.
11" x 14"" oil on linen panel $360 Art in the Morning special
Gold River Autumn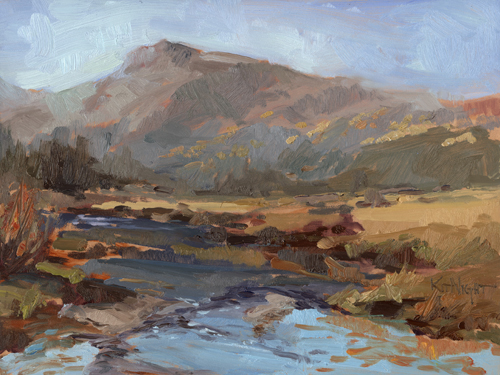 November 15, 2017
It's a gift to soak up nature's beauty, its calm, its integrity - to feel its mass, its weight, its breeze and warmth against my cheek. I never don't love it. Ha!
It's fun to ask myself what I want to say about it in my painting, and how, so that you can feel it, too.
I like to push the radiance of the sky to set off the sculptural planes that say "mountain" - even as I ask them both to lie quietly back.
I always listen for the music in the water. It's a melody that balances my compass needle and helps me find true north. I let the sky dance on the water. I can't help but smile when a fish comes up to kiss the light. Making a little "bloop," it leaves rings in its wake.
9" x 12" oil on panel sold
Rodeo Sky 2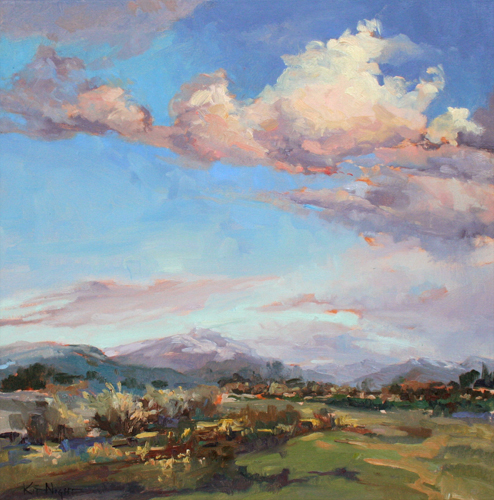 November 8, 2017
I think I may have to take up bronco riding.
I sure do love Rodeo Skies!
Don't forget to queue up the Aaron Copland.
20" x 20" x 1.5" oil on canvas sold
Big Fountain Peace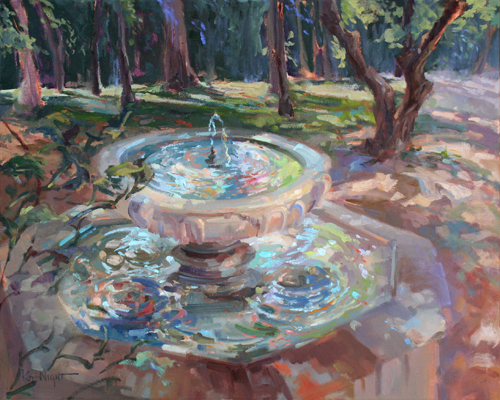 November 1, 2017
Peace you can walk right into. Let's go.
24" x 30" x 1.5" oil on canvas - please see Cool Big Fountain Peace
Firewater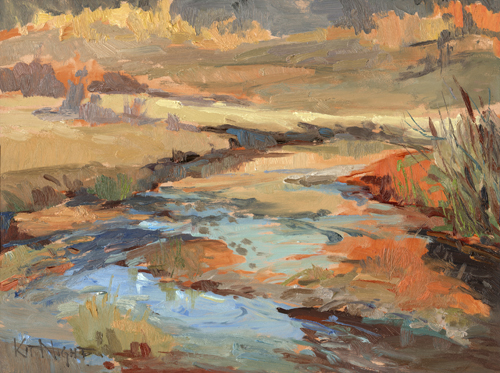 October 25, 2017
I needed a huge dose of nature. It delivered! The Valley of Hope in Fall Color.
I made a break for it last Thurdsday ~ high winds with gusts to 45. Holding onto my easel umbrella while I worked had me thinking I was channeling Hemingway, wrestling the fish of a lifetime.
With fiery light and reflected color, racing squalls and occasional calm... it was hilarious and ridiculous.
I just had to laugh at the absurdity, embrace the abstraction, and pretend I was windsurfing with a paintbrush in my hand.
9" x 12" oil on panel sold
Summer Sundae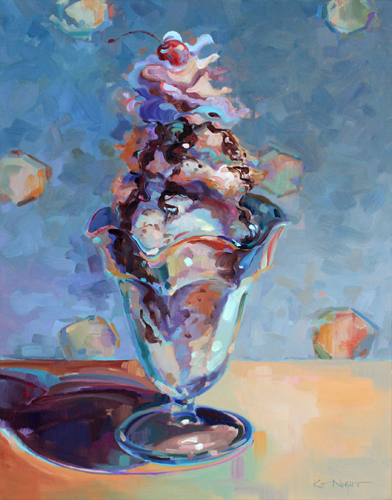 October 18, 2017
Summer classic, with fall color.
18" x 24" x 1.5" oil on linen sold
Strait Green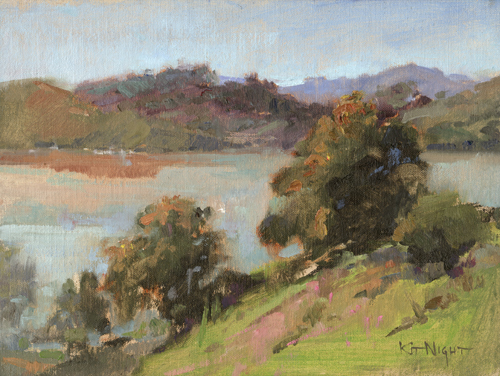 October 11, 2017
You're always looking for the language of marks. How to speak of atmosphere and light, space and flatness, that which dissolves between here and there - and that which suddenly appears as the sun moves through its day.
The desire to paint pulls me up hillsides unfamiliar, in places I've never been.
One of the rewards is a spectacular view. Another is turning around to find a herd of peaceful beasts munching on the green.
One moseys up to check out my painting. I think I passed muster.
9" x 12" oil on linen panel sold
Rodeo Sky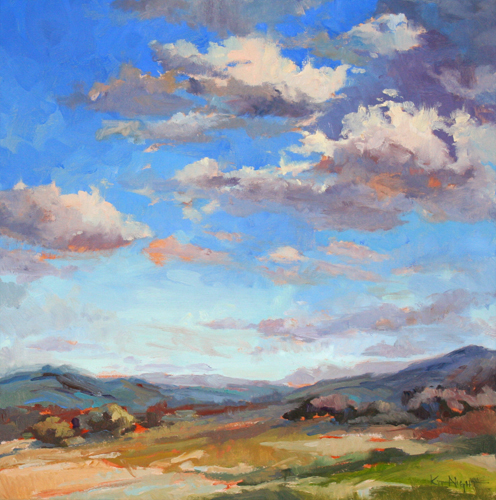 October 4, 2017
Like nature, Aaron Copland's music is transcendent. It soars with grandeur. He surprises us with expansive space, the snap and crack of clashing temperatures, golden light that is metaphorical and real.
He takes me someplace else, and I am always better off for it.
20" x 20" x 1.5" oil on canvas sold
Paradise Cove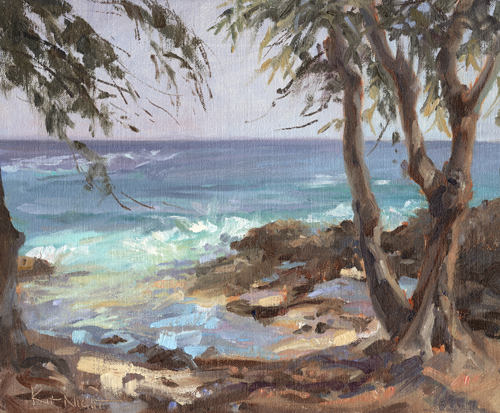 September 27, 2017
Nestled in this quiet rocky cove, I put my brain in a little boat. I made sure the mast was true and the sail tight. Then I pushed it off from shore and settled back under the shade against the tree.
Watery periwinkle lit up the sand while waves tossed turquoise into the sky. The horizon rolled blue into the beyond.
After hours or days or weeks or years, a little white triangle emerged from the edge of blue. I watched it grow into a sail and then a boat. When it bumped onto the beach I put my brain back in its place and we all went home, happily ever after.
9" x 12" oil on linen panel sold
Eyes Wide Open
September 20, 2017
I like her innocence and optimism, her youthful anticipation. I like that she knows life is her library.
I hope she loves the map that will become her, reflecting the globe she travels and her world of experience.
9" x 12" oil on linen panel $260 Art in the Morning special
Garden Fountain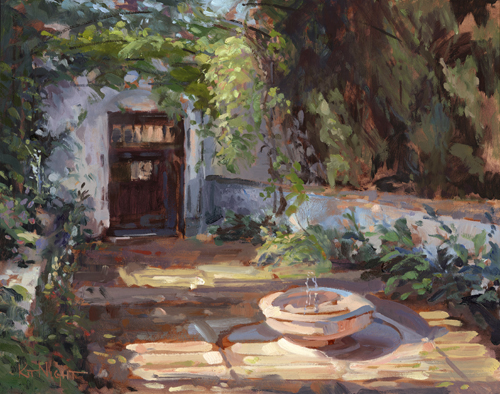 September 13, 2017
Agua musica en Espanol
11" x 14" oil on panel sold
Jazzin'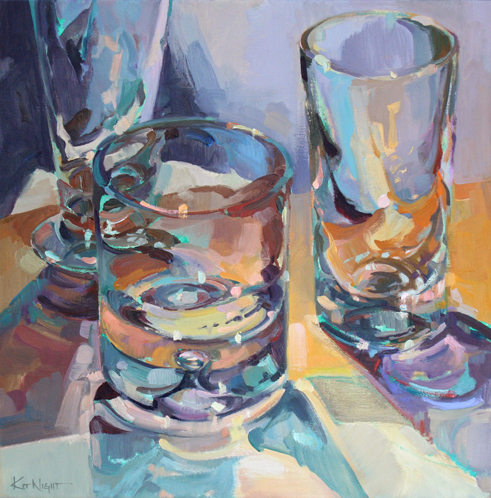 September 6, 2017
Jazz celebrates beauty. It is full of swing and brilliance. Even its shadows are luminous.
20" x 20" x 1.5" oil on canvas $1340 Art in the Morning special
Sky Meadow 1
August 30, 2017
It's good to take your brain outside and let the breeze blow through it. Ahhh.
8" x 10" oil on linen panel sold
Unconsoled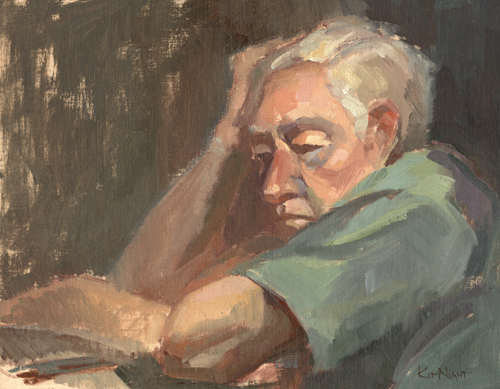 August 23, 2017
When painting anything, we're after more than a likeness. Whether it's plein air or portrait, still life or complete abstraction, we want to evoke as well as tell.
Some days I so get this guy.
12" x 16" oil on linen panel $320 Art in the Morning special
Blooming Meadow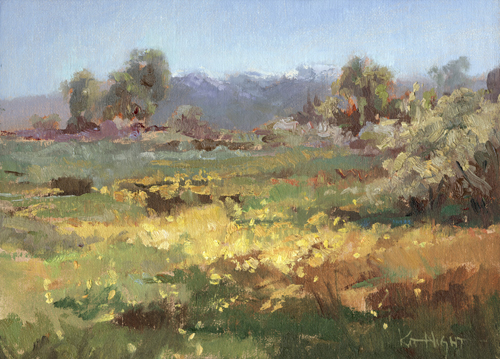 August 16, 2017
Don't you just love nature's bouquet?!
9" x 12" oil on linen panel sold
Gusher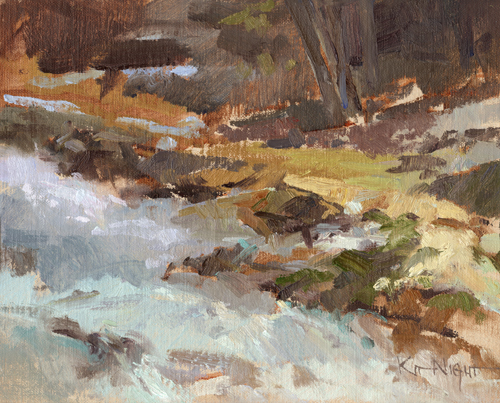 August 9, 2017
Balanced at the edge of the path above the river's roar, it filled my senses. I sought to tell the story of the water's speed, the power of the turbulence, the slash of yellow light that suddenly cut between the cliffs above and broke rust and sauterne through the water.
I kept the plot simple and focused on nature as it surged. Leaving me excited and breathless its wake.
8" x 10" oil linen on panel nfs
Sculpted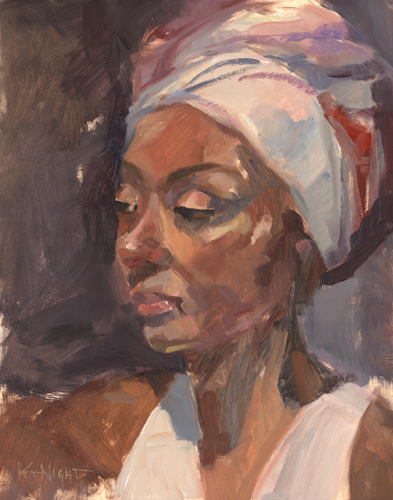 August 2, 2017
Painting human "sculpture" means measuring and checking proportion while diving into beauty. It's been a wonderful new challenge working from live models. With no muscle memory, it takes my entire brain. The world falls away. I love it.
Plus, you meet some pretty wonderful, often stunning, people!
They too add to the pursuit of creativity, honing their craft and artistry - while they consider drape and pose, light and shadow - so that we can pursue ours.
11" x 14"" oil on panel $290 Art in the Morning special
Expansive Spring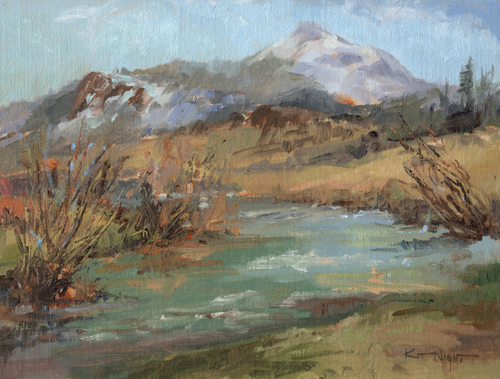 July 26, 2017
Ripples, whispers, plops and pops,
Trickles, tangels, twinkles, and laughing waters,
Burbles and burps, babbles and bubbles,
It's the best talk therapy I know of.
9" x 12" oil on linen panel $290 Art in the Morning special
Spring Green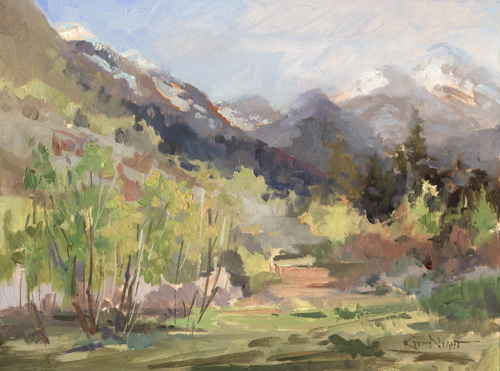 July 19, 2017
Seek and ye shall find. I don't know who said it, but it sure works for me.
Following that bird wasn't such a bad idea, either.
9" x 12" oil on linen panel sold
Amber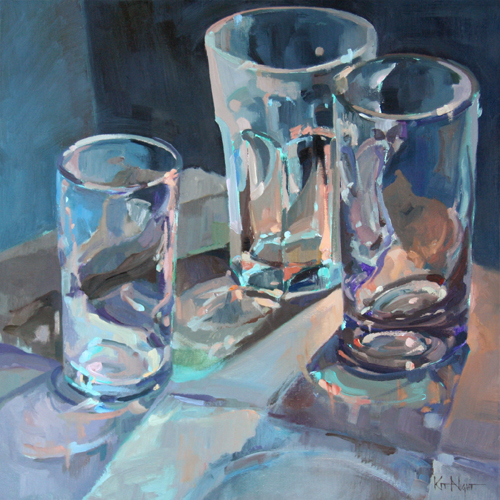 July 12, 2017
The subject is not the thing. The subject is what one is trying to say, the thing or the scene or the figure, is the vehicle.
When choosing a scene or setting up a still life, or observing the model, I get to be playwright and director, choreographer and stage lighting expert. What I want to say influences my choices in what I choose to paint.
Once I do that, I make myself slow down and ask, What is this painting about? How do I determine the focal point of the message? How do I marshall my tools - the composition, the light, my color choices. What strokes are blurry and which are crisp. What can I eliminate. Everything is to serve the painting.
On this piece I had orchestral assistance from Duke Ellington's "The Beautiful American."
20" x 20" x 1.5" oil on canvas sold
Sparkling Spring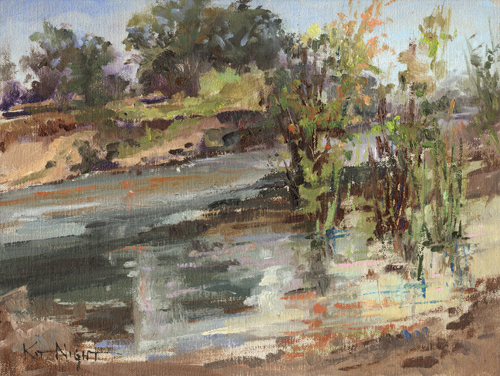 July 5, 2017
Find yourself a river, a creek, a watery patch, a sea of grass. Watch the light bounce. Find the abstraction. Play in its patterns.
Seek the life that it supports, in sound, and in movement. Let's sit down together and spend some time there.
Let's listen and breathe, and just be silent.
9" x 12" oil on linen panel $290 Art in the Morning special
Luminous Spring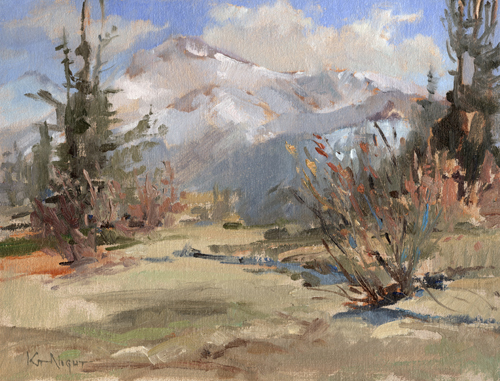 June 28, 2017
I love the unpredictable that is plein air. You never know what gift nature will give you. It usually comes with a challenge to make it that much sweeter. Whether it's cold, rain, snow, ice, bugs or bats or snakes in the grass, grizzly awareness in the Tetons or a moose drawing a bead by a pond... or simply just too much visual information to make sense of, the beauty and the beast keeps me coming back.
As my thoughts develop, so does the day. The sun climbs, frozen ground begins to thaw, streams move from ice to flowing blue.
Today's gift was the clouds moving in to catch the bounce of light off the backside of this mountain, creating a room of light. Luminous and glowing.
I understand why birds break out in song.
9" x 12" oil on linen panel sold
Quiet Cup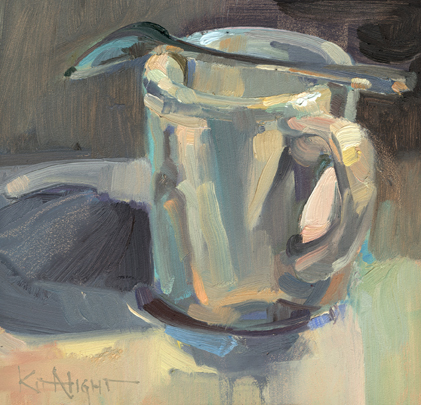 June 21, 2017
The longest day of the year, it's a good thing.
It's the launch of the season of road trips, maps spread out on the table, and coffee a in classic diner along the way. Early dawns and late sunsets, sand in your toes, big books balanced on your stomach. Evening brings the cooing of doves and nightshade plants scenting the night.
Happy Summer Solstice.
6" x 6" oil on panel $190 Art in the Morning special
Alpine Brilliance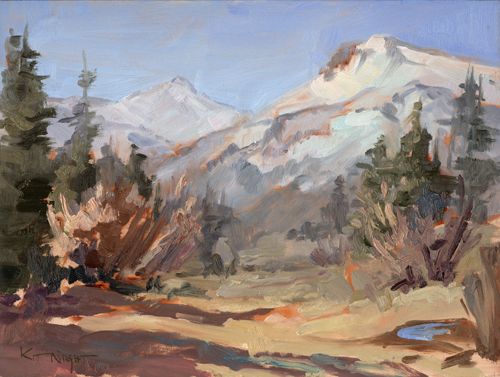 June 14, 2017
I loved being out in freshly fallen May snow. The old humps of meadow grass cracked with ice as I walked. Birds weren't warm enough to sing until late morning. Cloaked in a whole lotta layers, I was prepped for wind and a high of 41.
The mountain sang its own song. Brilliant morning sun on that new snow told me the "about-ness" of this painting. The cold temps helped me cut to the chase with clear and telling shapes of form and value, light and shadow.
Jumping jacks and running in place to keep the blood in my fingers had the birdies wondering what strange creature had come to roost.
9" x 12" oil on linen panel $320 Art in the Morning special
What If...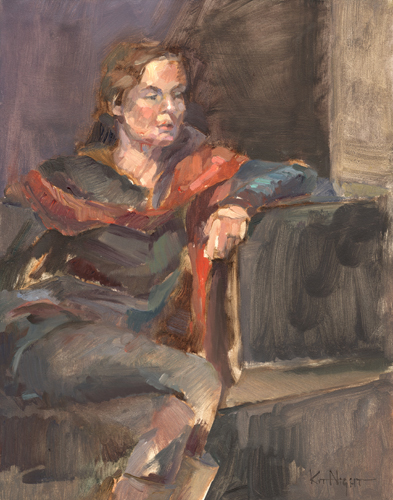 June 7, 2017
I love the balance of this composition and the way it heightens her sense of stillness, as she wonders, What if...
11" x 14"" oil on panel $230 Art in the Morning special
Waterplay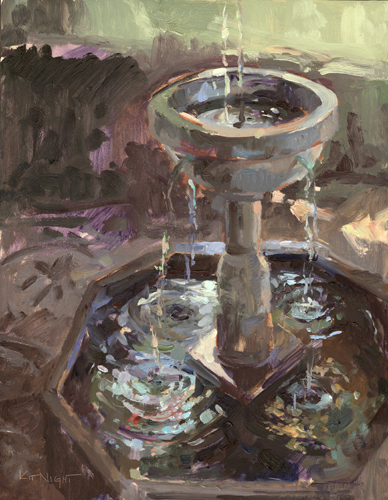 May 31, 2017
Fountains are a means to a meditative calm. I love that in Spain you find fountains everywhere. They are part of their culture.
Tucked into garden corners, on pathways and major boulevards, in plazas and private courtyards, they change the space and temperature around them. The simultaneous music and sense of quiet invites one to sit. (Or, paint!)
They sparkle in the blazing Spanish sun near refective pools, and burble quietly like cooing birds in verdant shade.
Feel the calm.
11" x 14" oil on panel sold
Weather Report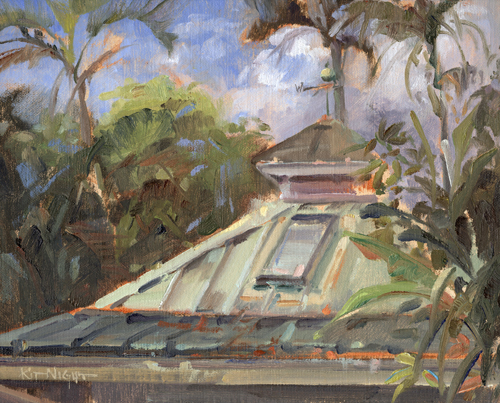 May 24, 2017
Palm fronds play percussion as clouds roil above. I like the bit of theater they create as a backdrop to the weather vane and cupola.
I feel like I'm in a tropic novel and wonder what's about to unfold.
Plus, I just really like that weather vane against that sky.
8" x 10" oil on panel $230 Art in the Morning special
Turquoise Surf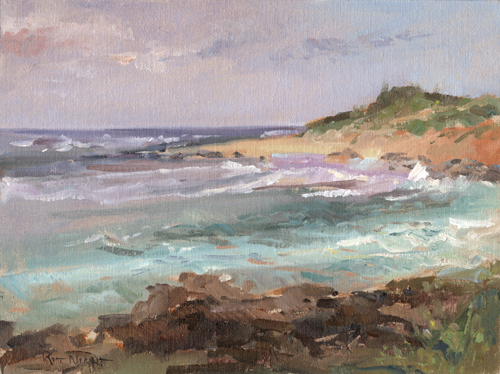 May 17, 2017
A study in contrasting textures and light, I set up in the wind-shadow of a tree.
Turbulent waters whipped by the wind crash against gritty volcanic rock. Birds of white toss about overhead. Turquoise breaks clear on the sand as the far shore holds the warmth of golden sun.
9" x 12" oil linen on panel sold
Tulip Blaze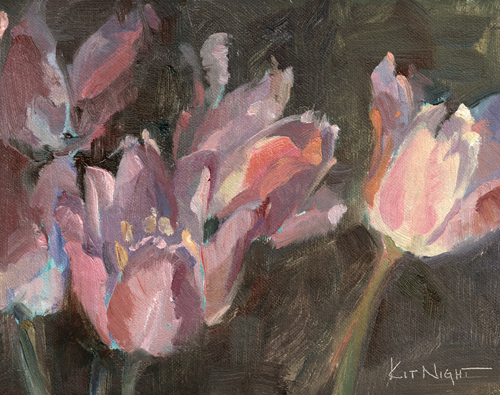 May 10, 2017
Birds of the flower, they spread their wings and take flight.
6" x 8" oil on linen panel sold
Tropic Tapestry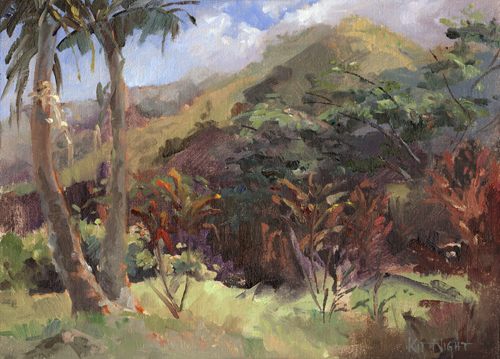 May 3, 2017
Roll out of bed, walk out the door, and start painting. Bliss.
Who knew lizards were so curious. They investigate everything I do. Backlit by the sun, their hot-orange throat bellows in and out before they impress me with their push-ups. Wild chickens worry their way through my scene.
Night brings a pile of stars spilled across the sky.
Stop the world, I want to get off? You betch'ya. Right here.
9" x 12" oil linen on panel $290 Art in the Morning special
Volcano Sunrise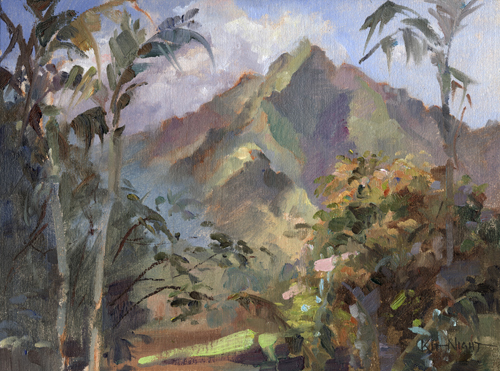 April 26, 2017
Morning. The world is splashed in unfamiliar color and sound. Jungle on all four sides and no muscle-memory for these surroundings. Terrific!!
Please, Mr. Bill. Don't make me go home.
9" x 12" oil linen on panel sold
Spring Melt, River Wide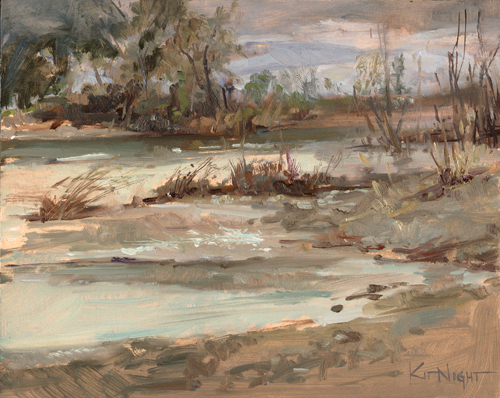 April 19, 2017
I threw my gear in the car and drove out of the mountains of white stuff surrounding us in the Sierra. It was good to see it in liquid form as it rushed and gushed and stretched out across the land.
Under pearly light, the powerful currents plowed over islands and swirled into eddies. The air was moist and verdant, hinting of green buds about to push through and brighten the day.
Red-Tailed hawks fed two little heads in their nest. A humming bird did vertical drops, only to soar straight upward, making sure that I wouldn't even think of pitching a tent on his ground.
Egrets and Great Blue herons flew by in origami grace. As I looked up from my painting, a Merganser and I shared a startled expression as he whizzed by at 30 miles an hour, afloat on the watery autostrade.
8" x 10" oil on panel $330 Art in the Morning special
Raw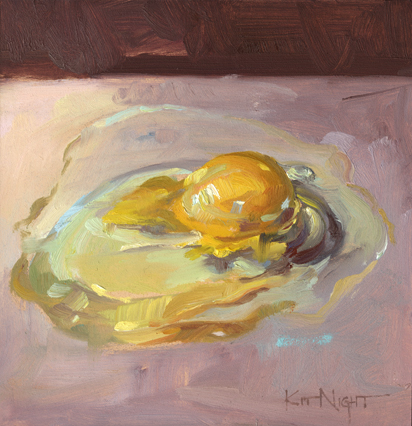 April 12, 2017
Hatch an idea cracked sunny side up over easy yolk on you egghead which came first hardboiled... wait, why did you cross the road?
Seeing things fresh.
6" x 6" oil on panel sold
Haiku Orchid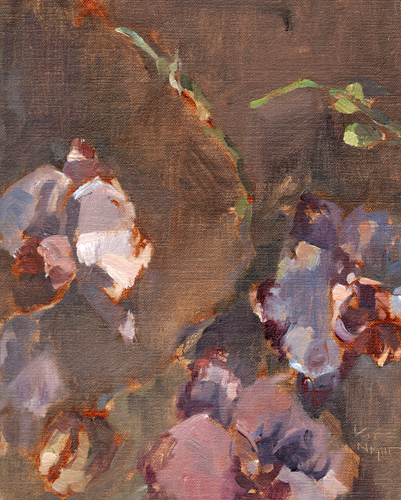 April 5, 2017
Orchid under roof
blooms break against winter moon
Snow walls, silent, rise
8" x 10" oil on linen panel $295 Art in the Morning special
Imagine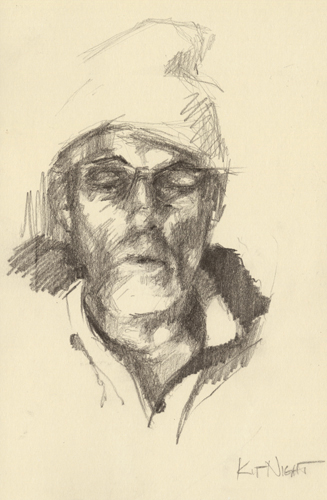 March 29, 2017
Wonder.
Conjure.
Magical.
What isn't... What if.
5" x 8" sketchbook nfs
Winter's Glow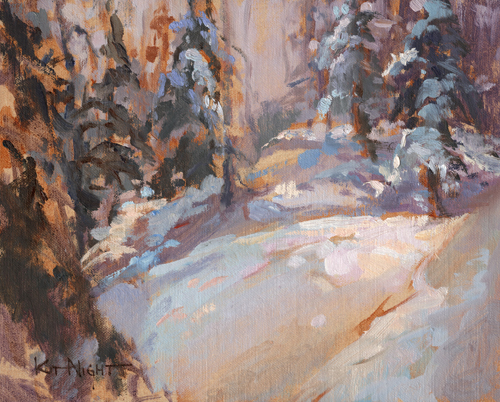 March 22, 2017
Snow creates its own language of light.
Stab a ski pole in on a sunny day in the Sierra and you see a pool of clear watery turquoise. It could be your portal to the Bahamas. The high-altitude light is brilliant as it bounces around in there.
When there is a storm, and it subsides near end of day, the skies remain pearly in their overcast. The light is a cooler, purple-gray, with a peach wash across the snow.
Clouds parting to clear, set the forest a-blaze in backlight from the retiring sun. And the snowy floor flashes with bits of hot color like ember glow.
I love that, like with any language, the more you use it, the more aware and fluent you become.
8" x 10" oil linen on panel sold
Tropic Glass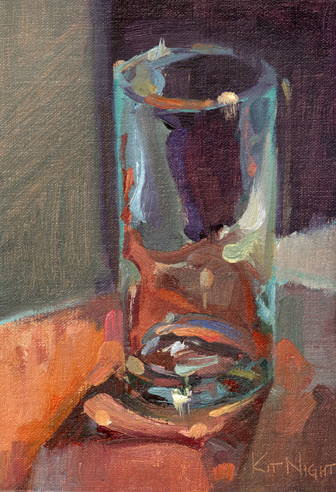 March 15, 2017
I keep hearing people say, "I gotta head to somewhere I can wear shorts and flip-flops."
Here's a bit of tropic, Gauguin color for you. Cheers.
6" x 8" oil on linen panel sold
Still Life with Books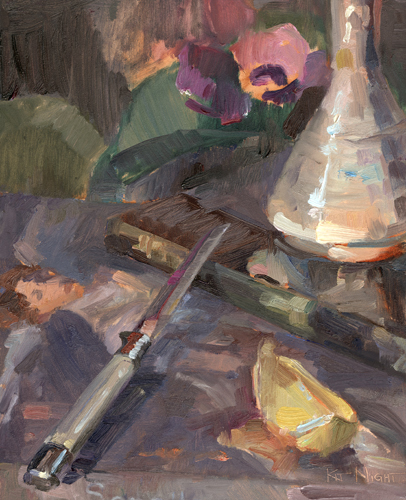 March 8, 2017
A quiet day of reflection.
8" x 10" oil on panel sold
Stormy Winter Light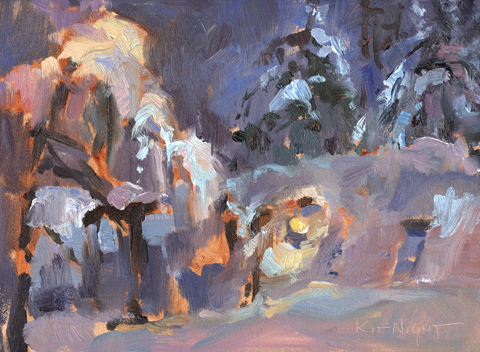 March 1, 2017
I had voices on my shoulder as I painted this. Usually when this happens it's some old-school master-artist type.
This time, it was an ornery Calvin, hurling opinions and gestures. "Really?! Painting isn't hard enough? You're going to try to paint that?!"
Meanwhile, a suave Hobbes, cocks his eyebrow and slips his arms into sleeves saying, "I like to say smock! Smock! Smock! Smock!"
5" x 7" oil on panel sold
Unmoored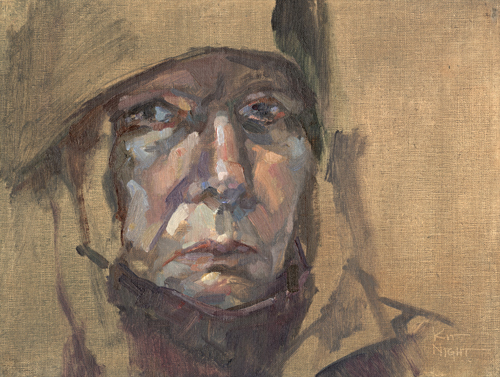 February 22, 2017
Art is my compass.
9" x 12" oil linen on panel
Rose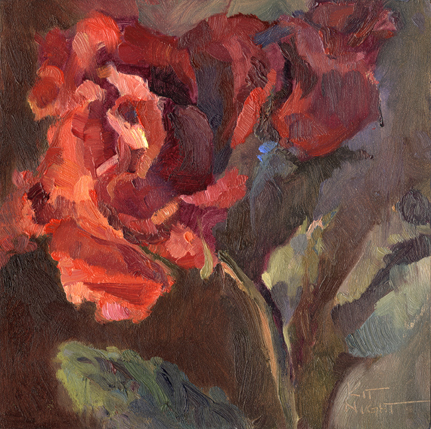 February 15, 2017
Love. It's a communicable medicine.
6" x 6" oil on panel $190 Art in the Morning special
Stormy Orchid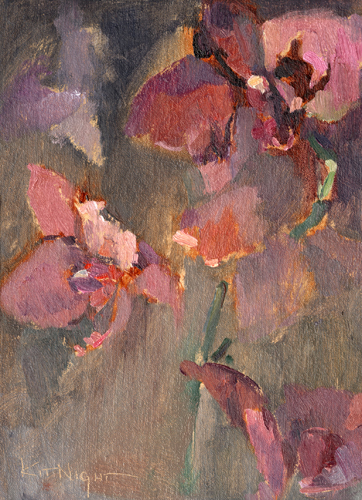 February 8, 2017
How can a person not fall in love with paint. It's music in living color. Marks that crash and lick and kiss and stumble, caress and burn and shadow and scumble.
Discordant and melodic, like a musician, we know not where they'll lead. Beauty or mud, joy or despair. I have a picture of de Kooning in my studio. His face is snarling. His body is spent. He looks like he's been wrestling with a lion. But it was just his painting.
I love that during weeks of being snowed in, playing the part of a human shovel against mounting walls too high to reach, I can set up an impromptu studio in the middle of the living room, and paint my stormy orchids.
6" x 8" oil on linen panel $230 Art in the Morning special
Wake-up Call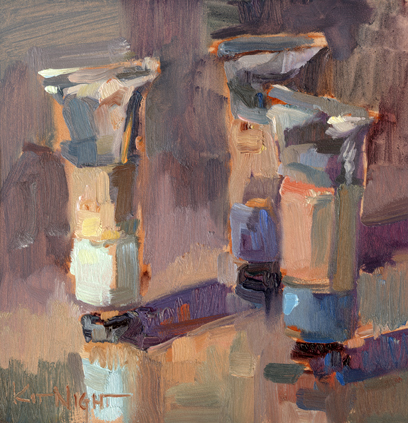 February 1, 2017
Lately, I wake up with more questions than I took to bed. Thank you for being a part of how I find meaning. Trying to create a little beauty and a moment of calm for others helps me find a way forward.
6" x 6" oil on panel sold
Winter Morning Cup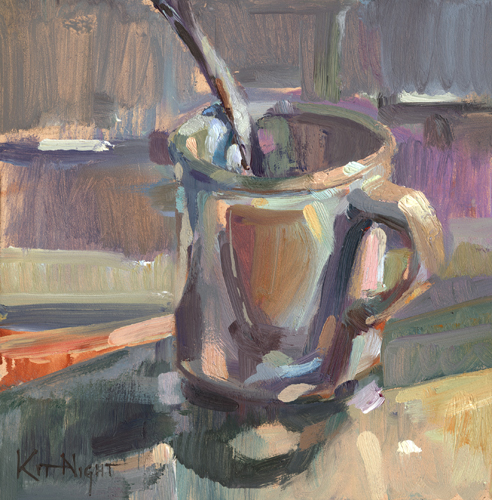 January 25, 2017
The morning sunlight on the ceiling always tells me if it's snowed. Cooler and bluer, the light comes in sideways.
Yellow dapples bouncing about, and bass drum thuds of melting snow, tell me if the sun is shining. The nuthatch outside trumpets reveille.
My socks of many colors hit the floor in pursuit of something warm to fill my cup.
8" x 8" oil on panel $230 Art in the Morning special
Noir- Lew Archer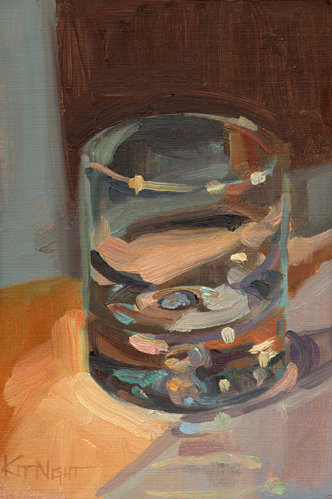 January 18, 2017
Lew Archer was Ross Macdonald's fictional solitary gumshoe. His detecting skills were applied to the fleshy underbelly of the west coast in the 1950s and '60s.
Against a soundtrack of new jazz and the churning oil pumps and bulldozers of land deals, water deals and oil deals, he tried to keep the weak from getting carved up along with the land.
Dark and moody and full of atmosphere, at the end of the day, there was always a bit of California sunlight in the bottom of his glass.
(Part of my series of glasses representing different fictional noir detectives.)
5" x 7" oil on museum board sold
Spanish Flower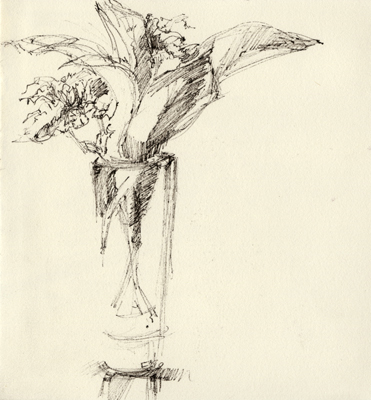 January 11, 2017
When I'm feeling snowed-in, metaphorically or literally, nature's simple beauty usually helps me find a source of light.
5.5 x 5.5 sketchbook nfs
Calm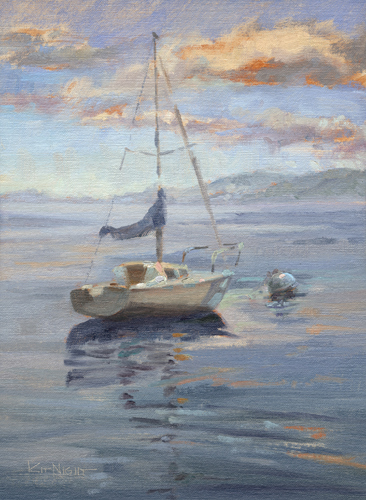 January 4, 2017
Peace.
Three feet of fresh snow at our house makes the world a padded cell of silence and beauty. The calligraphy of Flickers and Chickadees, squirrels and rabbit tracks embossed on the snow, tells me what my neighbors are up to.
In the unexpected pause, I have a moment to reflect on the importance of kindness - often under-estimated and so easy to practice. We all know how much the smallest gesture can change our day.
I feel lucky to have you to help me spread my brand of kindness and color, and the chance to take a pause with peace.
8" x 10" x 1.5" oil on canvas sold