Wo r k s h o p L A K E G A R D A, I T A L Y 2016 !!
open your paintbox
open your mind
Malcesine on Lake Garda ~ Italy's largest lake

Our monastery, San Tomasso, cloister at night

A rainbow of edible color

Our personal chef, Linda

Kit teaching in Radda, Tuscany, 2014

Kit's demo with Susan

"Thanks for your guidance and advice... in my first experience with landscape painting. I was able to take away from both (IC) workshops the ability to set up and complete a painting faster than I've been able to before.

"The workshop was a wonderful experience. Ci vediamo."

~ Jeff DB., Deerfield, FL

"The exposure to you and your work, was the best birthday gift I could have given myself."

- Heidi G., Chico, CA

"What a fabulous workshop in Tuscany. As always, you are a kind, patient, encouraging, and talented artist and teacher. You are so much fun to be with.

"I am very blessed to have you in my life and look forward to our next workshop."

- Kathy S., Granite Bay, CA

"Thank you! I really don't think I would have had my epiphany in Tuscany if I had not felt your unconditional support for my artistic attempts. Thanks again for everything, Kit. You are a gift to those of us daring to share our souls in our paintings."

- Deb M., Sonora, CA

"You are a great teacher, Kit, and a NICE person. The world needs more teachers like you... Keep up the great work."

- David S., Belmont, CA

Plein Air Baptism

What color is your umbrella?

The Peaceful Setting of the Tuscan Countryside

This could be you

Enjoy the gift of concentrated work
Comments from previous workshop participants:
"Thank you! I really don't think I would have had my epiphany in Tuscany if I had not felt your unconditional support for my artistic attempts. Without that cushion, I would not have dared to be so bold and free. And I have not known such joy as when painting outside with lots of paint and spontaneous strokes of the palette knife.
"Thanks again for everything Kit, you are a gift to those of us daring to share our souls in our paintings."
"You are an amazing instructor. I already knew that. I learned so much in Tuscany that I came home enthused and inspired to unpack my gear and start painting. The overall experience was amazing.
"I anticipate future opportunities to learn from you, because it makes me happy to be in the presence of your positive energy and tutelage."
- Susan F., Sacramento, CA
"It was a wonderful group of painters... each one bringing their own unique experience and style. Not only were the Tuscan landscapes amazing, our accommodations couldn't have been more perfect. Such a great learning (and fun) atmosphere!
"Grazie!! for an amazing and memorable painting experience!
"PS Did we decide if the birds sing in Italiano? :-) "
- Camille M., El Dorado Hills, CA.
Thank you!
Who but you would work so hard to: put us in the right place for multiple grand plein air compositions; let us know there is more than one way to achieve good results; get down in the tray to show how different color mixtures give desired results; get around to all the easels more than once each half-day, giving encouragement and support? Great leadership, teaching and fun-making!
Thanks Kit."
- Ken M., Lake Tahoe, CA
"It was a great week for me. Challenging but fun. I really enjoyed spending time with you and meeting new friends.
You are so supportive, but also very good at giving every student constructive criticism. I am in awe of your sensitivity and patience.
I learned so much in those five days. Just wish my college professors had been as instructive. I never remember watching a single demonstration of how they individually worked.
It was also wonderful to spend time enjoying Tahoe. After 22 years, 3 of the places we went to, I had never seen before. Even Sand Harbor took on a new character as I watched it carefully for so many hours."
- Val D., Incline Village, NV
"Dear Kit,
Mille grazie for all the attention to detail that went into making this workshop so very worthwhile.
Michael and I benefited greatly from your skillful and subtle instruction. I feel so much better about my efforts after just five days....I hardly know what to say! I will go with my first instincts and just thank you. I look forward to spending another five days in September at the Miracle Workshop to hone my new skills and learn something new.
Later ...
I am sitting in my meadow and I am painting away.....when the picture starts to get away from me.....and I remembered some things you said and now it is saved AND done! Thanks for that and all the other things I learned!"
- Megan T., Carmel, CA
"Well, it was a most wonderful workshop!! Nice variety of places, great people and excellent painting help from you. I loved the friendly and casual atmosphere. Thank you so much for your always generous self, delicious lunch and your expertise as our picture-painting trouble-shooter. You created an all 'round terrific experience.
Thanks again, till later."
- Sally S., Carson City, NV
"Hi Kit,
Everything about the time spent in your plein air workshop was wonderful! I will look forward to working with you again, because one can see a progress with such intense focus. It has always been much too easy to put my painting on the back burner.
Hope you realize what a gifted teacher you are!!!!!
Fondly,"
- Kathy P., Walnut Creek, CA
"I had a wonderful week in your plein air work shop. Looking forward to doing it again!
I have all of my paintings strung out in front of me. Not bad! I'm happy!!"
- Janice L., Davis CA
"I had such an awesome time at the workshop! Kit creates a supportive and fun painting environment with great insight into every painting. She offers help and guidance with focused and detailed attention for every skill level. Having time to do nothing but paint is a luxury in itself - being able to paint with Kit in your corner is a privilege."
- Abby G., Tahoma, CA
"I got a lot from the workshop, in all sorts of ways. First, just getting out there with all the equipment, among the public. I'd expected that to be distracting and a little intimidating. Didn't really notice them. I appreciate, again, the atmosphere that you establish. I think we all felt very comfortable in taking on the challenges before us each day. Input when needed, and affirmation.
In the last couple of days while walking the dogs, I have found myself mentally mixing greens to match the colors of the foliage. I'm reminded of what Mark Twain said about golf, something about a nice walk spoiled. But I like golf. And I like that I'm anxious to get back to the palette. So, yeah!"
- Carol C., Walnut Creek, CA
"I still have a lovely glow of camaraderie and... well, the glow might be Cad Yellow! But I'm convinced that painting produces as many endorphins as exercise...I had a blast!
"Thanks again for everything you did for us during those days. Looking forward to a future workshop! Fondly,"
- Susan F., Palo Alto, CA
"Just a note to thank you, again, for the marvelous workshop. This was my second tour with you and it was just as enjoyable and educational as the first time around. Your enthusiasm, talent and nonjudgmental approach make for a great three days of painting and learning. Thanks".
- Bob R, Sacramento, CA
"I have been to many workshops, but I found yours to be the most inspiring. I believe this is due to your positive criticism, if I can call it criticism. Your positive feedback made all of us want to try harder. I think I might have even loosened up a little. I loved that you did not spend too much time doing demos. I always want to try it myself. As you came around and showed me how to create brush strokes or color, I was able to see how you do it. This has helped.
"I also think it is great that you hold the class to a limited number of people so that we all benefit from your personal touch. The number of hours were perfect. In fact, the day flew by. At the end of the workshop I did not feel beat up. I left feeling like I wanted to paint more!"
- Susan B., Truckee, CA
"You are a great teacher and gave me much of value to work with in the weeks and months ahead.
"Secondly, you attract to yourself wonderful and talented persons, so I had the opportunity to be with them and learn in a fun environment.
"Most impressively, you come so well prepared and spend enormous time and energy. This enhances the experience immeasurably and makes the workshop so worthwhile."
- RT (Robert) C., Palo Alto, CA
"Thank You! I learned so much from you and you helped me remember the joy of painting. I am very grateful for that. I am really looking forward to taking another class soon. You have a wonderful creative spirit that was a joy to be with."
- Deb M., Copperopolis, CA
"Kit, I had a wonderful time at your workshop. I learned a ton of things. Also, I thoroughly enjoyed your teaching style. You give constructive criticism in a very supportive and encouraging way. I wish I could think of another word instead of "criticism." It's more that you share your sense of color or composition, and we can either choose to take your suggestions or stick with what we're doing.
"Clearly, you are a very experienced teacher and it was a great workshop. Can't wait to do it again! The hours just flew by. I wasn't even tired at night. Instead I found myself thinking about all the things I'd learned during the workshop. Loved it."
- Deborah L., San Anselmo, CA
Join me to Amp-up your Art in Lake Garda, Italy. May 28 - June 4, 2016
More pictures and information on my site soon. In the meantime...
Plein air oil painting workshop with Kit Night.
$2,750
My workshop this spring in Tuscany was such a blast - successful beyond my highest hopes - we are doing it again!
This time, come paint with me among the gently rolling hillsides of the Crete-Senese region of Tuscany, just southeast of Siena. Tall cypress, poppies perhaps, with lots of beauty to paint right on site at our villa. An easy walk into the quiet village provides more quaint Tuscan scenes or a cappuccino.
Our home base is an intimate, elegant villa, in San Giovanni d'Asso. Enjoy daily plein air classes with me, with occasional excursions to another village to sight-see, paint, or sketch. With beauty right at hand, there is plenty of time to paint each day.
Our Village - San Giovanni d'Asso
Our mission is painting, learning, enjoying! Long morning sessions will be focused painting time with plenty of one-on-one instruction, and occasional short personal demos to zero-in on a particular concept. I am an animated, articulate, supportive instructor. Afternoons are optional painting time, with input from me as desired. Or, relax, read, go for an evening stroll.
End of painting day brings informal group critiques - a fun, supportive opportunity to learn from our peers.
Evenings, we enjoy lively conversation and hearty varietal wines over the delicious multi-course dinners Tuscany is famous for - prepared by our personal chef!
Excursions to Historic Pienza or Montalcino
INCLUDED:
Pickup at Florence train station at 3:30 on June 6.
Daily painting classes/ excursions with Kit
Half-day excursion to Historic Pienza to sketch, photograph and shop
Daily traditional Tuscan breakfasts and dinners by our personal chef. (Dinners include wine, of course.)
Shared double room with private bath in our villa.
Transfer to train station in Chiusi on June 13, for connections to Rome or Florence.
DOES NOT INCLUDE:
Airfare / Art Supplies / Lunches, Independent meals and independent sight-seeing.
$2,750 Double Occupancy.
(Non-participants $2,450)
(limited availability sgl occ $450 supplement)
$500 deposit due upon registration.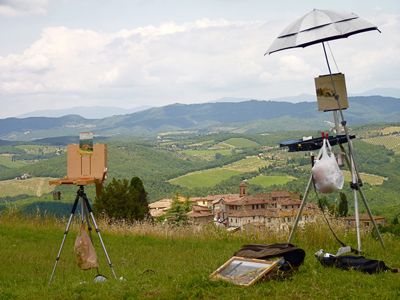 You and your easel.
As always, class size is limited. Don't wait too long to decide. Happily, my classes fill quite quickly! Last year we had a wait-list.
Please join others in signing up early to save your spot.
Tutti Anticipazione is part of the fun!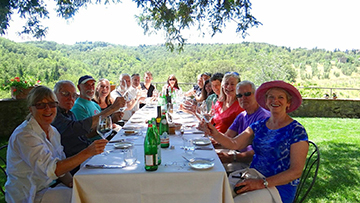 Our happy bunch - Tuscany 2014
For more details on your Lake Garda Workshop, accommodations, our hosts, and to register, please visit: Il Chiostro.com
Email: Info@IlChiostro.com or Call 1-800-990-3506
For more info, or if you would like to be added to my workshop email list, please email: Kit@KitNight.com (this is not a link.)
Come. Have an incredible painting, learning, and life experience with me in the alpine lake district of Northern Italy. Pittura Felice! ~ Ciao
Excursion to Il Bosco Della Ragnova Botanical Gardens
To receive info on future workshops!, just email me. Kit@KitNight.com (this is not a link)