Magic Night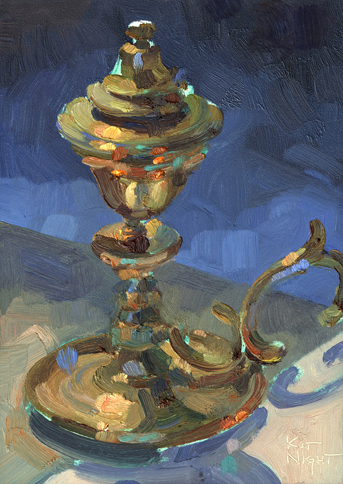 December 30, 2020
The night sky, in all its beauty and wonder, its vastness and starry light, its orbiting planets and unanswered questions, always makes me hopeful.
It takes me beyond our every day into a place of possiblity. I get lost in all that big blue beauty and the magic of the night.
Here's wishing you some beautiful wonder, some silent magic, some brave and kind possibilities in this coming year.
5" x 7" oil on panel $270 Art in the Morning special
a la mode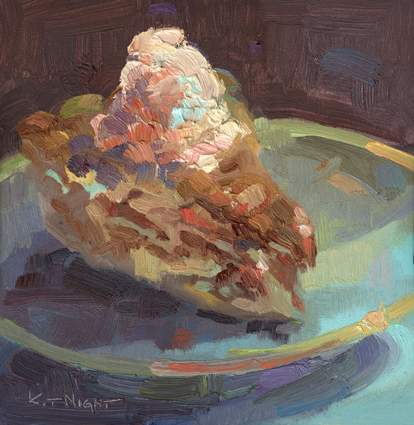 December 23, 2020
Go-power for the guy in the red suit when he tumbles down your chimney.
6" x 6" oil on panel $195 Art in the Morning special
Windows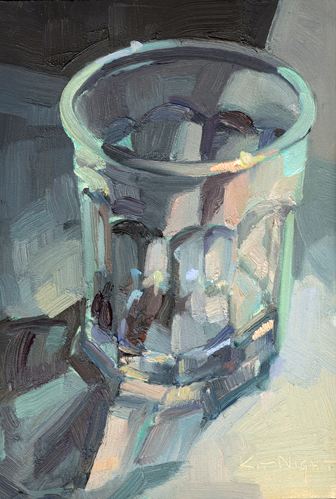 December 16, 2020
I love the magic of paint. The texture and color. The illusion. The thrill has never left me. I never know where it will lead.
I love the space and light of glass.
The arches and fractured light called to mind European cathedrals with their tall arched windows of light and color, changing how we see things.
5" x 7" oil on panel $265 sold
The Dollop
December 9, 2020
Whipped cream... for the literal-minded.
With a cherry on top.
6" x 6" oil on panel $195 Art in the Morning special
Autumn Embrace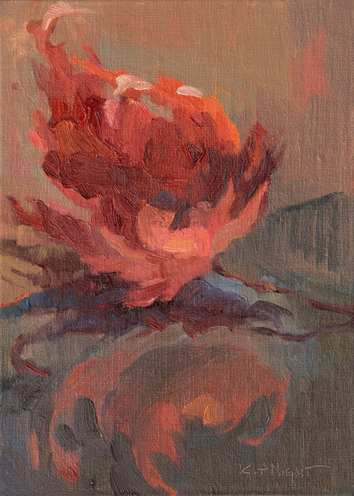 December 2, 2020
Autumn color dazzles us in warmth and glow, licking up hillsides and rushing across meadows. It falls like confetti from the sky, in a celebration of red and gold and purple.
Then it leaves us so quickly.
I thought I could help it linger a bit longer to help warm our morning.
5" x 7" oil on linen panel $230 Art in the Morning special
Whipped Cream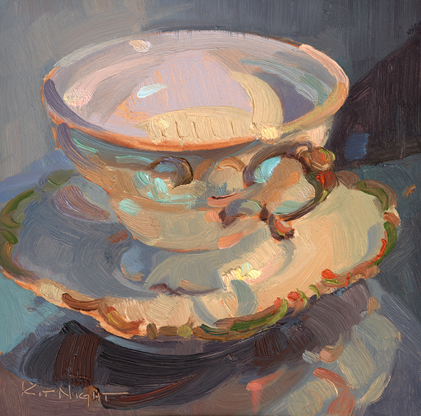 November 25, 2020
A whirly twirl of dancing light.
With a dollop on top.
6" x 6" oil on panel $230 sold
Reflection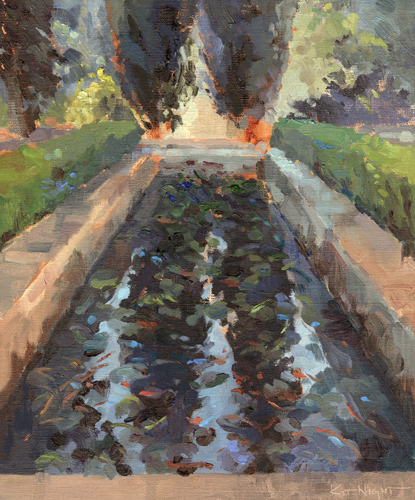 November 18, 2020
Reflection.
A chance to see differently.
To look in the mirror.
A doorway to walk through.
A new door to open.
10" x 12" not available
Stagecraft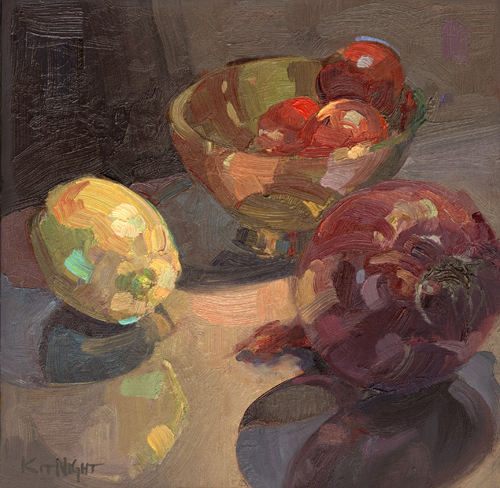 November 11, 2020
Set the lights.
Cast the characters.
Check the angle of the shadows.
A world I have control over.
Well... kind of.
8" x 8" oil on panel $295 Art in the Morning special
Autumn Breeze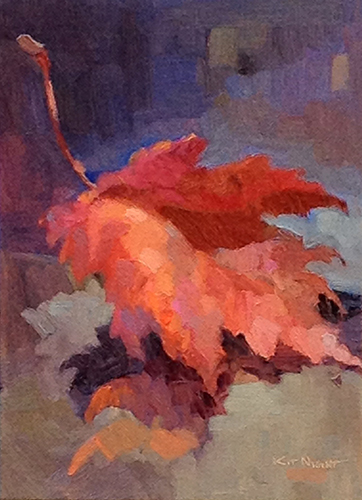 November 4, 2020
The evening breeze
caressed the trees
tenderly.
(Lyrics by Jack Lawrence)
5' x 7" oil on linen panel $230 sold
Farm Fresh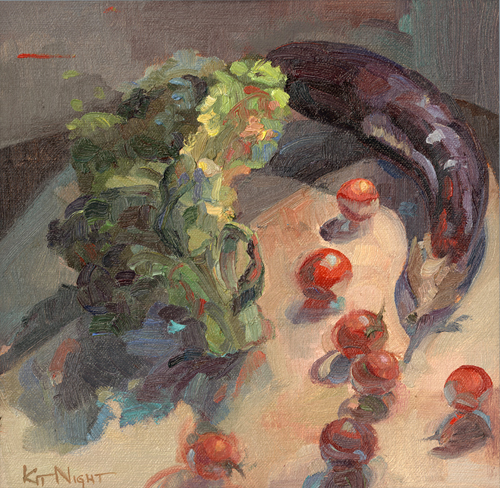 October 28, 2020
It doesn't get much better than a roadside farm stand next to the field where it's grown. Rows of fresh, crispy, crunchy colors that land in your basket as you load it with goodness and inspiration.
Blue sky and goats share your view as the grower tallies your score. Masks and friendly banter and tasty anticipation...
That's what I call socially lovely.
8" x 8" oil on panel $320 Art in the Morning special
Rose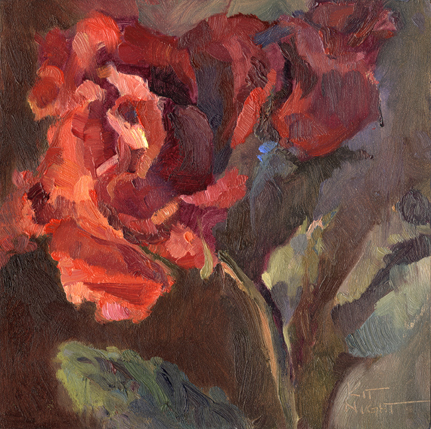 October 21, 2020
I stopped to smell the roses.
Aroma therapy.
Then I stayed to paint them.
Color therapy.
Key word: Therapy
6" x 6" oil on panel $230 sold
Bell of the Ball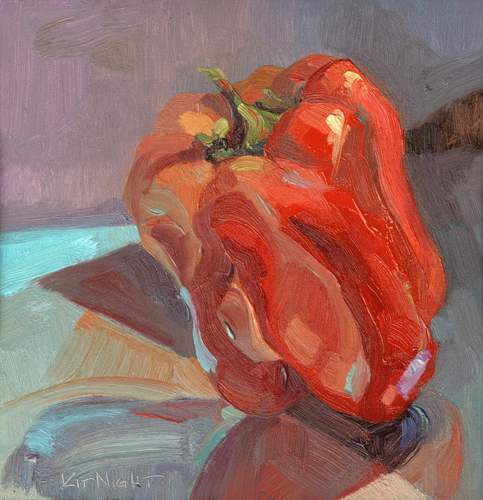 October 14, 2020
With her charismatic presence and brilliant glow, I feel certain she is about to be kissed by her favorite frog, (in a complementary color, no doubt) and turn into our next poet laureate.
Sure to dazzle.
6" x 6" oil on panel $195 sold
Emerald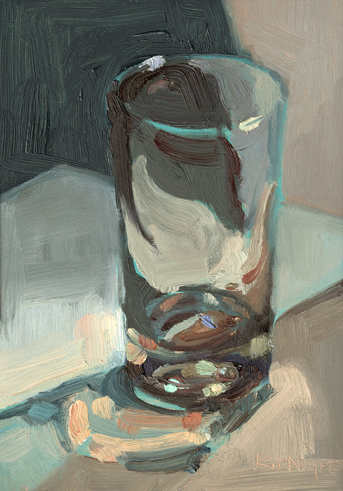 October 7, 2020
I love the quiet, contemplative nature of this.
The solitary.
It somehow takes me to the deep of the sea.
I love that some things in art can't be explained.
5" x 7" oil on linen panel $230 sold
Fountain Serene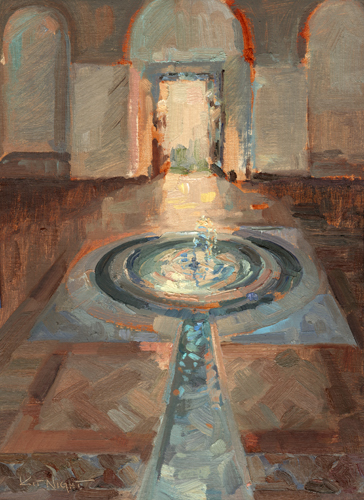 September 30, 2020
After the blazing sun and outdoor heat, entering the room of cool air, intricate, high-domed ceiling, and reflective mosaic flooring, all is darkness. The senses join the quiet as the quiet calms the mind.
Gradually... the slow reveal of shimmering light, the delicate notes of water play, the depth of space in calming arches, invite us to expand into the calm.
Let's stay awhile.
9" x 12" oil on linen panel $420 Art in the Morning special
Rainwashed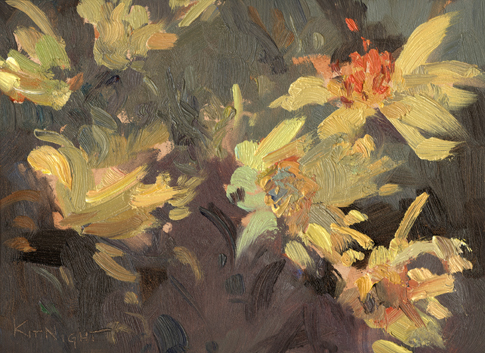 September 23, 2020
In a season of so much courage and so much loss, a painting seems so little to offer... Rain-washed flowers in a slice of sunlight on Saturday, when breathable air and blue sky finally blew for a brief visit.
Every day I strive to keep my head up and do my best in my small way. It just is so little in the face of so much.
Wishing everyone strength, persistence, and moments of beauty.
5" x 7" oil on panel $230 sold
A Bigger Neighborhood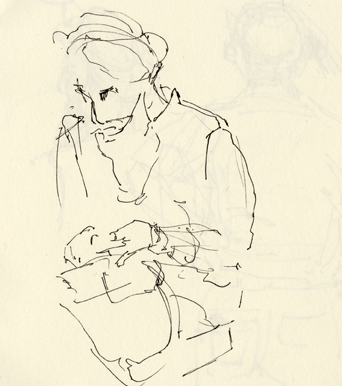 September 16, 2020
For everyone in need of a travel fix... Or, why we "like" to board narrow tubes with wings...Say, what?!
It's that very discomfort, the loss of the familiar, the adventure of new subjects never considered, new alleyways not explored, new languages to understand.
Sounds....even when they require the occasional earplug on the street side, tell us so much. From the piano in the window above on the edge of Harlem, to the sound of city-work in the middle of the night. The sound of the stone cutter in the quarry in Carrera or in a cathedral in Morningside Heights, the song of the opera singer on the trail in Cinque Terra, or the low whisking of a hay cutter crossing the field in Spain, or the no-sound silence on a path in Norway... art, labor, passion, dreams, work, nature.
There is the taste of sucking a lime along with the locals on a choppy ferry crossing from the Yucatan to then-rustic Cozumel during rush hour. That's a ride I won't forget. Or heading down a jungle trail at dusk with signs to "watch for wild boar" while we look for my in-laws. That's a night I won't forget.
New continents become opportunities. Countries become neighborhoods. Strangers become friends. We welcome different perspectives and find that getting lost is to be found.
I can't wait to get lost again.
5.5 x 5.5 sketchbook nfs
Red Hots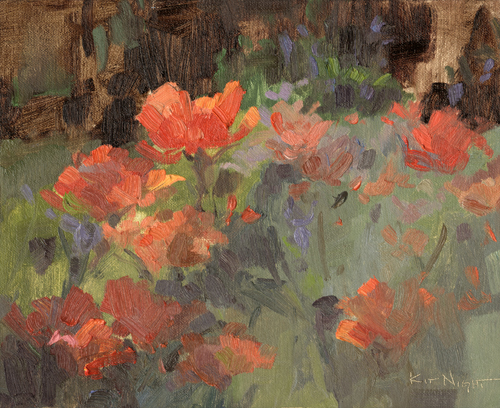 September 9, 2020
I love poppies. Crepe-paper fragility meets the power of color.
A celebration in nature.
8" x 10" oil on linen panel $380 sold
Nocturne II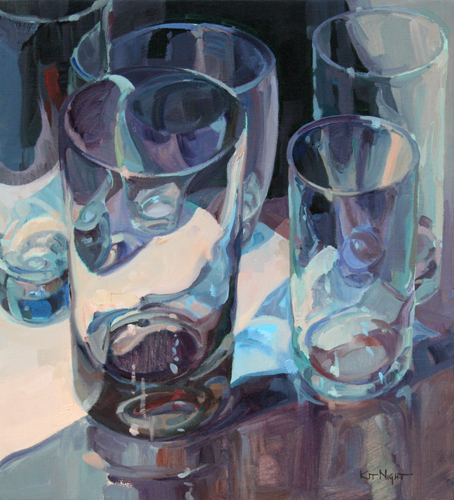 September 2, 2020
It feels good to get lost in glass. The forward and back, the continuous and the hop-skip break, making the everyday fresh and unexpected.
My breathing slows, and I get lost in space.
I think I'll stay here a while.
20" x 22" x 1.5" oil on canvas $1340 sold
A Cup of Summer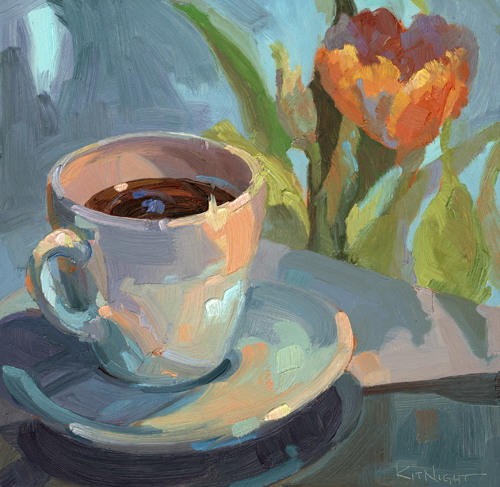 August 26, 2020
Wishing you a gentle day, and some sunshine in your cup.
8" x 8" oil on panel $340 sold
Soaring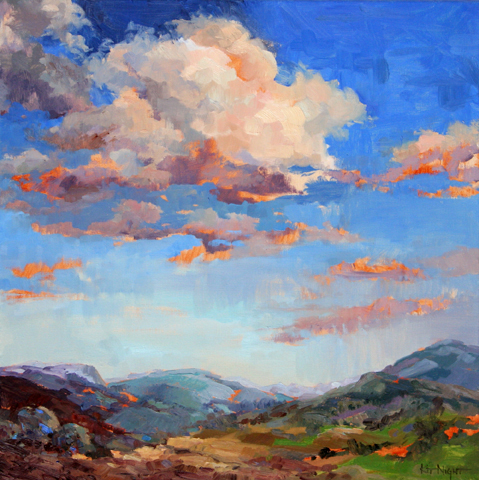 August 19, 2020
August in the Sierra brings warm days, high billowy clouds, and afternoon thunderstorms.
I can't help but look up and be transported. It feels good to get a bit of lift and ride it.
Soon the rain will wash the sky and me. I can smell it coming.
I can't wait.
20" x 20" x 1.5" oil on canvas $1340 Art in the Morning special
Serendipity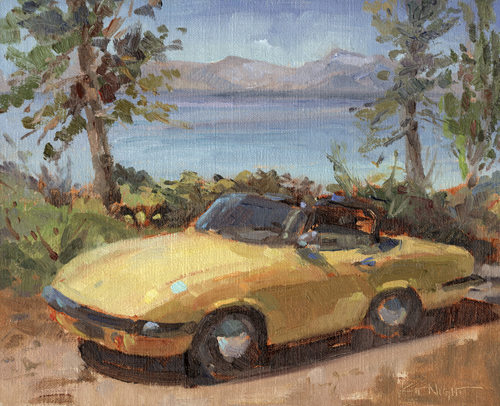 August 12, 2020
Serendipity, an act of kindness, and a whole new world opened up.
8" x 10" oil on linen panel sold
She's So Fly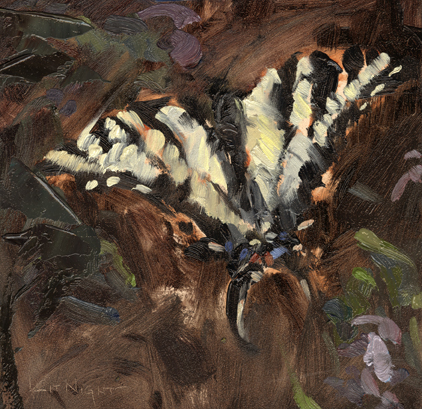 August 5, 2020
Wearing her version of a top hat and tails, she brings a touch of her pale swallowtail magic to alight leaf and petal.
Then, on a breeze, she dances away.
6" x 6" oil on panel $195 sold
Jonquil Morning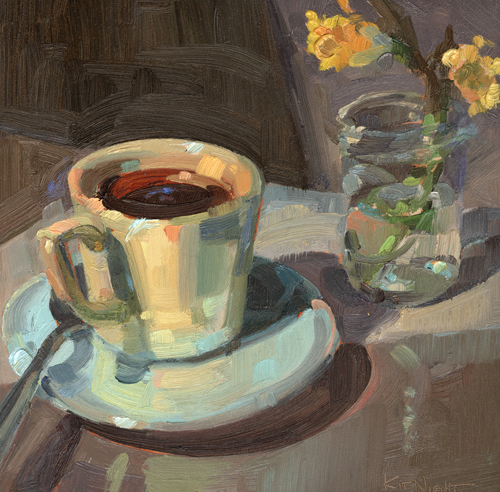 July 29, 2020
A sunny face to greet the day.
8" x 8" oil on panel $310 sold
Magic Garden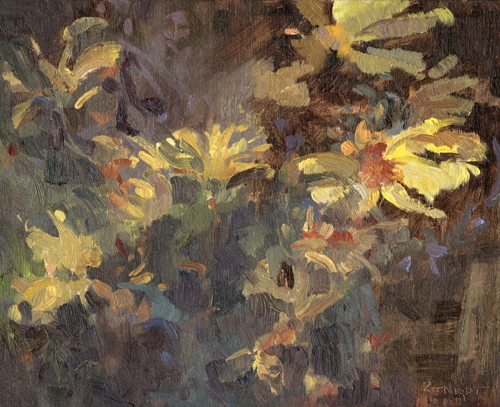 July 22, 2020
I love the mystery and surprise in the treasures of a garden. The moist verdant smell that comes at dusk, the surprise and reveal between light and shadow, the birds that sing within, and the bug world that tills the soil.
It's a good time to walk into a garden, big or small, wherever you find it.
8" x 10" oil on linen panel $380 Art in the Morning special
July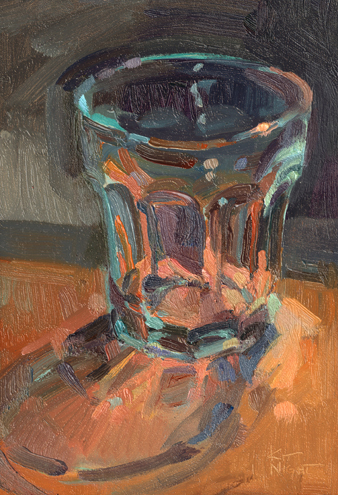 July 15, 2020
Wedges of light glint off edges of glass, cast in the colors of July temperatures.
It awaits the chilled harvest from the garden... savory celery, tomato, cucumber, or sweet strawberry, raspberry, orange,
Fresh-squeezed or with a fork... a refreshing & colorful start to your day.
5" x 7" oil on linen panel $230 sold
Be Calmed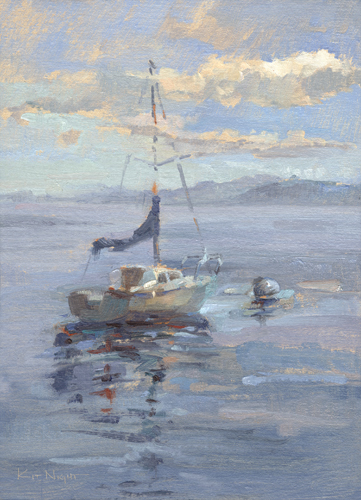 July 8, 2020
The universal voyage.
We point to our future, make our best guess, and chart a course. Avoiding the rocks, we share the wind along the way. And celebrate a safe landing in our now-bigger world.
This is where Travis McGee puts Peggy Lee on the turntable and serves you Boodles and friendship.
9" x 12" oil on linen panel $430 sold
Bella Poppies in the Field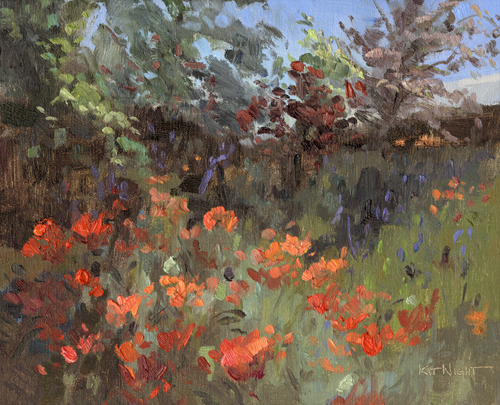 July 1, 2020
Other paintings have a woman in a wide hat and long billowing dress come 'round the corner right about now.
... I'm thinking a much-used tractor waits just beyond our view.
Let's go paint it.
8" x 10" oil on linen panel $370 sold
Garden sketch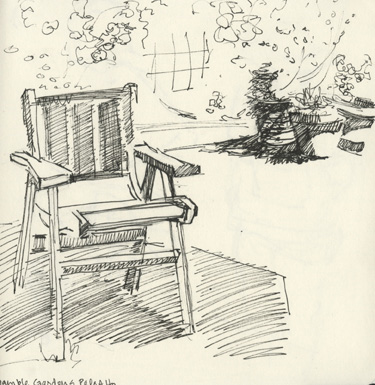 June 24, 2020
A garden. A chair. Some silence.
A chance to think more, talk less, and rest.
5.5 x 5.5 sketchbook nfs
Sunny '56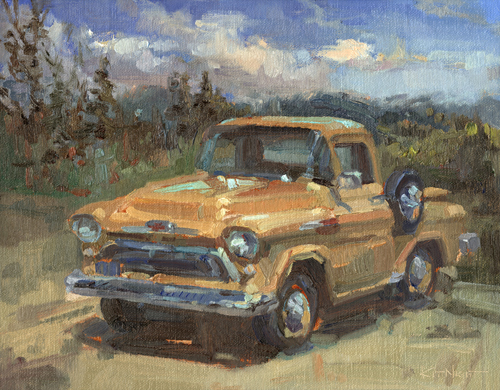 June 17, 2020
It's a perfect day for a drive.
8" x 10" oil on linen panel $420 sold
Candlelight
June 10, 2020
Memory.
Respect.
Kindness.
6" x 6" oil on panel $230 sold
Looking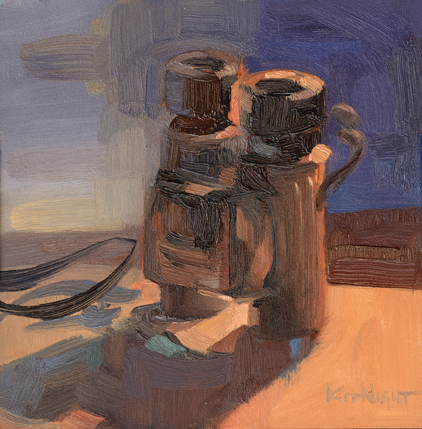 June 3, 2020
I love doing shows and their invitation to others to enjoy looking. With art, there is always a ticket to step outside oneself and be transported - through painting or music, theater or dance or writing.
We get so few opportunies in life to be transported. Any story or painting or music means different things to different people. That's what makes it special.
Isn't it wonderful to just look. Don't worry about the title or where it was painted. Just go along for the ride and enjoy where it takes you.
6" x 6" oil on panel $230 Art in the Morning special
Departure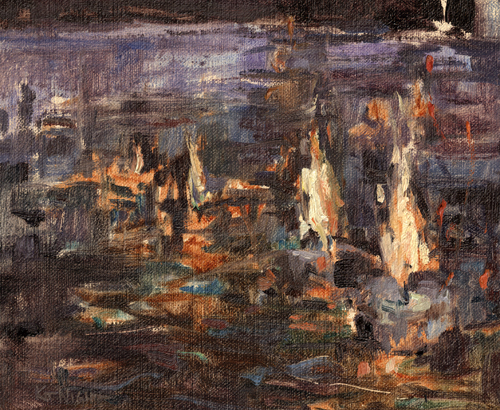 May 27, 2020
There is a little story behind this painting. But that's my story. I'd like you to have your story - whatever this painting might evoke for you.
Perhaps what it conjurs will change with the day or your frame of mind.
6" x 8" oil on linen panel $240 Art in the Morning special
Riding High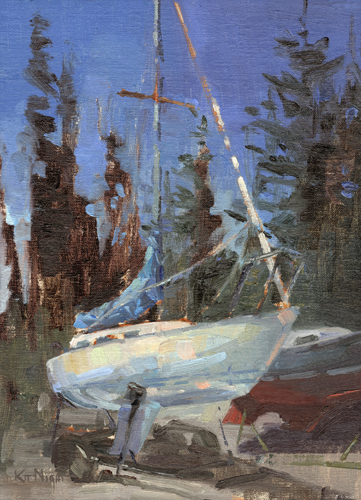 May 20, 2020
Jump on the toe-tappin,finger-snappin' cruise with Ella & Duke at the Cote D'Azur. Oscar Peterson said it would be his choice for a piece of music to put in a time capsule. I was listening to it while I painted this.
If at first it's just too happy for you, hang in there. Soon you'll be boppin' your head and setting down your tools to move.
Jazz is a frame of mind as well as a music. Let's dance.
9" x 12" oil on linen panel $465 Art in the Morning special
Juicy, Juicy, and a Bowl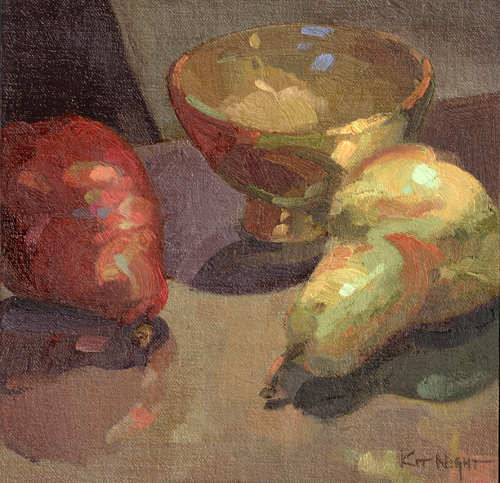 May 13, 2020
Classic, robust, and colorful...
Three major building blocks.
8" x 8" oil on panel $320 Art in the Morning special
Sunlight Splash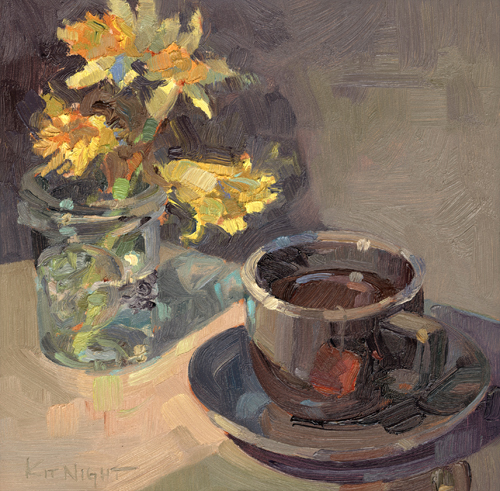 May 6, 2020
Do the flowers bring the sun?
Or, does the sun bring the flowers.
Either way, here's wishing you a sunny day.
8" x 8" oil on panel $340 sold
Sunshine on my Shoulder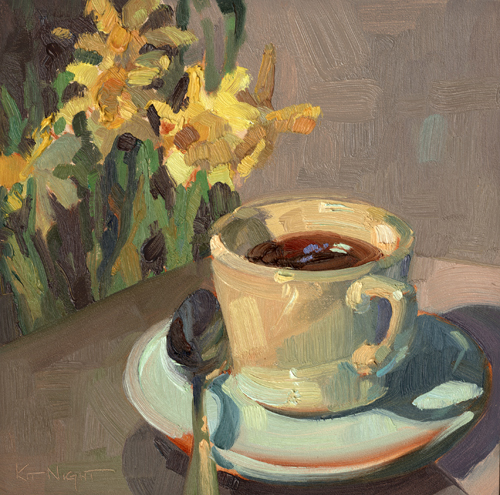 April 29, 2020
I hope it makes you happy, too.
8" x 8" oil on panel $320 sold
Back Bay Repose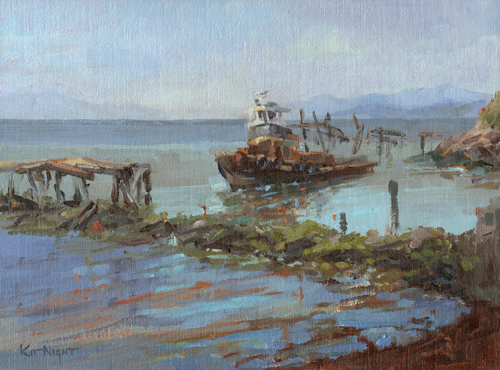 April 22, 2020
Solitude.
Stillness.
Calm waters.
9" x 12" oil on linen panel $395 Art in the Morning special
Bodacious Tomatoes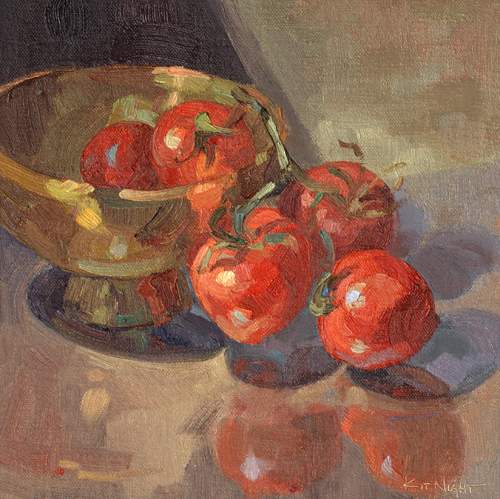 April 15, 2020
Most things excel under the focused eye of expectation and appreciation.
Sitting up straight and glowing with promise, these tomatoes commanded the spotlight, tumbling forward to steal the scene.
So glad to be part of the audience!
8" x 8" oil on panel $320 sold
Bowl & Pear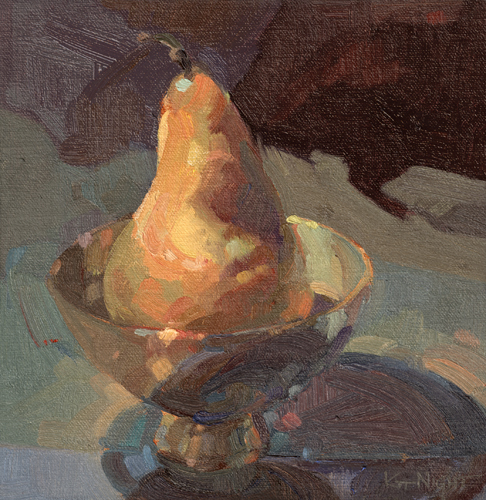 April 8, 2020
'Twas a dark and stormy night...
Really!
This week brought lots more winter to the Sierra. It arrived as big fat flakes filling the sky with polka dots of snowy cheer.
It continued to land thick on pine and fir, cloaking the world in quiet.
As dusk drew near, the pearl sky moved close to the trees that stood like dames and sentries in draping cloaks of white.
Inside, the cabin was lit by this golden pear, glowing like a candle, warming the approaching night.
8" x 8" oil on panel $320 Art in the Morning special
Flow Like a River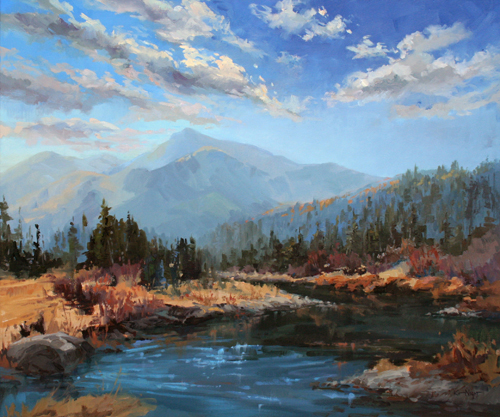 April 1, 2020
There is perhaps no better time than now for a big open window into nature, its beauty, its majesty.
Nature has a singular ability to calm and heal us. To lead us where we need to go.
And let us stay as long as we like.
30" x 36" x 1.5" oil on canvas $3860 Art in the Morning special
Virtually Social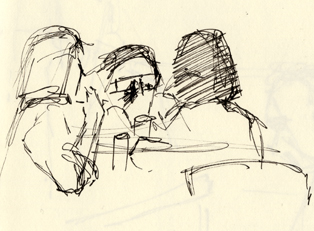 March 25, 2020
It's a great time to spend in the good company of our own thoughts,
To visit with our old friends in those classic books on our shelf,
To get to know the neighborhood of birds in our back yard,
And to do the sketching, painting, writing, or brain surgery we've said we wanted to do if only we had the time.
5.5 x 5.5 sketchbook nfs
Springtime Comes to the Valley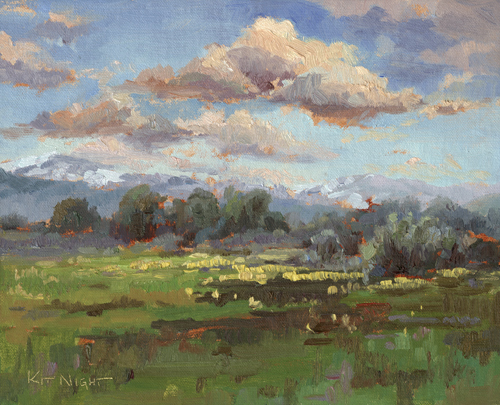 March 18, 2020
Signs of spring in some parts of the land...
Barn swallows doing Blue Angel aerobatics as they dip and dive for bits of nest-building mud,
Melodies issue forth from treetop and bush, doing their best to imitate Ethel Merman's enthusiasm,
Deer scamper and skitter in silly play, then blast off for a graceful run at top speed,
One can hear the glittering notes of spontaneous spring melt,
And sunny yellow faces of cheer turn their gaze skyward as they dot the land in celebration.
8" x 10" oil on linen panel $370 sold
Citizen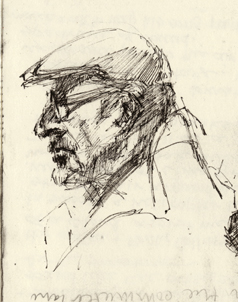 March 11, 2020
How to stand out in a crowd?
Be the only one not looking at your phone.
Sketching people in public places used to be a great way to sharpen one's eye and skills. People used to engage in conversation, read the newspaper, crack open a book, or write a letter.
Now, it's pretty hard to find interesting subjects.
Makes me wonder about future images to be found in art history books. Yikes.
5.5 x 5.5 sketchbook nfs
Day Light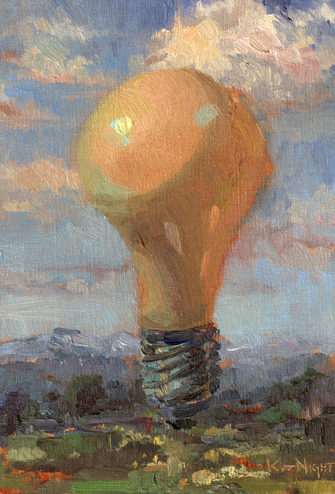 March 4, 2020
For the seasonally affected...
Whether you're in the land of Harry Potter,
Or the land of eternal midnight,
Or it's just a frame of mind...
What's the line?
We'll leave the light on for you.
5" x 7" oil on linen panel $260 Art in the Morning special
Sparkling Winter River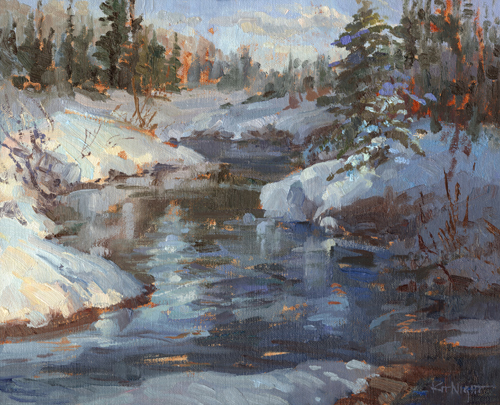 February 26, 2020
Winter, my favorite season.
Rivers, my favorite stream of consciousness.
Sunlight, my favorite mood elevator.
Quiet, my favorite backdrop to the birds.
10" x 12" oil on linen panel $465 sold
Firelight Glow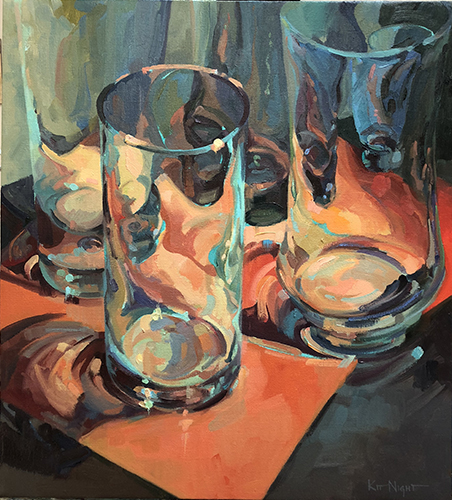 February 19, 2020
I love the tilt-a-world nature of glass, the way I can amp it up or tone it down. Pushing things to recede or come forward in a razzle-dazzle game of space and light is one of my favorite sports.
I love the surprise and the risk as I attempt to hold on as we come fast around the curve.
20" x 22" x 1.5" oil on canvas $1340 sold
Cumulo-luminous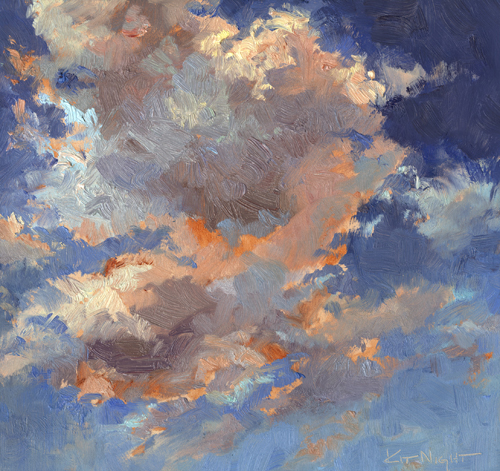 February 12, 2020
Lost in the clouds is a great place to be.... Full of ever-changing beauty and light, expansion and disappearance and re-assemblage on the magic carpet of air currents.
Water made visible in gas and ice and pressure, who knew it would be such a rich and fanciful medium for transport of one's thoughts and dreams and romances.
Like lightening, you can't put it in a jar. But you can enjoy the ride.
8" x 8" oil on panel $370 sold
Oak Tree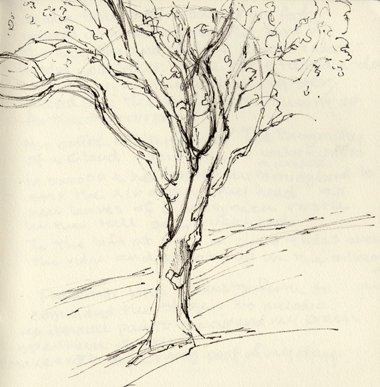 February 5, 2020
The world would benefit from more time spent contemplating trees.
5.5 x 5.5 sketchbook nfs
Sunrise Studio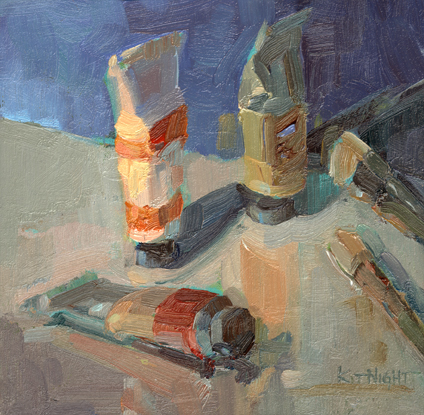 January 29, 2020
Painting brings all kinds of "weather."
The process of finding new ways to see and tell the familiar, the joy and challenge of messing with space, the serendipitous detours of invention and experimentation can lead to high winds and white outs and the occasional crossing on a moonless night.
The trick is to stay with the adventure until it resolves to a peach-colored sunrise.
6" x 6" oil on panel $230 Art in the Morning special
Quiet Now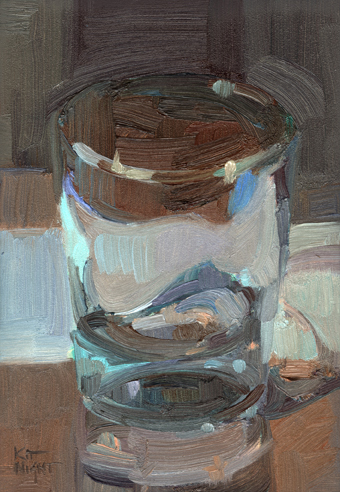 January 22, 2020
Queue Tommy Flanagan for rich mahogany tones.
Or Oscar Peterson if you want a bit of brightwork with your oceanic rumblings.
Let the music carry you to the quiet.
5" x 7" oil on panel Not Available
Sunlight, Snowlight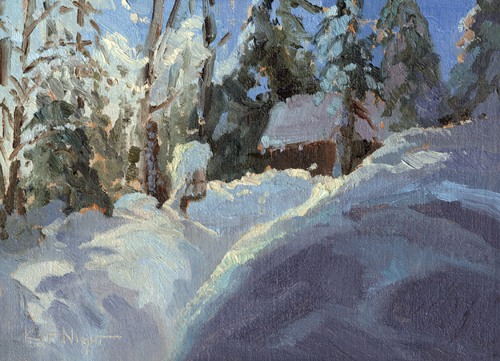 January 15, 2020
Radiant light, quiet world.
Water in the bank.
A medium for play.
An embossed record of footprints and hatchmarks to tell us what the critters are up to.
A reflecting blanket for the full moon to bounce its light against.
6" x 8" oil on linen panel nfs
Lamp Carnation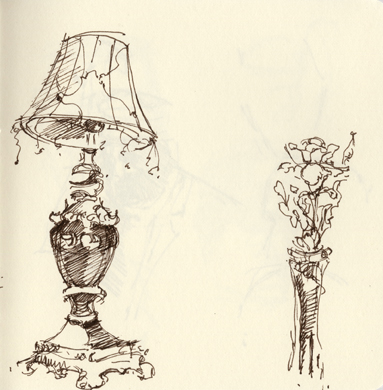 January 8, 2020
Life on the road means I often don't know just where I am when I awake.
It also means I get to draw stuff I don't normally see!
When I look back in my sketch, I know exactly where I was.
5.5 x 5.5 sketchbook nfs
Old Fashion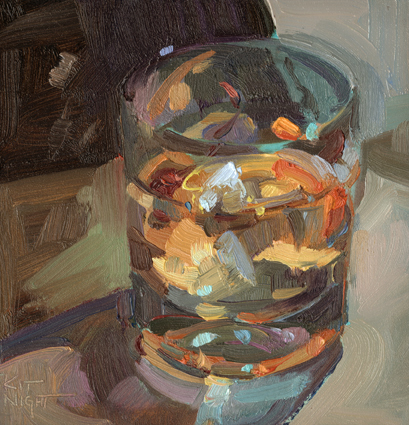 January 1, 2020
Wishing you an old fashioned new year...
A year of community and conversations over the fence, cats floating to pies on the window sill like in cartoons of old, finding wonder watching fish swim in a deep emerald pond, looking up to see a hawk soar against a backlit cloud overhead, reading aloud to a friend your favorite passage in a book.
Here's to quiet moments of creating, and savoring the good.
6" x 6" oil on panel sold
Previous - Art in the Morning 2019 Next Art in the Morning 2021