Glass Harmonies
New Oil Painting Workshops:
May, September, October, February. And, Pein Air in Italy next May, 2016: Visit my Workshops Page for more info.
Fun News!
My Bocce Ball painting was recently chosen for the annual Bocce Ball Tournament fundraiser for the non-profit, Warm Wishes, an organization that provides warm clothing & backpacks to the homeless in the Bay Area of Northern California.
They selected my art after Googling images of Bocce Ball for their tournament art! It is a great cause. As a result, I offered to donate an embellished framed limited edition giclee on canvas for their silent auction at the September 26th event. A great success! www.warmwishes.org, AA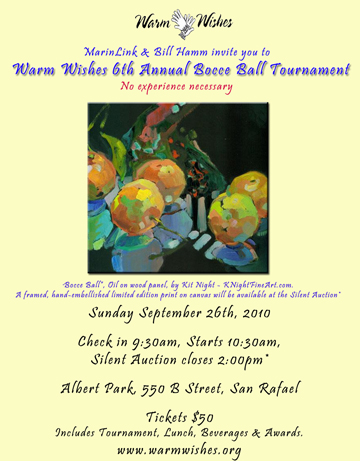 More News!
Richeson 75: International Small Works Competition, Racine, WI Catalog available.
The 33rd Harper College National Juried Art Exhibition: Small Works, Palatine, IL. Catalog available.
"Congratulations! Your work is among 23 pieces that were selected from the 1,009 images submitted by 348 artists."
7th Biennial National Art Exhibition, Visual Arts Center, Punta Gorda, FL.
"Congratulations! Your work has been selected by our judge, Peter Trippi, for inclusion in the Visual Arts Centerís National Art Exhibition 2010, Punta Gorda, FL.
There was a tremendous response to the call for artists, resulting in 720 entries from over 31 states and 3 different countries, of which 138 works of art were chosen.
Juror: Peter Trippi, editor of bimonthly magazine, Fine Art Connoisseur after serving as director of New York's Dahesh Museum of Art."
Art in the Morning - A Lovely Gift Book for the Holidays In its fifth year, Art in the Morning is my once-weekly email of a new painting hot off my easel. Now available as a gift book. Check out the reviews at Amazon.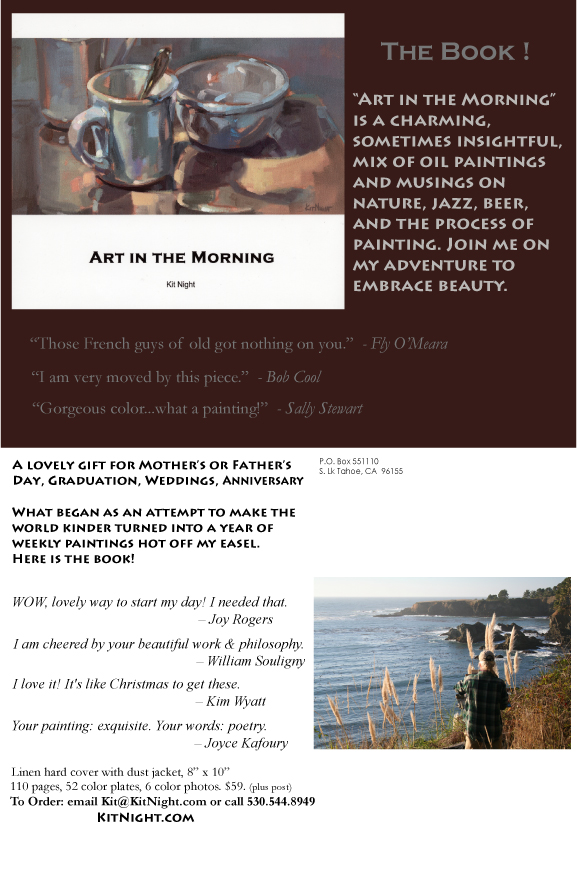 The Book! One of the results of my "Art in the Morning," is this exciting book of radiant color - created in response to several requests to make a book of my first year of weekly paintings and musings. Here it is! Additionally, it includes fun anecdotes and thoughts from A.M. readers about each painting.
Linen Hardcover with dust jacket, 8" x 10"
110 pages, 52 color plates, 6 color photos.
Fifty-nine dollars (plus post)

To Order: just send me an email: Kit@KitNight.com Check out the reviews at Amazon!

"Art in the Morning" Sign up! You will receive my weekly email with a new painting hot off my easel each Wednesday..
For some painters, it's about line or form. For me it's all about radiant color and light and space. And, embracing beauty.I think if wehave more beauty, and nature, in our lives, we bring our better selves to greet the day.
Art in the Morning seems to help me, and others, do that. My thanks to those who are a part of it. Jump on board if you like.
My work is in oil.
I make regular updates. So, please check back. Thank you for your interest and for supporting the arts. As always, I'm just an email away if you have any questions. email kit@kitnight.com
To visit more of my work on my other website: KNightFineArt.com. Some of those pieces are still available. You can always inquire for availability and pricing. I'm low pressure. No pressure.
Thanks for visiting!
Kit Night
Bringing Art to the Kids
The past two years Iíve volunteered to bring art projects to one of our local elementary schools. Joy Rogers, our BATS (Bring Art to Schools) program director, was looking for art projects beyond their regular program format. I have zero time and thought, "Say, what?!" But it is a good cause. There is a reason weíve made art since the beginning. We need it. Art is one of the things that separates us from other animals. I decided to just say yes, knowing that then I would find the time, even if it means working later somewhere else.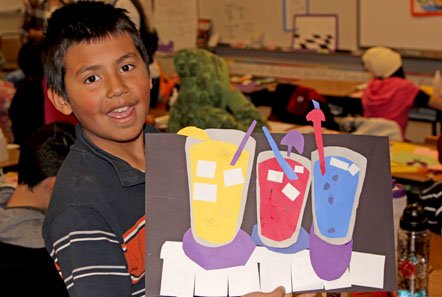 I wanted the projects to be about art. But I also wanted to incorporate another care of mine - kids and families making healthier food choices for a long-term higher quality of life. I came up with "Eating the Rainbow," a cut-paper design concept full of vivid color and the illusion of space with discussion of healthy alternatives to sugar-spike, highly processed foods. Fortuitously, Michelle Obama is on the same bandwagon. Fantastic!