Zen Winter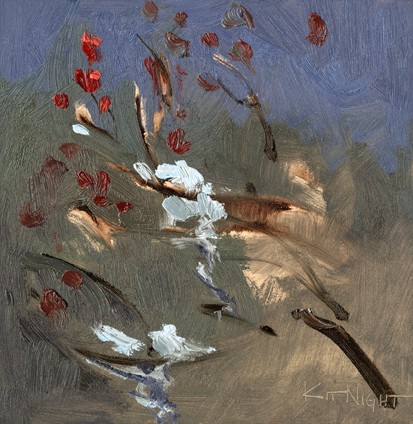 December 26, 2018
Snowfall winter moon
Rabbit, mouse, coyote, owl
Morning tells their tale
6" x 6" oil on panel sold
Winter Comes to Tea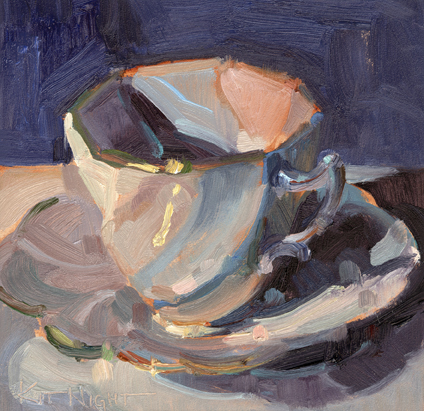 December 19, 2018
Winter stole in one frosty night and has settled down for a cozy spell. I love a woolly scarf around my neck and the fresh scent of snow in the air.
Whether sharing your cup with your favorite elf, or eight tiny reindeer, be sure to spill in some blue moonlight for mystery, and a dollop of sunshine to warm the toes.
6" x 6" oil on panel sold
Bach 'n the Hood 2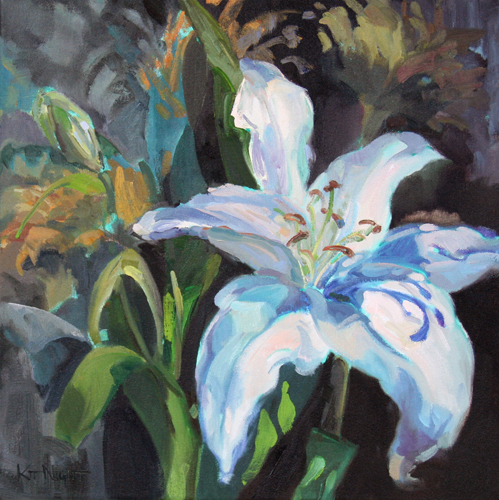 December 12, 2018
Bach is known for his brilliance, of course. And for creating calm. I'm not sure what that's about, but it sure works on me.
After spending several weeks in the studio disappearing into Hilary Hahn playing Bach's partitas and sonatas, I've been spending consecutive weeks painting to Yo Yo Ma's Bach's suites for solo cello. Ma has made three solo recordings of these works over some decades. Bach speaks to us with beauty and humanity at every stage of life.
I love how Yo Yo tells of beginning his learning of this music, and its feeling, at the age of four. Learning one measure each day. Rather like learning to paint. Rather like learning to live.
16" x 16" x 1.5" oil on canvas $860 Art in the Morning special
Quiet Autumn River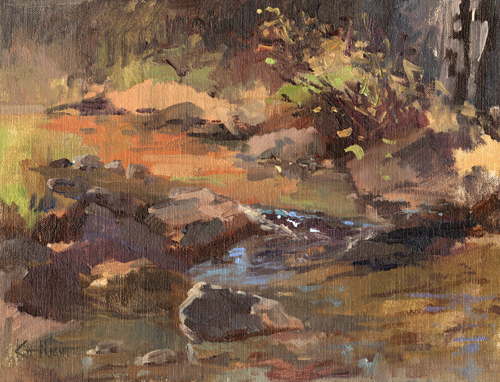 December 5, 2018
Change of season brings a change of temperature and a change of color temperature, too.
Sometimes it's a comfort to walk into the warm room of the last season. Like lighting a candle, it brings a glow. In the golden light, let the quiet settle over you for a bit.
9" x 12" oil on linen panel sold
Bach 'n the Hood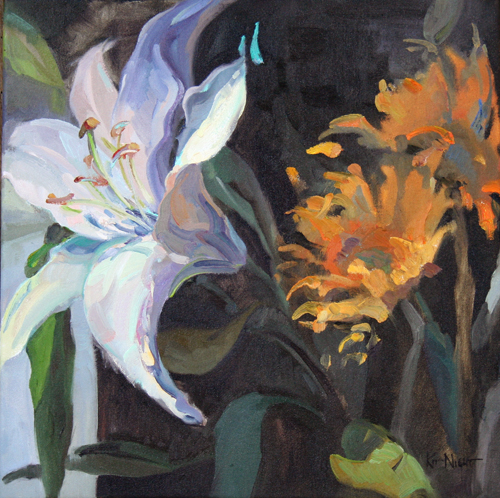 November 28, 2018
After a recent production of Robin Hood, I couldn't help but appreciate the power of community theater.
A stage full of kids had spent a week throwing themselves into auditions, learning their lines and choreography, striving to inhabit the role of a character who, just the week before, was a stranger to them. They needed to feel and animate that character so that we, the audience, would believe and invest in the outcome. Talk about a fast track to empathy!
Theater forces one to imagine another life, in ill-fitting shoes, walking a different path.
Back at the studio... I painted to the rich, dark tones of Yo-Yo Ma playing Bach. The room was filled with another kind of empathy. Beautiful.
16" x 16" x 1.5" oil on canvas $860 Art in the Morning special
Autumn Reflection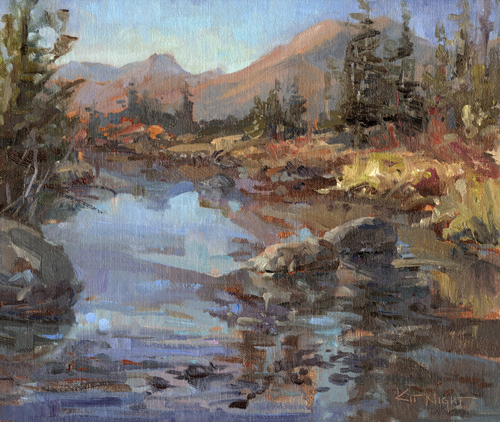 November 21, 2018
Nature's mirror. A good place for reflecting.
10" x 12" oil on panel $460 Art in the Morning special
Deep Turn
November 14, 2018
The ridiculous number of layers I wore were worth it to be in a world of no noise. Only sound. As in the sound of ice melting, birds dipping, grass in the wind, my brush on the canvas, a hawk calling as it circled overhead.
As the day warmed the trout rose and jumped. The dippers swam. A coyote went by like a blade of grass.
At the end of the day I had a pile of clothes next to my easel, some work in my paint box, and the calm of having spent time without voice in a place of wonder.
6" x 8" oil on linen panel sold
Backlit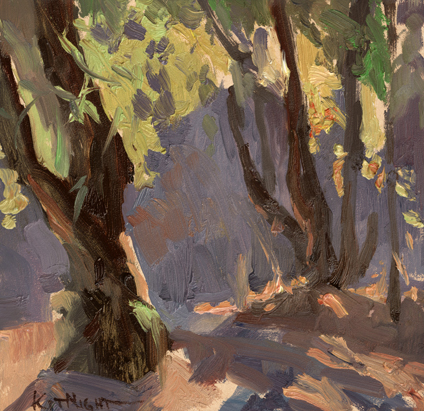 November 7, 2018
With my paint gear on my back I'm deep in a canyon by the river scouting for a scene to paint. I turn my head and, presto! There is the subject. Light. In all it's hot-edged brilliance.
Its glow highlights the season and transforms the familiar into something that stops me in my tracks.
6" x 6" oil on panel sold
The Cloisters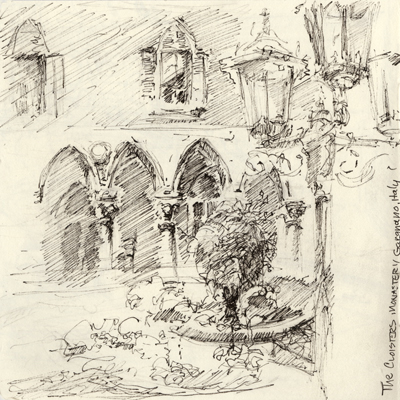 Octoberber 31, 2018
A quiet moment of sketching in the cloisters at my Lake Garda workshop.
Creating is a process of learning to be comfortable with being uncomfortable, with not knowingthe answer but embracing discovery. It is not always easy.
Being outside our comfort zone can lead to new discoveries. And the occasional cloister to contemplate them in.
5.5 x 5.5 sketchbook nfs
Shadow River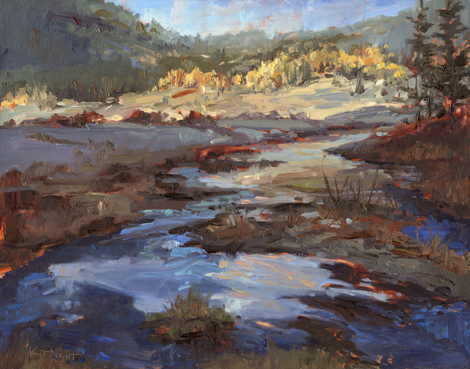 October 24, 2018
What a dramatic way to discover the power of lighting! Big swaths of swashbuckling orange and gold race over the land and through the woods.
Along comes a dark cloud and you suddenly have drama on the high seas! (Something the theater lighting crew knew all along.)
I am rapt. Can't wait to see what happens in the next act!
11" x 14" oil on panel $660 Art in the Morning special
Clear and Present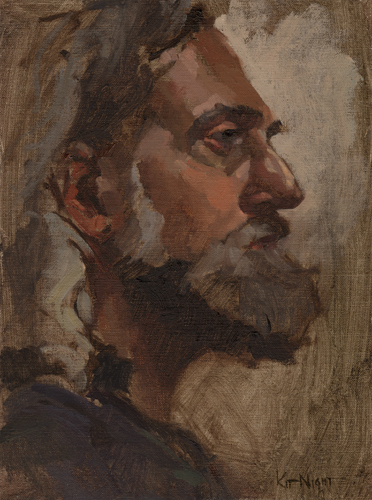 October 17, 2018
There is so much to see in a face, one of the great landscapes that largely goes unseen in the real sense. Dark and light, curve and crevice, tone, sheen, shadow.
I crave the process of discovery and correction with the paint. The bony underlayer, the warm and cool, the sometimes reveal of culture. I love that it takes all of my brain.
9" x 12" oil on linen panel
Clear: Sideways Light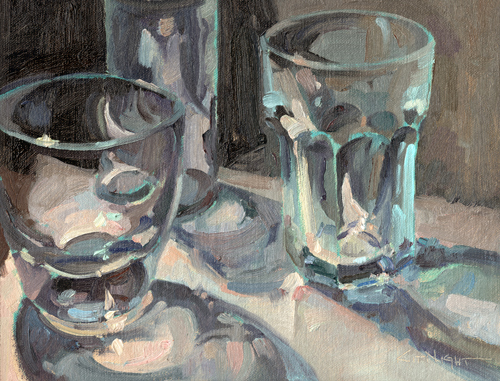 October 10, 2018
Glass is my vehicle for space and light. I love the way that splash of sideways light draws you in and back. Like a flashlight beam, it lights the way as it glints and plays, leading us around the next curve and through the spill of shadow.
8" x 10" oil on linen panel sold
Flamenco Sketches V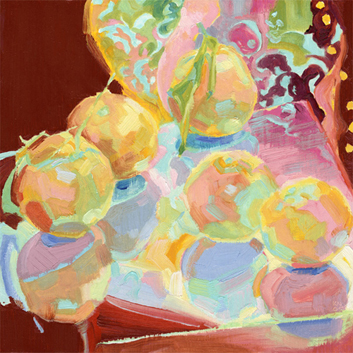 October 3, 2018
I've learned a lot about color and light, density and open space, and the melody of pattern, from jazz.
I did a suite of paintings based on Coltrane's solo in Flamenco Sketches with Miles Davis. It is full of tenderness and ebullience, caress and celebration, "singing" and contemplation.
Every time I hear it, it sounds like pure love to me.
9" x 9" oil on wood panel $370 Art in the Morning special
Sunlit Portal - Alcazar
September 26, 2018
Architectural arches are like fountains for me. Portals to another place. Softening the edges and rounding the corners, they feel like a doorway and an invitation.
10" x 12" oil on linen panel sold
A Kiss of Sunlight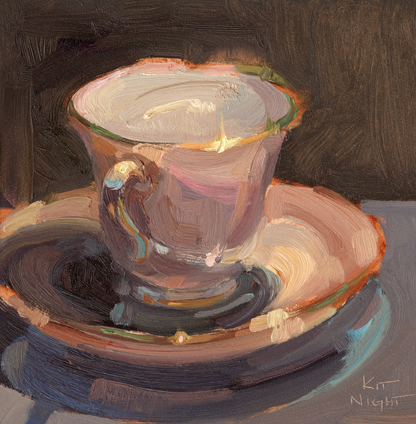 September 19, 2018
We all shine brighter when kissed by sunlight.
The literal and the metaphorical kind.
6" x 6" oil on panel sold
Sid's Ahead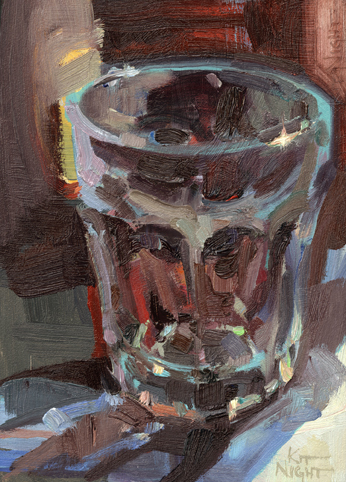 September 12, 2018
The title may not refer what you think. I named this after the Miles Davis tune I was listening to while painting it. (One of my many favorite Davis recordings.)
Sid's Ahead, on Milestones, features Miles on trumpet and piano! Swingin' and surprising. Good features in any art form.
And yeah, it's cool, baby.
5" x 7" oil on panel $195 Art in the Morning special
Lamplight - Lake Garda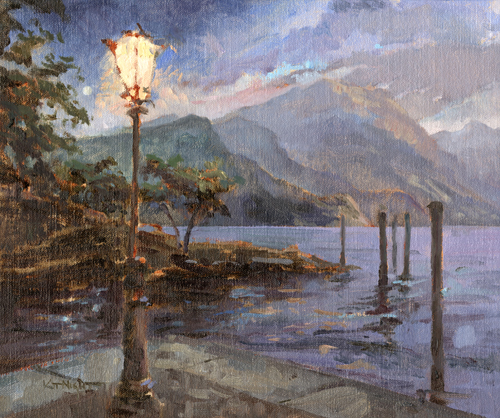 September 5, 2018
The setting of the sun, and the rising of the moon, made everything glow in the magical misty alpine atmosphere. Massive vertical rock walls rose straight up out of the water on the northern tip of the lake, "foothills" to the Alps.
I felt small in nature's grandeur. That's good.
More nature. Less man.
10" x 12" oil on linen panel sold
Reaching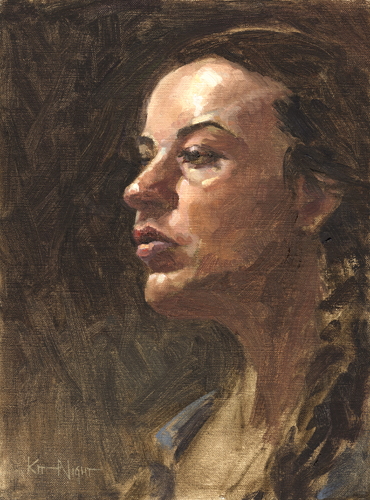 August 29, 2018
Her countenance indicates to me a thoughtful reaching, a leaning toward something in her mind and attitude. She seems self-contained even as she seems inclusive.
Each time she resumed her pose she would pause, close her eyes, and exhale, letting everything go.
We could all use more of that - to pause, and lean toward something.
9" x 12" oil on linen panel $290 Art in the Morning special
Cool Big Fountain Peace - Alhambra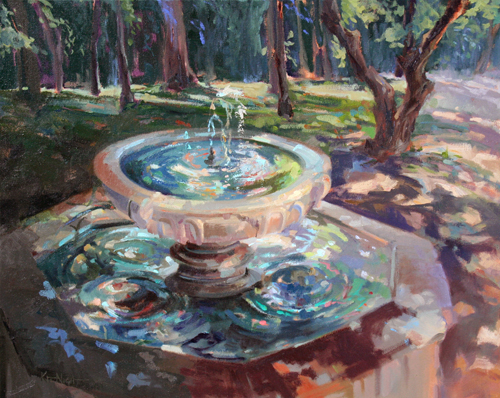 August 22, 2018
Walk in to cool dappled shade and light. The surround of music from water aloft for a moment, then landing in a bubbling, burbling pool. Sparkles dash about on the water in shadowy sunlight. A welcome respite in a silent space. That's what I wanted this piece to say.
I revisited this fountain painting to increase its "aboutness." It was beautiful in a place of green. But I wanted it to say something more specific - about the fountain, the water, the light, the quiet.
By making the piece darker, it glows more. By simplifying, it is more focused. By adding more moving water, we hear the silence.
Come, let's sit in the quiet.
24" x 30" x 1.5" oil on canvas $1370 Art in the Morning special
Kimono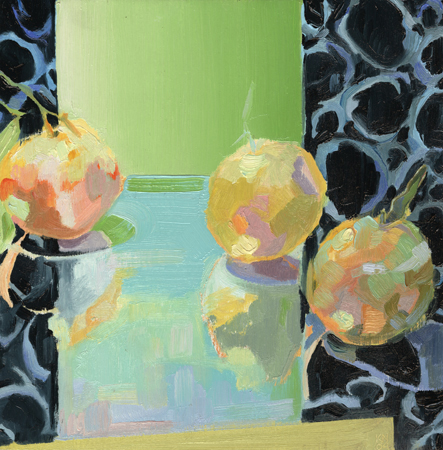 August 15, 2018
I love this jazzy bit of abstraction and floating deep space. I love what I have learned from the art of Japanese woodblock prints. Their innovative use of space. Their glowing graduated color.
The sense of stillness even as it shimmers invites us to linger.
9" x 9" oil on wood panel $370 Art in the Morning special
Green Thumb Salad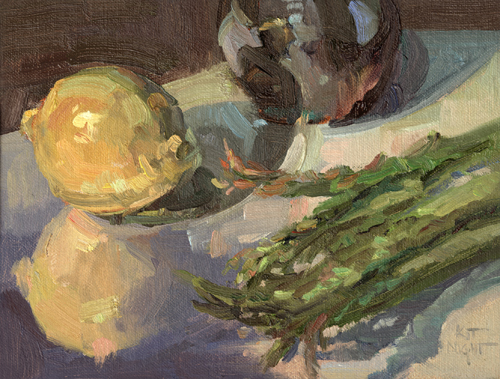 August 8, 2018
Zesty and refreshing, full of scintillating color - how could we resist the benefits of vitamin C hydration, folate, and lots of the super-food nutrients when they come dressed in colors of spring and sunlight.
Fun fact, I learned asparagus is also called sparrow grass. I like the sound of that.
Who knew painting was a good source for your major food groups?! We feast the eye. Then, we feast.
6" x 8" oil on linen panel sold
Big Sky, River Valley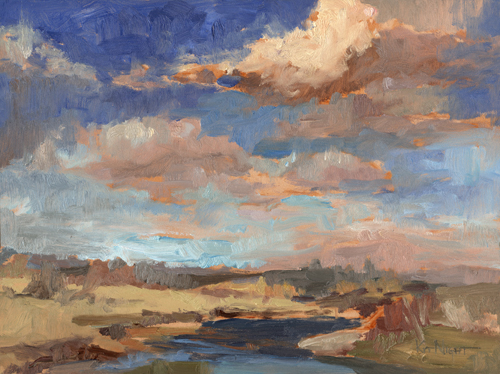 August 1, 2018
Today I will be that river and roam over the land, expanding across the valley, watering the grasses and the birds that stop for a drink. I will harbor the croaking frog and the dragon flies that dance upon my surface.
Now and again I will turn my face upward, to brush the cheek of downy clouds that shade me.
Come nightfall I will rest under lunar light and thank the stars for their sparkling invitation to a larger world.
9" x 12" oil on panel sold
Churchill Came to Tea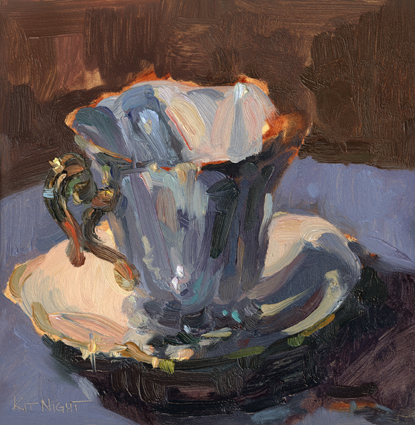 July 25, 2018
We talked painting and brushstroke, watercolor and oil, light and contrast... the value of friends and allies, the strength of pragmatism and diplomacy, how the yoke of editing can be a clarifying pressure.
And, how a tea cup can be a fine snifter in a pinch.
6" x 6" oil on panel sold
Dream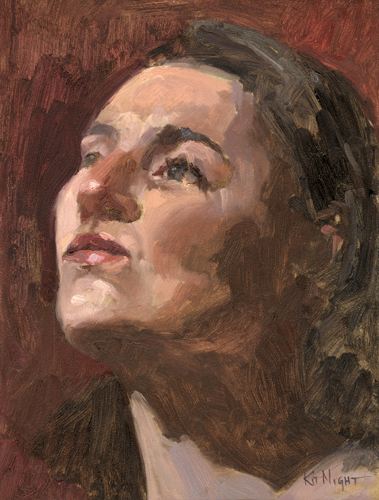 July 18, 2018
Built on dreams...Whether it's community theater or a play on Broadway, driving past a family farm on a country road or walking into a small business, ordering from Amazon or picking up an i-Phone, I am struck by the fact that we are a country started by, and made up of, dreams - and the hard work it takes to make them a reality.
Dream on baby, and dream a little dream for me.
9" x 12" oil on panel $290 Art in the Morning special
Take Five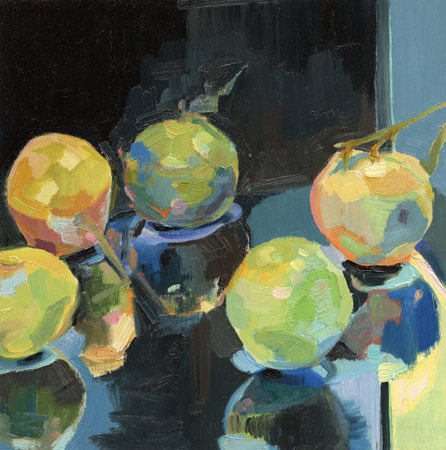 July 11, 2018
Seeing the familiar in unexpected ways. I love that. That's what the arts do.
Often part of the process is the question, how best to reflect things back at us in a new light - literally or metaphorically.
How best to make things pop and sizzle with surprise rather than fulfilling expectation. Often we can be pushed a bit off center so we pause and say, "Hey wait a minute. What?!"
The unfamiliar can be a good thing.
Plus, it's pretty dang fun to embrace the unexpected.
9" x 9" oil on wood panel sold
Alpine Spring Stream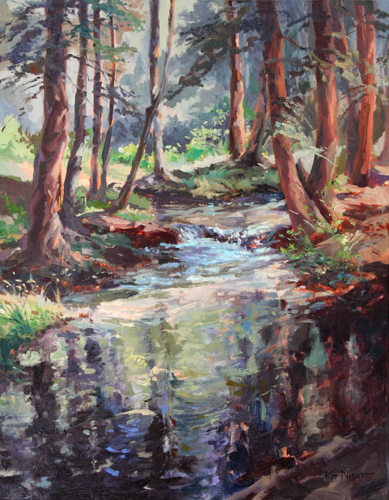 July 4, 2018
The best way I know to celebrate being independent and alive... be kind, be present, be in nature, be the music.
22" x 28" x 1.5" oil on canvas sold
A Night in Tunisia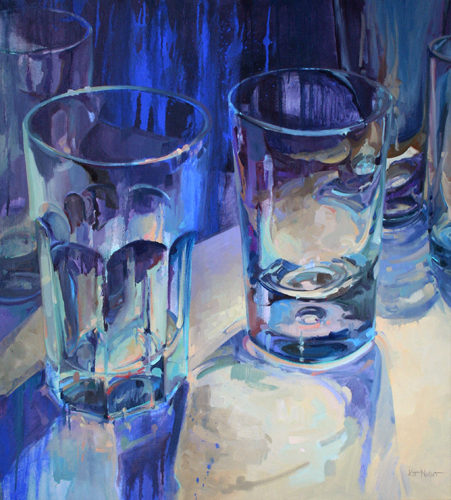 June 27 , 2018
We spent a fantastic evening at the San Francisco Jazz Center listening and learning about the music and life of pianist and composer Mary Lou Williams. She was way out front for her time. Inspiring! Full of intelligence, feeling, and swing.
Tammy Hall on piano, and her group of highly-charged musicians (all women!) brought Williams' music to life with power and subtle nuance - scintillating.
I've always enjoyed the tension of pushing flat abstraction up against "realistic" deep space.
Like the musicians, I wanted to introduce "accident" that I could improvise off of. Soon I was pouring paint with a bit of intent. New challenges, new discoveries.
~ I named it after a Dizzie Gillespie composition. He was a good friend of Williams.
36" x 40" x 1.5" oil on canvas $3695 Art in the Morning special
Boats at Harbor, Lake Garda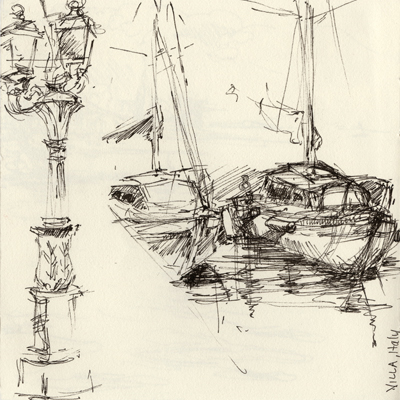 June 20 , 2018
Adventure awaits!
Buon Viaggio.
5.5 x 5.5 sketchbook nfs
Under Observation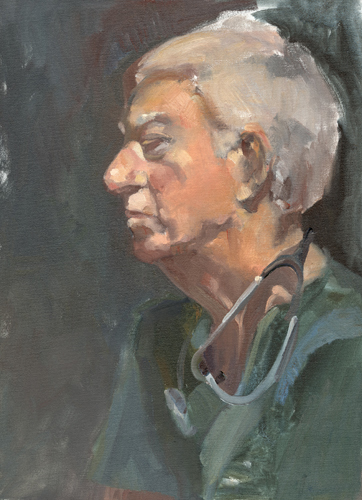 June 13 , 2018
Marcus Welby?
Father Knows Best?.
The Age of Wisdom?
11" x 14" oil on linen panel $290 Art in the Morning special
Radiant Storm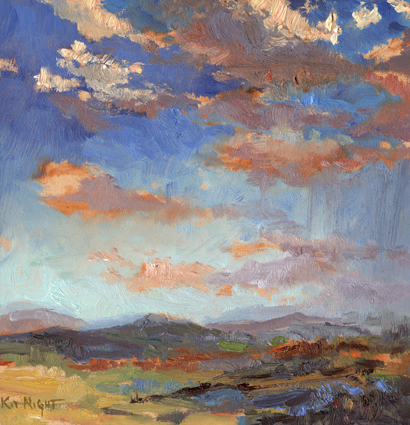 June 6 , 2018
Spring rain to wash the sky, water the wild flowers, and clean my brain.
Splish splash said the little bird.
6" x 6" oil on panel sold
Fruit Jar 4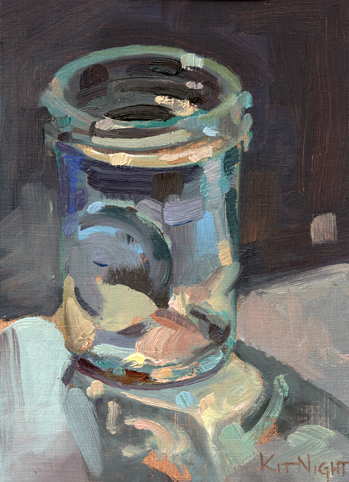 May 30 , 2018
Orchards of blossoming trees dash their billowy blooms of color about like so many Impressionist painters swinging a paintbrush. I see Monet, Manet, and Bonnard out there.
Today it is a glass to raise, filled with orange or cabernet. Tomorrow it is a jewelry box filled with gems from the field.
A toast to those who bring in the bounty.
5" x 7" oil on panel sold
Varenna Train Station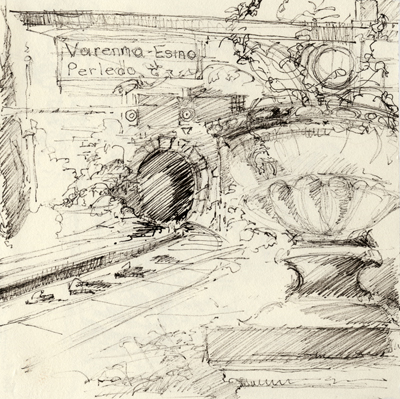 May 23 , 2018
What better way to wait for a train than to sketch its tunnel and the surroundings.
I am always surprised by how much more I experience about a place in the process of seeing to sketch. It's like observant research. Time slows way down.
Imagine how different we and the world might be if we all sketched what we saw, to send to others - instead of taking a picture of ourselves facing away from it.
Instead of facebook, it could be called Sketchbook. Hey! I like it!
5.5 x 5.5 sketchbook nfs
Blackbird / Young Man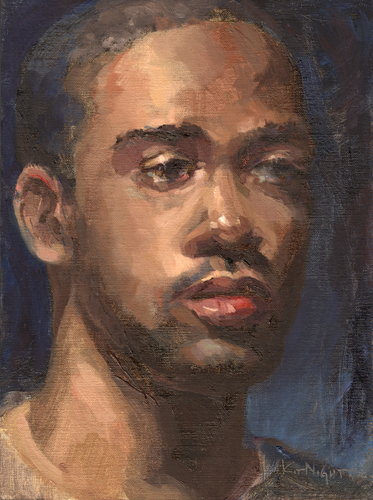 May 16 , 2018
As he designs his future, I hope it includes a benevolent empire.
A swingin' jazz soundtrack.
And random acts of poetry.
9" x 12" oil on linen panel $290 Art in the Morning special
Bobbing Bellas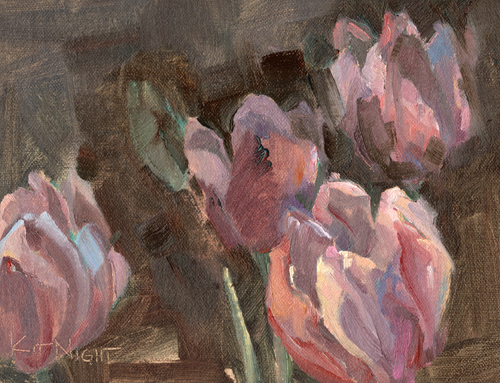 May 9 , 2018
The breeze that blows away winter's darkness sets their heads bobbing.
Like a kiss good morning, they turn toward us with the promise of pink lemonade, the bright melody of robin song, and the warm-honey smell of sunlight on skin.
With intermittent suprise snow storms, spring can be a state of mind.
Peace.
6" x 8" oil on linen panel sold
River Gold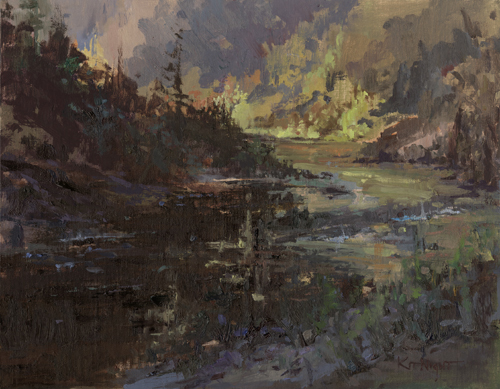 May 2, 2018
As the golden hour comes around the bend, the contrast of light and shadow heightens the fiery radiance of early fall. Cool darkness in the foreground brings a close intimacy between me and the land. The distant glow pulls us deep into the painting.
At times like these the light seems to move extra fast, telling of the speed the earth is turning. It reminds me to do my best to seize each day.
11" x 14"" oil on linen panel sold
Agua Nuevo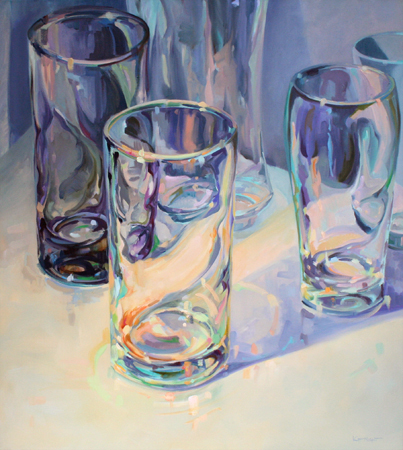 April 25 , 2018
Sunlight and water,
Movement and calm,
Contrast and brillance,
Alleys, and valleys, and scenic overlooks.
I love the way a painting can take you on a trip to a different space - in the quiet of your mind.
Happy travels.
36" x 40" x 1.5" oil on canvas sold
Autumn Slow Turn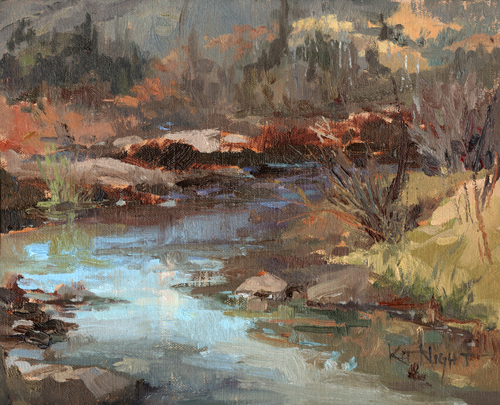 April 18 , 2018
The white of snowcapped mountains is yeilding to the blue of fast-moving streams. Until the green of spring appears in the Sierra, here is a chance to visit late autumn's glory of color.
I've never had a bad day painting in nature, just different weather. Rain or shine, song and silence, it all refreshes.
8" x 10" oil on panel sold
For Whom the Pen Barks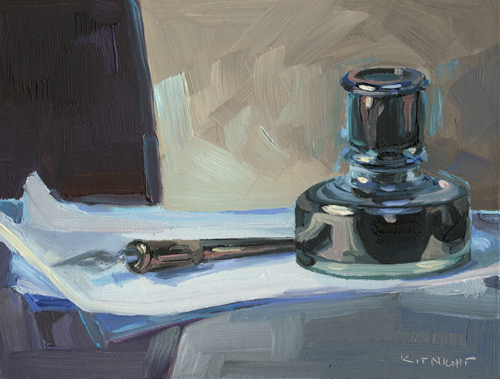 April 11 , 2018
Writers write.
Painters paint.
Here's a painting about writing. Like writers, painters try to tell a story, directing your eye through the piece with line and plane, light and shadow.
We strive to keep our side characters interesting, but in service to the story and in support of the main character. Strokes should always advance the plot.
Just as in writing, when in doubt, leave it out.
4.5" x 7" oil on panel sold
Anti-gravity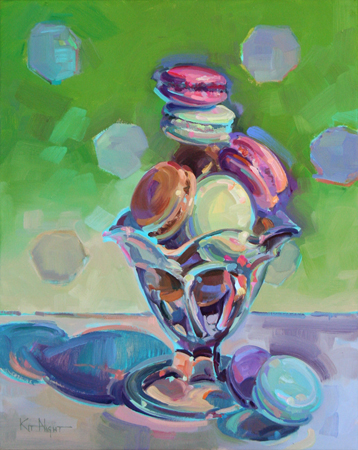 April 4 , 2018
Anti-gravity, in all its forms.
It's hard to take life too seriously when faced with such a colorful delight. Especially when it comes with a French accent.
16" x 20" x 1.5" oil on linen sold
Work Ethic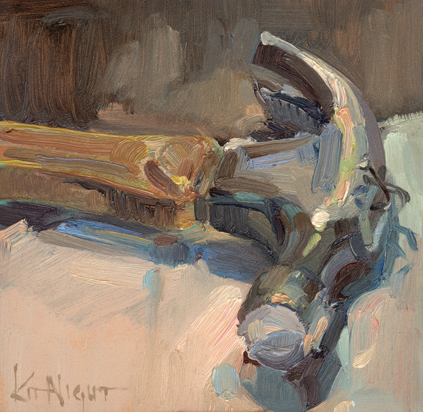 March 28, 2018
There is something about tools that give us peace of mind. They suggest clarity, integrity, hard work.
Tools conjure a different time - when most people still made stuff, when one's word was their bond, a handshake was a contract, and people looked you in the eye when they talked to you.
People do still make stuff. Like the home we live in.
I think I will shake hands with a tool, build something, and reflect.
6" x 6" oil on panel sold
It's a Beautiful Morning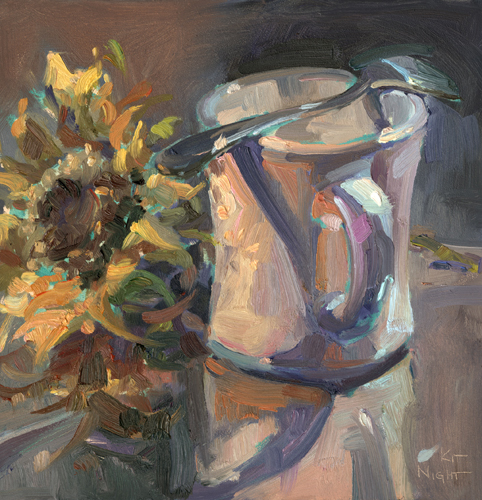 March 21, 2018
Here's wishing you a sunny day.
... Made even better by queuing up the soundtrack by the Rascals.
8" x 8" oil on panel sold
Theater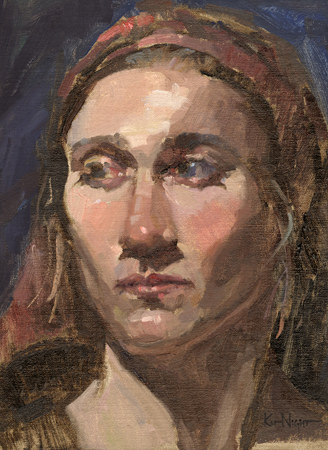 March 14, 2018
Painting portraits is kind of like making theater. Every angle of stroke, every change in light and shadow alters the emotion, the expression of the face, and hence, the content of the story.
Of course, one always hopes the play ends well.
9" x 12" oil on linen panel $290 Art in the Morning special
Aquarium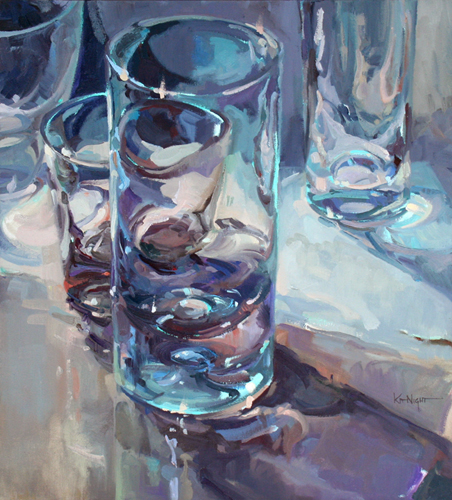 March 7, 2018
Oil paint is a lovely, juicy, buttery sensation. The oily color is something you can see into. I love the surprises.
The right color combinations create radiance - the glow. Others create surprising depth.
Take that glass bubble, for instance. I was painting along, and bam! Suddenly I was scuba diving around this underwater fantasma-magical thing that appeared out of the watery depths. So cool to explore it in my face mask and flippers as the air bubbles rose around me.
I can't wait for my next adventure.
20" x 22" x 1.5" oil on canvas $1340 Art in the Morning special
Unfinished Business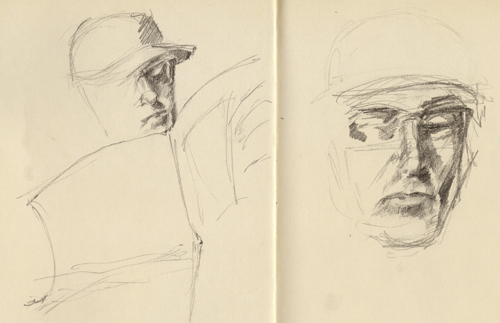 February 28, 2018
Like anything, the only way to improve is practice, practice, practice.
If you look at early works by Cezanne one can see why history books often speculate that more accomplished guys like Manet may have befriended him out of empathy, and some sympathy.
But Cezanne had chosen a pursuit that he didn't want to be free of. He sketched and painted anywhere and everywhere. Not out of ease or talent, but because he was driven - to learn, to improve, to find his voice in what he wanted to say.
If you find yourself with the dubious honor of being family or friend to someone with sketchbook in hand, here's the deal...
Consider that now is not the time to make like a dutch windmill and go all kinetic energy. Perhaps now is the time to channel your inner haystack and be still so they can finish. Who knows?! Maybe you can get a tax write-off for supporting the arts?!
5.5 x 5.5 sketchbook nfs
Tropic Heart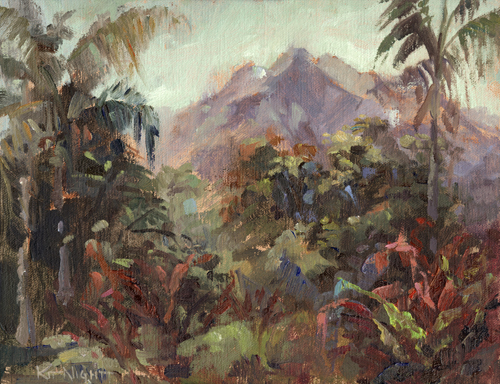 February 21, 2018
Art takes us somewhere else.
I feel like I'm in an old movie, thick with atmosphere being pushed around by the slow-moving fan overhead. Over by the piano, a dewy-eyed dame is ripping some guy's heart out, as he stoically leans in to let her mess up his shoulder.
The scene inspires us to find our own such gallantry. Maybe not today. Maybe not tomorrow, but soon, and for the rest of our lives.
8" x 10" oil on linen panel sold
Palm Song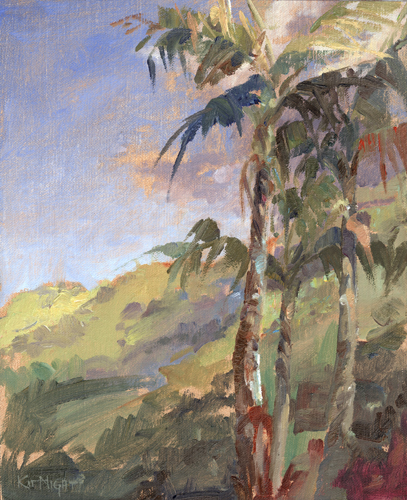 February 14, 2018
Every tree has its own song. It moves in rhythm to the melody that rides in on the wind.
The palm sways its grassy skirts in the breeze, accompanied by the dry whispering of a little soft-shoe on sand.
Gusts bring percussive cracks and the clacking of broad fronds brushing against each other in a fan dance of green and gold.
8" x 10" oil on panel $290 Art in the Morning special
Late Summer Silver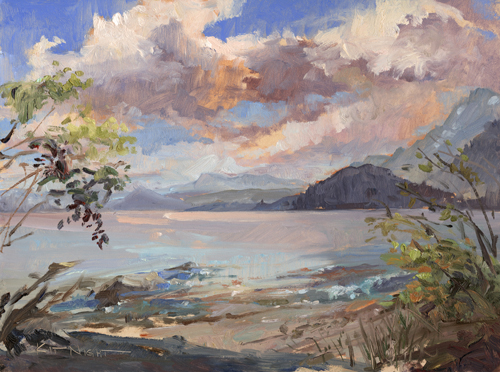 February 7, 2018
I love the way you can see the seasons change even on the water. The late September sun slid sideways, skimming across the surface rather than penetrating from high above.
Tucked under the trees, I painted with cobalt blue skies overhead.
Just when I needed them. in rolled the timpani, bringing clouds and drama to pop the silvery light.
9" x 12" oil on panel sold
Morning Breaks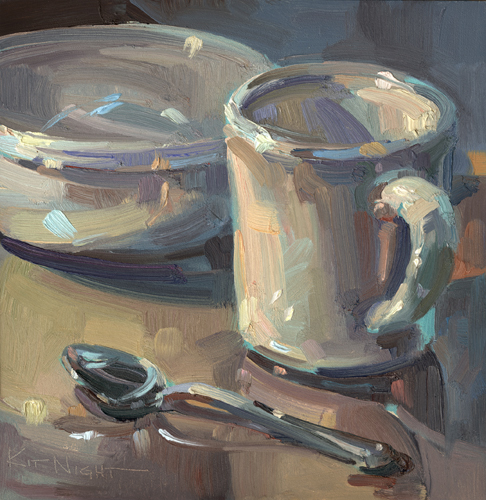 January 31, 2018
Morning ritual meets a still life meets a sculpture meets a stage set.
To paraphrase Yogi Berrra, we can observe a lot just by looking.
8' x 8" oil on panel $320 Art in the Morning special
Curve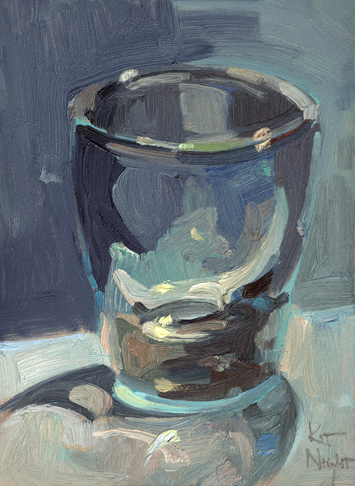 January 24, 2018
The colors make me feel like I'm in Greece.
Okay then! Let's go get some fish and feta by the sea.
6" x 6" oil on panel sold
The Philosopher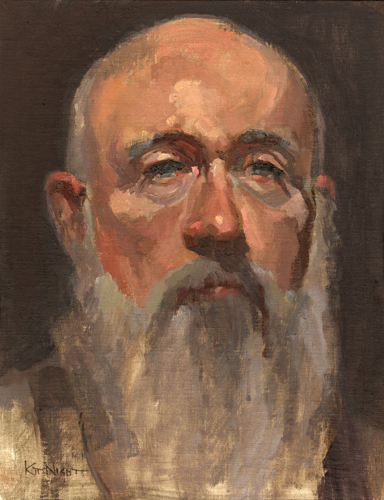 January 17, 2018
Something tells me he takes the long view. Sees the big picture. And reads a fair bit of poetry by the fire.
11" x 14"" oil on linen panel $320 Art in the Morning special
To all of us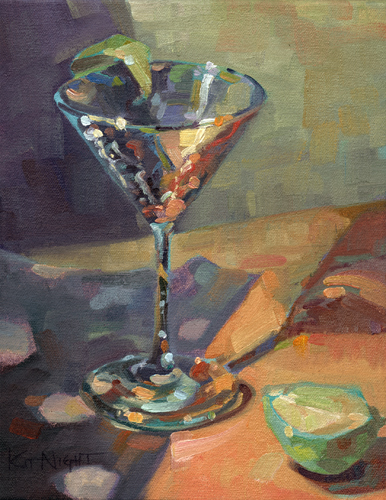 January 10, 2018
A sparkling bit of bubbling light to wish you a year of Peace and possibility, Optimism and opportunity, Comfort outside your comfort zone, a Kaleidoscope of Kindness.
May we celebrate Sense and sensibility, Nature's nuance, and of course,
Music in all things.
8" x 10" x 1.5" oil on canvas sold
Quiet River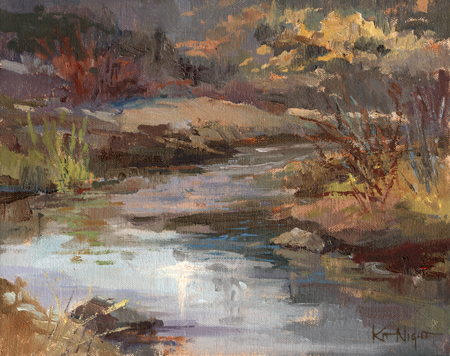 January 4, 2018
The quiet river has a lot to say.
8" x 10" oil on linen panel sold