W o r k s h o p s
open your paintbox
open your mind
| | |
| --- | --- |
| | |
| | |
| | |
| | |
Comments from previous workshop participants:
I have been trying to think of something to tell you that could help improve your class, but I can't. What I appreciated the most, beyond the technical instruction, was the atmosphere that your presence created.
Despite being among obviously more experienced painters, I felt comfortable enough to risk embarrassment and to challenge myself to tackle the ceramic and silver composition I did on day three. Kind of like learning to swim and knowing that your teach won't let you drown.
By the third day, I had begun to think differently about my approach to the paintings, creating a painting and not just a replication of objects. Finally, your still lives were thoughtfully arranged, and were interesting to study. So thank you for that critical element. Always good to keep the brain engaged and intrigued.
- Carol C, Walnut Creek
""They" say that when you have found what you are truly meant to do in life that all other areas of life are enhanced. I was an artist many years ago and believe that I may have found myself again through your workshop. I thought I was observant of light and detail but now it's time to take off the dark glasses. The world is new again!!
"Thank you for all of your prep work, the specific technical instruction, and, most of all, buoying my confidence. You have found your calling as an artist and a teacher. Many artists know how to produce but cannot translate or teach. So, I really appreciated that, plus your quiet, yet "jazzy" spirit.
"The workshop, and exposure to you and your work, was the best birthday gift I could have given myself."
- Heidi G., Chico, CA
"You are a wonderful artist and teacher, sharing your talents and vision freely, making participants feel engaged and motivated. You helped me see things with my own artist eye, and I have carried this with me since the workshop.
"I catch myself looking at the world differently and thinking, wow, that would be fun to paint Or, I find that I am letting the beauty that surrounds us to more easily slip into my consciousness and effect my mood and being. Sounds like a lot from one seminar, but it has me painting regularly and enthusiastically. Thanks Kit."
- Matt Z., Gold River, CA
"Loved waking up to this rendition of tomato's ripeness (in your Art in the Morning), and your comments on the richness of our workshop experience. I still have a lovely glow of camaraderie and... well, the glow might be Cad Yellow! But I'm convinced that painting produces as many endorphins as exercise...I had a blast!
"Thanks again for everything you did for us during those days. Looking forward to a future workshop! Fondly,"
- Susan F., Palo Alto, CA
"Your workshop was delightful. It has inspired me to get back on the horse. It was so fun to be back at it.
"I have been to many workshops, but I found yours to be the most inspiring. I believe this is due to your positive criticism, if I can call it criticism. Your positive feedback made all of us want to try harder. I think I might have even loosened up a little. I loved that you did not spend too much time doing demos. I always want to try it myself. As you came around the room and showed me how to create the proper brush strokes or color, I was able to see how Kit does it. This has helped.
"I also think it is great that you hold the class to a limited number of people so that we all benefit from your personal touch. The number of hours were perfect. In fact, the day flew by. I did not feel worn out at the end of the workshop and I did not feel beat up. I left feeling like I wanted to paint more, instead of feeling like I need a break from painting."
- Susan B., Truckee, CA
"You are a great teacher and gave me much of value to work with in the weeks and months ahead.
"Secondly, you attract to yourself wonderful and talented persons, so I had the opportunity to be with them and learn in a fun environment.
"Most impressively, you come so well prepared and spend enormous time and energy setting up the studio. This enhances the experience immeasurably and makes the workshop so worthwhile.
"Please keep me in the loop as to upcoming workshops."
- RT (Robert) C., Palo Alto, CA
"I had a WONDERFUL time. I loved the end-of-the day feedback, your EXCELLENT teaching style – easy to understand and truly helpful - the thoughtful placement of the still life set-ups, and your encouragement and sensitivity regarding the efforts of all the participants.
"Mostly, I must admit, it was refreshing and fun to hang out with someone (you) who lights up the room with encouragement, information, instruction, humor and COLOR! I love that I learned that I can just enjoy doing art."
- Susan F., Sacramento, CA
."Thank You! I learned so much from you and you helped me remember the joy of painting. I am very grateful for that. I am really looking forward to taking another class soon. You have a wonderful creative spirit that was a joy to be with."
- Deb M., Copperopolis, CA
"Kit, I had a wonderful time at your workshop. I learned a ton of things. Also, I thoroughly enjoyed your teaching style. You give constructive criticism in a very supportive and encouraging way. I wish I could think of another word instead of "criticism." It's more that you share your sense of color or composition, and we can either choose to take your suggestions or stick with what we're doing.
"Clearly, you are a very experienced teacher and it was a great weekend. Can't wait to do it again! The hours just flew by. I wasn't even tired at night. Instead I found myself thinking about all the things I'd learned during the workshop. Loved it."
- Deborah L., San Anselmo, CA
"I enjoyed your class very much. You are a very thorough and generous instructor, aiding students in finding colors we couldn't see and advising us on composing successful paintings. Your demos provided insight into the use of brushstrokes as you explained why you were applying color choices in specific areas.
"Your teaching skills were apparent, as students improved with each challenge. And your selection of quiet jazz as background music was excellent!"
- Diane H., Citrus Hts, CA
"I so enjoyed the workshop! It was my first and was such a wonderful painting experience. Being part of a group of others who love to paint was so much fun!
"Thank you so much for your help and patience, for sharing your tips and expertise in creating paintings, composition, beautiful color combinations, and of course, for the very cool tee shirt!
"I'm looking forward to participating again in any future workshops!"
- Camille M., El Dorado Hills, CA
"Your workshop was excellent! Your relaxed teaching style, and the environment you create, fosters creativity and learning. I learned not only from you, but also through the valuable interaction with classmates.
"Kit, you interact with each student, gauge their skill, and tailor the projects to provide individual challenges that specifically suit each student. The group critiques were valuable in providing immediate feedback on works created in class, and in allowing students to develop a dialogue about their own art, and the art of others. You even gave me pointers on how to improve some paintings that I made outside of your classroom. Overall, the workshop was well worth the money.
"You are a great teacher, Kit, and a NICE person. The world needs more teachers like you... Keep up the great work."
- David S., Belmont, CA
"I feel that I made real progress in your workshop! I have been utilizing several concepts that I learned from you - implementing your idea of placing muted colors next to pure colors to create vibrancy. This technique goes a long way to creating paintings that are more dynamic and evocative.
"I could never take a workshop from an artist whose paintings I did not admire, and I very much admire yours. Your skill and knowledge are obvious. Another bonus was your ability to convey that knowledge in a tailored way to your students and your ability to create a positive tone and atmosphere. I appreciated the way that you encouraged us to venture out of our comfort zones. You demonstrated a clear commitment to helping us along the path to becoming more accomplished painters, and yet find our own creative voice (rather than encouraging us to imitate you).
"The venue was great, along with your organizational skills, that made it possible for all of us to make the best use of our time. (As a former chief of operations for an accounting/data processing firm, I really appreciated that!)
"I felt that the workshop was a great value both in lessons learned and economically. I have referred repeatedly to the handouts that you gave us on color and composition and try to ask those questions several times during the painting process.
"I really enjoyed working with you. I appreciate your encouragement. Thank you again for the great workshop and inspiration!"
- Peggy G., Auburn, CA
"Just a note to thank you, again, for the marvelous workshop. This was my second tour with you and it was just as enjoyable and educational as the first time around. Your enthusiasm, talent and nonjudgmental approach make for a great three days of painting and learning. Thanks".
- Bob R, Sacramento, CA
"Loved your workshop. It was just what I needed to get me started again. Your paintings delight my eye."
- Bets B., Fair Oaks, CA
"Your written information helped. As did your going over, and over, the material. You did give us a lot, but also reinforced it during the weekend so the material sank in. I'm off soon to find manganese, and some other colors I don't have. Also not to buy colors that I can make, with your combination ideas.
"I liked your calling attention to challenges some of us had at our easels - for those students interested in watching how you correct things like floating objects, perspective, and use of light and shadow to define and give weight or volume to objects.
"THANKS so much for your enthusiasm and attention to questions and needs of each of your students. I enjoyed last weekend with all of you."
- Ann T., Davis, CA
"Thank you for the great workshop, I appreciated all your efforts to make it a learning experience for all. I appreciate the concern that went into the still lifes and your teaching. I am going to have more interesting compositions and better understanding of setting up still lifes and painting shadows. I do hope I can take another workshop in the future.
"So great to have met you and have your energy and inspiration in my life."
- Rita F, Auburn, CA
"Thanks again for a great weekend of painting and discovery. It was wonderful to be around so many talented painters with such a wide variety of styles.
"The concepts you shared with us regarding designing with light and shadow, especially during the daily critiques, were very helpful. And, your mix of "light touch" diplomacy and encouragement set the perfect stage for creative juices to flow. I'm looking forward to applying your insights to my future paintings and hope to attend more of your workshops in the future."
- Dick M, Davis, CA
"I had such an awesome time at the November workshop! Kit creates a supportive and fun painting environment with great insight into every painting. She offers help and guidance with focused and detailed attention for every skill level and medium. Having three days to do nothing but paint is a luxury in itself - being able to paint with Kit in your corner is a privilege."
- Abby G., Tahoma, CA
"I feel very fortunate to be able to join your workshop. I learned a lot about bright, fresh color and making interesting paintings using everyday things (and a few odd pieces), and using new color combinations.. You provided so many great set-ups it was hard to choose. Your planning and your positive energy encouraged some fine painting, making for some good critique times.
"Thanks for a really busy and productive three days. It was the most I have learned in one workshop ever, leaving me looking forward to attending another."
- Pat J., Fair Oaks
In an email a new painting of her's, sent months after a workshop: "Learning more about my paints and how to "see" shadows. You have inspired me. Thank you."
– Teresa M., Fair Oaks, CA
"I was very excited to take your workshop last weekend after I had seen a few of your beautiful paintings. The workshop was excellent. I was amazed at the hours you spent putting together the setups for the students. They were beautiful and extremely well planned for our benefit. I have never taken a workshop where the teacher spent as much time and freely gave away their "secrets." It was a wonderful experience. I learned a lot that will specifically help me with my paintings.
"I feel the workshop was superior and quite a BARGAIN. Looking forward to your next workshop!!"
- Sandie N., Sacramento, CA
"We all know how wonderfully and in what style you paint already, from your website and "Art in the Morning" paintings. When I've been in classes before where the instructor does a demo I am usually in awe and unsure how to begin in my own style. It can be daunting and comparison constraining.
"I liked it better that you came around and helped us by demonstrating, right where we were in our own personal development, as needed. That proved very helpful.
"I find that, because of the weekend painting with you, I see the whole world through different eyes. How can that be possible in two and a half days? I did a painting of plums on this Monday, which seemed effortless and joyous. Several days later I got around to a bouquet of flowers. I was able to capture them as the afternoon sun was waning and as they went quickly into shadow from left to right.
"I feel 'free' in a way I didn't feel before the workshop! At first I was afraid I'd lose it as time went on. But since it is a new way of looking, including observing the "hierarchy of light and color in shadows", I don't think I can lose anything - as long as I can see, if you know what I mean."
- Morgan W., Davis, CA
"Thanks for giving us all so much thoughtful feedback and encouragement on our artwork. Your skill is awesome and your positive attitude made the workshop a fun experience as well as an intense learning experience. It is amazing to me that you are able to pinpoint problem areas and so quickly suggest solutions. Your workshops offer a great opportunity to get away from everyday life and really focus on painting."
- Gloria H., South Lake Tahoe, CA

"I enjoyed the workshop very much. You emphasized many of the points that I need to see and address in my painting. I appreciated all of your help.
"It was mind boggling, all the still life props and the many lights you brought and set up. I thoroughly appreciate your doing all of that because painting from life is the way to go.
"I would really benefit from working with you again. Your teaching, patience and explanations suit me well."
- Sally S., Carson City, NV
"Your teaching skills and personality blend very nicely in enabling me, the student, to move into unfamiliar territory with my painting. I liked the way you can look at a composition and immediately spot areas for considering changes so congenially. You like to make "suggestions" and let us decide how or if they feel right - a nice touch. Your focus and energy are infectious and, I think, added positively to the group dynamic. (And it was a good group, with positive and supportive responses to the work we shared.)
"Chiefly, you provided a setting and environment in which the student is only limited by his/her own personal makeup from enjoying the acquisition of new skills. It was a real benefit to feel that I could take the work "not quite finished" home and have a good idea of what to do to complete it.
"Your students - to maximize the benefits - should know to 1) be prepared to listen and experiment even when it feels uncomfortable; 2) apply themselves for 6 hours each day; and 3) take advantage of this intense opportunity to grow in understanding color diversity and the impact of color relationships. Good job!"
- Ken M., Lake Tahoe, CA
"I thoroughly enjoyed your workshop. It infused me with excitement to paint everyday since I had lost the joy. I learned how to make color pop and improve my perspective with line and color and value. I found the other artists generous, warm and open, just as you are. Thank you for all of the hard work you put in to making the workshop not only interesting, but challenging, to any degree that I chose."
- Pamela L., Phoenix, AZ
"Your workshop was exactly what I was hoping for!! - you're a wonderful teacher and the class was very organized allowing us to cover lots of ground. I received great instruction on technique, composition, and most important, COLOR!!"
- Susan L., Sacramento, CA
"Not having much experience in the particular medium I chose to paint with (oils), you were extremely helpful in teaching and guiding. I really appreciated that the first day you taught some fundamentals and then taught us how to really apply them the following two days. As a "novice" this was a great approach to learning to paint. This is a class for every skill level and I could tell that your knowledge and experience was so beneficial to every one of those individual skill levels that were in our workshop. Your emphasis on values, shadows, and color have already made me start looking at objects around me in a whole different way. Thanks again! I would highly recommend this workshop and hope to see you in March."
-Mike F., Carmichael, CA
"Kit, I like that you don't do lengthy demonstrations but that you do your teaching mostly individually at the easel allowing me plenty of painting time. I know some people like demos so I wanted you to know that a lot of people prefer the way you do it.
I really enjoyed the jazz you brought to paint to."
– Jacqueline K., Rocklin, CA
"Your emphasis on seeing all the colors in light and shadows was one of the techniques I had been looking for to improve my art work. Thanks so much."
- Ann T., Davis, CA
"Kit, what a wonderful combination of talent you have. I felt the participants come alive with each encounter you made to provide personal guidance and instruction. When someone felt inadequate before a blank canvas you dissolved those feelings and made the painting a "do-able" challenge. I was wowed by your ability to create the most inspiring setups. I hope to be able to do it again!"
- Sally S., Richmond, CA
"Kit, Just a note to thank you for the still life workshop this weekend. 1. You are a wonderful, enthusiastic instructor. 2. I learned a good deal. 3. (Perhaps most important) it was fun!"
-Robert R., Sacramento
"Dear Kit, Thank you again for a wonderful workshop. You were so wonderful with one on one direction and support. I found your critique invaluable. The next day I went right out to my workshop and worked each painting for adjustments or additions that you suggested. I am very pleased and learned a lot."
You helped me understand how I could capture the beauty in each object and integrate the whole painting."
- Kathryn A., Corning, CA
"I really enjoyed the class - really got my artistic juices moving. The still life set-ups were wonderful. Loved your discussions and critique of our paintings. You were positive with suggestions."
- Evelyn Y., Markleeville, CA
"I enjoyed Kit's workshop and her enthusiasm. I love the idea of emphasizing color. It got me back into painting. I also like her introduction of the abstract nature of things in her paintings."
- David B., Rescue, CA
"With your encouragement and your workshop… I find myself looking at objects much more carefully when I paint and notice the warm and cool shadows, as you mentioned. Yes, your workshop actually woke me up! I love your use of bright colors, your highlights, and the more I study your work, the more I admire your style.
- Kay S., Camino, CA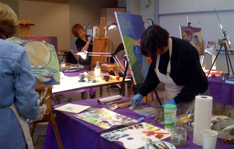 "I really appreciated your patience and how you were able to make even newer artists understand your techniques. I think that the way you showed us how to put colors next to each other to have a more dramatic impact is very exciting, and it is a technique that I haven't seen in any other workshop or class. I am very much looking forward to your next workshop.
- Lori A., Folsom, CA
"Kit is an enthusiastic instructor with so much information to share. She has a unique way of handling shadows that brings her paintings alive with color. I had one of those aha!! moments when she explained and demonstrated composition.
- Marilyn J., Placerville, CA
"I do hope you will offer another class later on. I love the way you teach and felt I did learn a lot about the contrast of color. Thank you again for a fun workshop."
- Darlene B., Shingle Springs, CA
"All of your pearls of wisdom have helped me so much. When you said, "In order to gray down a color, add the complementary color to it" – a light bulb went on… I have always tried to gray down a color by using Black, and that did not work.
I am looking forward to attending another of your classes in the future."
- Linda S., El Dorado Hills, CA
"Great workshop! I enjoyed working with the other artists and getting to know them, loved the space and most of all I learned a ton about composition and color. Thanks very much."
- Dave A., Antelope, CA
"I can only imagine how tired you were when you got home last night. I was exhausted but happy! As I was going to sleep I kept seeing all of these vivid colors and wonderful color combinations in my head. I didn't want it to end.
You opened my eyes regarding composition and shadow. I learned so much and your handouts were very succinct and valuable to me.
Your positive teaching style kept me focused and striving to improve."
- Jeanne T., Penn Valley, CA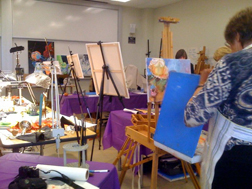 "I came away from your workshop energized. I enjoy your enthusiasm, knowledge and insights. Your color concepts create such interesting compositions. Thank you for sharing your expertise in such a comfortable, accepting manner."
- Barbara L. B., Shingle Springs, CA
Back for more... "Hi Kit, I loved your workshop… my favorite ever."
-Lori A., Folsom, CA
"I very much enjoyed your class and your positive and encouraging teaching methods. I came home all inspired to redo part of my office – into a painting studio.
What I learned mostly from your teaching is how to use color to make the shadows brighter as well as pay attention to the edges, all things that draw the eye to the painting to make it more interesting to the viewer. AND learning how to stop sooner to keep from making "mud". Thank you so much for your time and energy."
– Barb B., Folsom, CA
"I learned a lot in your workshop: how to stand to do a still life and not turn my body, just my eyes - a small thing, but very important. How to map the values and trust your intuition. I'm adding that because my intuition says I can change the plan or painting to whatever I like, and it just might work! Also, check all the shapes.
I really enjoyed your class and hopefully will do it again in the future."
- Merriel T., Plymouth, CA
"Your workshop inspired me to pick up my paintbrushes again after several years. As a beginning painter, I was amazed how comfortable I felt next to advanced and even some professional artists in the class. We had a terrific time and learned a lot not only from you, but from each other. You are a positive motivator and explain things so clearly. Not only did I leave with some new skills, I made some new friends. I am looking forward to your next workshop!"
- Lisa B., Sacramento, CA
"I learned about object placement within my paintings, how to gauge scale and perspective, and how to really look at shadows and discern the subtle color variations within them. Shadows add a wonderful depth to each object and help define its dimensions. Best of all, I learned to place complimentary colors next to each other to really bring out the highlights and the true shape of each object. I'm constantly gazing at some of the fruit I painted because I can't believe how well I captured their shapes and form.
Thanks again for being such a great teacher and most of all for being so generous in sharing your skills and knowledge. The workshop was truly inspirational."
Bonita G., Folsom, CA
"This workshop really helped me with setting up still life compositions. I thoroughly enjoyed the opportunity to paint with others for much of the weekend. Thanks a lot."
-Laurie P., Fair Oaks, CA
May 31-June 7, 2014 Painting in Italy!
Amp-up your Art in the Heart of Tuscany.
You and your easel under the Tuscan Sun!! Plein air painting in oil. Find out if the birds sing in Italian! Read More
New for 2014! 5-Day Plein Air Landscape Workshops in Lake Tahoe! (These filled quickly last year.)
September 15 - 19, 2014 Mon - Fri, 9am - 4pm, $450
Spend five days in beautiful Lake Tahoe, where the sun is warm and the shade is cool. Soak up nature's peace and grandeur while capturing it in paint!
We will create dynamic compositions as we strive to simplify - giving special attention to edges, designing with negative space, and the hierarchy of light.
Additionally, as skill and comfort advance, we will develop skills for creating radiant color and luminous shadows - bringing your work to life. Read More
Read comments from previous studio workshop participants below left.
For more info or registration, please email me: (this is not a link) Kit@KitNight.com or call: 530.544.8949
Sign up! Class is for experienced beginners to advanced painters and class size is limited. $100 Deposit holds your spot.

3-Day Still Life Workshops: Class Description further below, right. Read comments from previous participants below left.
At: Sacramento Fine Arts Center, 5330B Gibbons Dr., Carmichael, CA (just east of Sacramento) Great facility, centrally located, free parking.
Class description below.
Future dates appear at the top of this list. Please scroll down to current dates.
November 15 - 17, 2014 Creating Dynamic Composition & Radiant Color Oil Painting Workshop, Sacramento Fine Arts Center. Saturday, Sunday, Monday 10: - 5:, $315. Scroll down for Class Description below, right.
February 22 - 24, 2014 Creating Dynamic Composition & Radiant Color Oil Painting Workshop, Sacramento Fine Arts Center. Saturday, Sunday, Monday 10: - 5:, $290. Scroll down for Class Description below, right.
November 16 - 18, 2013 Creating Dynamic Composition & Radiant Color Oil Painting Workshop, Sacramento Fine Arts Center. Saturday, Sunday, Monday 10: - 5:, $290. Scroll down for Class Description below, right.
April 26 - 28, 2013 3 days Creating Dynamic Composition & Radiant Color Oil Painting Workshop, Sacramento Fine Arts Center. Friday 2: - 6:, Saturday & Sunday 10: - 5:, Full Scroll down for Class Description below, right.
February 2 - 4, 2012 3 days. Creating Dynamic Composition & Radiant Color Oil Painting Workshop, Rossmoor Art Center. Walnut Creek. Saturday & Sunday 10: - 5:, Monday 10: - 4: Full
Sign up! Class is for experienced beginners to advanced painters. Class size is limited. $100 Deposit holds your spot. (Balance due two weeks before class.) A portion of tuition benefits Sacramento Fine Arts Center.
Bonus! Participants receive an "Open your Paintbox, Open your Mind" long sleeve rayon/poly t-shirt... way stylin'.
For more info or registration, please email me: (this is not a link) Kit@KitNight.com or call: 530.544.8949
A Few Previous Workshops:
November 17 - 19, 2012 Full Eleven painters spent three days doing a dynamite job on dynamic composition and developing friendships. Everyone was animated, easy-going and humorous while being very focused, asking intelligent questions and giving terrific, insightful critique to each other. Not to mention, they went home with a big batch of new paintings. The growth from day one to the end of day three was pretty amazing! And very fun!
September 14 - 16, 2012 Full Eleven painters created a fun, relaxed and intensely focused atmosphere. It was a treat to be a part of their intelligent camaraderie. It was exciting to see the results! Read comments at left.
March 23- 25, 2012 Full Eleven people made huge leaps in technique, understanding color, getting "the glow," and beginning friendships. I love the way everyone participates in end-of-day critique with insight and support.
March 2 - 4, 2012 Full w/ waitlist Twelve people were able to enjoy some fantastic painting, camaraderie and a whole lot of newly opened doors about composition.
November 18 - 20, 2011 Full w/ waitlist We had a dynamic, thoughtful and hardworking group of twelve painters at all levels. As always, lots of one-on-one. Also as always, group critique was intelligent, supportive and fun!
September 23-25, 2011 Full w/ waitlist Twelve lively and engaged painters pushed themselves over plateaus to truly dynamic composition and some good laughs. Group critique is always fun and inspiring.
"Creating Dynamic Composition & Radiant Color in Oil"
Workshop Description:
Working from several still life arrangements, we create dynamic compositions with attention to edges, designing with active negative space, awareness of different types of space and the hierarchy of light.
Additionally, we will develop skills for creating radiant color, with shadows that "advance the plot" - bringing your work to life.
These techniques benefit all genres of painting.
Drawing & painting experience is helpful. All levels welcome.
Some great warm-up painting exercises focused on seeing shapes of values, colors of shadows, speed.
Each day is a new painting with discussion, examples, lively critique with your peers.
I am an animated, generous and supportive teacher.
Students will bring their own easel, paints, Gamsol odorless mineral spirits, canvas or panel of choice, etc. Required Supply List provided.
While this is an oil painting workshop, acrylic painters are welcome. Class is for experienced beginners to advanced painters.
Happy Painting!
Kit Night
Previous Workshops:
Fantastic!! A truly awesome group of twelve fun painters laughed, worked hard, and provided each other and me with friendship, valuable insight, and a chance to see some really impressive paintings at the Sacramento Fine Arts Center.
A group of us trekked through snow and sleet to dive into an intense three days of color, composition and jazz. Everybody brought their best selves to a cool urban skylit space at Brick Alley in February in Sacramento. We learned tons and benefited from the muse of Aiko the super dog.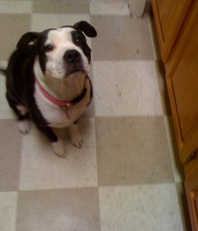 Ten painters enjoyed a fun 3-day workshop in October at Folsom Lake College. It was exciting stuff and feedback has been terrific and gratifying.
Everyone was focused, worked hard, shared good humor, critique and great camaraderie. They went away all jazzed up, with new friends and some very impressive paintings!
Likewise with my 1-day workshop of the same theme in September in Placerville at the Shakespeare Club! Nine dedicated painters gave me the opportunity to work with them. A great experience for all of us.
Comments can be found on the left.
Future Workshops:
If you are interested in being added to my contact list for future workshops, send me an email.
If you are interested in hosting a workshop at your art center / school / facility, please send me an email.